You know that fashion week conversation we had? There's another part of that convo we didn't really touch on. And that's about street style and celebrity "product placement." And no, I do not mean an advertisement for McDonalds…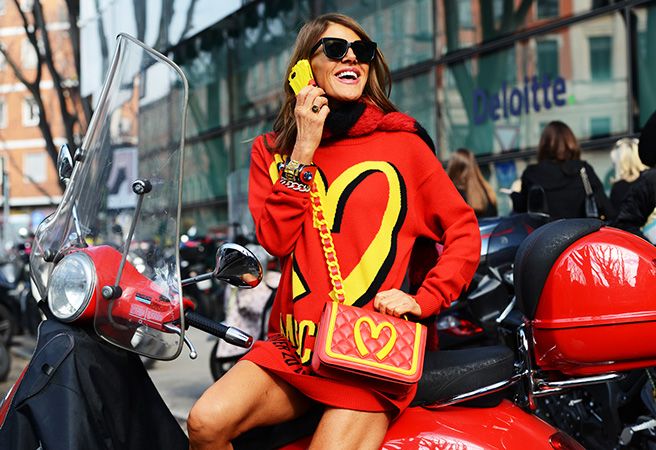 Jeremy Scott's Fall 2014 collection for Moschino walked the runway a week ago today…but somehow ended up on Anna Dello Russo less than 24 hours after the show. The whole point of fashion week is to show the collections to buyers then consumers (AKA us) will be able to purchase those runway pieces in stores (or variations of them) in 6-8 months (believe it or not, this is actually what fashion week is for!) But now here's what's happening…
Designers are loaning/giving celebrities (which now street style stars fall under that category…at least in the fashion world) items from brand spanking new collections within a few hours after debuting (or sometimes, even before). The one instance I specifically remember was Gwyneth Paltrow's Pucci look from the 2011 Emmys. People had a love/hate relationship with it (I loved it) but many thought it was a custom piece because no one had seen it on the runway. Pucci showed less than a week later in Milan…and what walked that runway? This did. Since then, it seems this is becoming a more regular thing. Whether it's red carpet or street style during fashion month, we now have more opportunities to view new items from collections way before they're ever available in stores.
So it's pretty obvious why this happens. The "star" wears something, then everyone wants it and no one can have it for a number of months, thus making it more desirable and creating more buzz for the designer. But could this have a reverse affect? Maybe people will get sick of the Moschino McDonalds iPhone case or the Chanel graffiti backpack. Just maybe…
For me, I think it's a smart move on the designer's part because it does make the lust for these items much stronger but coming from someone who especially appreciates unique pieces you don't see very often, it actually makes me not want the item…even if I love it. I was about to pre-order something from the new Moschino collection the other day, had it in my cart and realized by the time I received it, I would have probably seen it on the Internet at least a dozen times, therefore making me over it. I guess I'm a snob about this stuff but hey…I like to invest in things I won't see on everyone else. There's nothing worse than splurging on something then suddenly everyone else has it (the main reason I sold my Celine Luggage Tote less than six months after I bought it).
But that's just me…what about you? When you see these items on celebrities or on street style blogs, does it make you want them more or less? Is being fashionably early the new late? Share your thoughts in the comments!
Images via Style.com & Le 21ème
You might want to check out...