If you frequent blogs or fashion news websites, I'm sure you see repeat content quite often. Of course it's always that writer's take on the topic but regardless, we all pretty much write about the same stuff (yeah, I admit it). One specific theme I can't go a day without seeing is the discussion of French girl style — it can range from beauty to fashion or just their overall lifestyle. So, why are we so obsessed with the Parisian ways of life? Let's investigate.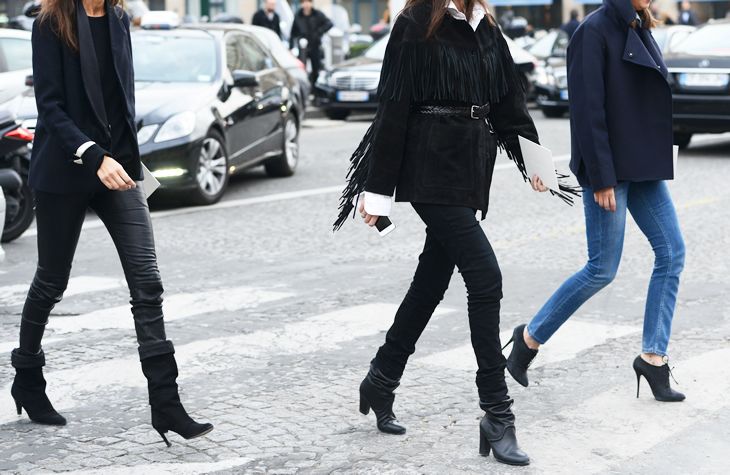 I've been to Paris twice — once in college as part of an abroad program and once in September of last year. The first time, I really didn't feel inspired at all, at least when it came to fashion. Of course the architecture is amazing and it's an overall beautiful city, but I wasn't impressed by the fashion. It was also my first time in Europe and my very first stop (was there for only three or four days) so it was a lot to take in. Plus, I was doing all the touristy stuff so I guess fannypacks and Reeboks weren't really doing it for me. Then in September I visited again and my perception completely changed. I immediately thought that everyone looked like they don't give a shit in the most fabulous way you can imagine. Everywhere I went, I couldn't help but think to myself "this is so fucking French" (which in my book, is the ultimate compliment). But why are we so obsessed with looking/being French? The Cut did a series recently called "French Girls Do It Better" where they ask questions like "what's your favorite restaurant in Paris?" and "do you exercise?" to French women in various industries. That's when I really started to notice the obsession. Then it spins off into things like French Weddings Are More Fun (because they don't do bridesmaids therefore no one has to deal with the awkward hideous dress situation…genius) and How to Party Like a Parisian (get tipsy, not drunk and only drink champagne…fine by me) and basically just telling us Americans that everything we're doing just isn't as cool (perfect timing for the biggest American holiday just around the corner…sorry 'Merica).
Basically what I've learned from all the articles I've read is that the idea of being French and fabulous is a mentality and a lifestyle. If you're going try, never show it. Keep cool, take your time. Less is more and don't eat breakfast (I don't know how you can possibly do that when you live in the land of croissants and the most amazing pastries in the world but that's just me). Overall, this seems to be the general European lifestyle that we just find more fascinating in the French. But the way French girls (and French guys) carry themselves is just something that's hard to replicate as a loud, enthusiastic (and breakfast-loving) American. They're the ultimate form of effortless. If I wore a button down with a blazer tucked into jeans like Emmanuelle Alt, I would look like I'm going to my corporate job on casual Friday and getting margaritas after work for happy hour with girlfriends (something that could not be less French). So does this mean one actually has to BE French to be French?
Unless you have further advice for me on how I can emulate the vibes of Charlotte Gainsbourg, Emmanuelle Alt and/or Caroline de Maigret, I can answer that question myself — yes. But in the mean time, I'm going to brush my hair a little less (is that even possible though?), try to take my time a little more (although my Google Calendar says otherwise), and switch up my go-to beverage. After all, you can't go wrong with champagne.
What do you think of the French girl obsession? Do you get the appeal or are you all about the American way?
Photos via Le 21eme and Jak & Jil
You might want to check out...