I think we've all been in the position where it's time to give someone a gift and you're completely stumped. You try and do something creative but don't want to give them something they'll hate, and you definitely don't want to give the oh-so-impersonal gift card. Well, thankfully there are some smart people out there…and those smart people created Giftbar.
Giftbar is this really awesome site where you can text, email or mail a personalized gift card (yes, you actually have say in the design process) to a local merchant. Stores, restaurants, spas…you name it, they have it. The best part is, IT'S EASY. It looks like you put an effort into the gift (without really having to put too much into it at all) AND you get to support local. All of the merchants on the site are local to that specific city and because I'm all about supporting local, I am so on board. Right now, Giftbar is in Chicago and New York but will be launching soon in LA. And if you happen to live in the suburbs or are gifting to someone who lives in one…you're in luck because Giftbar has merchants availalbe in 18 Chicago suburbs! I happen to be from the 'burbs so I appreciate that 'burb love.
Another cool thing about this site is that you can gift to one merchant if you'd like (I recently gifted a new mom friend a Giftbar to Urba Baby…my first Giftbar experience!) or you can purchase a mixer, which includes 3 merchants. I love this idea because I find it even more thoughtful, PLUS all of the mixers are already put together for you. Pretty great stuff. Oh and did I mention this website could not be more user friendly? Even someone with dial-up could figure it out.
So now that you know all about this really great site, it's time for some really great news. I've teamed up with Giftbar for a very special giveaway. I created a ChiCityFashion mixer that includes 3 of my favorite merchants on Giftbar and it's currently available for purchase…but for one lucky CCF reader, it will be FREE. Yes, $200 worth of Chicago awesomeness can be yours.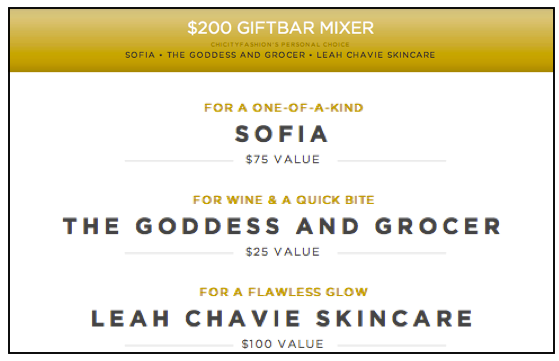 Interested? Here's how to enter our giveaway:
1. Follow @GiftBarChicago on Twitter
2. Follow @ChiCityFashion on Twitter
3. Tweet us your favorite local boutique. Be sure to include @GiftBarChicago @ChiCityFashion & hashtag #GiftedChi in your tweet.
**Bonus entry for leaving a comment here . It can be anything really. Just keep it PG (I'll even take PG-13).
We'll be choosing a winner on Monday, April 29 at 12pm CT. Happy gifting!
**UPDATE 4/29: Congrats to Sabrina Wottreng who won the ChiCityFashion mixer! Thank you to everyone who entered. Remember you can get 20% off your next GiftBar purchase (including my mixer) by entering code ChiTown20 at checkout.
Sponsored by Giftbar. Opinions are my own…as always.
You might want to check out...