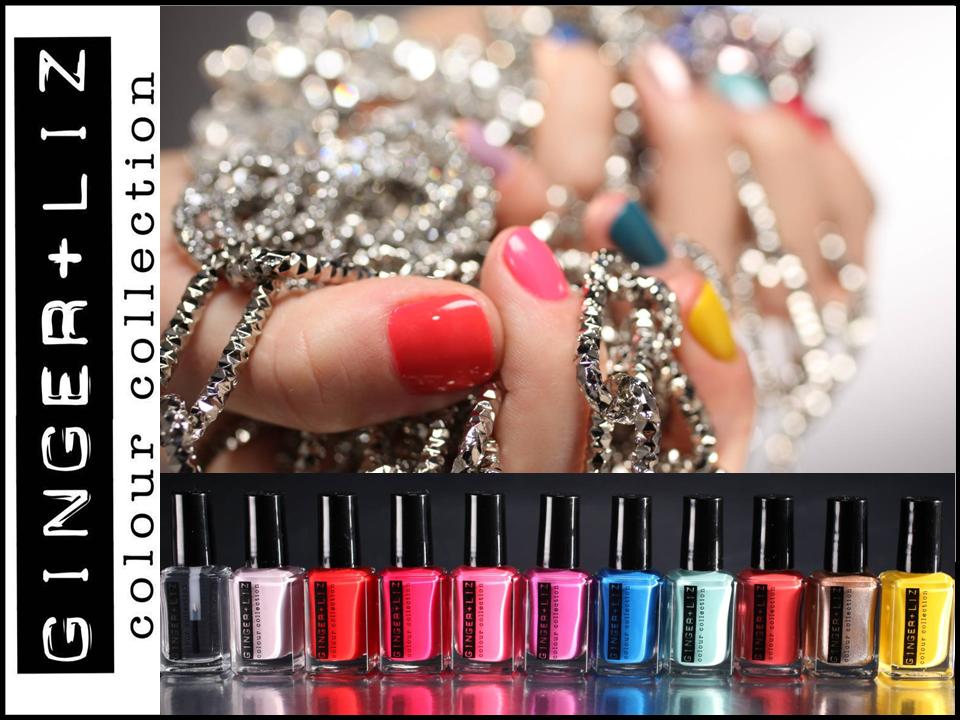 Photo Credit
If you follow me on Twitter, you probably know I have a serious obsession Ginger and Liz nailpolish. The colors are amazing, the names are catchy and there are no harsh chemicals in their formula.
Because of my obsession, I had to know the Ginger behind the Ginger and the Liz behind the Liz. Thankfully, the lovely ladies were kind enough to answer some questions I was just dying to know. I hope you enjoy!
———————————-
1. What inspired you to start a line of nail polishes?
We are both admittedly product junkies (from skincare to haircare to fragrance) but our friendship became an unbreakable bond when we discovered our irreparable addiction to nail lacquer! I [Ginger] previously had an indy line of lip lacquers right out of college a few years back so I had some knowledge of cosmetic manufacturing which was very helpful. Last year I wanted to start something new, fun, different in the nail category and there was no better business partner for the new venture than my friend Liz! Ironically, at the same time Liz was looking to venture into the cosmetic industry in some capacity so we got started right away and haven't stopped since! We work very well together, we're fortunate.
2. What inspires the names of the colors and and the actual colors themselves?
The names come from our real life experiences and joys. We wait for a colour to "move" us in a particular direction mood wise and then go from there. Some colours were named the same day it was created, the others took a couple weeks to name but we always like to keep it fun. Liz named Reality Check after some amazing advice that her mom gave her, Hold The Drama is in reference to one of Ginger's ex-boyfriends, Keep Me Interested got its name after a string of boring dates we've both had at some point, Goin' Back To Cali was named in honor of our California based customers and is a bright neon. And, one of our new colours, a fantastic taupe got its name because its for our demure ladies that play by the rule books.
3. A little history on both of you–The Ginger behind "Ginger" and the Liz behind "Liz" if you will…
Ginger: I am from Syracuse, NY byway of Queens. Always a big city girl, I spent every summer/school break I could in NYC at my grandparents house so I that could hang out with my cousins. And, the additional perk was that my Grandma Carrie would get me perfectly girly dresses and little shoes. I'll never forget the time my Mom got me a pair of black and white saddle shoes (yes, the ones that are back in style today) and I hated them so much that I called my Grandma sobbing about these dreadful shoes my Mom was forcing me to wear and she sent me a pair of black patent leather shoes I LOVED. I definitely exaggerated about the heinousness of the shoes and not sure that I had even ever worn them. That makes me laugh now.
I was lucky to grow up with an awesome balance of city life and suburbia. And, my father is Panamanian so trips to visit my family there gave me a phenomenal sense of appreciation for all cultures, lifestyles, and fashion through other peoples eyes. That fascinates me and is part of the reason I became addicted to Vogue and Elle at a young age. Fashion is worldwide and I love that. Our nail colours are very heavily influenced by fashion.
I met Liz when l was a Senior at Spelman College. We met through an old friend I considered a big brother who was Liz's big sister's good friend and one time high school prom date! Later, Liz was the cover model the lip lacquer line I launched a couple years later and the rest is almost history.
Liz: I was born and raised in New Jersey and attended Wesleyan University in Connecticut. Wesleyan is the alma mater to many creative innovators like the creator of the hit show "Mad Men", film producer and director Michael Bay, New England patriots head coach Bill Belichick, popular indie rock group MGMT to name few. It was a great time to harbor and develop my own creativity and day dream about owning my own cosmetic line in the future. During college, I started traveling to New York City (maybe 3 to 4 times a week) to do extensive modeling and acting (commercials, print, etc). Being out and about in New York City I would frequently bump into Ginger who at the time was developing her line of lip glosses. Soon we became good friends and I modeled for her lip gloss line which, as a "product junkie", I was quite a fan of. After having lived on the east coast my whole life I needed a change of scene and pace so I packed up everything about two years out of college and moved to Los Angeles to continue to pursue modeling and acting. I had a magnificent time living and working in Los Angeles but soon became homesick and was ready to do more than model and act – I felt a strong desire to scratch my entrepreneurial itch. Eventually, Ginger and I reconnected and she was looking to launch something new and I was looking to start something new and as Ginger stated… the rest is history. Definitely a perfect collaboration of the minds!
4. What is your favorite color to wear on your nails?
Ginger: Wow, toughest question…just one?? I can't! My top three are Got My Groove Back, Show Off, and Ivy League.
Liz: Swagger – Such a classic! I like to call it a metallic nude. Great for work and play.
Hold the Drama – A statement colour that gives you the feeling of black without going all the way dark.
Got My Groove Back – Every time I wear Got My Groove Back I feel like I am wearing jewelry on my nails. It is the perfect gold. Minx in a bottle!
5. If you could live anywhere in the world, where would it be and why?
Ginger: My choice would be Paris in the village of Montmarte during the jazz revolution for the music, fashion, independence, and the overall movement. Or, London in the 70s hanging out with Jimi Hendrix…yes, I'm secretly a hippy (or not so secret, haha!).
Liz: Barbados – I love the relaxed atmosphere of Barbados, the crystal clear blue sky and being surrounded by nature's beauty. The water is perfect and the people are great! It is one of the only places I visited where I never wanted to leave – I was ready to pack up and move there!
6. Who is your style icon?
Ginger: I love Kate Moss' effortlessly glam boho chic vibe.
Liz: Kate Moss–she is so effortless and manages to be a set trend while incorporating trends without having her style be dictated by trends.
—————————–
I hope you enjoyed the interview as much as I did! For more Ginger and Liz visit their website www.gingerandliz.com and follow them on Twitter @GingerAndLiz
Don't miss out on their 4 new colors coming soon—-Blowin' Money Fast, Ivy League, Not on the First Date and Tuck Me In. I can't wait!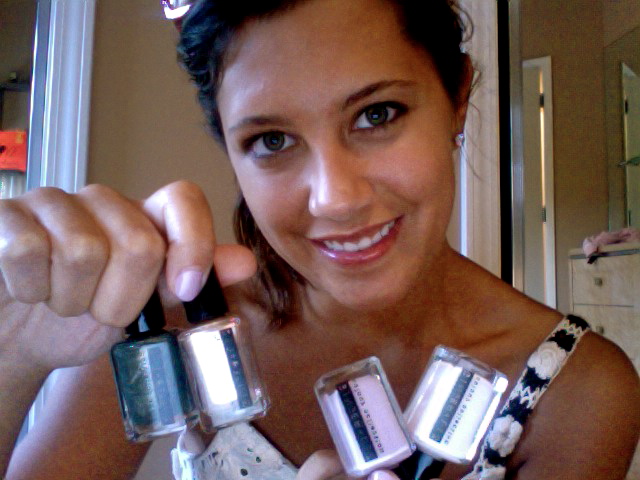 And yes, this is me with my G&L fam thus far (from left to right: Tough Luxe, Swagger, He's So Into Me, Half Naked) and if anyone was curious…I am currently wearing He's So Into Me 🙂
You might want to check out...