We've had some major hits so far on this Golden Globes red carpet. Like Lizzy Caplan in Pucci and Lupita Nyong'o in Ralph Lauren to name a few. As well as some disasters like Julia Roberts (you can't really beat that for worst dressed). And now onto the final installment of this year's Golden Globes red carpet, including my third and last best dressed pick for the evening.

Amy Adams in Valentino
A side boob dress sans side boob? Now that is talent, my friends (that or a good stylist with lots of fashion tape on hand). Stunning.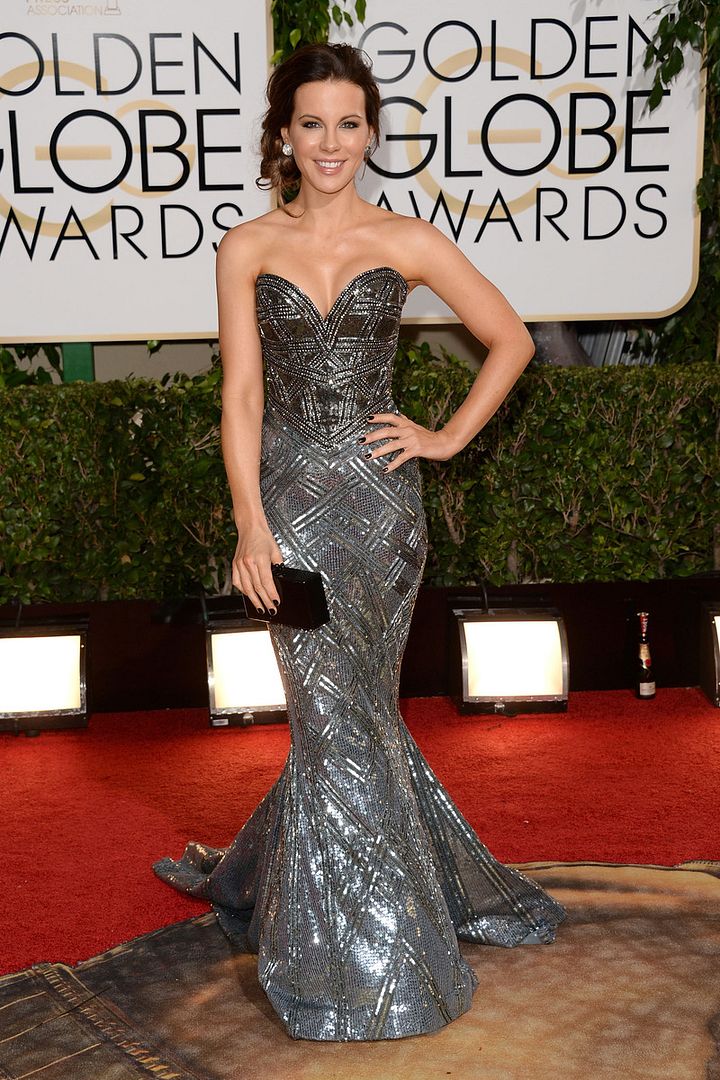 Kate Beckinsale in Zuhair Murad
She looks great in everything (so you either love her or hate her for that) but at the end of the day, it's a sparkly strapless dress…which will never wow me.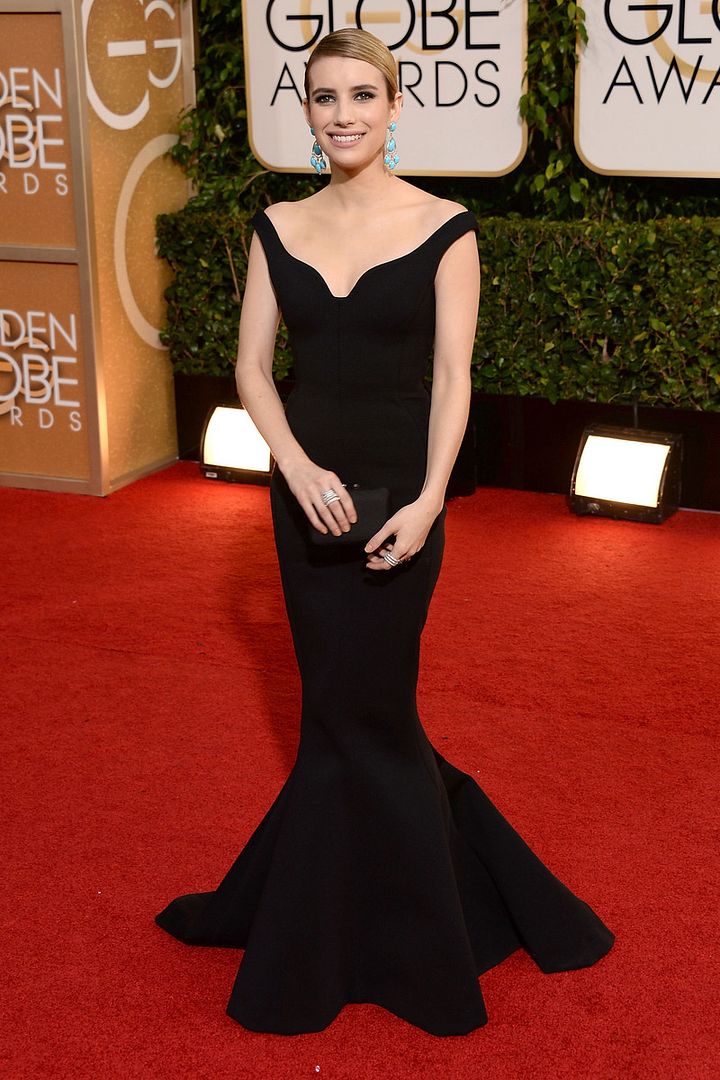 Emma Roberts in custom Lanvin
You can tell that's a custom dress. The fit couldn't be more perfect. I'm not blown away but it's simple and elegant done right.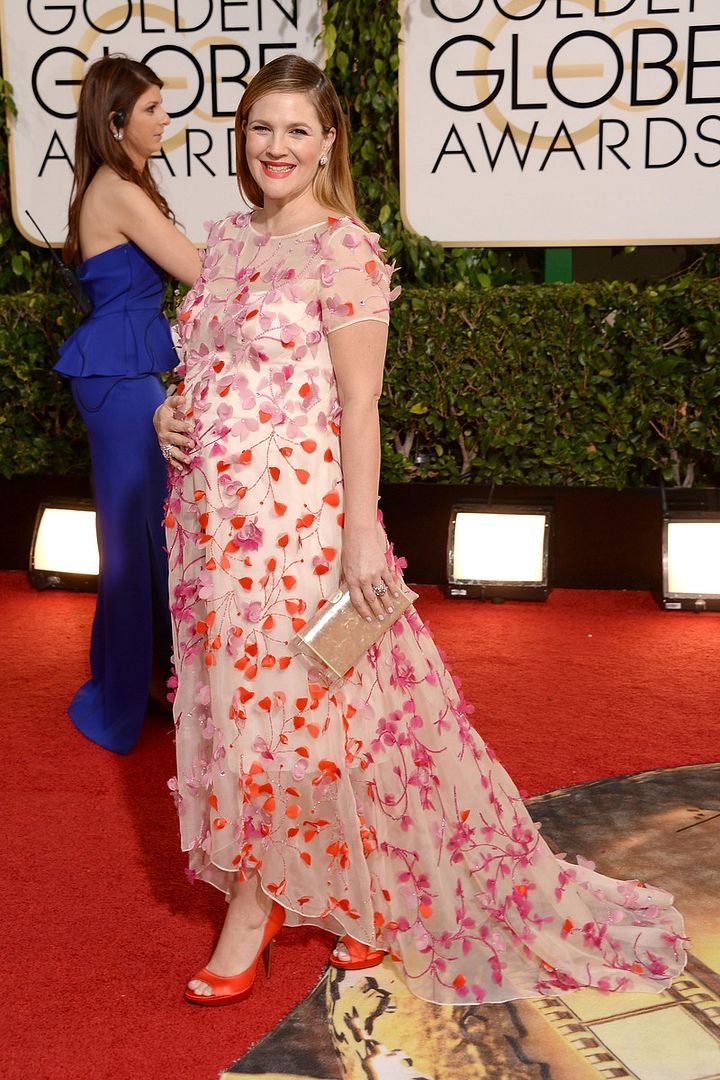 Drew Barrymore in Monique Lhuillier
It wasn't amazing on the runway so it's probably not going to be great on a real person (especially a real pregnant person). Anything 3D (like this appliqué) isn't ideal when you're growing by the minute. The idea of the flowy dress was great but the material just isn't the most flattering for a pregnant body. At least she looks happy?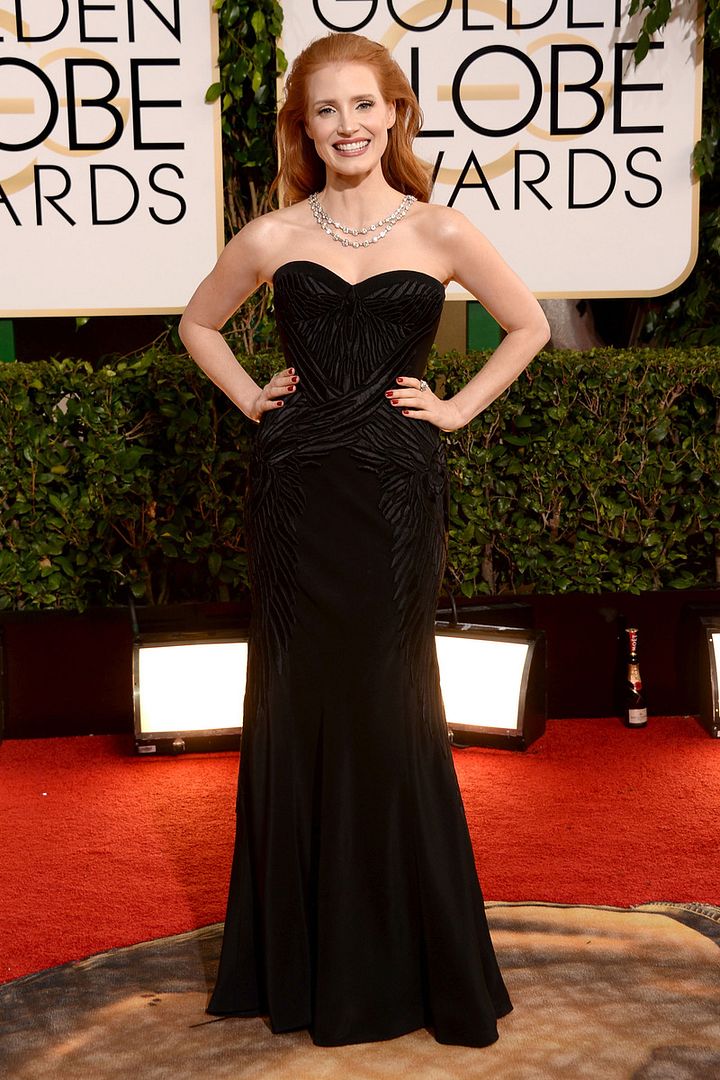 Jessica Chastain in Givenchy
She seems to always go strapless and fitted. Even Sofia Vergara went for a different silhouette this year!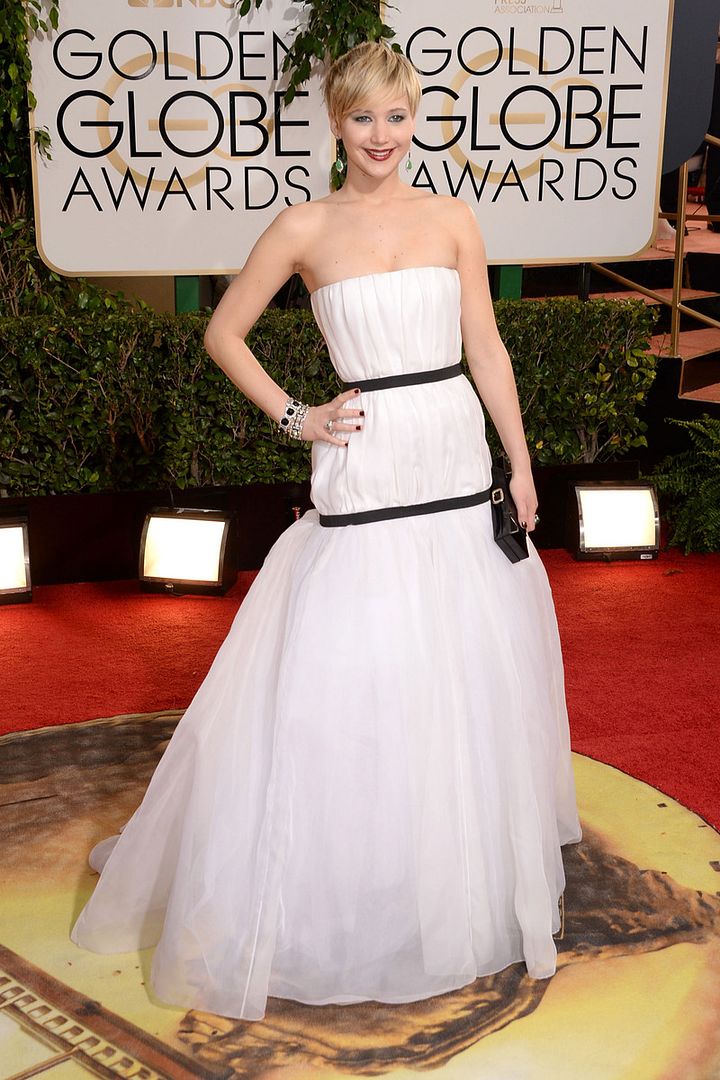 Jennifer Lawrence in Dior
Jennifer Lawrence and Dior is the worst pairing since Heidi and Spencer (and I think J-Law herself even knows that). It's like someone took a bed sheet and wrapped two elastic waist bands around it for some "definition." Even the runway model knows it's bad. She's such a cute girl but it seems like she wasted all the good dresses at the start of her career (remember that Calvin Klein?)
Heidi Klum in Marchesa
Heidi post Seal hasn't been doing much for her red carpet looks. It's like everything she wears screams MID-LIFE CRISIS. And Heidi, there's a reason this dress was shown without a necklace on the runway (because it doesn't need one…something the host of Project Runway should probably know).
Sandra Bullock in Prabal Gurung
Prabal had such a strong Pre-Fall '14 collection this year and I was hoping to see this dress on the red carpet. But I was hoping to see it on someone like Jennifer Lawrence or Zoe Saldana. Looks like it showed up on the wrong girl (and not steamed, by the way…how could a stylist allow that?)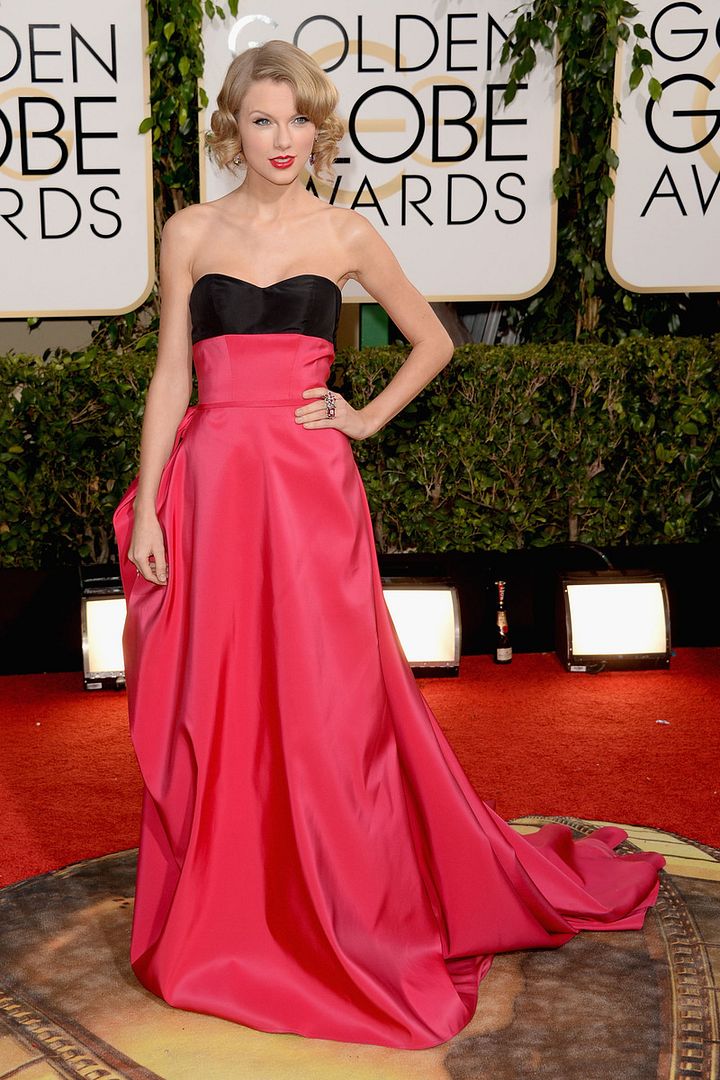 Taylor Swift in Carolina Herrera
"I look better than the model and I know it. Catch u guyz l8r! LOL xo" — Taylor Swift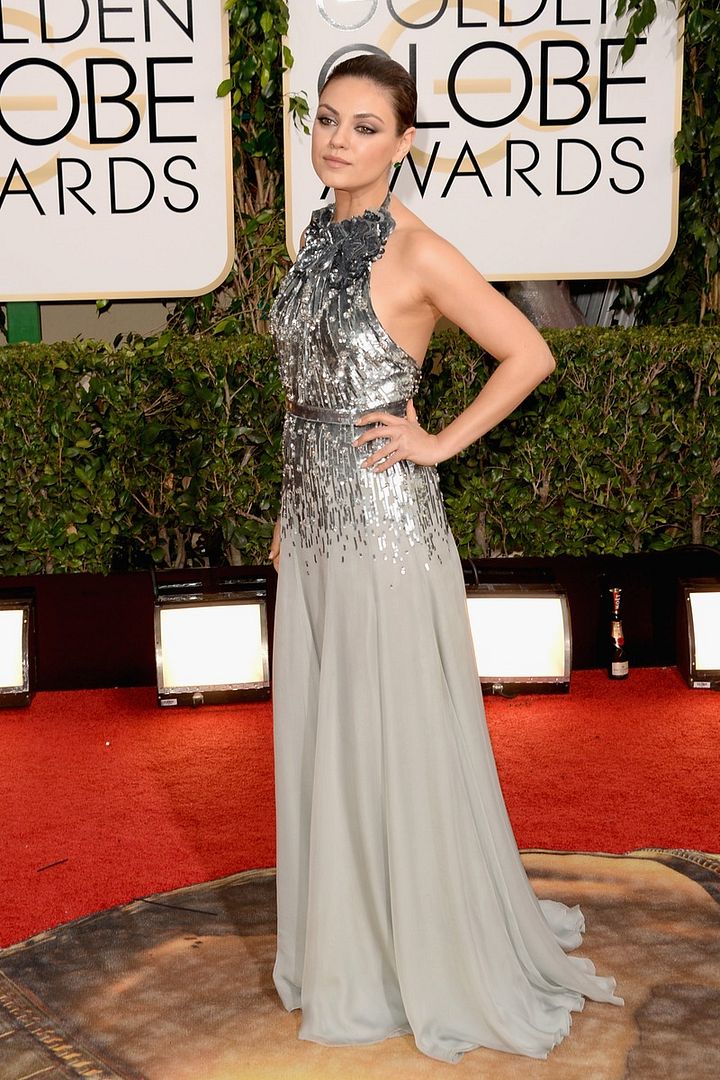 Mila Kunis in Gucci Premiere
This would be a great option for someone reporting from the red carpet (considering they're mostly filmed from the waist up). But otherwise, this dress is just okay.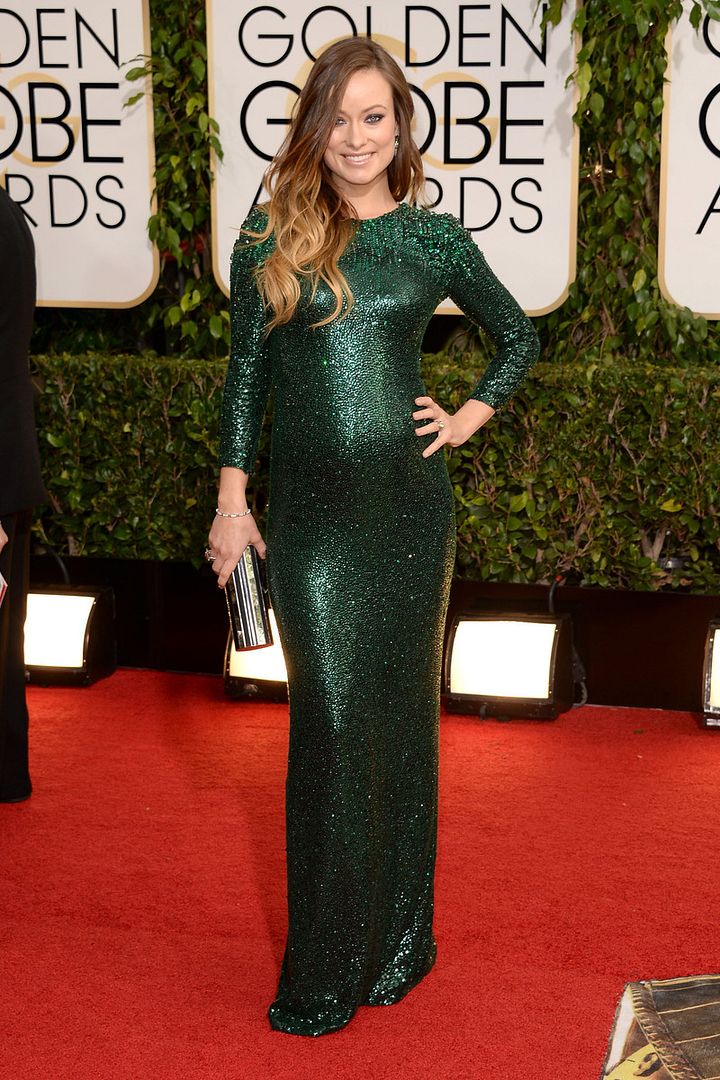 Olivia Wilde in Gucci Premiere
Best Dressed Pick
She might just be the best dressed pregnant person to ever walk the red carpet. The fit is absolutely perfect, the color is very complimentary to her hair and skin tone, and it's just the right amount of glam for the Globes.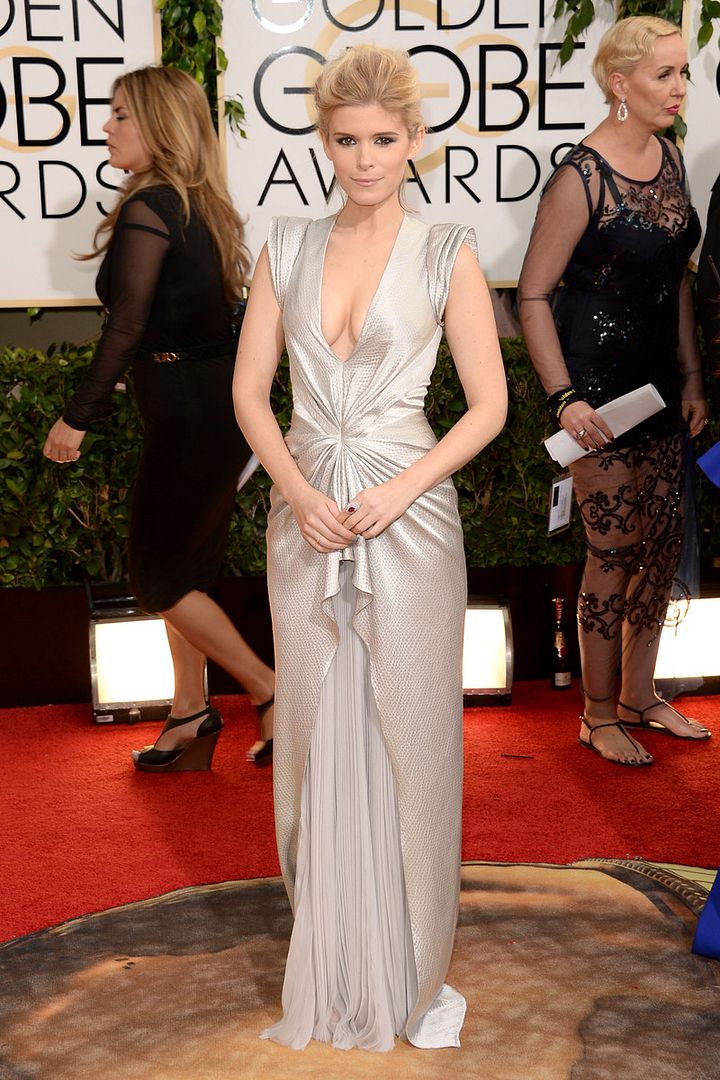 Kate Mara in J. Mendel
It's very slutty-Zenon-Girl-of-the-21st-Century-chic up top then you completely lose my attention at the bottom (kind of like Mila Kunis but with more cleavage).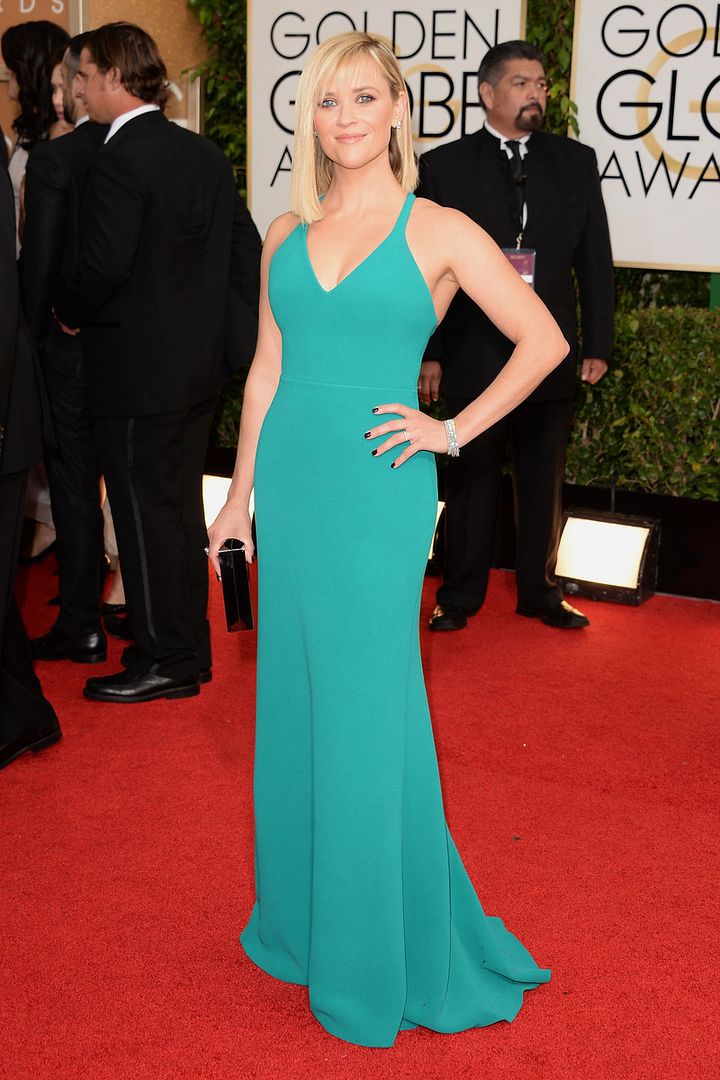 Reese Witherspoon in Calvin Klein
If it was 2004 I'd say bravo.
Emma Watson in Dior
Like myself, Emma is also a fan of the dress-with-pants look. It's nice to see someone take a risk on the red carpet but I don't even like this dress without the pants. It just kind of looks like she' was wearing a DVF wrap dress and realized an hour before red carpet arrivals the slit was too high so she put on some pants. But then she's wearing this really cool pearl earring that makes me not hate pearls. This is one of those "swing yet a miss" moments for me.
FYI, blue peplum is LOVING THIS.
Cate Blanchett in Armani Prive
She always kills it on the red carpet. One of the many times she looks better than the runway model and floats across that carpet like it's what she was born to do. But after that Givenchy dress from the 2011 Oscars, I probably won't be in head-over-heels for anything she wears for a long time.
—
Overall I'd have to say my best dressed picks were Olivia Wilde, Lupita Nyong'o and Lizzy Caplan (along with some notable favorites — Cate Blanchett, Naomi Watts, Amy Adams, Julianna Margulies, and Rashida Jones).
And there you have it. Share your comments/questions/concerns below (but most importantly, your favorite and least favorite looks of the evening). And just for fun…how many times did you spot the blue peplum lady in the three posts?
Images via The Cut
You might want to check out...