It's getting to be my favorite time of year again. Those special months where I can harshly judge the dresses celebrities/their stylists so carefully choose, where we completely disregard any acting skills whatsoever and only focus on the clothes…it's almost awards season.
Because the Golden Globes still seem so far away (January 13 can't come soon enough) I just spent way too much time on Style.com figuring out what looks I'd like to see on the red carpet this weekend. I was pretty disappointed in last year's Golden Globes fashion (Sarah Michelle Gellar's ink-stained gown, Mila Kunis's downfall after Black Swan and Amanda Peet's Bo Peep moment) so I'm hoping to see some redemption on the red carpet this Sunday.
Best short option: Balenciaga Spring 2013. Although a more casual option at a glance, this could be perfect for the occasion with the right styling. Plus, we must pay our respect to the one and only Nicolas Ghesquiere.
Best edgy gown: Bibhu Mohapatra Spring 2013. I saw this dress up close in September and I knew right then that it should be on the red carpet. I can see someone like Emily Blunt pulling this off effortlessly.
Best tea length: Christian Dior Spring 2013. This length isn't easy to pull off, so someone who could rock just about anything needs to wear this dress. I'm thinking Emma Stone. She really can do no wrong.
Risqué move: Dolce & Gabbana Spring 2013. With a dressy shoe and a pop of color with earrings (emerald possibly?) this could be killer on the red carpet. However, it's not for everyone and whether it's for good or for bad, you'll definitely be talked about on Fashion Police. And isn't THAT what really matters in life?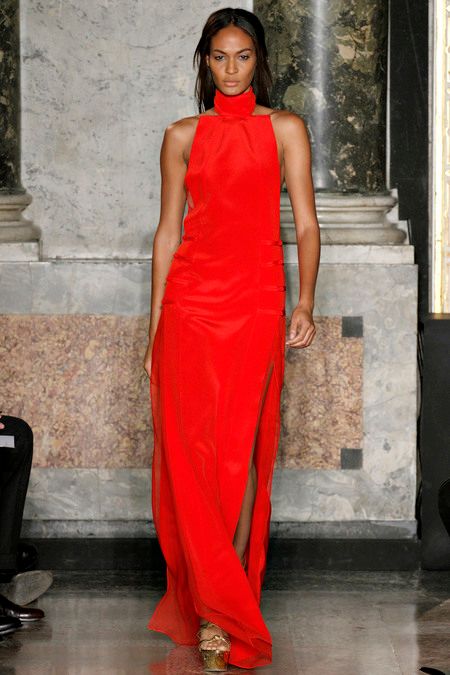 Best red option: Pucci Spring 2013. When it comes to red on the red carpet, I'm typically a hater. It can easily look tacky and blend into the carpet. However, I do appreciate a strong red dress which this look encompasses perfectly.
Best pants option: Giambattista Valli Spring 2013. It's not often we see pants on the red carpet (especially pants done well) so I'd love to see this look at the Golden Globes this year.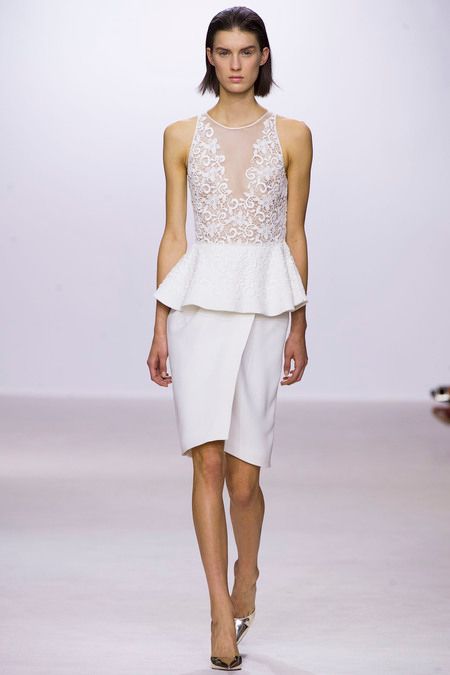 Best all white option: Giambattista Valli Spring 2013. This was just a really great collection so I couldn't help but choose two looks. Although I am completely over peplum, this dress is so stunning (especially from the waist-up) and I'd love to see some interesting styling like a bold shoe or a printed clutch.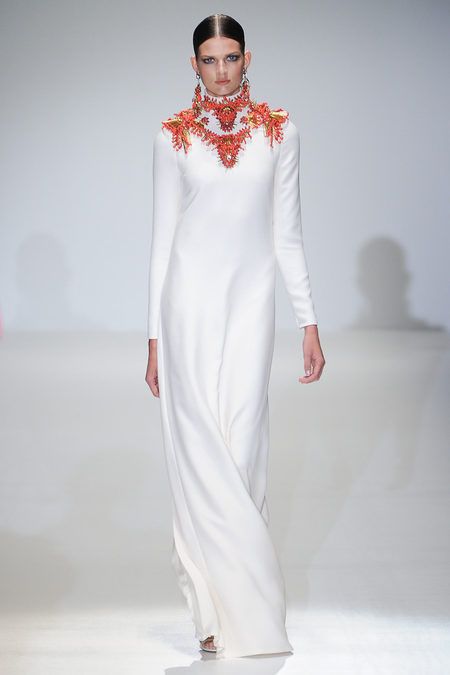 Best statement neckline: Gucci Spring 2013. Definitely a risk, but one that could possibly pay off. With a sleek ponytail and minimal accessories (definitely ditch the earrings from the runway), this could be a best dressed nominee IF worn by the right girl of course.
Best print: J. Mendel Pre-Fall 2013. If you're going to do a print, simple silhouettes are the way to go. Prints are few and far between on the red carpet and I think this is the perfect option that says "I want to do something different" while also saying "I don't want to be on the worst dressed list."
Best cut-outs: Jason Wu Spring 2013. I love everything about this dress; the color, the cut-outs, the flow…it's meant to be on the red carpet.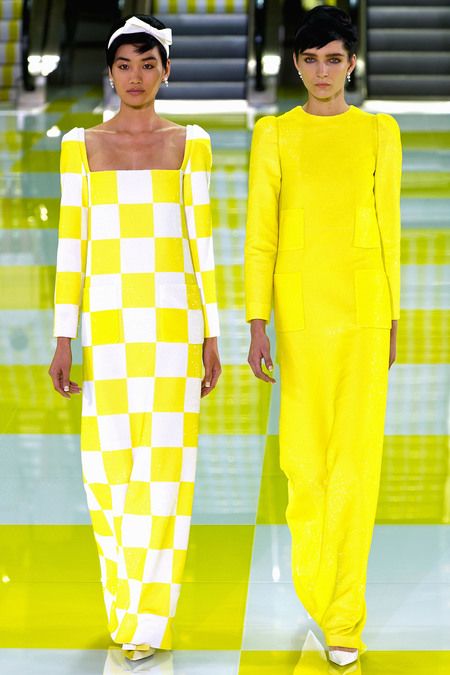 Best color: Louis Vuitton Spring 2013 (right). Whenever we see bold colors on the red carpet, they're usually boring silhouettes, too shiny or styled terribly. I know she's practically chained to Dior, but it would be great to see Marion Cotillard wear this look.
Best separates: Alexander McQueen Spring 2013. I love this look because it really can work for any age. Keeping the jacket on would be perfect for an older actress (Helen Mirren perhaps?) and just remove the jacket and pair with edgy accessories to keep it young (Emma Stone/Jennifer Lawrence).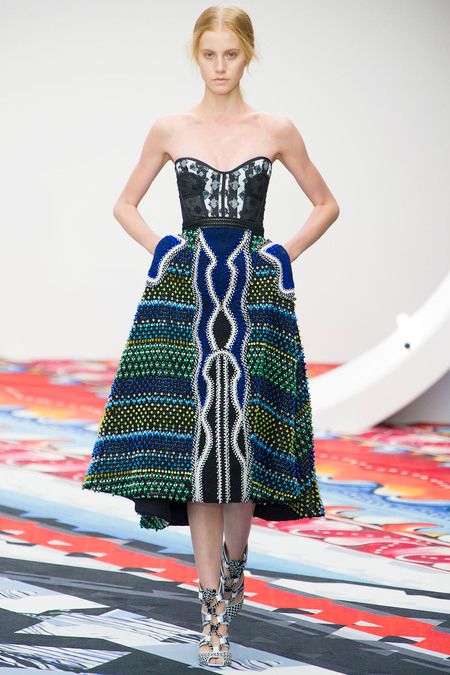 Biggest risk: Peter Pilotto Spring 2013. Peter Pilotto is one of my favorite new designers so seeing his prints on the red carpet would just blow my mind. Pilotto prints are a big risk for a major event like the Golden Globes…but they are so awesome, they must be shared with the world!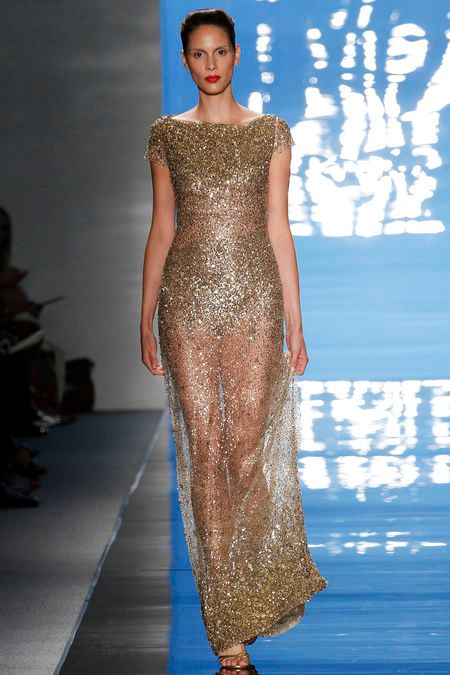 Best "sexy without being slutty" option: Reem Acra Spring 2013. Pretty self-explanatory. Would love to see this on Anne Hathaway with her new short 'do. Edgy, sexy-without-being-slutty AND gorgeous…what else could you ask for?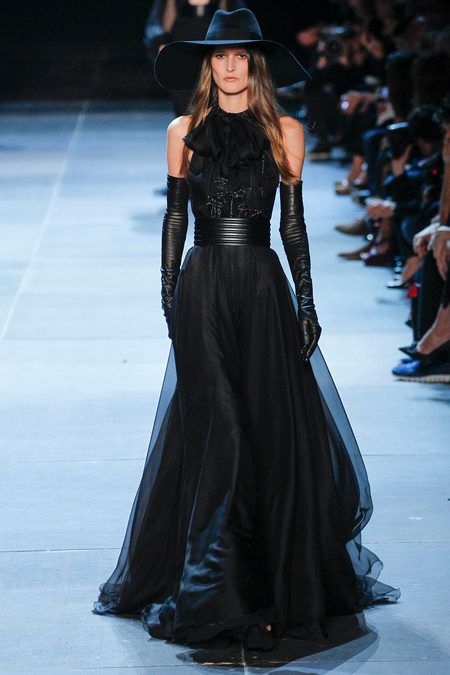 Best all black option: Saint Laurent Spring 2013. If you want the fashion world to talk about you, wear the new Saint Laurent on the red carpet. It will get our attention, I promise.
Best subtle showstopper: Tom Ford Spring 2013. Keep your arms down, it's just a little black dress. Hold them out the entire night, you got yourself a showstopping look.
Best detail: Valentino Spring 2013. Rachel Weisz would be my #1 choice for this dress. If she opts for something else, I'm okay with that. But somebody PLEASE WEAR THIS DRESS. Thanks.
—
What looks do you want to see on the red carpet this weekend/this awards season?
Photos via Style.com
You might want to check out...