If you're all caught up with part one (which includes a best dressed pick by the way) then let's move on to part 2 of the 2014 Golden Globes red carpet. Including another best dressed pick…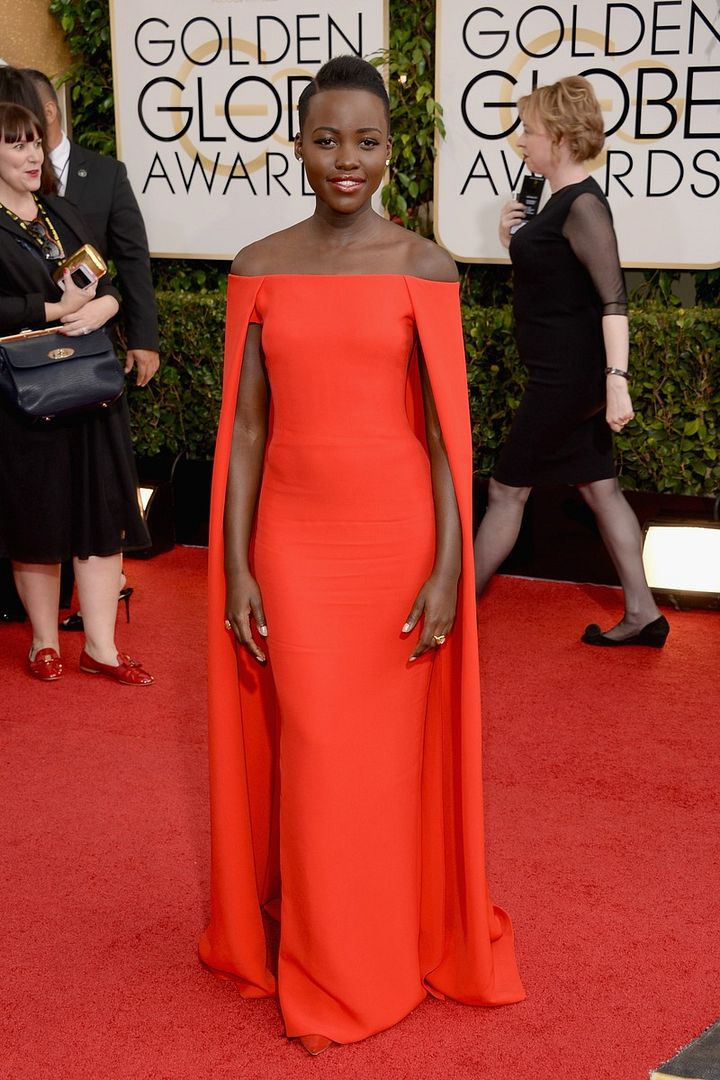 Lupita Nyong'o in Ralph Lauren
Best Dressed Pick
Remember freaking out when Gwyneth wore a Tom Ford cape dress to the Oscars in 2012? It's safe to say that Lupita is the new Gwyneth. You know I'm rarely a fan of red dresses but when the fit is like this, she looks confident and comfortable (plus there's a cape), how can you not be in love? She even looks better than the runway model.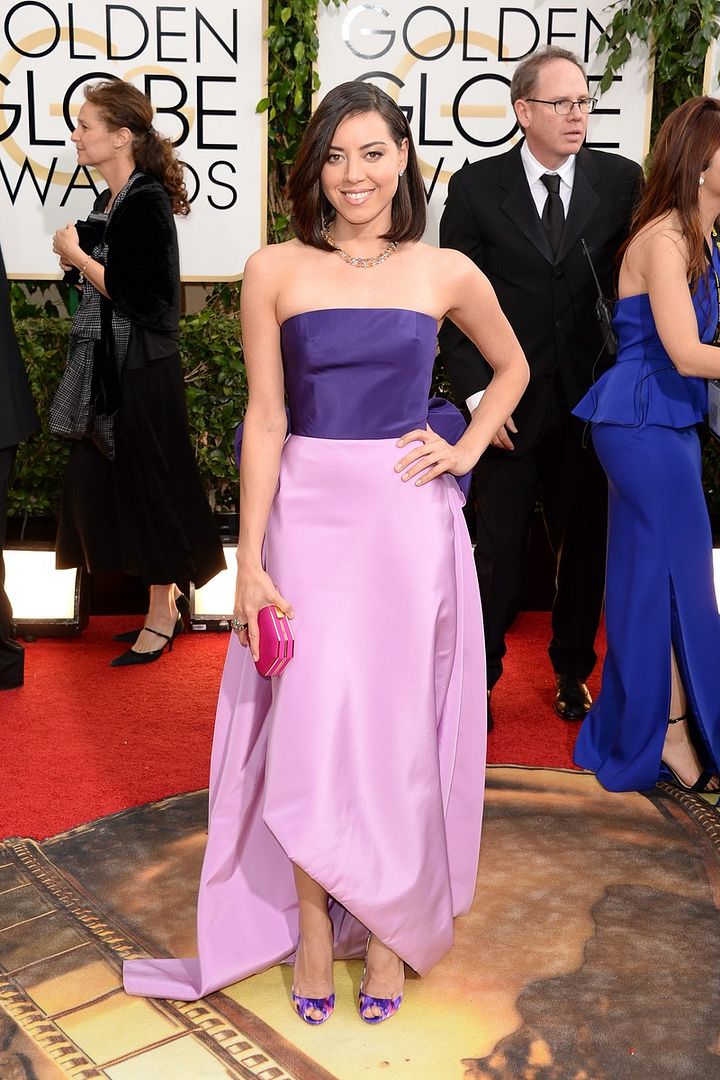 Aubrey Plaza in Oscar de la Renta
I'm torn on this one. When I first saw it I hated it. Then I looked at it more and kind of appreciated it. Then I decided I'm not cool with the shoes. But from the ankles up, I get where it's going. It's kind of like on Top Chef when they have a good idea for a dish but it's just not executed right. A for effort, Aubrey! (C minus for fit, though).
ps. let's play a game called "how many times can you spot the blue peplum lady?" (we have 2.25 from the previous post so far)
Caitlin Fitzgerald in Emilia Wickstead
If you think the name Emilia Wickstead sounds familiar, it's probably because she's a favorite designer of Kate Middleton. I don't think I've ever seen her designs on the red carpet so that's good move on Caitlin's part. I'm torn about this one too (but more on the positive side, as opposed to Aubrey). The dress is fantastic, I'm going to need those shoes for Spring, and the bag is a nice touch. Maybe it's just the way she looks in this dress but I'm getting a Southern ladies who lunch kind of vibe here from the waist up. Overall, this is a totally different look from a great British designer that's unique to the Golden Globes red carpet so I think I've made my decision…I'm into it.
Elisabeth Moss In J. Mendel
If this dress was short (like how it is under the sheer overlay) and seen on a different Moss (such as Kate) I would be freaking out over this. But the sheer skirt thing has been done to death, the shoes are ugly and the hair is not at its best so like the sharks on Shark Tank say, "and for those reasons, I'm out."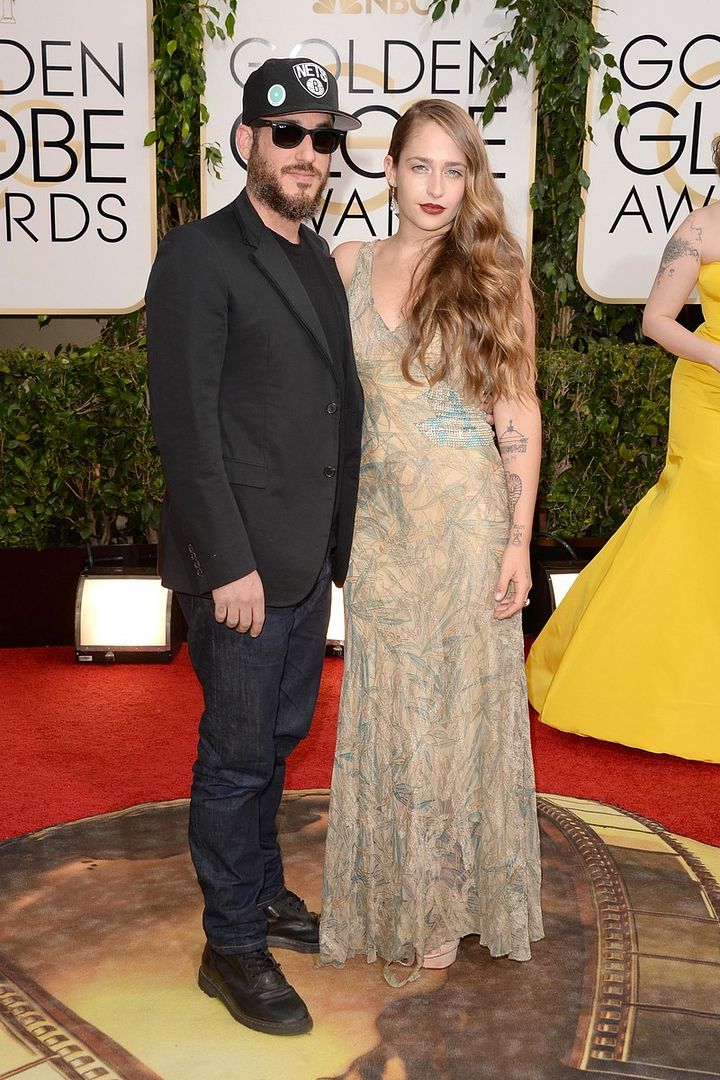 Jemima Kirke (pictured with Michael Mosberg)
I'm under the impression that she doesn't have to do much acting on Girls (she IS Jessa).
Zosia Mamet in Reem Acra
She looks fine, but for a 25 year old on at hit show at the Golden Globes, there's so many better options for her. This dress should be reserved for the 40+ group.
Allison Williams in Alexander McQueen
She typically looks so…Marnie. So to see her in something not so…Marnie…is pretty exciting.
Margot Robbie in Gucci
The fit is great and she's absolutely gorgeous (a more sophisticated looking version of Jaime Pressly) but those large gems just remind of me of A DIY project. The dress on its own (sans embellishments) with one statement accessory would have been one of those stand out minimalist moments fashion people love. But clearly someone at Gucci was on PS. I Made This and got a little glue gun happy.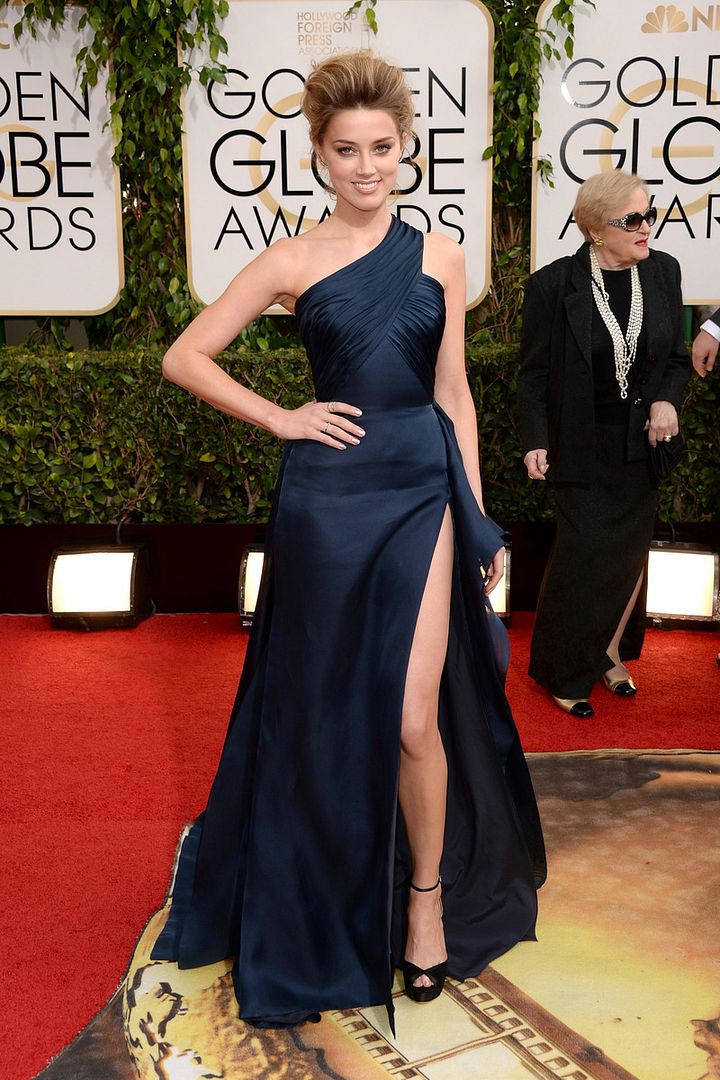 Amber Heard in Atelier Versace
The girl can never look bad but the dress has been done. So have the shoes. Very uneventful.
Emilia Clarke in Proenza Schouler
When it comes to the strapless dress, let's just say I'm not its number one fan. BUT she is a stunning girl and wearing custom Proenza Schouler on the red carpet. The only unfortunate thing is that you know that dress took forever to make with all that detail but it just doesn't come through in photos.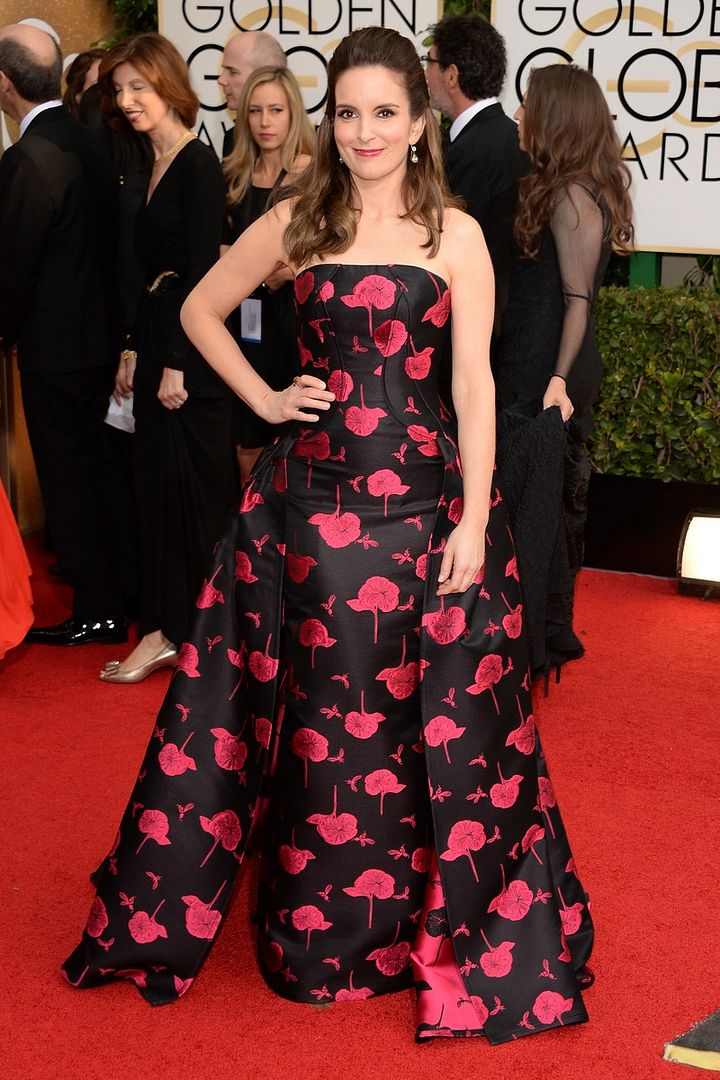 Tina Fey in Carolina Herrera
The hair, the dress…it's all wrong. Snaps for attempting a printed dress on the red carpet, but still…no.
Amy Poehler in Stella McCartney
Dare I say she looks hot?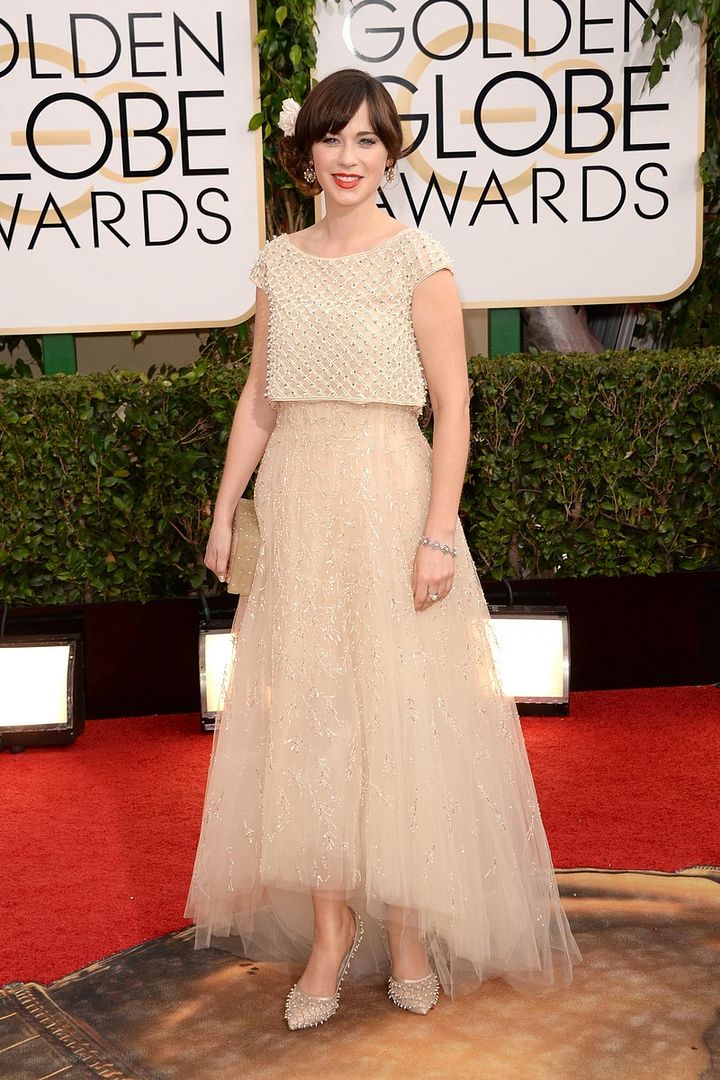 Zooey Deschanel in Oscar de la Renta
I dig in the idea of separates on the red carpet (when done well of course). I love the different textures in the top and the skirt but as always, her styling has gone oh-so-wrong. The shoes are way too matchy (which odd for me to say because I'm obsessed with the matchy ankle boots from the runway) and the hair is all tango dancer meets bad prom. And I think we can all agree that she's the only reason why E! has kept the Mani Cam.
Hayden Panettiere in Tom Ford
Is it wrong for me to say Hayden isn't cool enough to wear Tom Ford? It's a decent dress but between the brooch, the severe hair and the earrings, it's all a little much happening up top.
—
Well that was fun, right? Any favorites so far? Least favorites? Keep in mind, we still have part 3 coming soon.
Images via The Cut
You might want to check out...