My favorite time of year has finally arrived…it's red carpet season, friends. Let's kick things off with some Golden Globes fashion. Shall we get to it?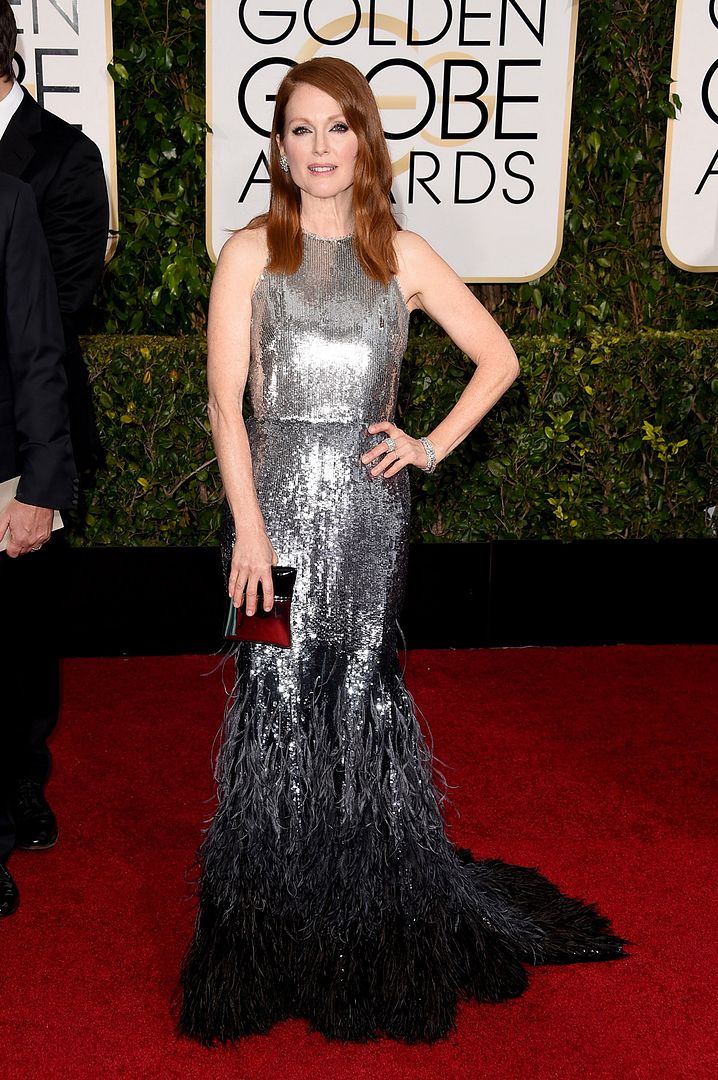 Julianne Moore in custom Givenchy Couture
Sequins and feathers can be quite overwhelming (and many times, not so tasteful) when both are used in one look. But when you think Givenchy, overwhelming and bad taste aren't the first two adjectives that come to mind (and you know Riccardo would never allow it). So because of that, Julianne WINS.
Kerry Washington in Mary Katrantzou
If this was a knee-length dress I'd be all about it (although it probably wouldn't be appropriate for the Golden Globes) but any longer than that, it just doesn't work. Structured dresses aren't easy to pull off when tea-length or floor-length and this is a perfect example of why.
Lupita Nyong'o in Giambattista Valli Couture
Not my favorite dress but if anyone can pull it off, it's Lupita. Though, with the matching makeup and accessories, it's just a whole lot of PURPLE. And no one needs that much purple.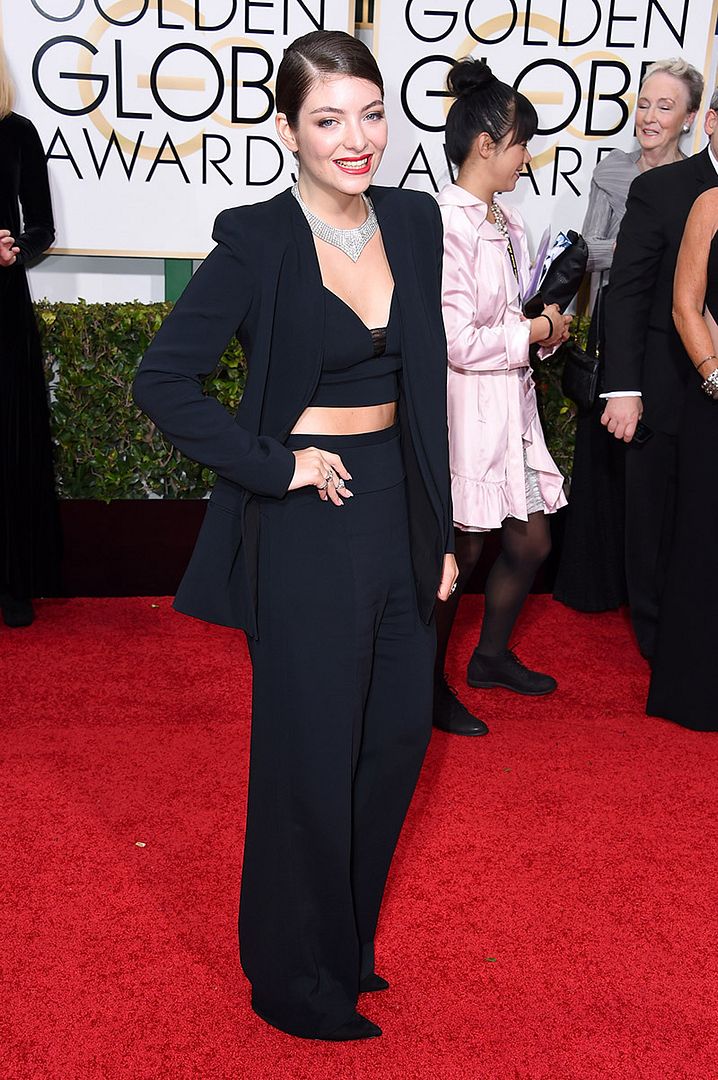 Lorde in custom Narciso Rodriguez
Best Dressed Pick
A suit on the red carpet is no new thing (although I do appreciate it when someone decides to go there) but pairing it with a crop top is a little more unconventional. And just when I was getting sick of crop tops on the red carpet, Lorde does this…and I'm like whoa.
Viola Davis in Donna Karan Atelier
Red. Strapless. Embellished. Ground breaking. [sarcasm]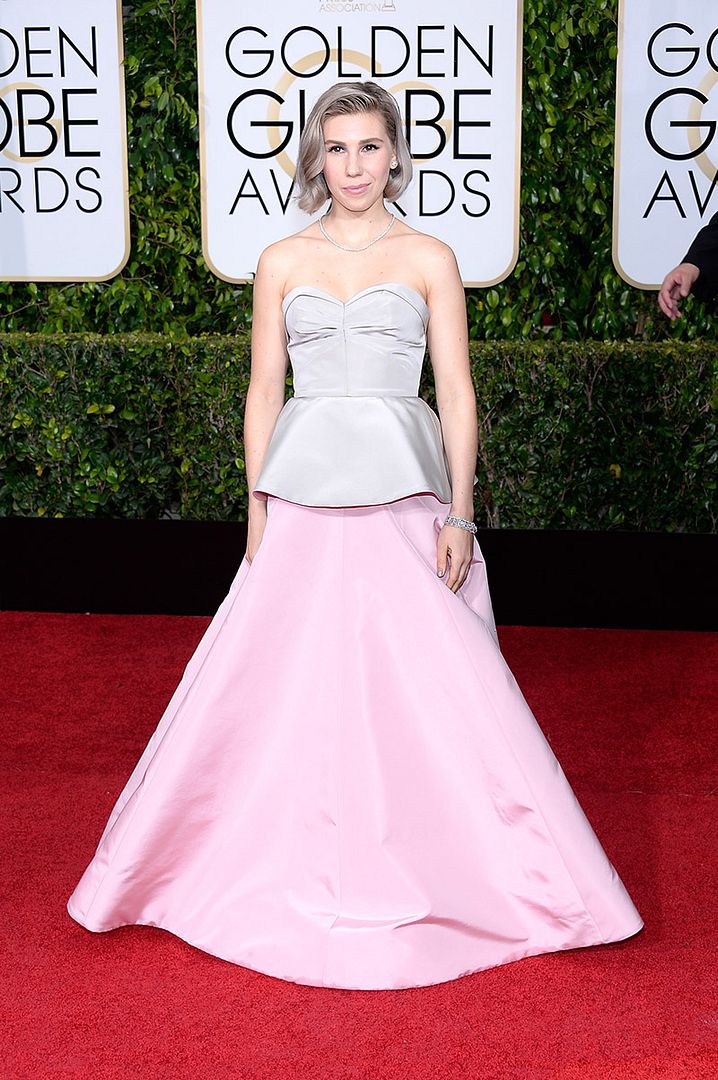 Zosia Mamet in Andrew Gn
What. The. Fuck.
Tina Fey in Antonio Berardi
Tina looks best when she keeps it simple…and an embellished hoop skirt that looks like fabric was added to it at the last minute, is just not her friend.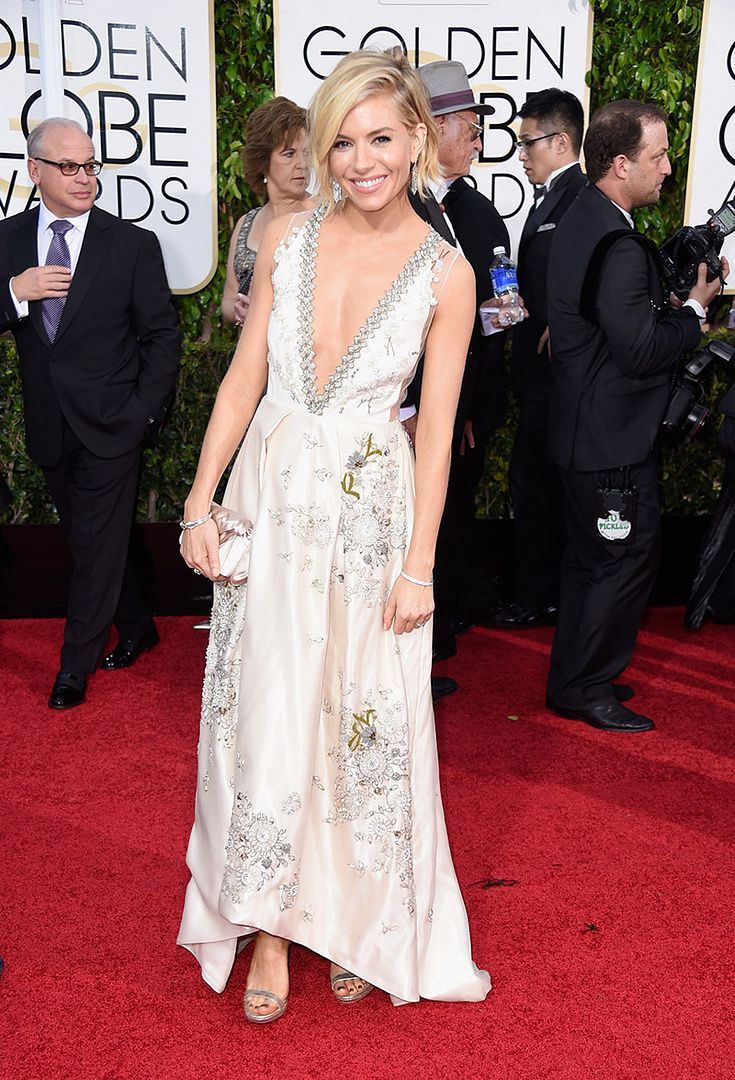 Sienna Miller in Miu Miu
Best Dressed Pick
You know how we are over (or should be over) the high/low hemline? This is when it's acceptable, especially if you want to show off your shoes. Just a little peek is all you need…we don't need knees, just a shoe tease. But this isn't a best dressed pick because of the hemline, it's because it's Sienna Miller and when is she not best dressed? It's a unique gown (with an incredible neckline might I add), her hair and makeup are flawless, oh and did I mention it's Sienna Miller?
Maggie Gyllenhaal in Miu Miu
You'd never think this dress is by the same designer as Sienna's, but it is (as much as I don't like to admit it because I adore Miu Miu) and it's awful…something we just have to deal with. The color, the silhouette, the styling…all wrong. I'm trying really hard to come up with a positive here and I'm not getting anywhere, so I'm going to give up now.
Lena Dunham in Zac Posen
I feel like every red carpet post I write that includes Lena Dunham starts off like "I love Lena but…" and this is no exception. However, it seems like she always dresses for someone else and not herself. It just never comes across right. There's no reason for her to wear a shiny ill-fitting red dress with matching red shoes. I say she sticks to Creatures of the Wind because that type of quirk is exactly what she needs for these types of occasions.
Katie Holmes in Marchesa
HOLY EXTENSIONS!
Kate Hudson in Atelier Versace
This is new for me because Kate is either on my best dressed list or she's up there. This is the only time I can think of where I'd deem her as a worst dressed pick. However, it's not because she doesn't look good…her body looks amazing, she overall looks gorgeous BUT I loathe this dress. It looks like something you'd see at one of those stores in South Beach that sell crazy amounts of of bedazzled merchandise. If you've been, you know what I'm talking about. I realize Versace can sometimes teeter that line of sexy and tacky but this just barely crossed that line and I vote TACKY.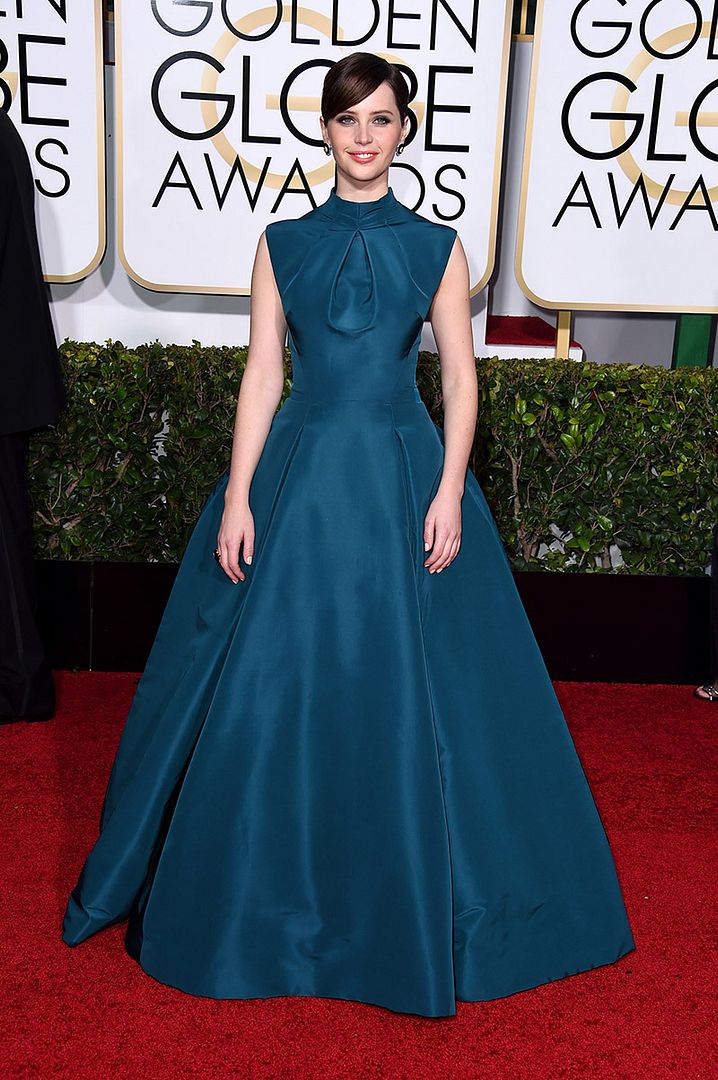 Felicity Jones in Dior
The color is gorgeous, not one we see on the red carpet often. There's nothing wrong with the dress — it's very Dior, almost has a vintage feel. If the hair was done in a  cooler way I might be freaking out over this, but overall it looks good and safe and I really have no other feelings towards it.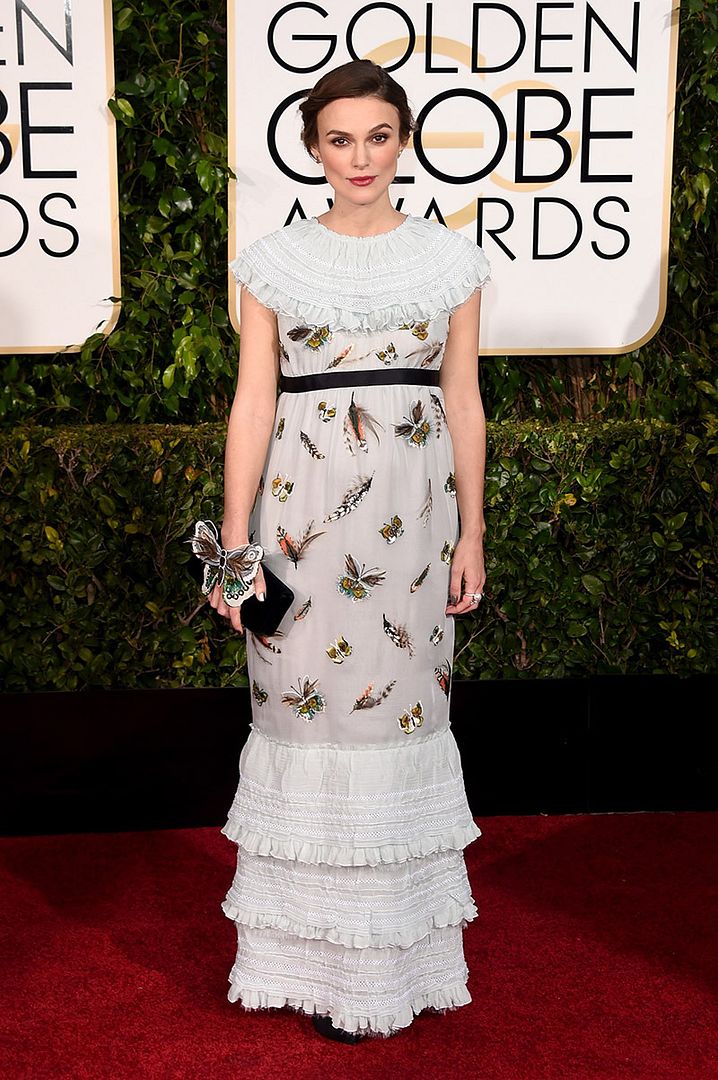 Keira Knightley in Chanel
Like my Twitter rant yesterday, I never thought Chanel could create something so hideous. It's like Bo Peep from the knees down, along with an unnecessary amount of nature…including a butterfly corsage which I'm shocked Mariah Carey never thought of in the 90s. It's never too late, Mariah…
UPDATE: This dress was originally shown with sleeves…as well as even more ruffles on said sleeves. Let's just be thankful her stylist didn't allow her to walk the red carpet in that (although is the altered version that much better?)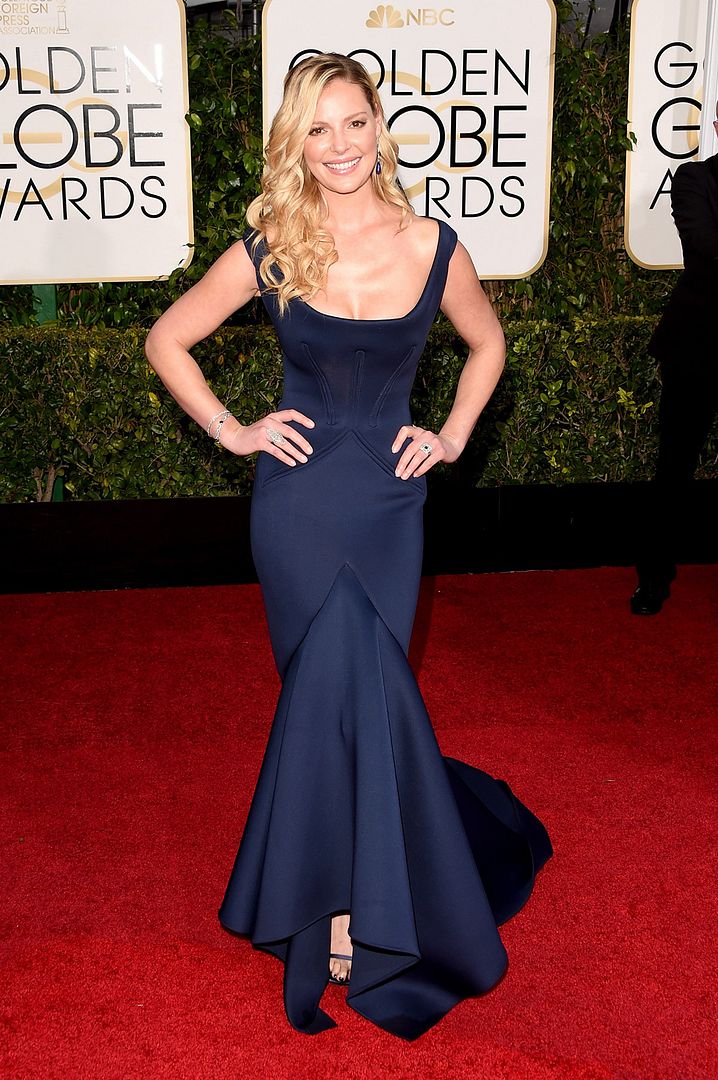 Katherine Heigl in Zac Posen
I'm not really a fan of Katherine Heigl or Zac Posen dresses but regardless of how you feel towards either, you have to admit…she looks DAMN good.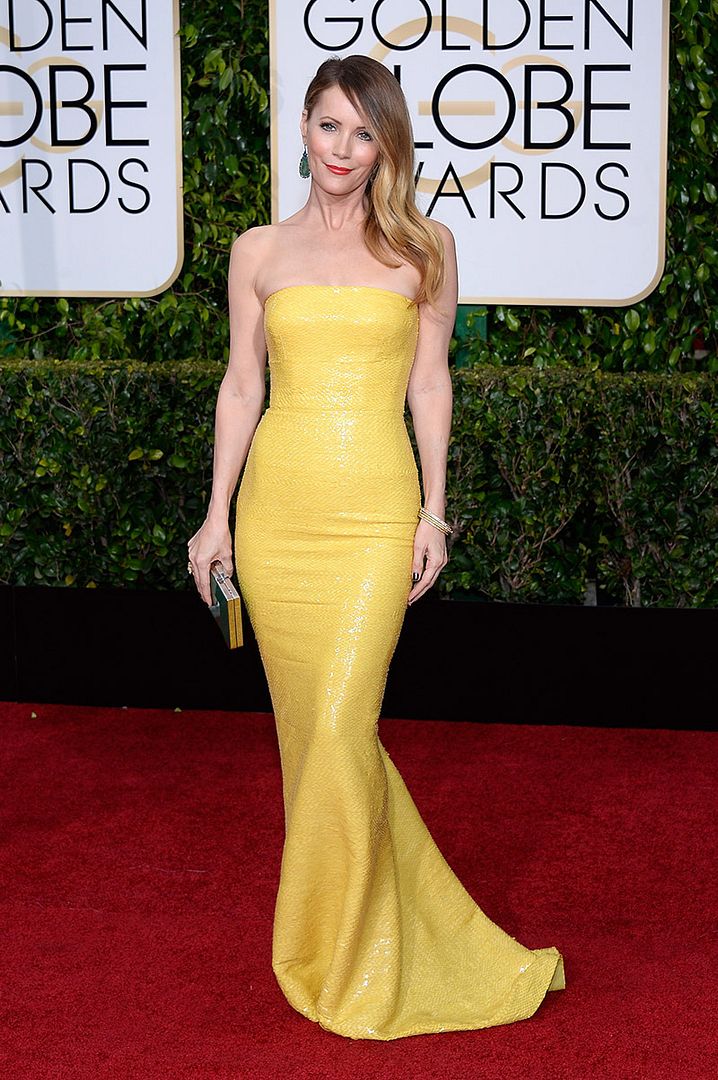 Leslie Mann in Kaufmanfranco
Leslie Mann's red carpet style is unpredictable and she tends to bring this casual side to things that I really enjoy. I remember this Naeem Khan dress she wore to the Emmy's in 2012 and that's what really triggered me to start paying attention to what she wore to these events. Now a shiny bright yellow dress with green accessories isn't necessarily casual but it definitely doesn't seem as fancy as let's say [my absolute favorite] strapless satin. However, the color combination isn't doing it for me. Plus, that much yellow should never be that shiny.
Quvenzhane Wallis in Armani
Who knew a designer like Armani, known for some pretty incredible yet sophisticated gowns, could create something so perfect for an 11-year-old? (what a baller 11-year- old…)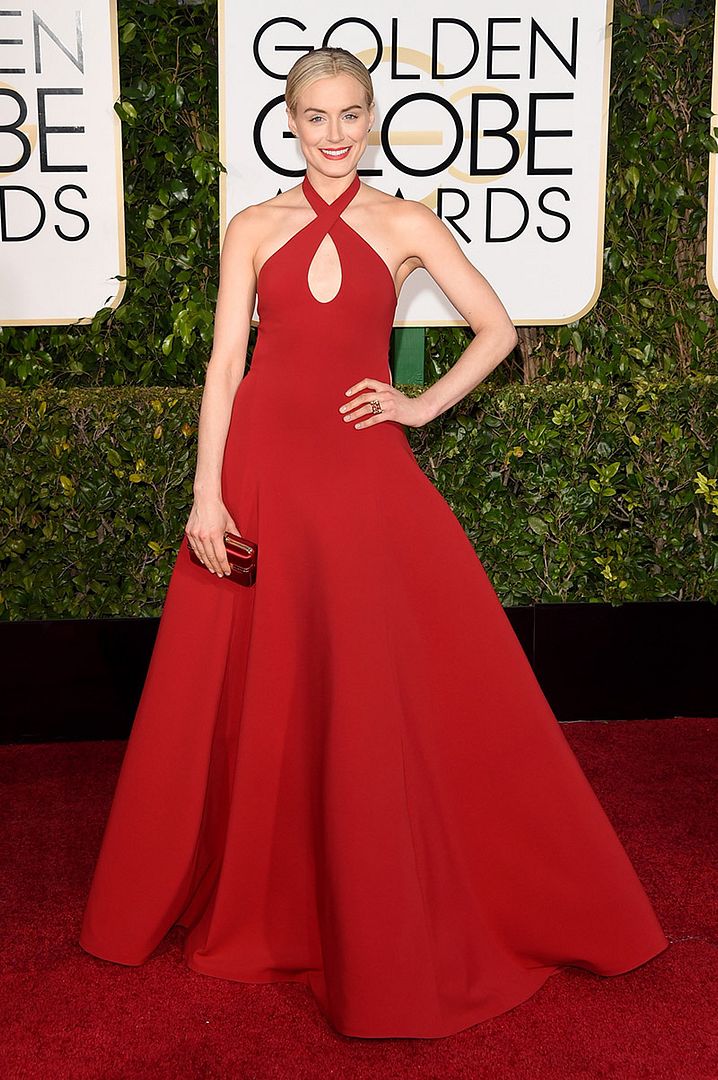 Taylor Schilling in Ralph Lauren
Pretty. But that's it…pretty.
Rosamund Pike in Vera Wang
I know she had a baby just five weeks ago. So wearing something like this at such a major red carpet event that soon after giving birth, I say good for you Rosamund. BUT regardless of babies and the actresses that have them, I don't think I'd like this dress on anyone. Between the cutouts and the straps, it's not something I'm a fan of, especially from the waist-up.
—
Who were your favorites and least favorites from the Golden Globes red carpet last night? Overall, I'm not super impressed but I do still have one more best dressed pick to reveal. Stay tuned!
Images via E! & The Cut
You might want to check out...