In case you missed it, be sure to check out part one of the 2017 Golden Globes red carpet (including the two biggest trends of the night, and a few of my best dressed picks so far!) All caught up? Great! Let's move it right along…
Kerry Washington in Dolce & Gabbana
She's always very hit or miss on the red carpet — there's no in-between. And I have to say…I think we have a hit (for the most part at least!) You can't really tell in this photo but there are some awkward highlights I don't totally understand (if someone could fill me in, that would be great). And I could do without the detail at the waist, but otherwise it's a cool look for the Golden Globes. And she's rocking the dark lipstick trend I'm loving so much. So it's [sort of] a win?
Janelle Monae in Armani Privé
Going along with trends I don't like (re: cut out shoulders from part one) — extreme high / low hemlines are another one on my shitlist. If this was the Grammys, I'd still hate it…but at least it's a little more event appropriate. But this for the Golden Globes? Even worse.
Emma Stone in Valentino
Best Dressed Pick
I haven't seen La La Land yet (and after last night, it's now my number one priority) but this dress is so perfect for the movie / this event. It's definitely not the most incredible thing she's ever worn BUT it's pretty damn amazing.
Drew Barrymore in Monique Lhuillier
Because it looks like she did her hair and makeup the night before and just rolled up to the Globes, I can't even properly judge the dress (although it is a cut-out shoulder so I think you know my answer).
Amy Adams in Tom Ford
Stunning…but forgettable.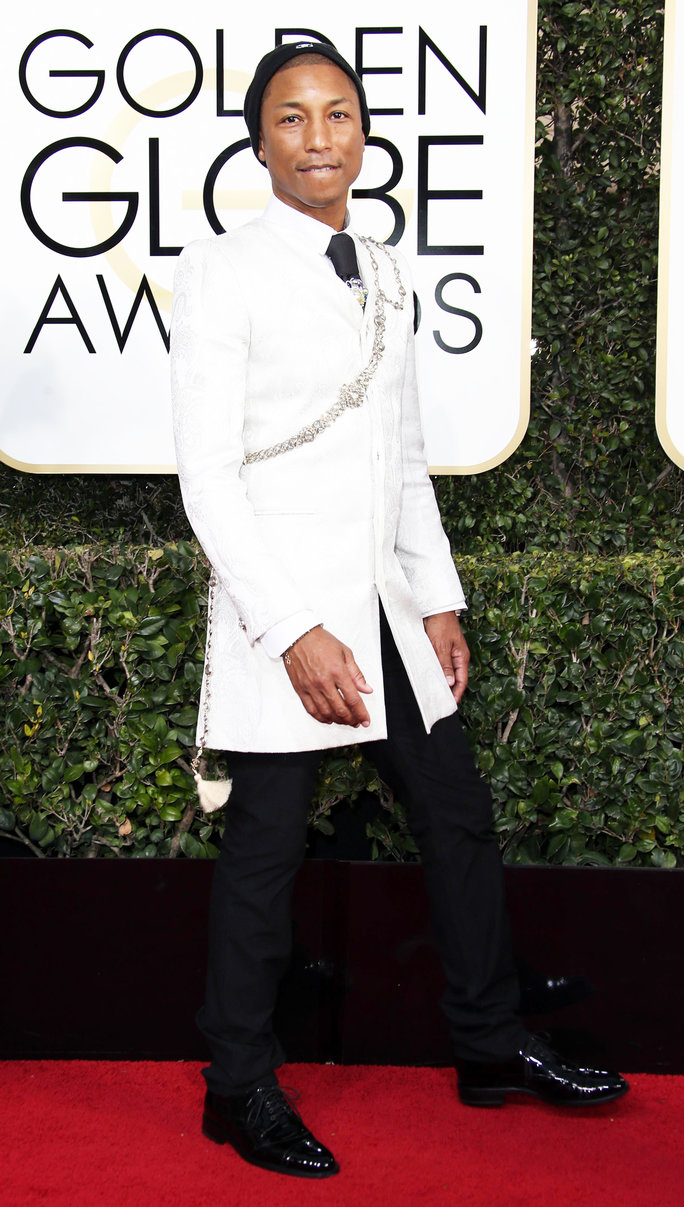 Pharrell in Chanel
Two words: CHANEL BEANIE.
Anna Kendrick in Vionnet
Poor girl never gets it right. This is sad, cold and drab. Maybe it's time for a new stylist?
Brie Larson in Rodarte
First off, I couldn't believe this was Rodarte. When I see something super cool, avant-garde and unique, I think Rodarte…not strapless red gown. Regardless of my aversion to all things red and strapless, she looks gorgeous — fit is perfect, very Jessica Rabbit. Not my cup of tea but I definitely can't knock her for it!
Caitriona Balf in Delpozo
Is it weird I kind of dig this? Besides the fact that all things navy and orange just remind me of the da Bears, I'm definitely not opposed…
Chrissy Teigen in Marchesa
I'm really over peplum but leave it to Chrissy to make it cool again!
Felicity Jones in Gucci
You have to really own a look to rock these frilly Gucci dresses on the red carpet and girl just doesn't seem to be feeling it (and neither am I).
Jessica Chastain in Prada
You know when you ask an opinion about someone and the first word to describe them is that "they're nice"? (which really means they're nice but they're whatever). That's how I feel about this dress…"it's nice."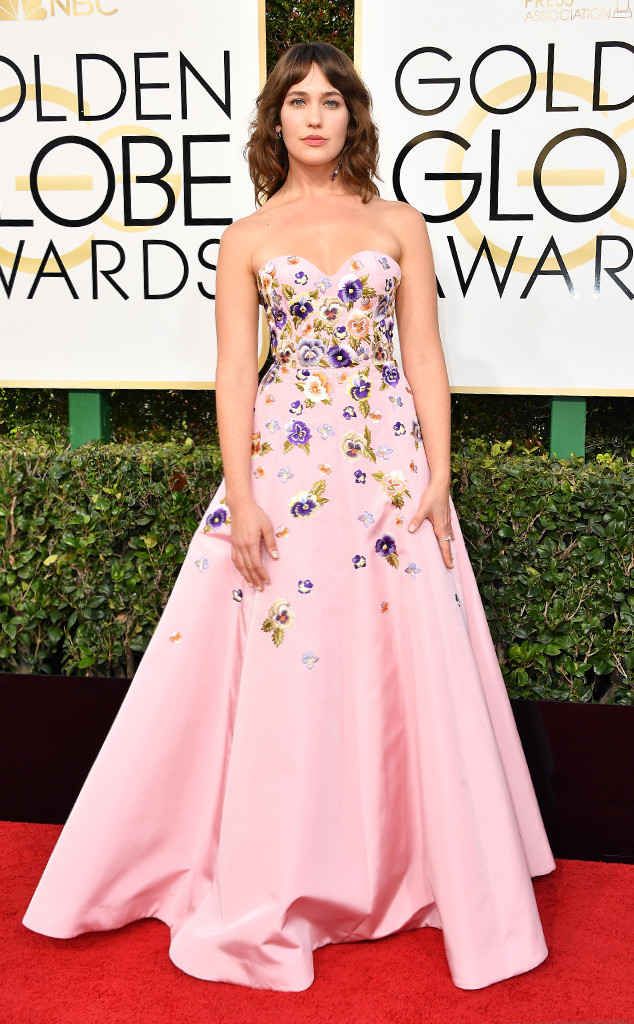 Lola Kirke in Andrew Gn
I'm surprisingly feeling this. She kind of looks like Alexa Chung here and I like the casual hair with the gown. Remember what I said about Lily's hair? This is a situation where an updo would just make this look so basic…but effortless hair and makeup is exactly what this dress needs to get the job done.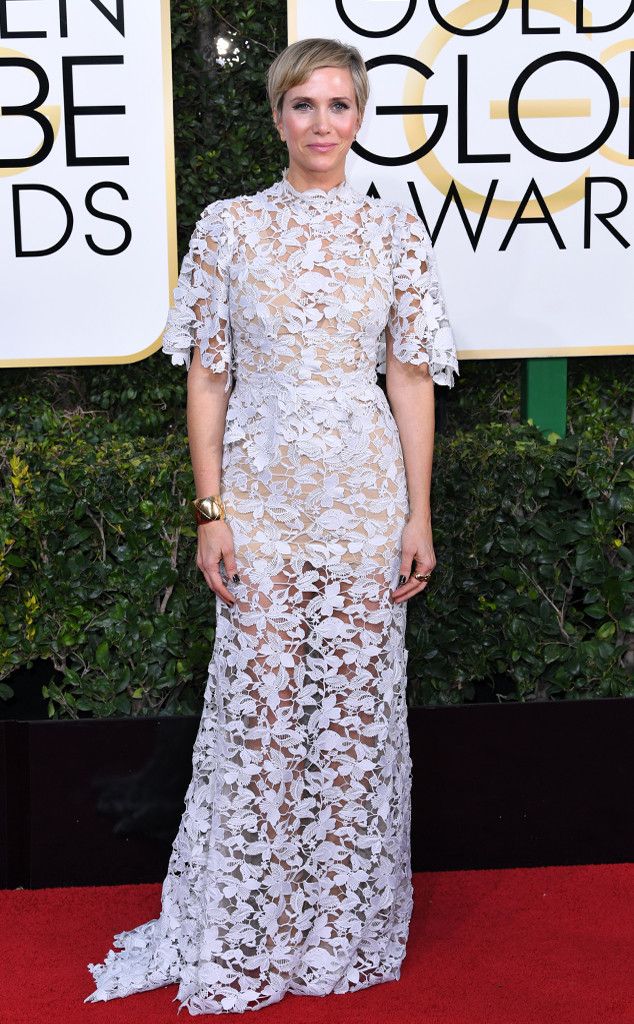 Kristen Wiig in Reem Acra
You can tell she hates this dress just as much as I do. Is that nude slip for real??
Jessica Biel in Elie Saab
This was another instance where I had to ponder for a moment (actually, overnight). I didn't decide how I felt about this dress until this morning…and I came to the conclusion that she looks BOMB from the waist up…but the heavy skirt with the appliqué and the slit is just too much of a mismatch. Can you imagine if the bottom half was just a wide leg black jumpsuit? Would be best dressed of the night FOR SURE (also a jumpsuit just makes everything better).
Justin Timberlake in Tom Ford
Best Dressed Pick
Speaking of best dressed…remember how I said I never give the guys enough credit? I guess it's not fair to name JT best dressed because it's JT and he's in Tom Ford so…DUH. But the texture of that jacket is giving me life so JT in TF is definitely the BD dude of the evening.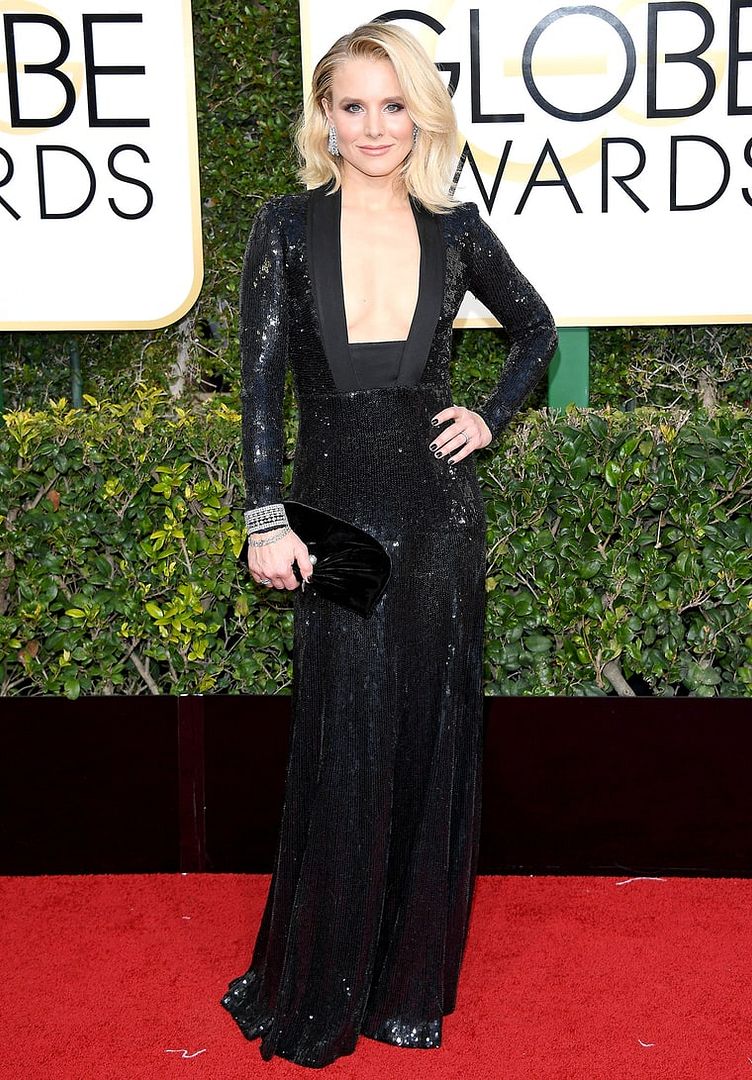 Kristen Bell in Jenny Packham
I think the hair ages her a bit, but otherwise…killin' it! (but would also make a great jumpsuit)
Hailee Steinfeld in Vera Wang
There were a lot of shoulder cut outs last night but honestly, this might be the worst (even worse than SJP). It almost looks like the dress ripped at the shoulders and they decided to even it out to create a "cold shoulder" look. This dress makes more sense just to be sleeveless (still wouldn't love it but it would be better). I really hope this was only a trend at the Golden Globes and not one for the entire awards season!
Emily Ratajkowski in Reem Acra
I like the idea of this but I wish the beaded part stopped at the waist…it just goes straight to the crotch and who wants to draw attention there? It sort of looks like an extra long tie tucked into a belt when you look at it long enough (which trust me…I have!) Not my favorite but she's always stunning so does it even matter?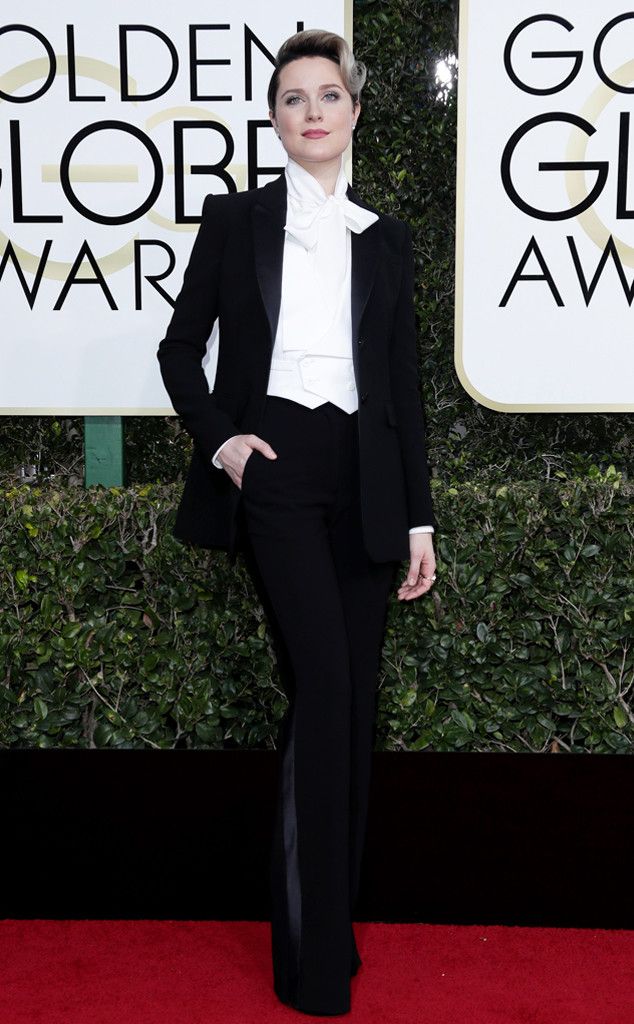 Evan Rachel Wood in Altuzarra
You know I love some pants on the red carpet…so a custom Altuzarra suit? I should be all over it. [As always] it's the hair that's throwing me off. I also dig visible roots (I even have them myself!) but this is roots gone bad…like really bad (like how are you out in public bad?)
Carrie Underwood in Iris Serban
Hands down my worst dressed of the night. I can't find any redeeming quality about this dress. Between the unraveled rose petals and those awkward sheer cut outs, I don't understand what could possess someone to try this on and think it's a good idea to wear on a red carpet (or for any occasion, really)?
Donald Glover in Gucci
A velvet [GUCCI!!] suit on the red carpet? Sign me up!
Blake Lively in Atelier Versace
She's so effortlessly beautiful, it just looks like she's trying too hard here. You married Ryan Reynolds…you can relax now.
—
That's all for this year's Golden Globes. If you haven't yet, be sure to let me know what looks you enjoyed (or totally hated…whatever floats your boat) from this year's red carpet. Until the next awards show…
Images via E!
You might want to check out...