The 3 1/2 hour concert also known as the Grammys happened last night. All that was missing was Blue Ivy featuring Jay-Z and Beyonce. That, and the lack of fashion folks on the red carpet (like Rihanna, Lady Gaga and Bey herself) was pretty disappointing. But at least I learned about some new people (and by that I mean I didn't know about half the people on the red carpet).
So most importantly, let's see who wore what…shall we?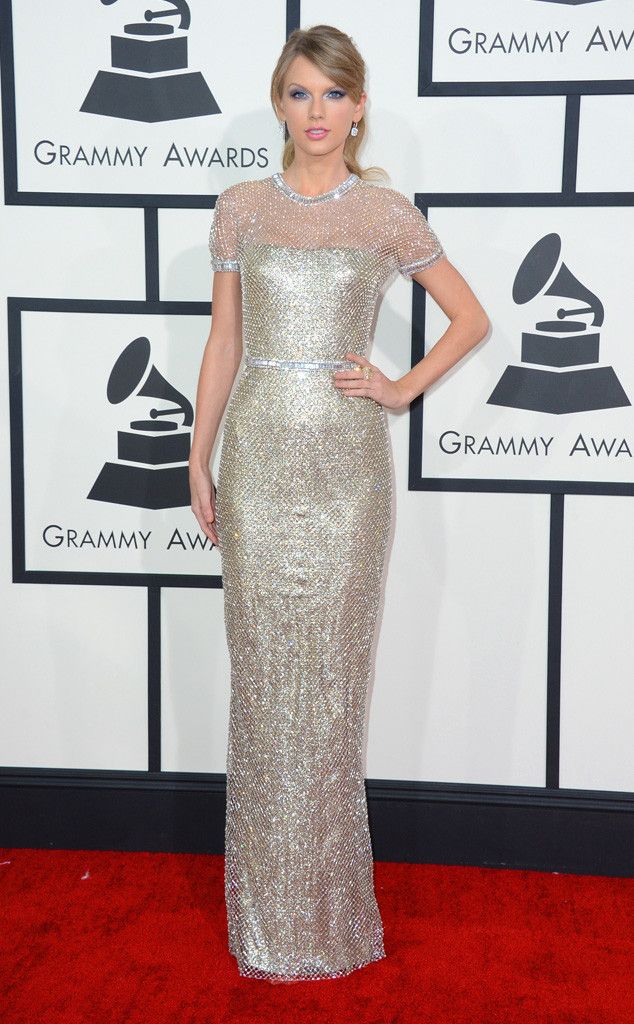 Taylor Swift in Gucci Premiere
This dress is just perfect for the Grammys — the right amount of glam and sparkle without being tacky. Fits her PERFECTLY (nothing beats a dress that fits like a glove). But I would have loved to see her in either some really avant-garde/edgy hairstyle or something undone and messy (re: Ciara). Almost, Tay. Almost. (at least you got the best white girl moves around)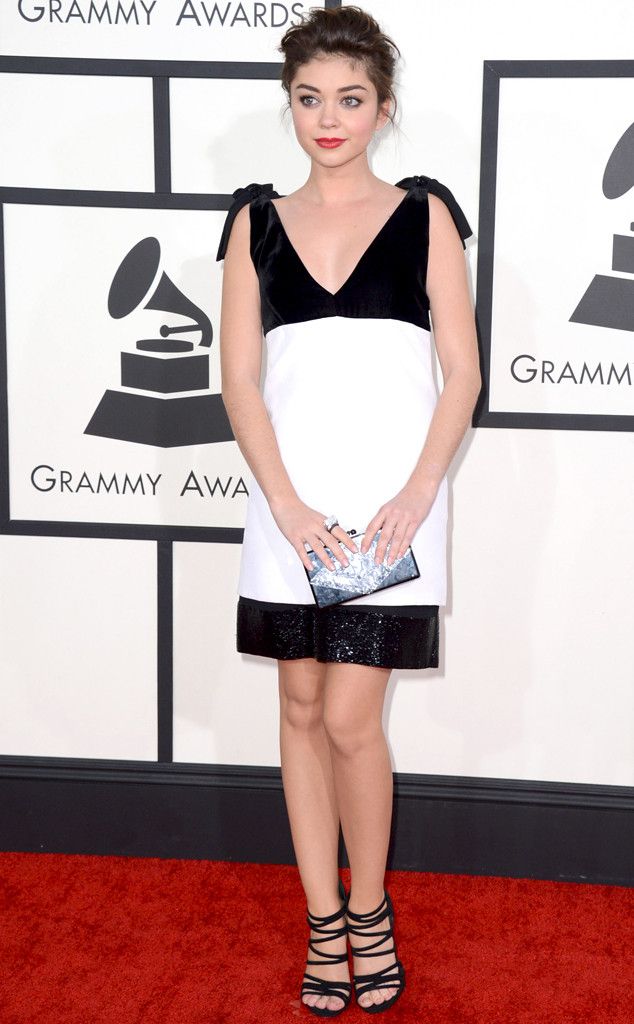 Sarah Hyland in Pucci
Let's do a compliment sandwich. Great bag (a slice of bread). Hate the shoes, not loving the dress (especially the fit), the hair isn't my favorite (the meat/cheese/veggies). The make up is decent (the other slice of bread).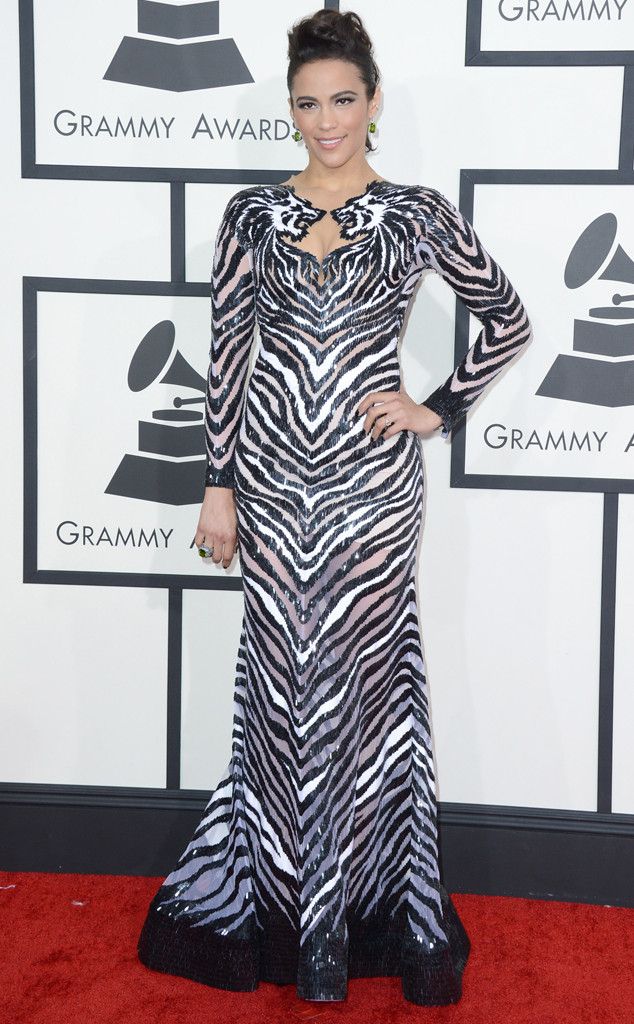 Paula Patton in Nicolas Jebran Couture
I never like what she wears on the red carpet so this is actually not the worst we've ever seen from her. I'm not really into animal print so I'm obviously not going to love this but at least the fit is great. Hey it's a step up from the Golden Globes!
Cyndi Lauper in Alexander McQueen
Looks like Kate Hudson's McQueen dress at the Globes last year has inspired some of this year's looks — first Katrina Bowden and now Cyndi. She proves that girls really do just want to have fun — you go, Cyndi!
Ariana Grande in Dolce & Gabbana
Bad hair extensions. Grandma couch dress. Cheap satin shoes. Sorry girlfriend.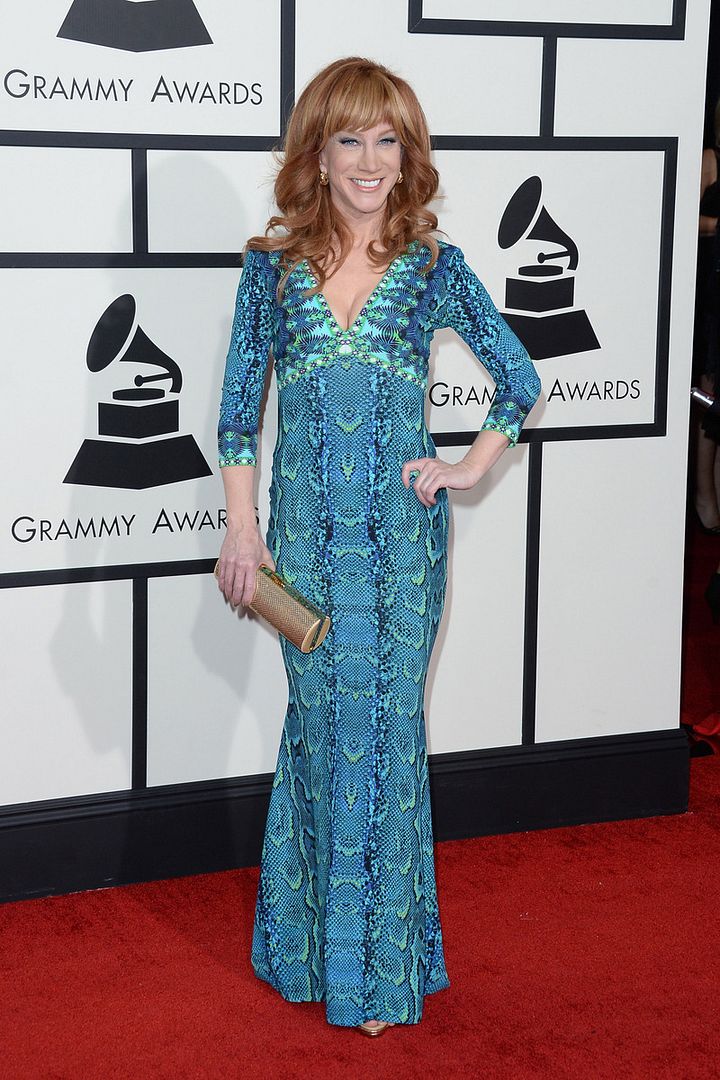 Kathy Griffin
Kathy Griffin or Real Housewife of Miami?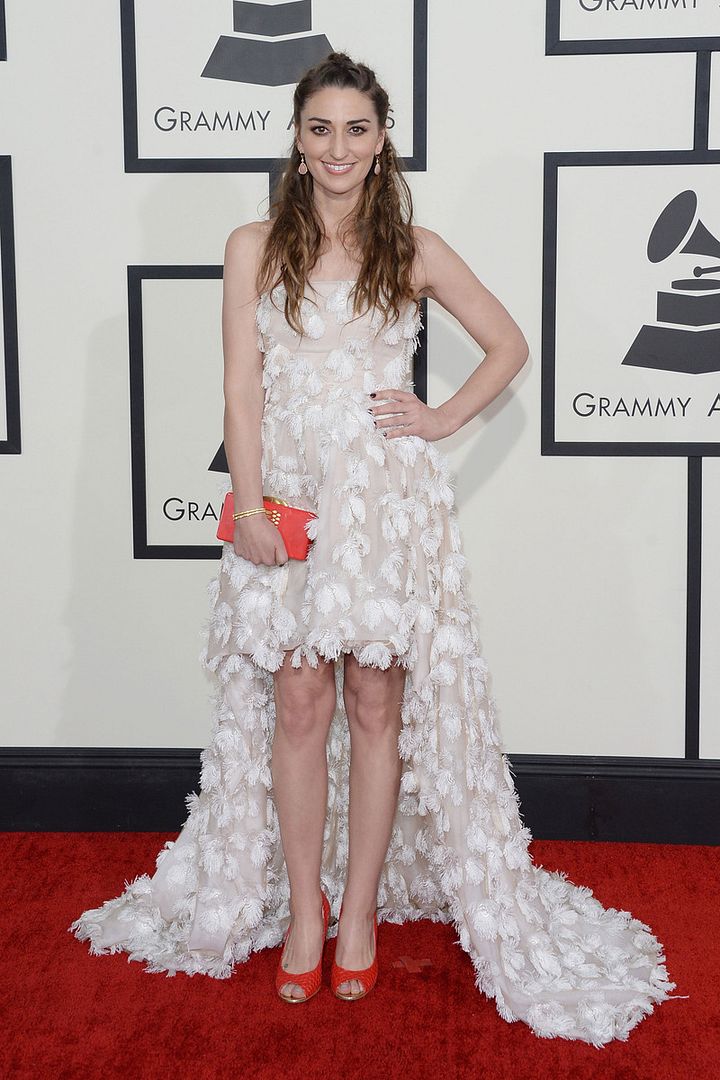 Sara Bareilles in Blumarine
Usually my worst dressed pick for the Grammys consists of something sparkly, tacky and hard to look at. This is just hard to look at. The high/low dress has been played to death and I haven't seen matching a red bag to red shoes since college. I pray she doesn't have a stylist.
Pink in Johanna Johnson
I like the idea of a fancy gown on someone with an edgy look but as I've said a million times before, you'll never win me over with a shiny red strapless gown. Ever.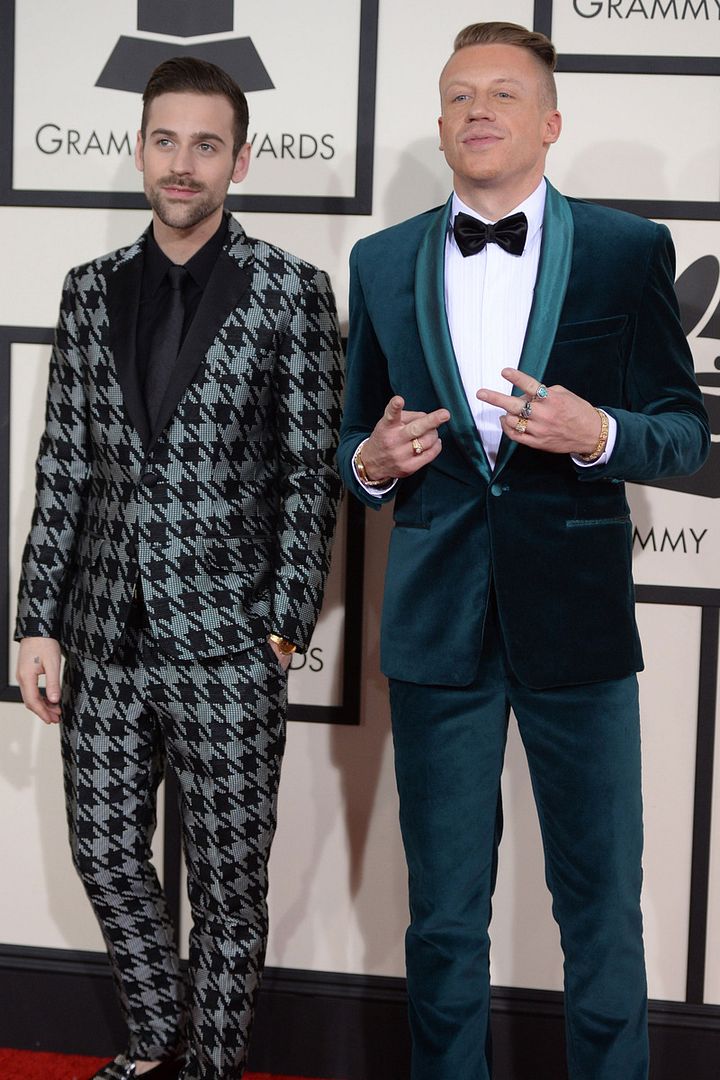 Ryan Lewis (in Mr Turk) and Macklemore
I rarely comment on the boys (menswear rarely wows me) but I was quite impressed with these guys. Ryan's suit has got a little Kenzo vibe going, Macklemore clearly did not get his outfit at a thrift shop, and overall they not only look good on their own but they make one stylish duo.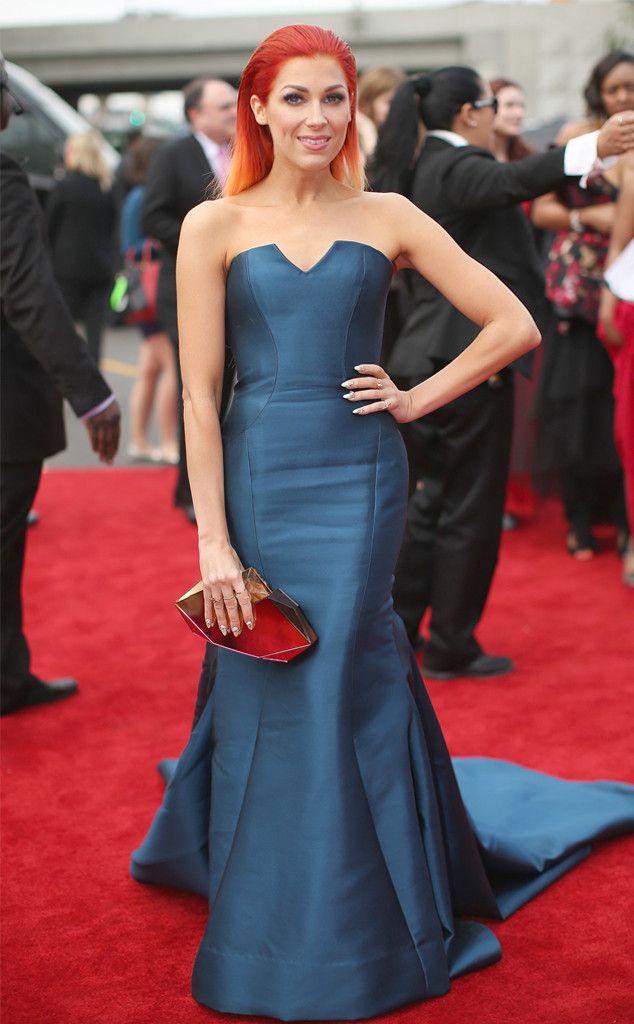 Bonnie McKee in Gustavo Cadile
This was a tough one for me. I love the hair and I totally get the vibe she's going for. I wanted to pick this as  best dressed (which I never would have thought about mentioning if her hair was a "regular" color) but there's something about it that's throwing me off. Maybe it's because the dress wasn't properly steamed before the red carpet, maybe because that clutch looks awkwardly large for what it should be. But overall, I appreciate the look.
Alicia Keys in Armani Prive
Awkward smile, awkward plunge, awkward belt. It's all just so…awkward.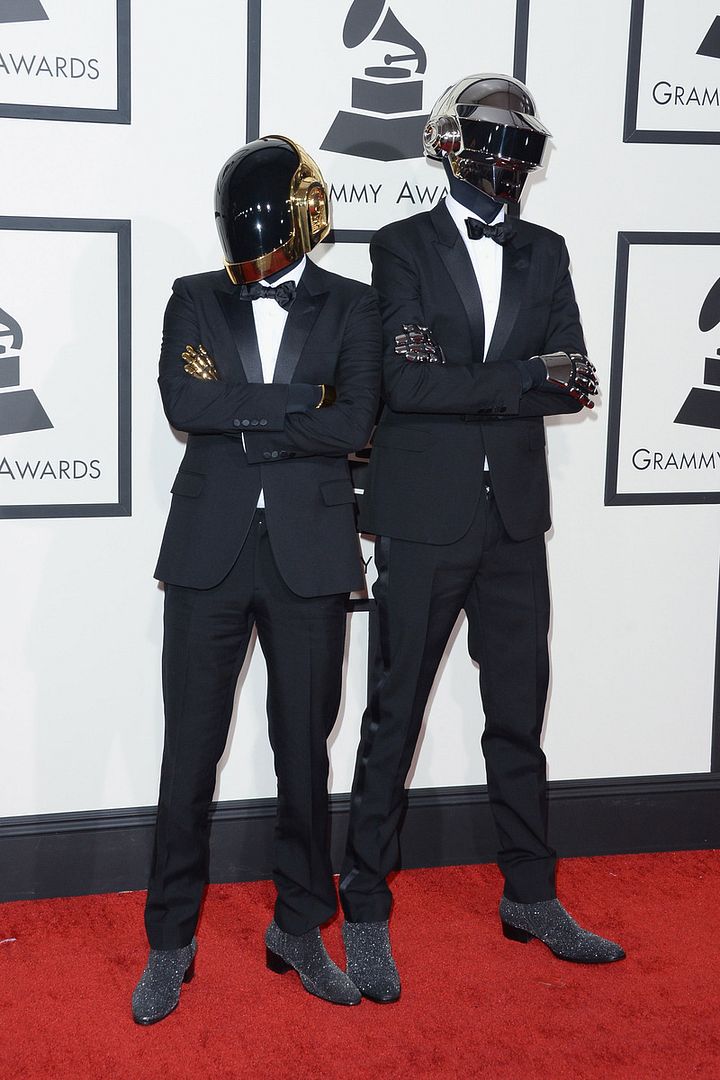 Daft Punk
Hands down best accessories of the night.
—
Any favorites or least favorites of the night? Were you too disappointed we didn't get to see Lady Gaga make an entrance in a spaceship or something? Be on the lookout for part 2 coming soon.
Images via The Cut & E!
You might want to check out...