I literally just got home from the H&M Fashion Against AIDS collection launch at the H&M on Michigan Avenue. I love the collection so much I had to blog about it right away. The collection is very "music festival" chic and it is complete with dresses, separates, shoes, jewelry and tents. Yes…tents. Also, really dope headphones.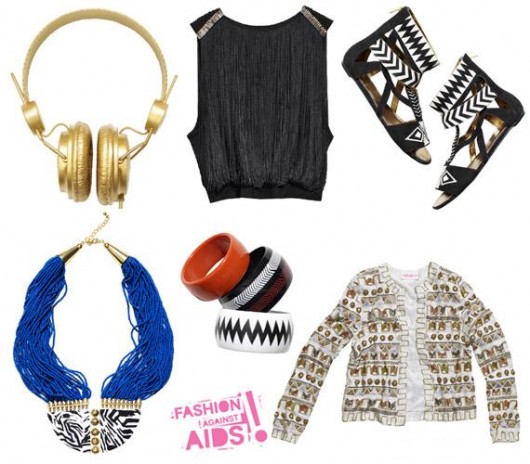 Let's start off with the jewelry…it's tribal inspired with very bright, bold colors and some crazy prints. If you're looking for some great statement pieces and you're on a budget, definitely check out this collection.
Aren't those headphones rad? They come in a variety of colors and prints (but the gold pictured above is the coolest).
The jacket pictured above is so awesome. It's all beaded and it's super heavy but I love the vintage look to it. Unfortunately, it didn't fit me right so I didn't get it but it was still one of my favorite pieces from the collection.
Like the sandals pictured? I'm kind of obsessed with them…so I got 'em 🙂
Here are some more pieces from the collection…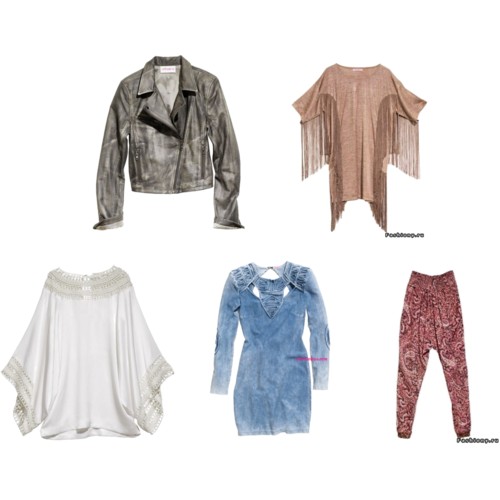 Let's start from the top. The distressed leather jacket is super cool and it's another great piece to buy if the real version is not within your budget. It's a great color and can go with everything.
The gold/bronze fringe dress is amazing but you definitely have to have a certain look/style to pull it off.
I loved the white dress because it has bell sleeves and I am a sucker for bell sleeves. The detailing along the neckline and the bottom of the sleeves makes the dress different and it's a great blank canvas for some killer wedges and some statement earrings.
The denim dress in the middle does not look cute in the picture but it's actually freakin FABULOUS in person. Unfortunately I am neither 5'11 nor am I a size 0 but if you are both of those things…this dress is perfect for you!
Those pants seem very MC Hammer but they're actually pretty cool. I would definitely wear them to a music festival with a black flowy blouse and a fedora.
———————-
Overall, I absolutely love this collection AND a portion of the proceeds go towards the fight against AIDS…it's a win-win situation!
Keep in mind these are just some of the pieces from the collection…check out an H&M near you to see the full collection.
———————-
So, what do you think of this collection? What are your favorite pieces? I'd love to hear from you!
You might want to check out...