Holiday season after holiday season, we are bombarded with sequins and dresses (and sequin dresses) and there's only so much you can do with either. I was feeling inspired yesterday after this feature on SheFinds (not just because I was included…shameless plug). Dressing up for the holidays can either be intimidating or super fun. The fun part happens when you think outside of the box. And what's more outside the box than a Christmas pudding suede and patent leather clutch?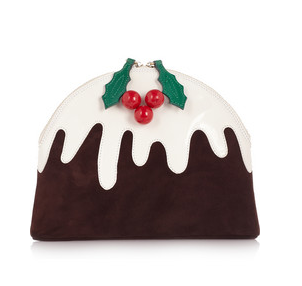 Am I right?
So I decided to pick some unconventional holiday items and style an outfit based around each. Whether or not you're into Jingle Bell heels I hope you feel inspired to do something a little different this holiday season.
ITEM #1: SILK SHORTS
Who would have thought you could wear shorts during the holidays? These Valentino shorts are perfectly festive and if you're fortunate enough to live somewhere that doesn't require tights most of the year (I'm very jealous) feel free to go bare legged.
WEAR WITH:
ITEM #2: FESTIVE CLUTCH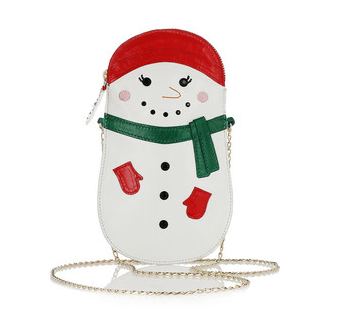 Like I've mentioned in the past, I have a thing for weird clutches. It really doesn't get any weirder (in a good way) than this Charlotte Olympia Frostie bag. Best part about it? You can use it as a Christmas decoration when you're not showing it off at your fabulous holiday parties. It's a win-win situation, really.
WEAR WITH:
ITEM #3: THE ROMPER/PLAYSUIT

Romper, playsuit, jumpsuit, onesie…whatever you want to call it, this one by Catherine Malandrino is perfect for the holidays. If you put on a red hat and a white beard, you could also dress up as a stylish Santa. You'll definitely win best dressed most creative outfit at your next holiday event if you go that route.
WEAR WITH:
ITEM #4: VELVET HEELS
Your friends may get annoyed every time you take a step if you go for these Charlotte Olympia Jingle Bell pumps…but it's totally worth it. They're just jealous that they DON'T have Jingle Bell heels. I love the idea of pairing these with a neutral (yet still festive) sweater and leather pants (because they really go with everything). Refer to Are You Faux Real (Part 2) for more leather pants options.
WEAR WITH:
ITEM #5: QUIRKY SWEATER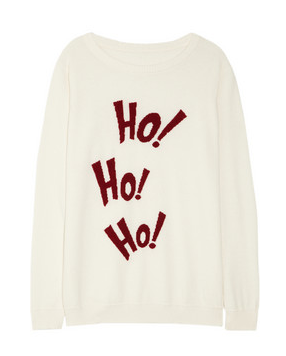 Although I love my Markus Lupfer sweaters, this one by Lot78 deserves just as much attention. Because I'm not including any dresses in this feature (I'm really sticking it to the man here…or whoever invented traditional holiday dressing), I thought a skirt would be appropriate. Once again, you can ditch the tights but if I see you in Chicago when it's below 40 without hosiery…I will come after you.
WEAR WITH:
ITEM #6: THE SUIT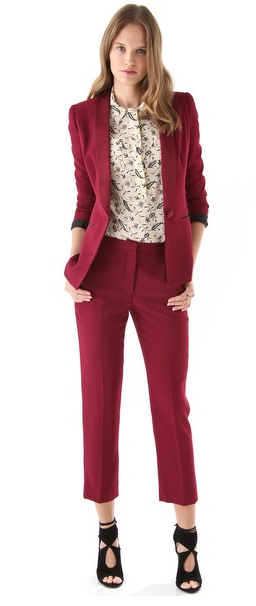 If you work in a conservative office and aren't sure if a Ho Ho Ho sweater is necessarily appropriate, try a suit like this one by Nonoo. Feel free to jazz it up because you can wear a boring suit to the office any other day of the week. A printed blouse, a metallic clutch, or if you're feeling extra festive, Holly flats…just go for it.
WEAR WITH:
No sequins, dresses or sequin dresses in sight. Hope you'll step outside the box this holiday season and have some fun with your look. I know I will.
You might want to check out...