With Orange Is The New Black season two released today on Netflix, I'm curious to see if this will be the largest girls-night-in, in the history of girls-nights-in. So if you're taking the day off to binge watch, are already on summer hours or just want to read another fantastic post on ChiCityFashion, here it goes.
If orange really is the new black, then let's discuss how to wear orange. It's not exactly the easiest color to pull off, but I'm going to make it easy as pie (but probably not as delicious). And if you don't know how to spell orange, just ask Damian.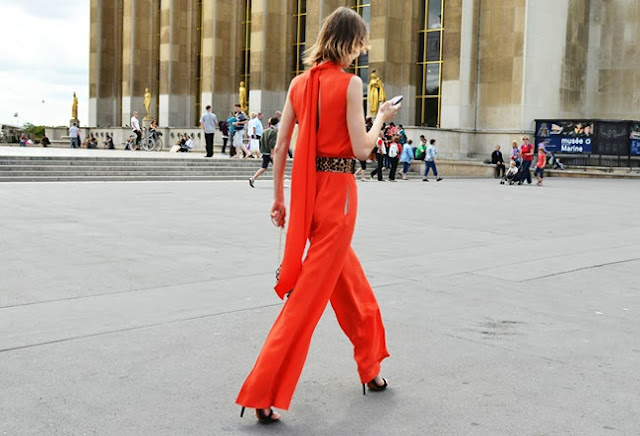 So why is orange such a tough color? You don't see too many orange dresses or jumpsuits on the streets of Chicago, and I get it. Black is a much easier choice…as are many other colors. But if we're taking note from our friends Piper Chapman and Crazy Eyes (who ironically have tan jumpsuits on the show) then we need to learn how to rock this color. After all, it's the perfect season to do so…and you don't have to wear a neon orange jumpsuit (although that one pictured above is pretty fabulous) to achieve the look.
When most people think of orange clothing, they think of this really bright shade that can be intimidating, but there's so many hues out there and they're all especially flattering this time of year (if you have a bit of a bronze going on). I understand bright orange is a tough sell so I'll leave that to those risk-takers out there who don't mind a bit of attention (if you're feeling extra ambitious, I dare you to try orange leather pants). When pairing this color with others, it's most definitely not like black because it absolutely doesn't go with everything. I personally don't love pairing orange and black together because it usually makes me feel like Halloween (although it can be done right, I just prefer other pairings). The easiest combination (especially for accessories) would be a gold or gunmetal…just any metallic, really. Got an orange dress? Try gold sandals or pumps. Now, what about orange separates? If you have a solid orange top or bottom, it's fun to pair it with a print that has some shade of orange in it (doesn't have to be the exact shade as the solid). I also dig the look of orange paired with red or pink. You should make sure the specific shades don't clash, but when they're just right it can be on hell of a look. And if that's too much for you, pair an orange top with simple denim or even white jeans. Or reverse it and try an orange skirt/shorts with a white tee. And if that's all too much for you, the absolute easiest way to wear orange — ACCESSORIES. Neutral outfit + orange bag or shoes (please, not both) and you're done. See? Orange isn't that scary (unless you're forced to wear it because you committed a serious enough crime that requires an orange jumpsuit to be worn daily…that is scary).
And for some more orange-spiration…
Will you be binge watching OITNB tonight? Will you be wearing orange while doing so? Thoughts on the color? The show? Life? Anything?
Image via Pinterest
You might want to check out...