The last few days have been quite the kick into 2017 — we officially got a new president (?), it was 60 degrees AND sunny in Chicago (just a friendly reminder…it's January) and the most insane collaboration was just announced (which you'll get to hear more about shortly). So let's take a look at the first mood board of the year, shall we?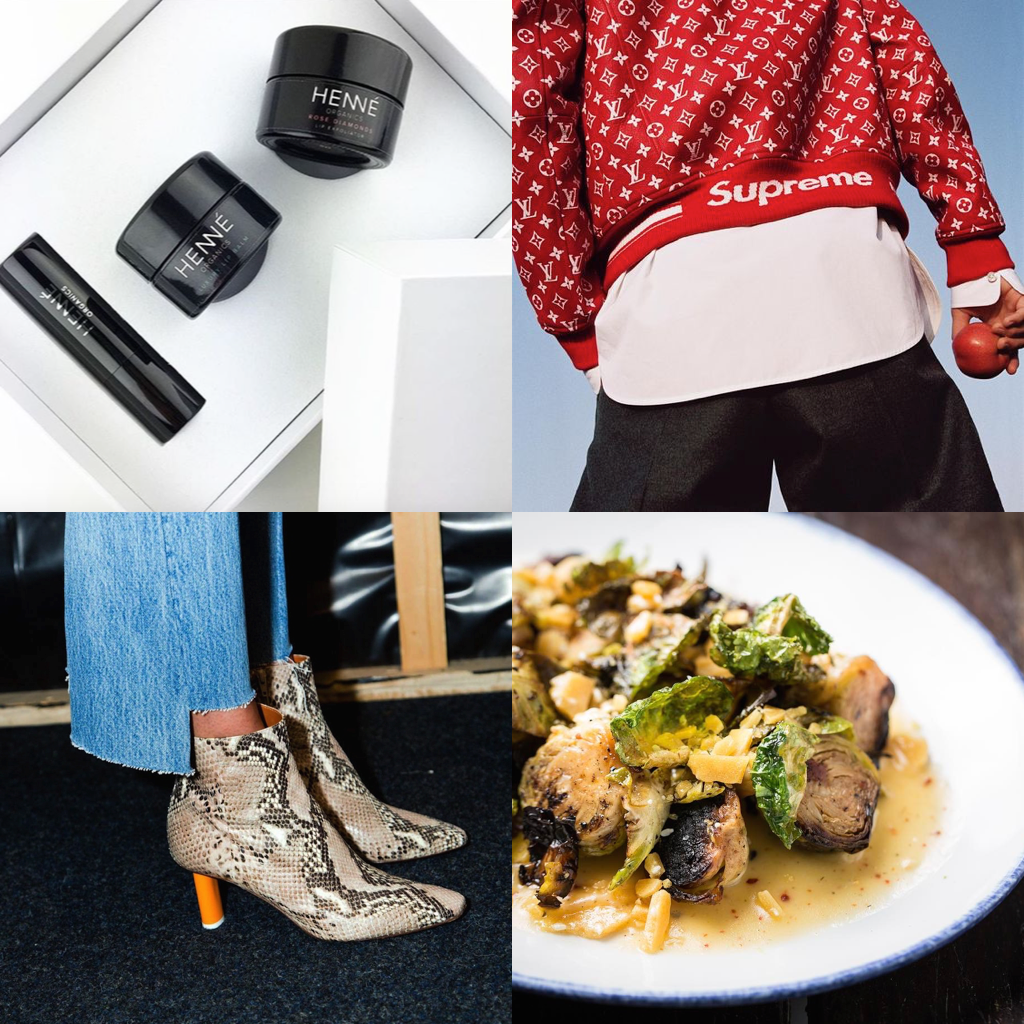 FASHION:
I just couldn't wait another second…and unless you were off the Internet all weekend (which I don't blame you if you were), I'm sure you already knew Supreme x Louis Vuitton was happening. Supreme already has a cult following of sell-out-in-seconds merchandise…so slap on that LV logo and we are talking Coachella tickets meets Kylie Lip Kit (circa first handful of releases) meets Yeezy Boosts HARD TO GET. Rumor has it the drop is July 17. Adding to calendar NOW.
There's only so much you can do with jeans, right? I don't know about you but I get bored pretty easily with same washes and silhouettes over and over again. And although this is a subtle detail, it's one I can't get enough of right now — asymmetrical hem (or stagger hem) denim is where it's at right. I'm a big fan of the Frame variety (obviously) but I'm hoping to get a few more in my life ASAP (re: the end of this post).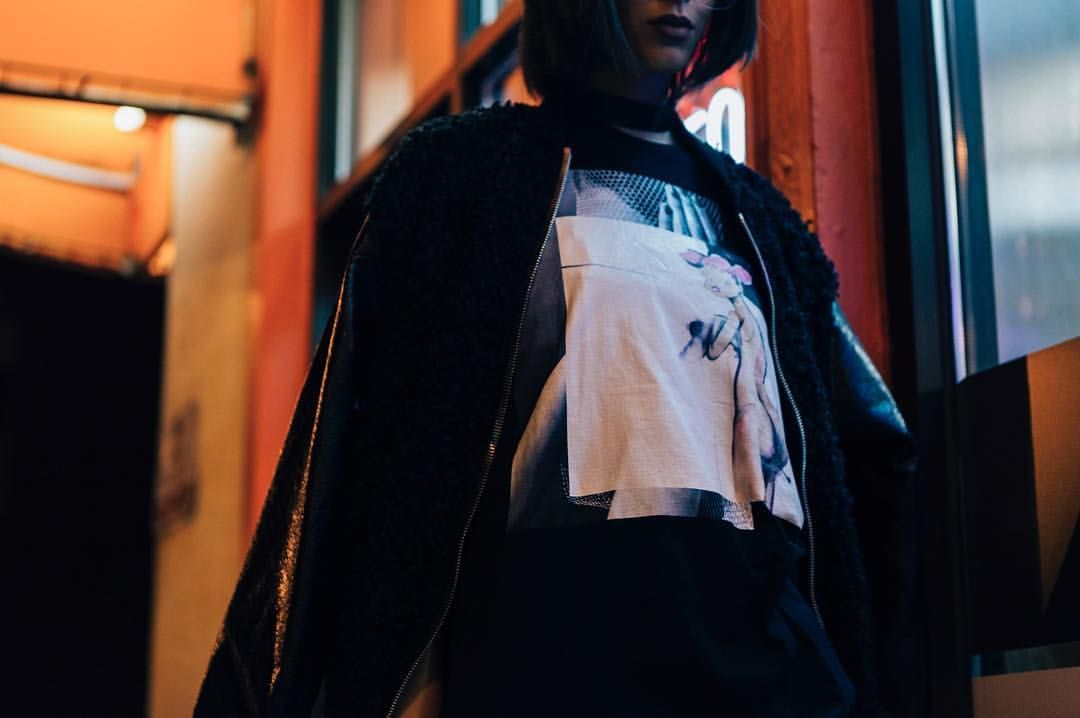 HERO/BLACK is one of my favorite new(ish) Chicago brands right now. Remember when I said all I want to do is feel like a badass when I get dressed? Well that's accomplished in one simple step when you wear HERO/BLACK (#goals). I have a long black mesh bomber coming soon…so get ready.
TECH: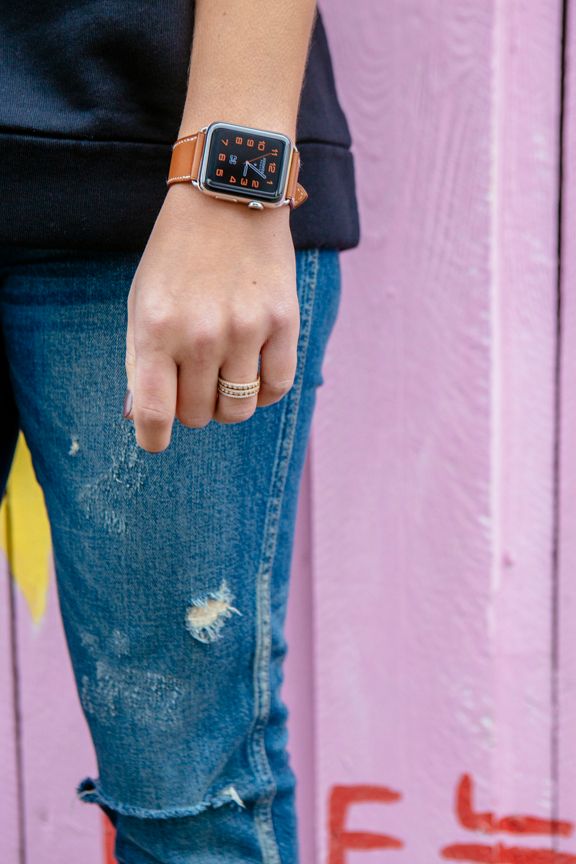 This is really fashion meets tech but I figured I should switch things up. It's not like the Apple Watch is new, and neither is the Hermes version BUT considering I got my hands on one this month…that's why it's just now sneaking its way into January Vibes. I never thought I was a wearable tech person until I got the Hermes Apple Watch for Christmas…and honestly, I'm pretty obsessed now. I've been working out a little more (I know…who am I??) so it's nice to have something to accurately keep track of that. Plus it reminds you to do simple things we should do but probably don't…like breathe and stand. And although the regular Apple Watch can do this…isn't everything better when it's Hermes? ?
FITNESS:
And this is really fashion meets fitness (see a pattern here?) but considering I just told you I was working out more, this is the perfect segue into my new obsession — the Nike Zoned Sculpt leggings. First off, I love anything high waisted (especially for working out). Sucks you in without being uncomfortable…plus, you can rock it with a crop top and bomber / leather jacket a la Gigi / Kendall. I'm also really into the ribbed detail, as it looks a little more elevated (like a moto pant) so it's more wearable outside the gym. I know the fashion world is sick of hearing about Athleisure but it's not going anywhere…and neither are these pants (seriously, I already have three pairs).
FOOD: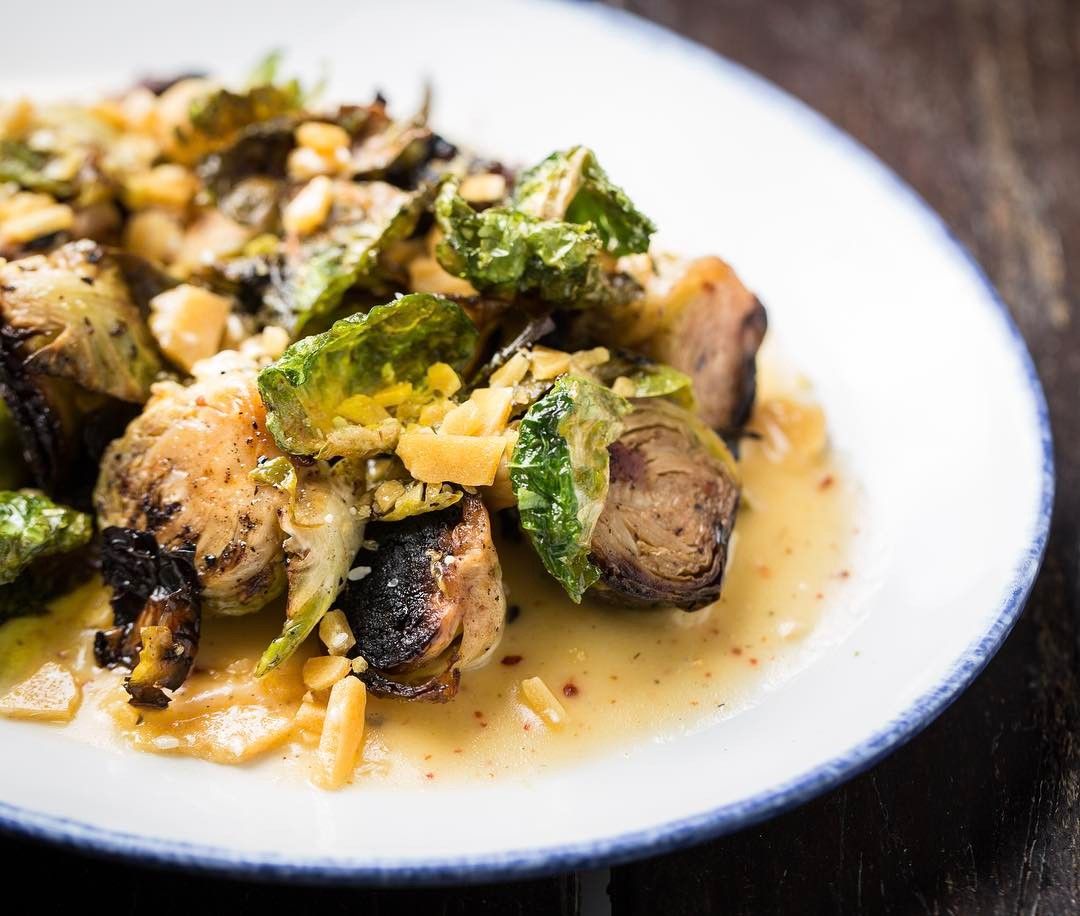 Because what's the point of fitness without food? Giant has been at the top of my ever-growing "restaurants to try in Chicago" list on the Notes section of my iPhone for quite some time now…and I finally got to cross it off a few weeks ago. I go out to eat A LOT (like way more than I should) and although I have a lot of great meals, I rarely remember exactly what I ate. This was definitely one exception — a [fried] uni shooter (!!), a biscuit, some scallops, the best brussels sprouts I've ever had in my life (not exaggerating), garlic buttermilk potatoes (can you think of three better words to string together?), Sortallini (which was one of the best things the folks at the Chicago Tribune ate in 2016) and chicken habanero (fried, with a mole sauce…NBD). So, yeah…you can say I'm really feeling Giant this month.
BEAUTY:
I don't know if it's the influx of lip care on the market as of late or maybe I'm just starting to take notice a little more…but I do like to give my lips some special treatment — whether it's a KNC Beauty lip mask or a good scrub a few times a week (and balm constantly throughout the day) — I just don't like the feeling of chapped lips (who does??) And with this extra dry time of year, it's kind of hard to avoid…unless you have the ultimate lip [care] kit. Cue: Henne Organics (The Lip Collection). I'm always on the hunt for the best lip balm (Fresh Sugar used to be my jam) and the two that come in the kit (one in pot form and the other, a stick) are super luxe and hydrating…and even better that they're totally organic. I also use the exfoliator in the shower a few times a week. You can buy each one separately but if your lips are in desperate need of some TLC, the lip collection is the way to go!
MUSIC: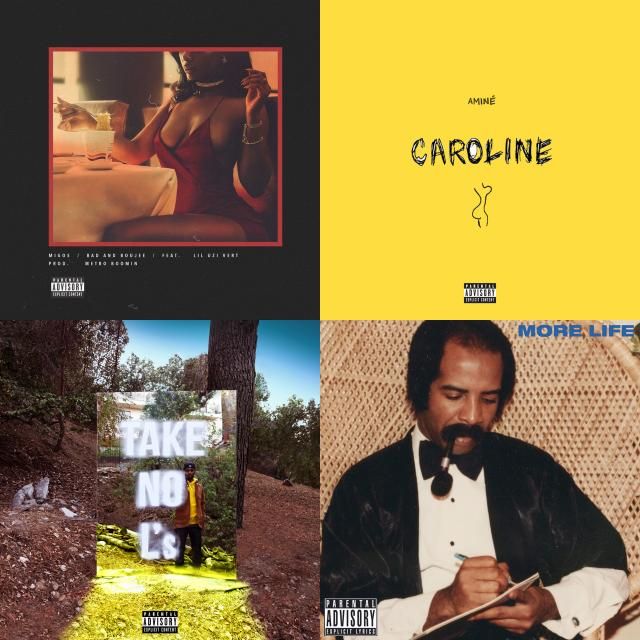 Unless you are a hip-hop fan, I would just skip the music section of these posts (because there's a 99% chance it will only be about that genre). But if you're down, I'm quite proud of this playlist I made last week…appropriately titled, The Only Hip Hop Playlist You'll Ever Need. It's a mix of old and new (definitely a lot of crowd pleasers here!) You'll want to work out to this, party to this, aimlessly online shop to this…there's really no occasion where this playlist doesn't make sense (except blasting in the workplace sans headphones…no edited versions here!)
MISCELLANEOUS: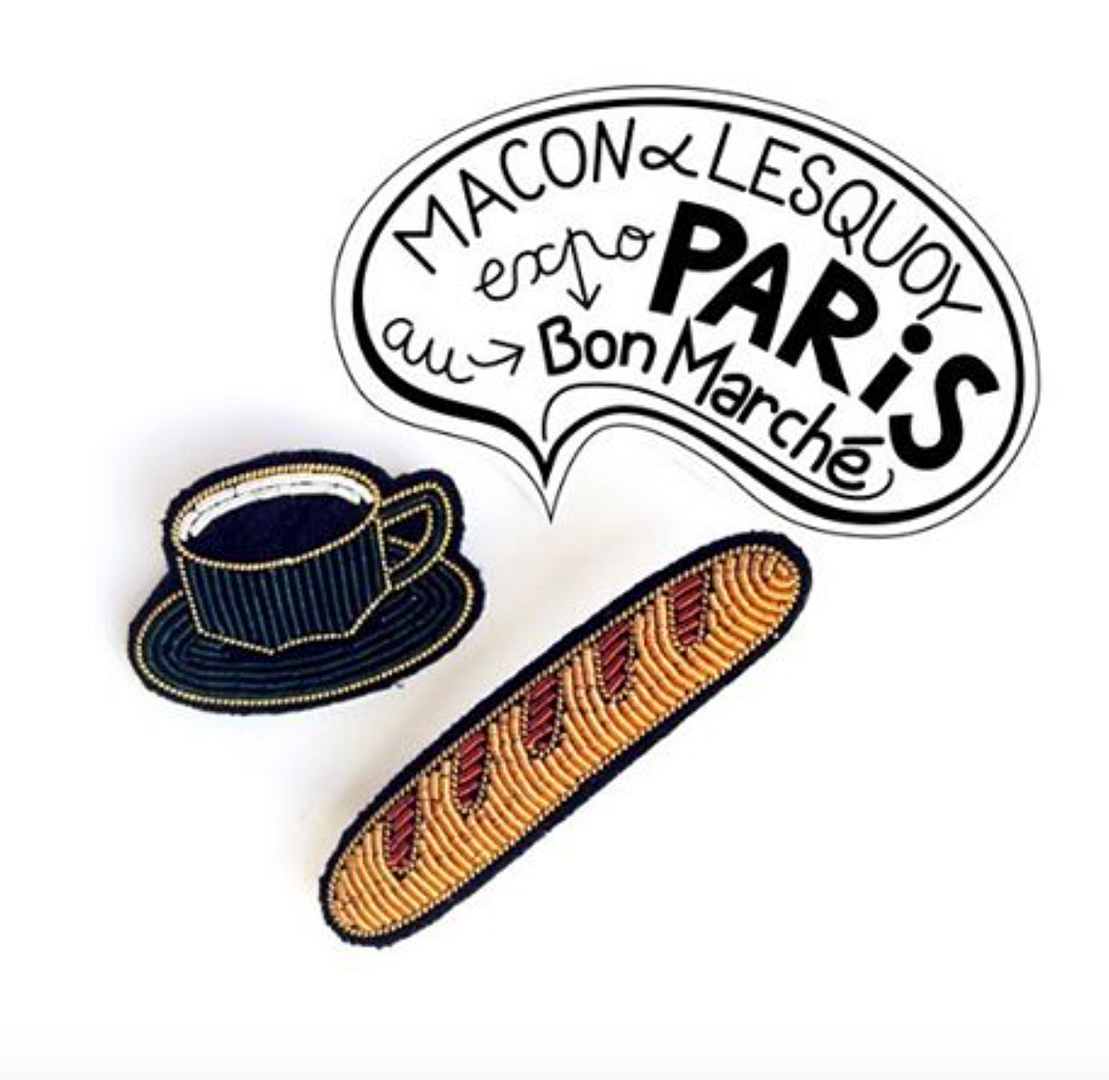 Pins are making a major comeback (especially on denim jackets…guilty!) but it's not everyday you come across one of the woven variety, which is why I'm really feeling the Macon & Lesquoy pins. Now I can't take all the credit for this — my friend Whitney got me the chocolate one for Christmas (and they do carry them at space519 for those in Chicago). I haven't worn it yet but if you follow me on Snapchat, I'm sure you'll be the first to know ?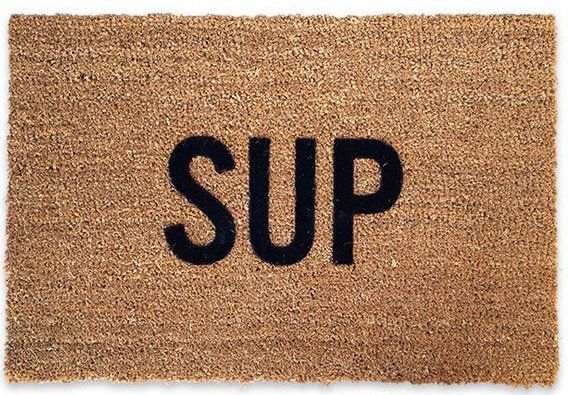 I love to throw in something extra random for these monthly mood boards (remember the toothbrush?) #notspon) and what's more random than a doormat? I've been looking for cute ones for years and I finally found some on Etsy and Waiting on Martha. Doormats are one those things that we buy just to have but aren't super excited about. However, I can say with confidence I am PUMPED about these doormats (I currently have HEY WHAT'S UP HELLO in the front and SUP in the back…can you tell I just want to know what is up??)
—
Until February, my friends…
Images via Instagram, Trend Survivor, & Vogue
You might want to check out...