I thought about doing a Throwback Thursday in honor of Kate Moss's birthday (it just so happens to be on the only day of the week you can throw it back, apparently) but I just did that for the other British Kate (as in Middleton) one week ago today. I couldn't ignore the fact that THE Kate Moss is turning 40 so I thought we should do something a little differently to celebrate her four fabulous decades on earth.
So, here's a look at some things we can thank Kate for.
Kate Moss is one of those people that can literally wear anything and make it cool. Honestly, if she wore Crocs it would be all over The Cut and WWD, and they'd be sold out everywhere for months (power not even Crocs-enthusiast and famous chef Mario Batali has).
So what fashion items may have never been popular if it weren't for Kate The Great?

Hunter boots. How did our feet stay dry pre-Hunter? (Oh yeah, Burberry Nova Check…yikes). Rain boots are tough to look stylish in because they're such a practical item with very few good looking options to choose from. Yet somehow she makes these look like part of her outfit and she'd wear them even if it wasn't raining.
Not only has she made rain boots cool…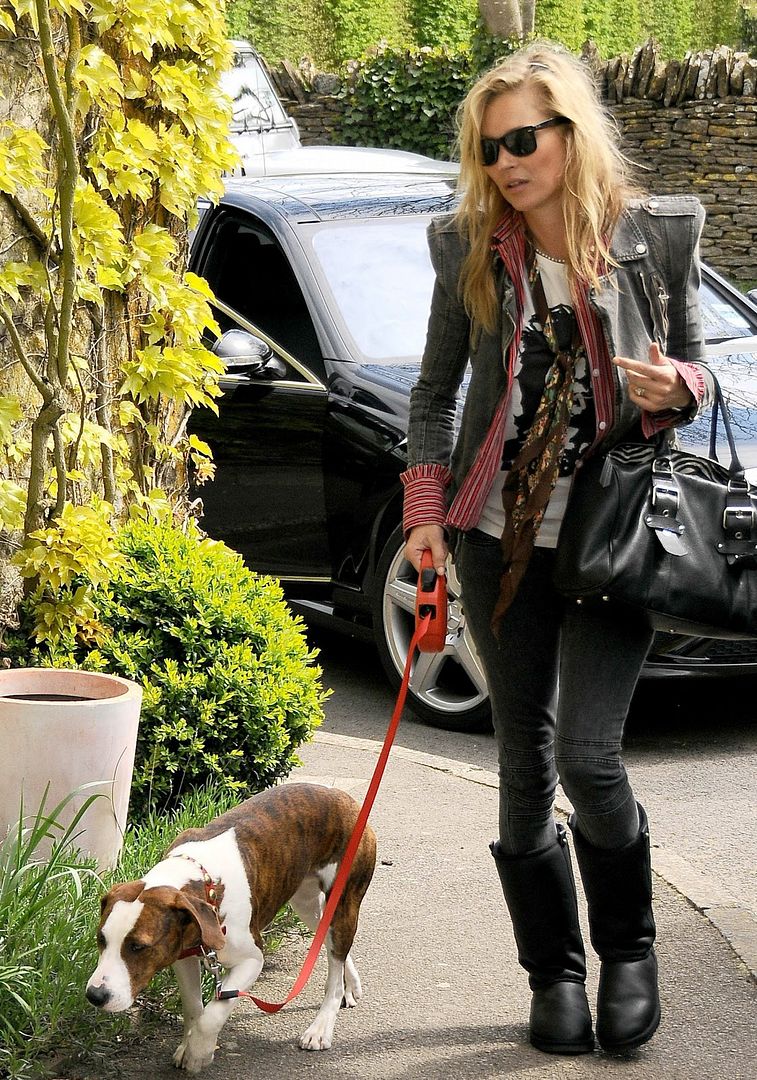 But made Uggs something that doesn't necessarily belong paired with a North Face on college campuses nationwide. And the fact that she's walking her dog in a Balmain jacket and Ugg boots is why you can't help but love her.
She's also responsible for making the Balenciaga motorcycle bag happen (something I've actually already thanked her for). I have a few of these babies lying around and because of their bright nature, I think I'm going to bring them back this summer (I'm no Kate Moss but it's worth a shot, right?)
Kate's actually sporting three things she's known for in this image — Uggs, the Balenciaga bag and another popular Kate fashion item…FUR.

Kate loves her fur so much that she made PETA's list of worst dressed celebrities in 2008. And that's not an easy list to get on…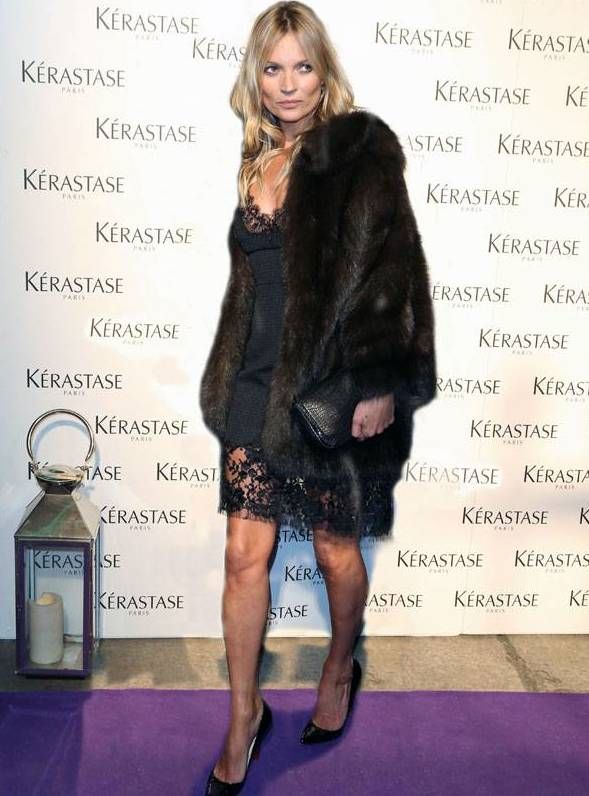 Along with the 90s in general, Kate was responsible for making "slip dressing" popular. Her signature style usually includes some dress that looks like a nightgown, put together with none other than a fur coat. Glamour at its finest.
Of course we love dressed up Kate, looking all fabulous and hanging out with her famous (and almost as fabulous) friends. But casual Kate in ballet flats is also a great Kate. Flats are such a general category that I'm not sure Kate was solely (pun intended) responsible for making them happen, but at least we can feel better about wearing them. Because after all, so does Kate Moss.
Although she looks better in them than most of the people who actually wear them, Kate Moss and cut off shorts go together like me and carbs. It's just a good partnership that works.
—
So I have to say…thank you, Kate. Thank you for Hunter boots/Uggs/Balenciaga/fur/the slip dress/ballet flats/cut-offs. Whether you're 40, 50 or even 60 you'll forever rock them better than anyone else.
And if you too want to dress like Kate…
Images via WWD & The Cut 
You might want to check out...