It's funny that after having several fashion lines (you could try Sears), a multi-location clothing boutique (thankfully Chicago isn't one of them) and a multitude of other things I literally can't keep up with (pun intended) that it took Kanye West to get the fashion industry to accept Kim Kardashian. Which is ironic because no one really took his line that seriously anyway…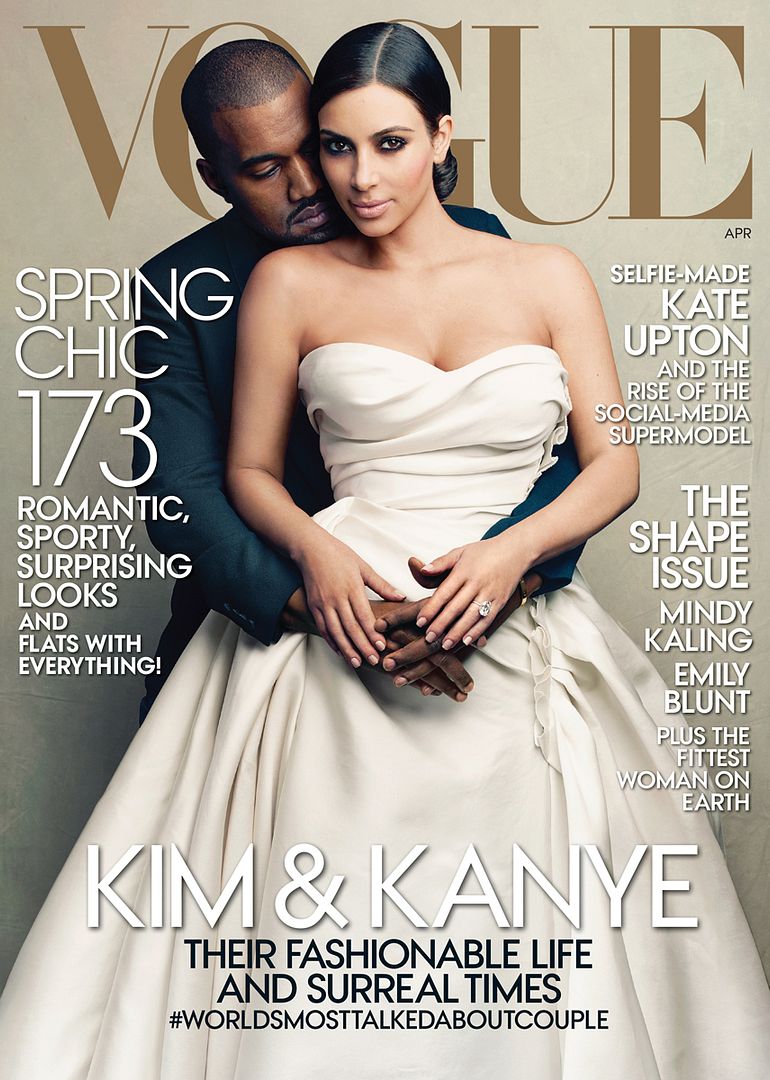 Unless you've been on a deserted island with no Internet (in that case, I hope to join you next time) you've probably heard that Kim and Kanye are on the cover of Vogue's April issue. There had been rumors Kim might be on the cover for quite some time, but once again it took Kanye to make it happen. So, is this the official sign that we must now consider Kim Kardashian a style icon? Let's investigate.
Most people think "sex tape" or "reality show" when they think of Kim Kardashian, I think "bandage dress" (which is actually one of my least favorite things, ever). Too tight clothes, tacky shoes, a face FULL of makeup — it's a fashion person's worst nightmare. Then cue Kanye and suddenly Kim looks (dare I say it?) chic, and is besties with Riccardo Tisci (and you can't help but wonder how she used to pronounce Givenchy — I'm thinking it was something like GIVE-EN-CHEE). Yet still, there is more progress to be made. Let's just say there's a fine line between fitted and ill-fitting and buying your real size is very important (if you don't fit a sample size, don't try to). These are important life lessons.
Plus, if we know this is all Kanye, can we still admire Kim for her style? (even Kim's best style moments according to Vogue are during this Kanye period). It's kind of like those we consider to be red carpet style icons — are they really style icons or do they just have awesome stylists?
Now moving onto another part of this conversation — North West. Why does she look so concerned? Perhaps she might want to get into fashion one day and doesn't want to be judged this early based on everyone's strong opinions towards this Vogue spread? She could be worried that this is the first time the world has seen her behind (well, partially) and it will always be compared to her mother's (but really how could you notice a baby's butt when Kim's gigantic ring is in the picture?) Or maybe she just wants to live a normal childhood and being in a major fashion magazine editorial before she can talk or walk is far from.
Oh I can't wait for a North West tell-all…

Thankfully, the Kardashian family is too large for them all to be on the cover of Vogue but a lot of people really consider this an F U to those who are actually making something happen in fashion (and not just getting married on E!'s dime…once again). I'm not sure if we're at the point yet where fashion has accepted all Kardashian-Jenner-Wests but after Kendall's killer fashion month and now this, we're getting closer to a full-on Kardashian fashion takeover, which is absolutely terrifying. I agree that Kim's style has evolved and is much more cool and sophisticated but she only seems to wear a crop top and fitted skirt in muted colors and there's only so many times we can see that look on one person (especially when there's over 13 million followers you share it with).
So for me, I'm not ready to accept the Kardashians. I've already accepted Kendall, but she actually seems to be a good model and clearly Givenchy, Chanel and Marc Jacobs think so too. We've read the reactions to this Vogue cover but I want to hear YOUR reaction. Do you think they should be on the cover? Are you going to buy the issue? Most importantly, have you accepted Kim Kardashian (or any Kardashian) as a style icon?
Nuh uh, honey…
Images via Vogue
You might want to check out...