Yesterday I finally shared my first London update and now the journey continues, but this time with one of the coolest things I got to do during my trip — experience a different kind of fashion week. I think you can put two and two together to figure out which one.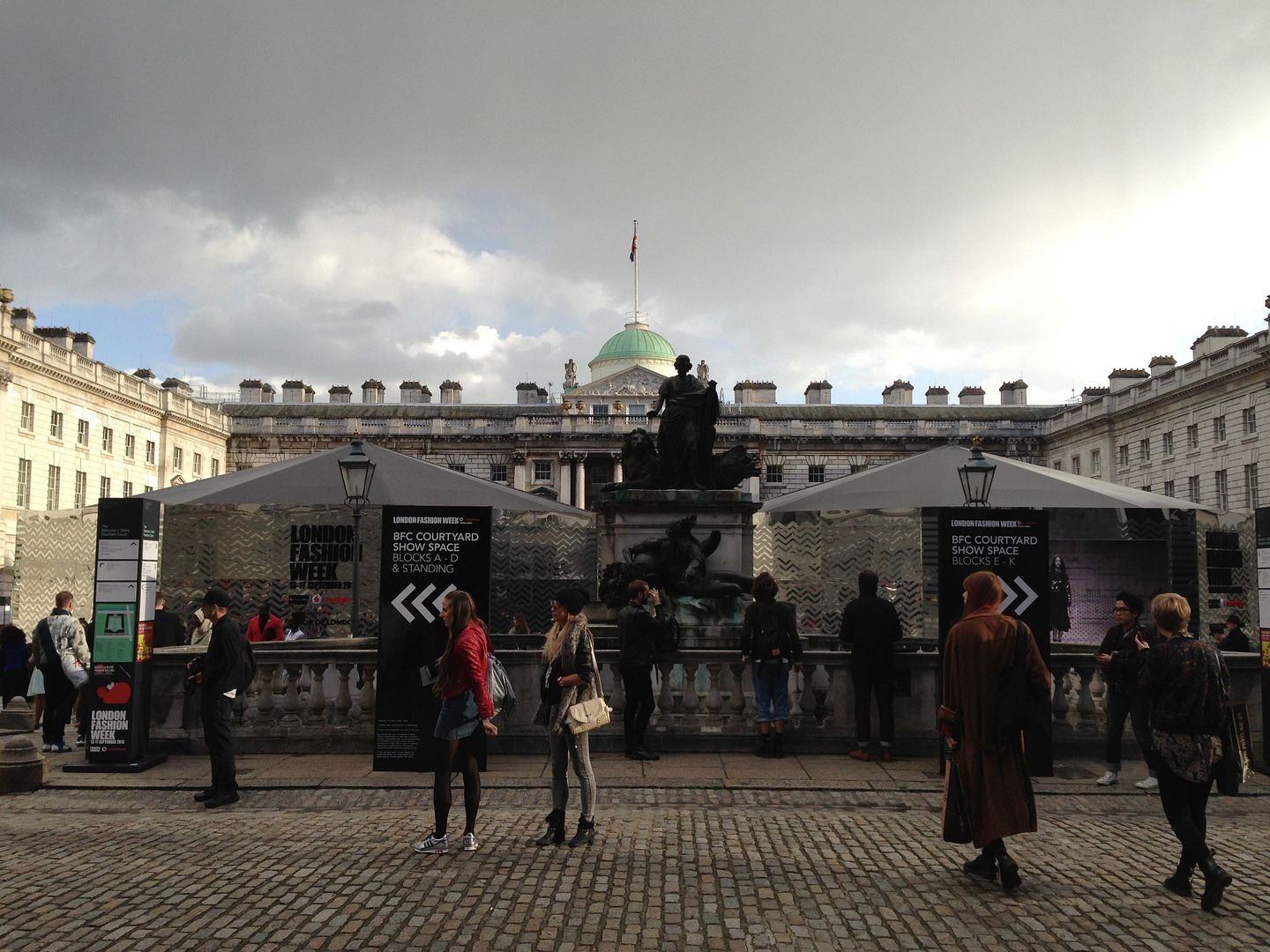 Although I didn't actually attend any shows at Somerset House (the equivalent to what Lincoln Center is to NYFW…but a much cooler venue) I had to check it out to get the full LFW experience. I got my fix pretty quickly then before I knew it, I was at Opening Ceremony. But back to the shows…
On Sunday I attended the Topshop Unique SS14 show (which was my first Cara Delevingne sighting in London…and thankfully not my last). I took some super fantastic blurry iPhone photos, for your viewing pleasure of course. So I hope you appreciate these high quality images just as much as I do…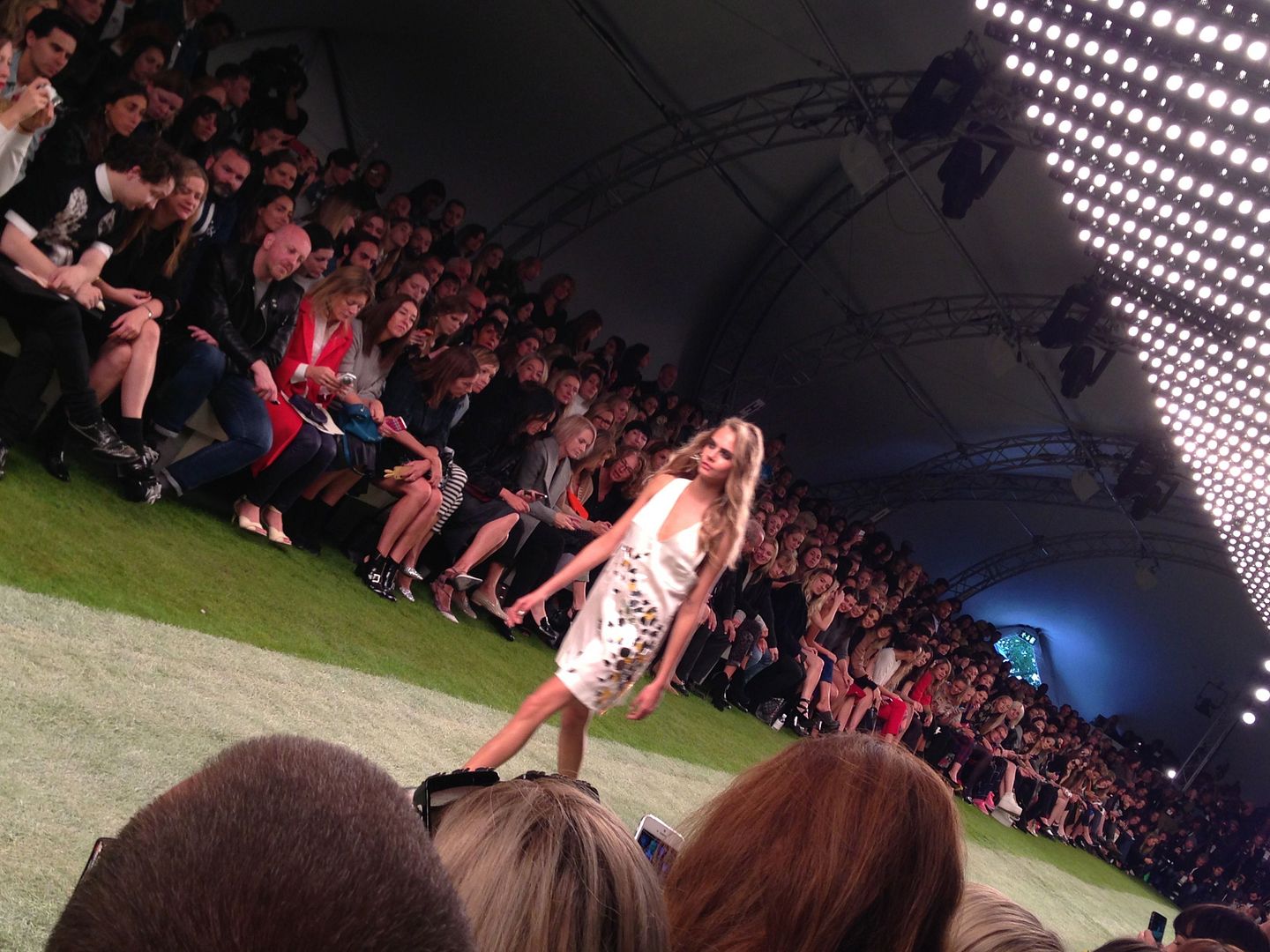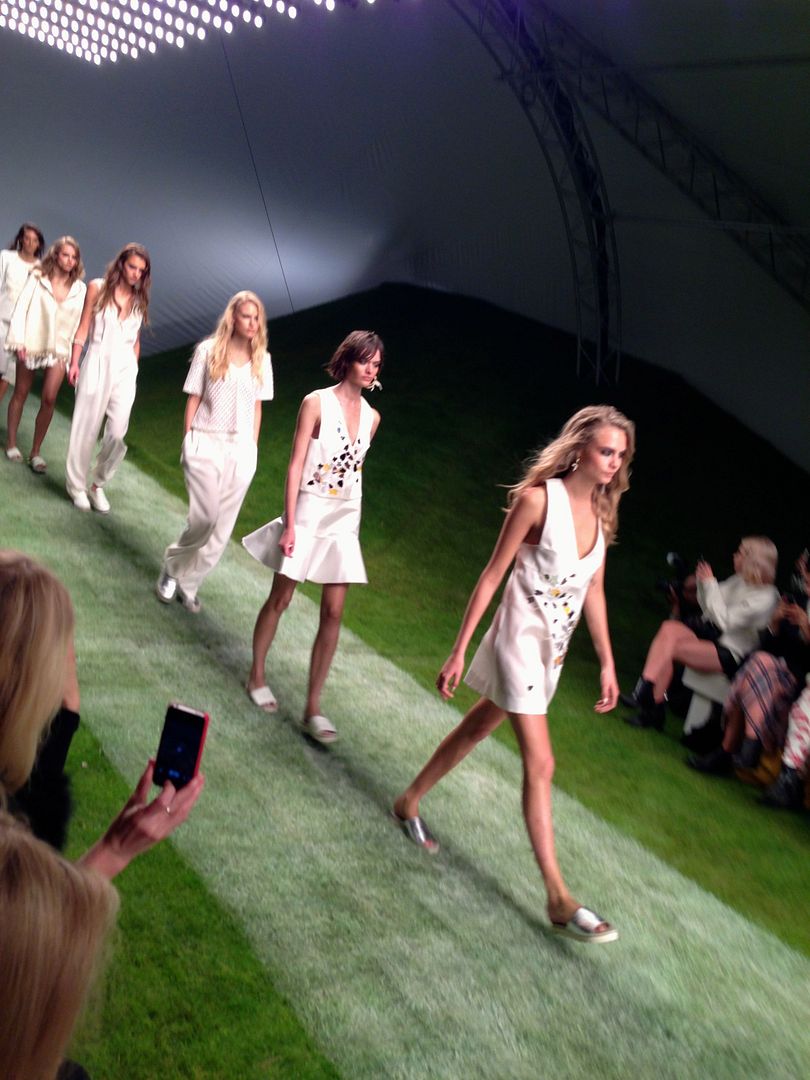 The show had a slightly 90s/early 2000s vibe with the baggy low-rise pants and spaghetti straps. Although I knock that time period for having some awful fashion (velour mini skirts anyone?) this is an updated version I can get behind. One thing I'm still not totally on board with yet is this whole revival of the Birkenstock. Everyone's doing it, it might be my new sneaker wedge (and I think we all know how I feel about that) but I have to see them hit stores to make my official decision.
And in case you missed it, here's a sweet video of the finale walk from Topshop.
Now onto Burberry, where NYFW's front row is in the second row and you have to have Anna status for an unblocked view of the runway.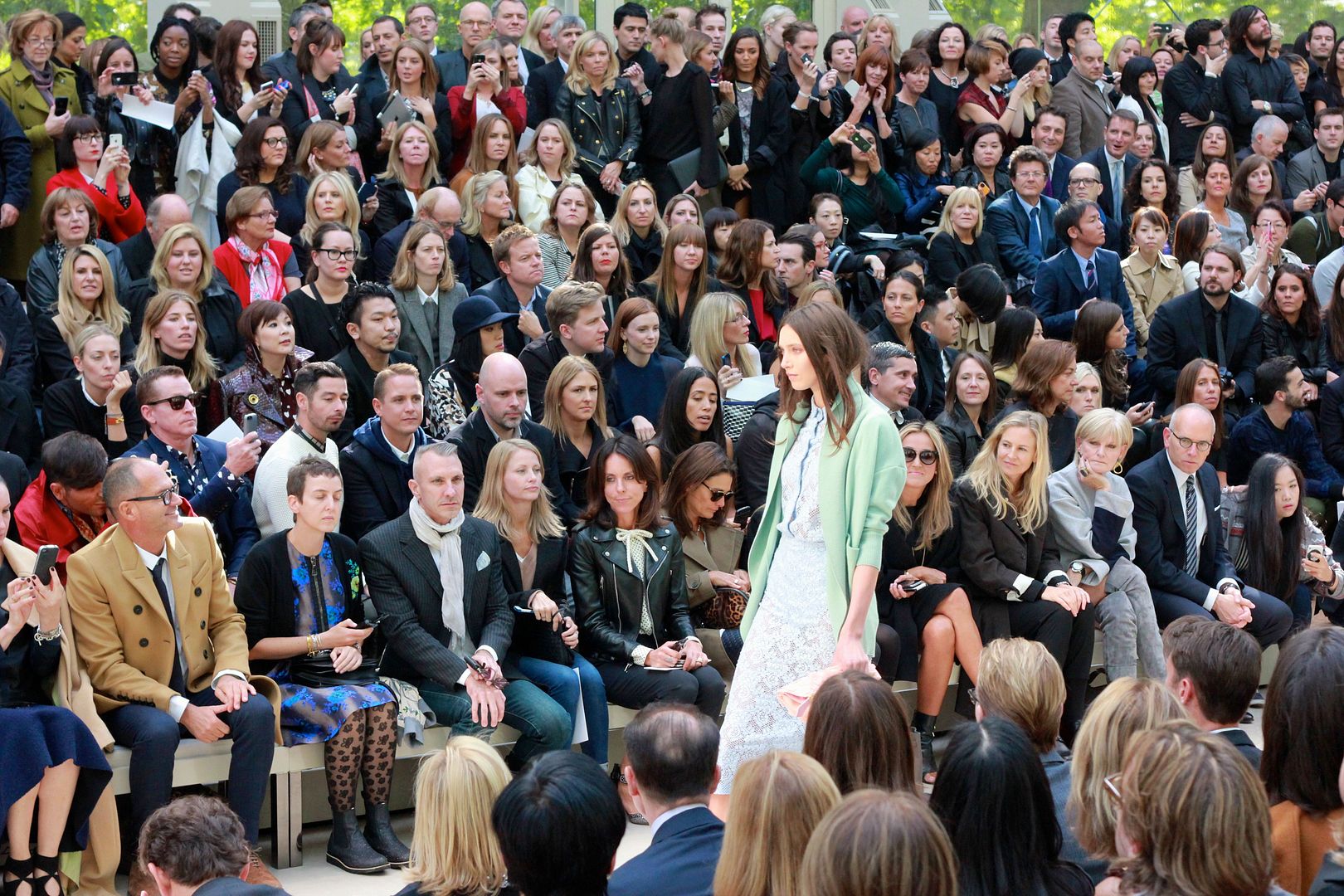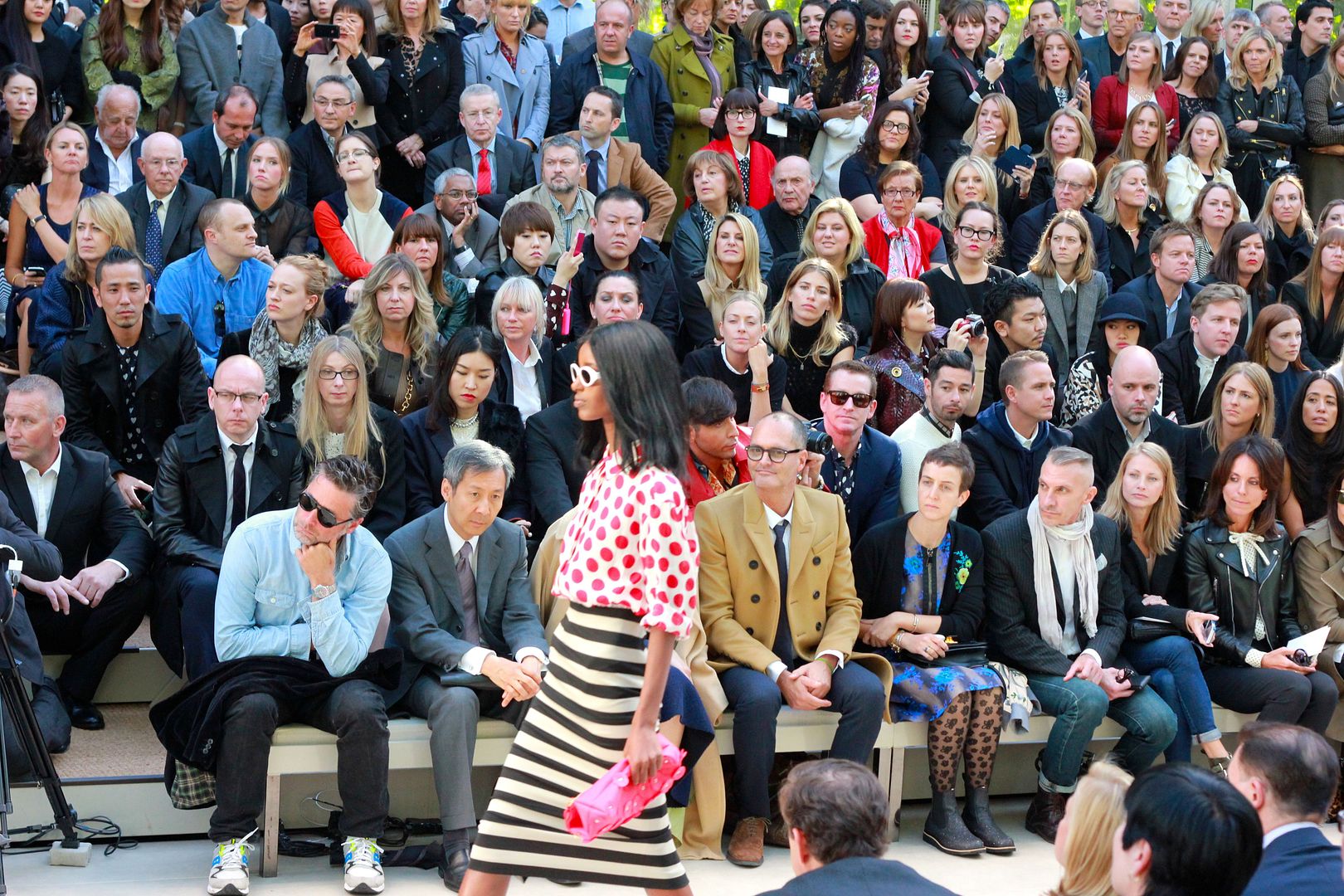 And because I can't get enough Cara…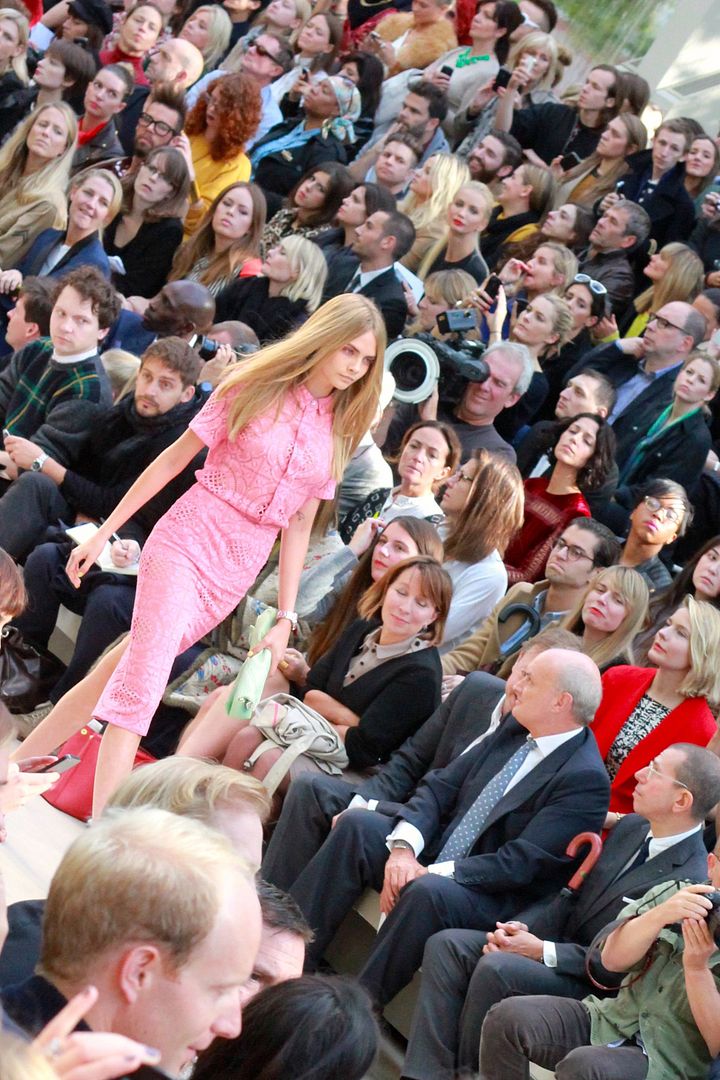 In case you're not sick of finale videos…Burberry really killed it with the last walk.
Christopher Bailey really didn't skimp on the details this season — lace skirts, embellished skirts, lace and embellished skirts, and a see through jeweled rain coat to name a few. The color palette was interesting because the hues fall somewhere between a bold pastel and a muted bright. The seafoam green and lavender were my personal favorites but I for some reason can't get this pink coat out of my head (weird because it's pink and that's not necessarily my favorite color but not because it's oversized).
—
Hope you're enjoying my London updates so far. I'm in Nice right now (it's pretty nice…get it?) but I have a few more London posts coming at you soon.
You might want to check out...