Long shorts? Short pants? Where do we draw the line between shorts and pants? You know I love my puns, so let's get to the long and the short of it…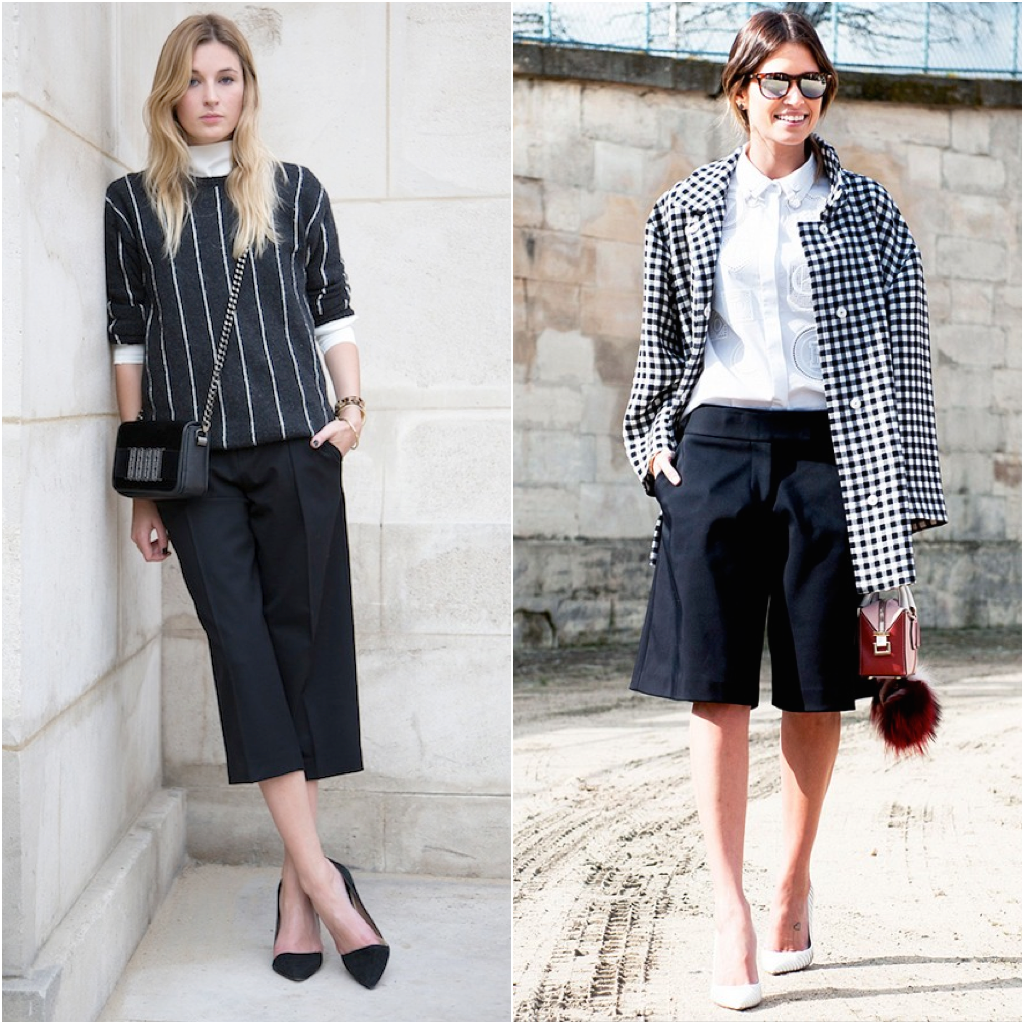 With culottes back in style, cropped pants are happening in a big way. Although the trend isn't for everyone (oh you mean short wide leg pants aren't super flattering on everybody type?) you can still try the "short pants" look like Camille (on the left) by opting for a slim, trouser-like silhouette. Bonus? If you have skinnier ankles (for me, it's the only small part of my leg) it's a great way to show them off and elongate the legs (especially when worn with heels).
Now what about the long shorts? I gave 'em a shot last Fall after an extra inspirational trip tp Paris (and remember how much I love French girls…but don't we all?) I was feeling pretty ambitious and I had never tried shorts this length before. Now, I barely ever wear my shorter shorts because I just love the effortless look of their longer counterparts. These are easier to wear with flat shoes because you're showing more leg than you would in the pants. Although I do adore the look with heels (that girl in the checked coat is just killin' it).
And then there's those styles where you're like "hey i love your…sh-pants!" (pshorts?) It gets to a tricky length where you don't really know what to call them, and with a society who loves a good word mash up (especially when it comes to celebrities — hello Brangelina!) it's only a matter of time before this mid-length has its own page on Urban Dictionary. In the mean time, I'm going to expand my collection of bermuda shorts, perhaps try some cropped pants but I can assure you one thing…I will not be wearing any sort of knee-length denim. Ever. You have my word.
So if you're down for some long shorts or short pants, here's a few of my favorites out there to get you started.
What do you think of bermuda shorts, cropped pants and culottes? Are you rocking them this season? Or are you sticking to traditional lengths? Share your thoughts!
Images via Who What Wear 
You might want to check out...