I feel like I only talk about two things on ChiCityFashion (at least as of late) — 1) how much I despise wedge sneakers and 2) how much I love a good t-shirt. So I don't continue to offend the people reading this who are doing so in elevated sneakers, I'm going to go with number 2 today…t-shirts it is!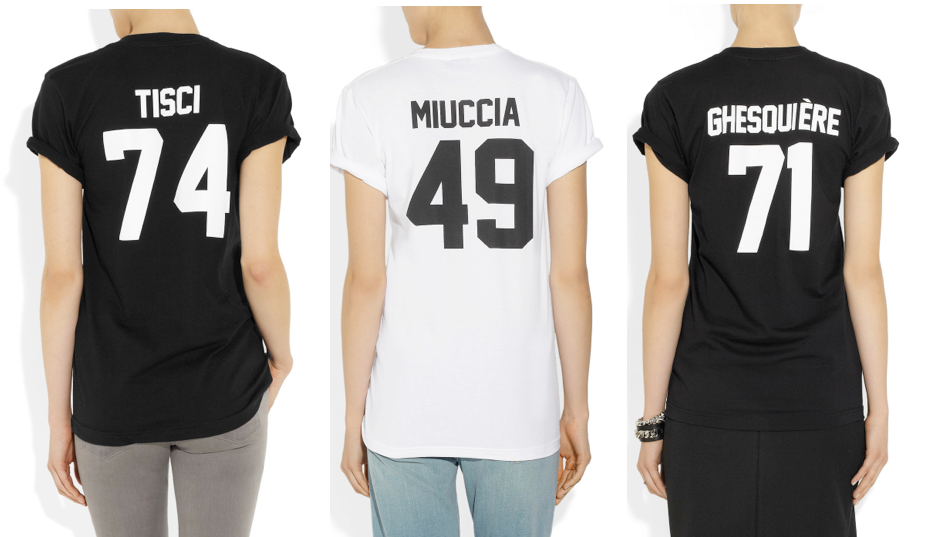 I already asked you to pick a team this week (#TeamCharlotte or #TeamKate) and I'm going to do it again, but this situation is a little different.
LPD (Les Plus Dorés) is a New York based brand who's making some awesome tees, encouraging you to decide whose team you want to be on. Clearly, they chose the designers wisely because on the cooleness scale of 1-10, they're all at least an 11.
You can think about these t-shirts in a few ways…1) you can pick based on who's your favorite designer, 2) you decide strictly based on whose team you'd want to be on (and by team I mean who you think would be the best to work for) or 3) if you had to actually play in a sporting event with one of the designers, who would it be?
Unfortunately, these don't exist (at least not yet)…
So that leaves me currently debating between Ghesquière and Tisci (having nothing to do with my Ballinciaga or Giraunchy t-shirts, but still a little ironic).
The question is…whose team would you be on?

Images via Net-a-Porter
You might want to check out...