Going the complete opposite direction of my last post, let's discuss those who didn't take the theme so literally at last night's Met Gala.
Cara Delevingne in Stella McCartney
It seems quite casual for the Met Ball (especially this year's) but regardless of that, it's just straight up fierce.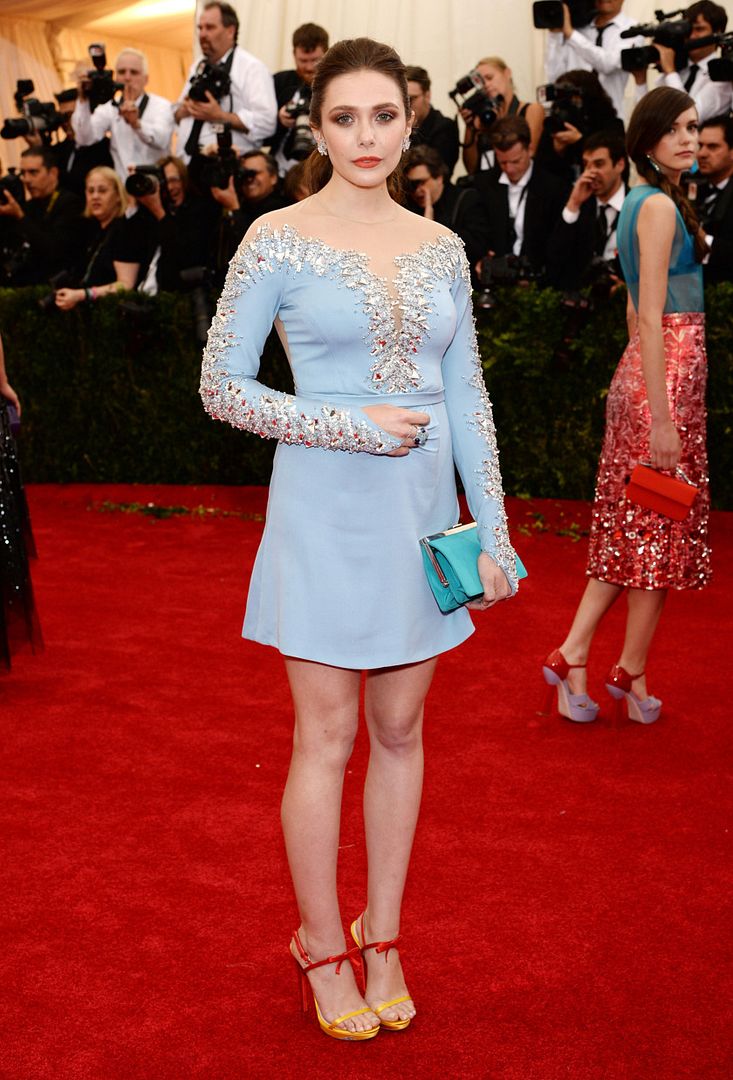 Elisabeth Olsen in Miu Miu
Figure skater meets Wizard of Oz.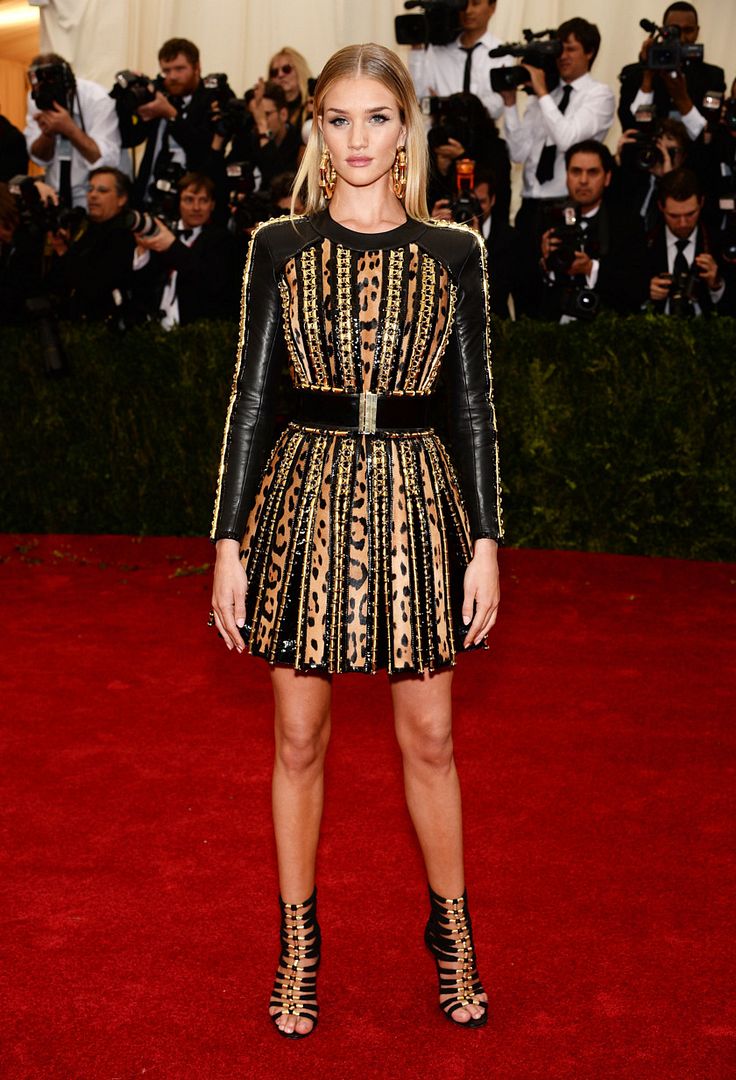 Rosie Huntington-Whitely in Balmain
She looks like she's going to kick my ass and I mean that in a good way.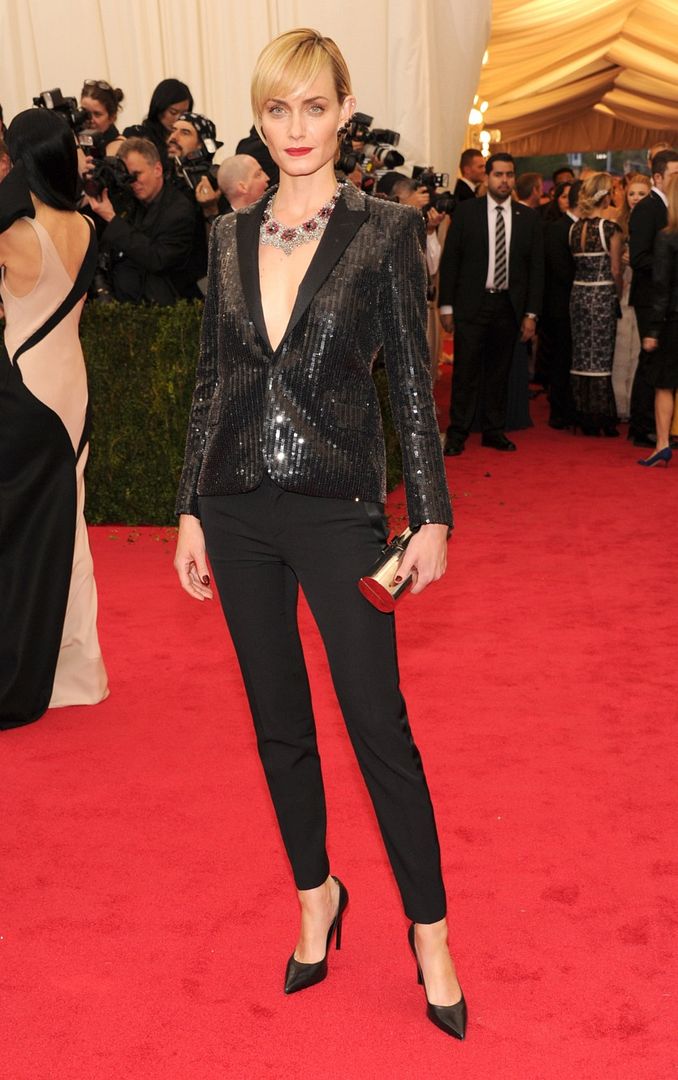 Amber Valleta in Saint Laurent
Like Cara, it could be too casual for this event (although this look is much dressier than Cara's) but I mean…it's REALLY good. I love the look of a tuxedo jacket with nothing underneath and add that necklace? DAMN GIRL.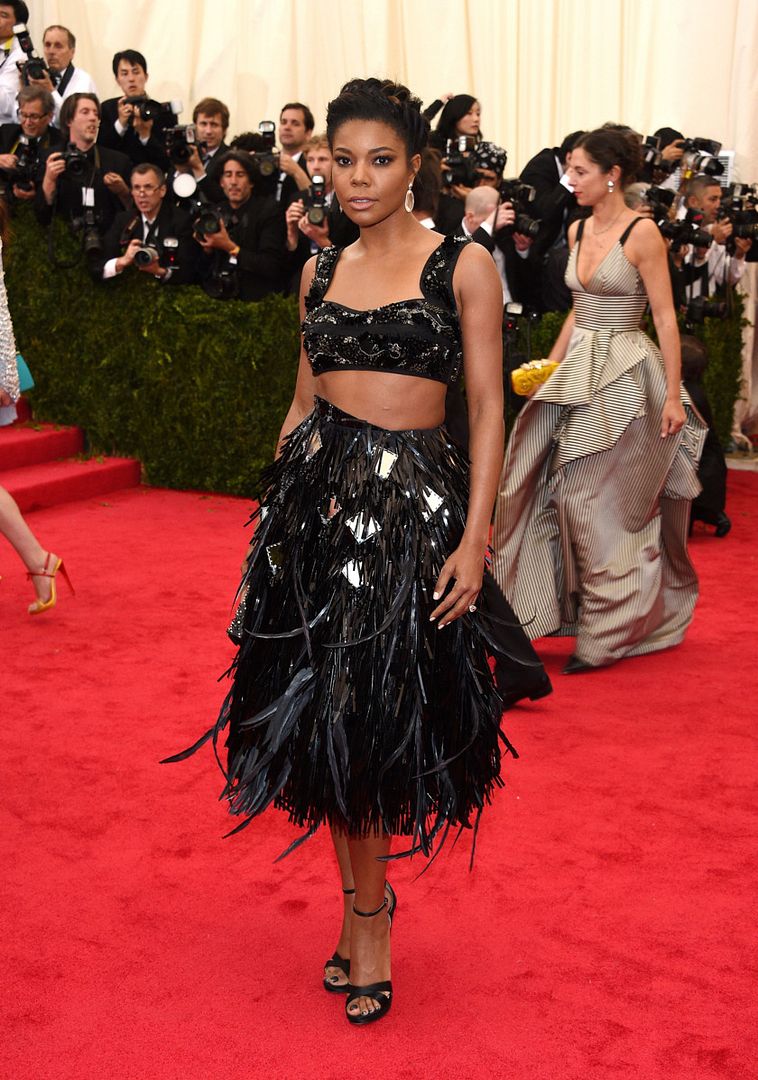 Gabrielle Union in Prada
I don't know if it's the fact that we saw so many crop tops last night that I was over it by this point or that she just seems to be very awkward in this look. Regardless, this is a situation where I love the idea of the look but not the execution (great outfit, wrong girl). Diane Kruger would have looked badass in this.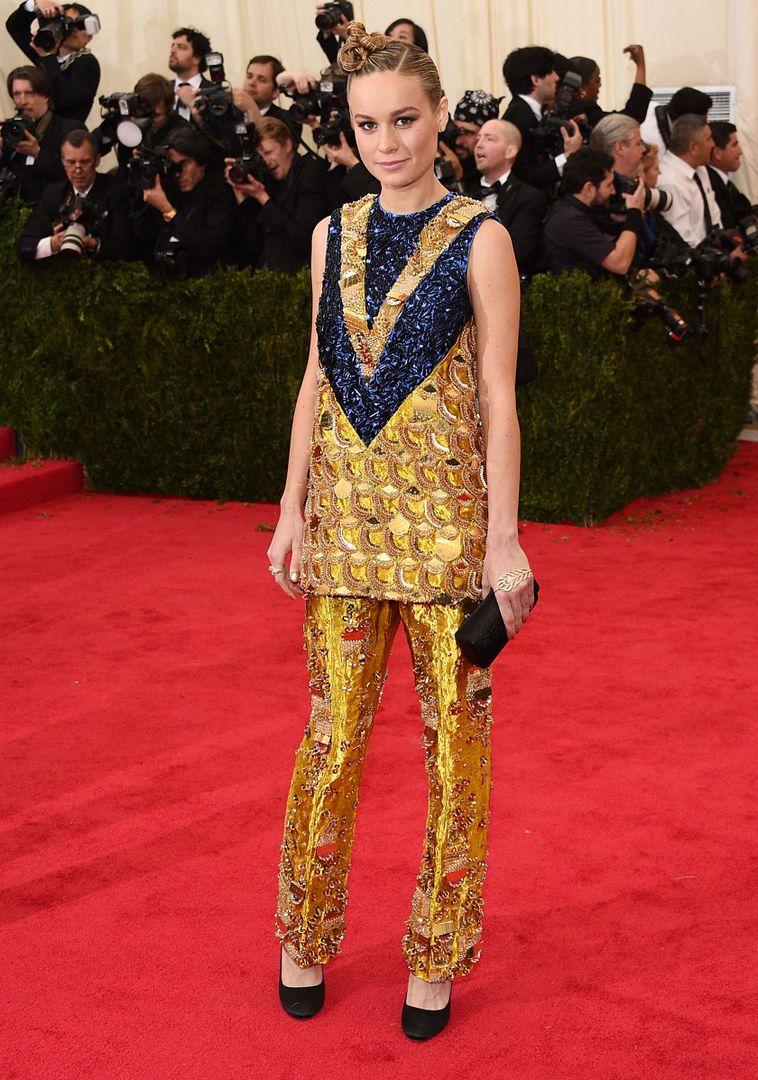 Brie Larson in Prada
I'm having a hard time with this one because I'm absolutely obsessed with the outfit. It's fun, it's crazy, it's different and much appreciated at a fashion event like this. But why does the hair always have to ruin everything?  Very odd choice and totally killed this (and not in a #killinit kind of way). I do love that hand piece though…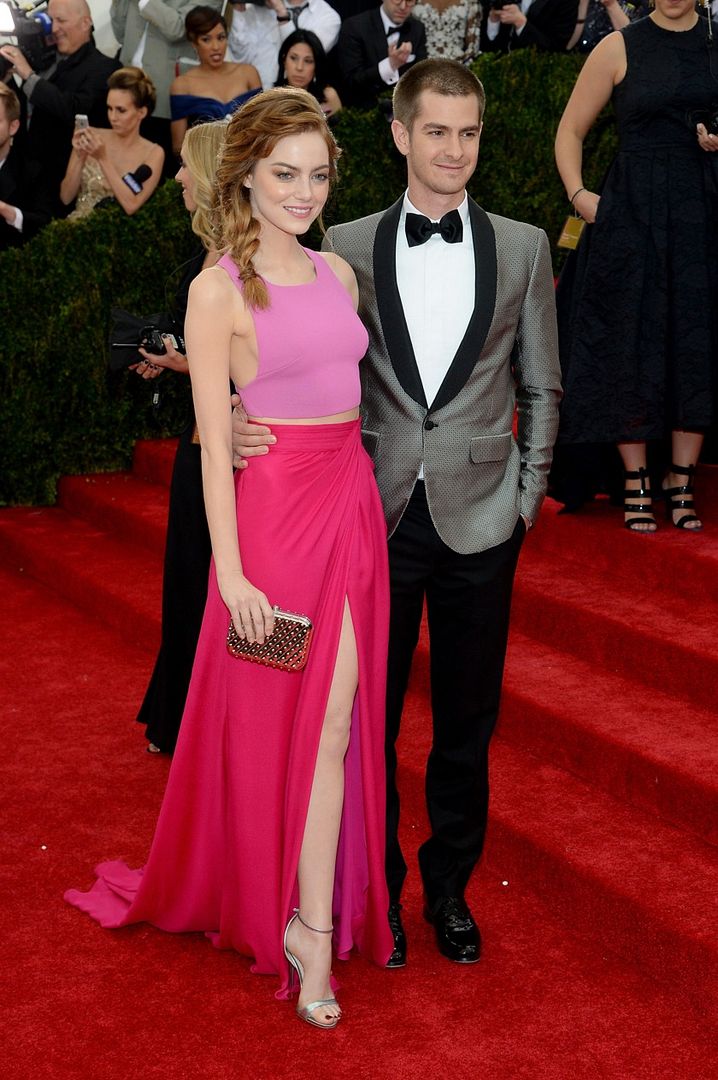 Emma Stone in Thakoon with Andrew Garfield in Band of Outsiders
She looks a little on the casual side but I love Emma Stone and I think we could actually be friends in real life but until then I'll just admire her and Andrew (who's looking mighty fine in Band of Outsiders, by the way) from afar.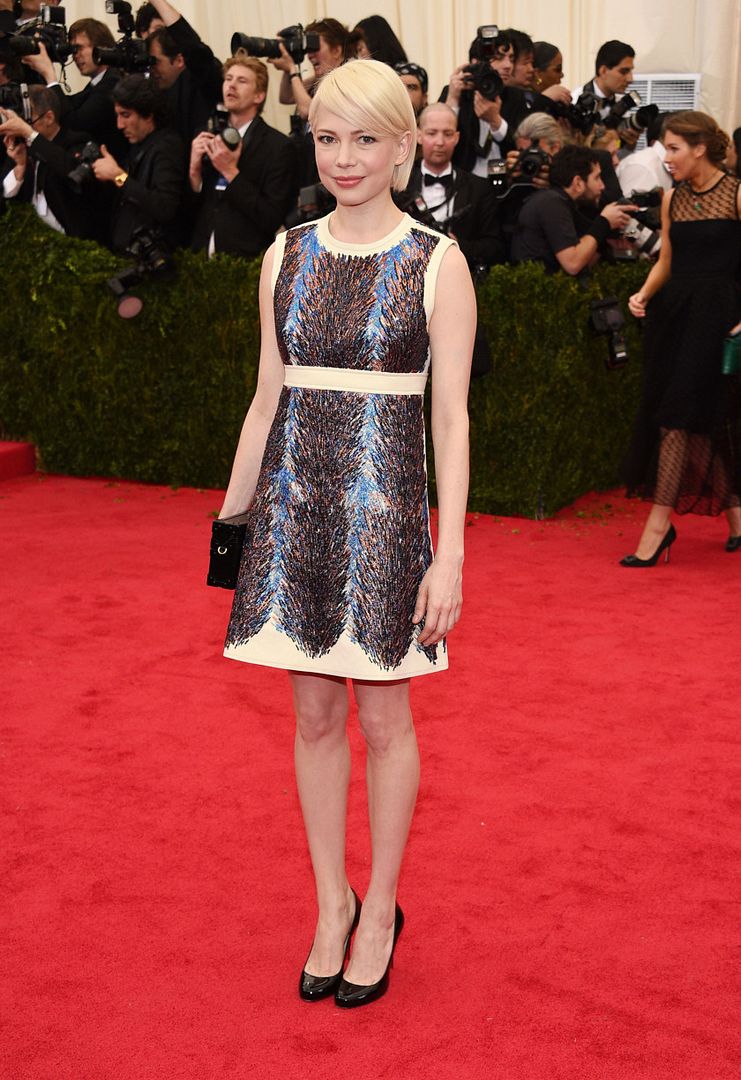 Michelle Williams in Louis Vuitton
This is something you'd wear to a nice dinner…not the party Anna Wintour throws so your fashion choices can be judged by the world (you know…the Met Ball).
Lena Dunham in Giambattista Valli
I'm a huge Lena Dunham fan so I hate to hate on her style…but it's kind of easy to when things like this keep happening. I'm not sure why she always opts for such heavy eye makeup. It's distracting and unnecessary. I actually do like this hemline on her but strapless isn't for everyone (it's most definitely not for me). You either need to be thin and kind of flat (but not too flat) or curvy and proportionate. And because those are two very specific body types, this is why everyone should just avoid strapless.
Janelle Monae in Tadashi Shoji
I don't even know if this would be considered "to the theme" or not but regardless — it is FANTASTIC. Who knew a turtle neck and a cape could work so well at the Met Ball?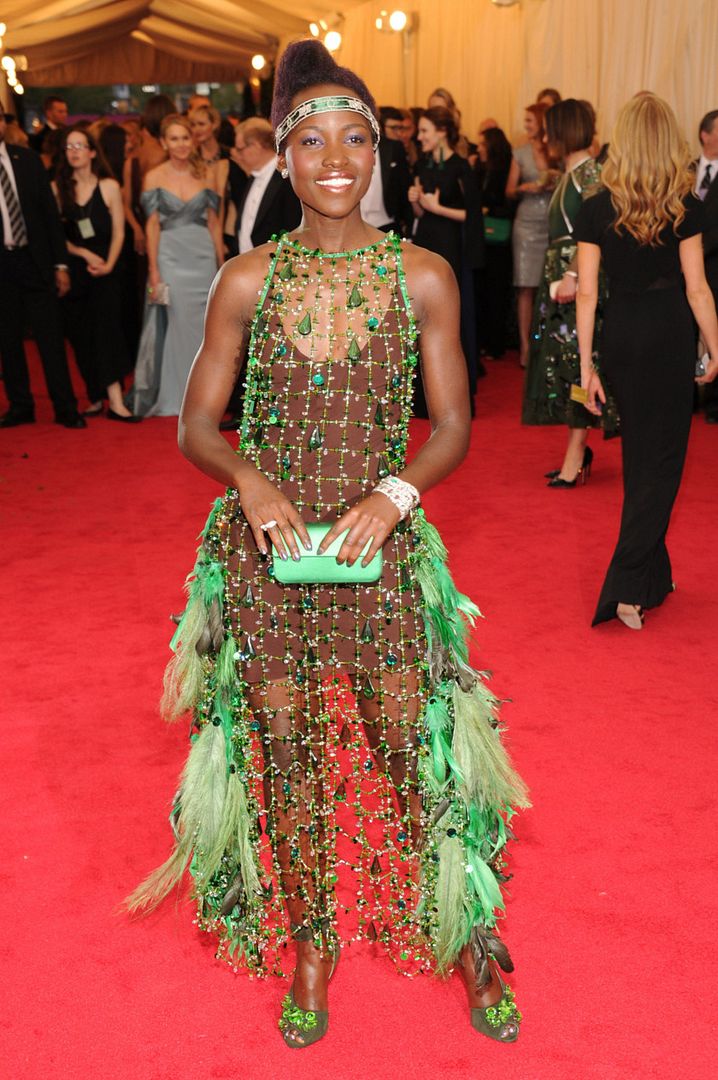 Lupita Nyong'o in Prada
I was looking forward to seeing what Lupita was wearing more than anyone else (even SJP) and this…this I do not understand. I can always appreciate certain things, even if I don't like them personally. There might be some crazy explanation / interpretation of this look (besides the fact that it's like a DIYed version of Prada SS10 meant to be worn to Coachella on Earth Day) but because I haven't heard one yet, I can't get on board.
—
Are you caught up on last night's Met Ball red carpet? Good. Because we have just one more post left…and I saved the best [dressed] for last.
Images via The Cut
You might want to check out...