And now for the moment we've all been waiting for…it's time for BEST DRESSED OF THE NIGHT. Let's see if you agree.
Rihanna in Guo Pei
I think it's safe to say this was the most talked about look of the night…and ended up on most people's best dressed lists (regardless of the food memes). Like I've said for many celebrities so far today, if this was worn at any other event, it would have been a major WTF moment. But with it being the Met Ball and an incredibly fashion-forward take on the theme, it really is perfect. She's also another who rocked the headpiece trend we saw so much of last night…but I can't move on without mentioning those shoes. Wouldn't your life just be better with those on your feet? I like to think yes.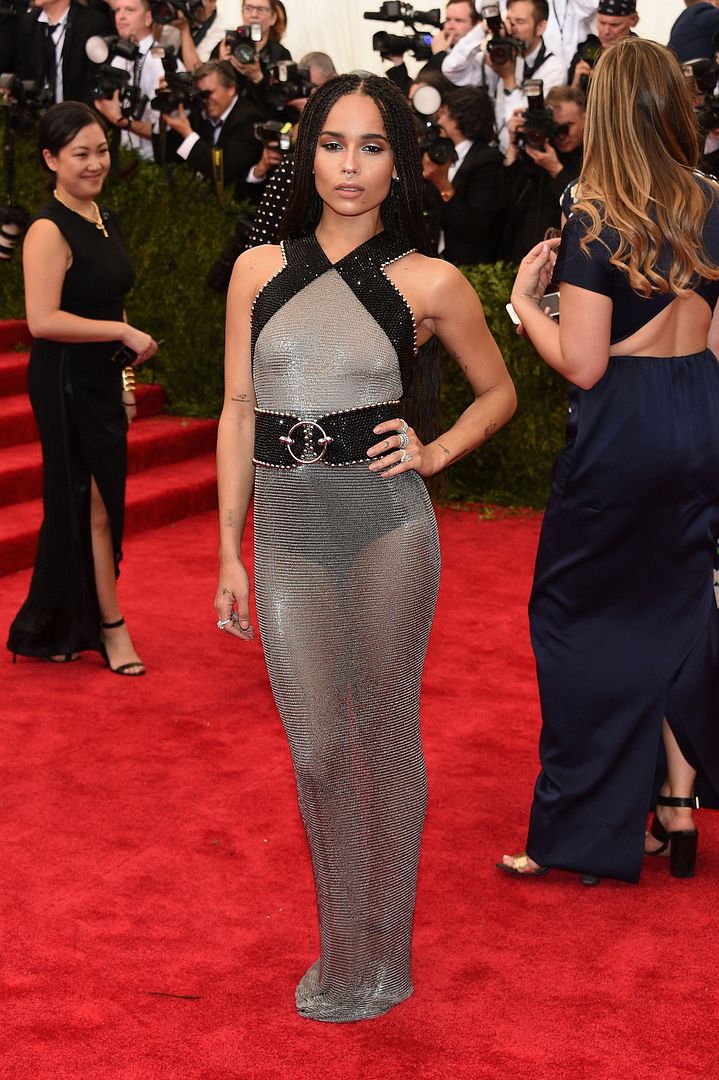 Zoe Kravitz in Alexander Wang
I was already into these chain mail dresses from Alexander Wang's Fall '15 collection but I like it even more now to see it slightly altered and styled the way it is on Zoe. I know we've seen a lot of that sheer dress over "granny panties" look over the last three or so years but this is done in a much cooler and edgier way. Plus, the septum ring is a nice touch. Although this specific look would have been more on-point for the 2013 Met Ball, I'm down with everything that's happening here, regardless of the occasion.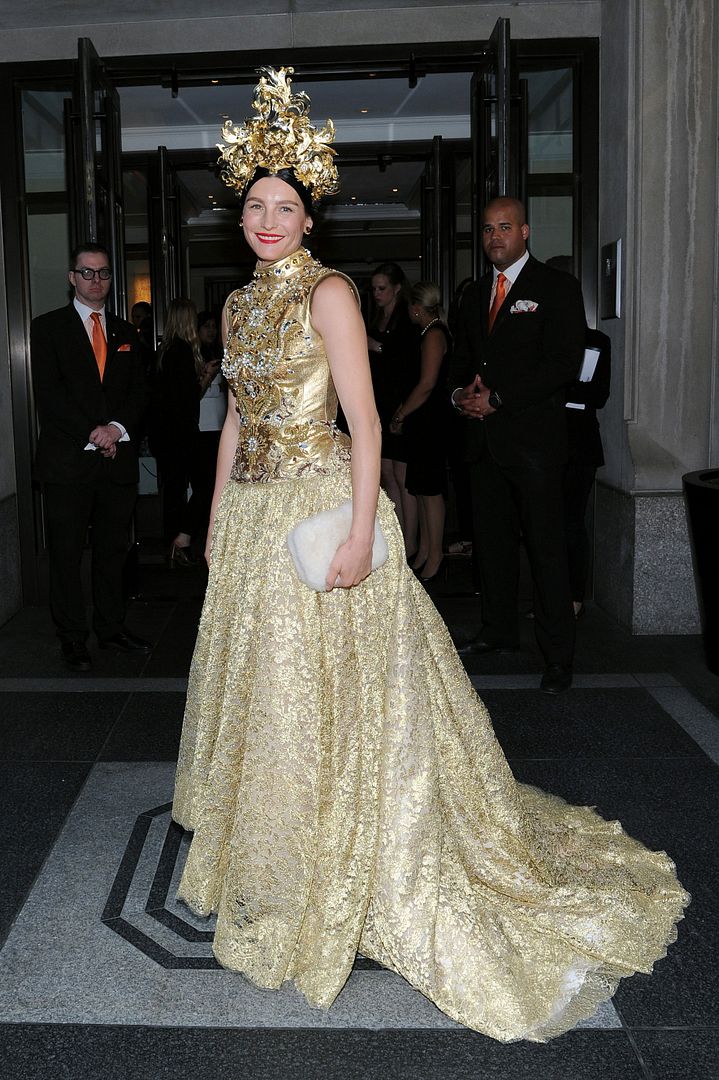 Tabitha Simmons in Dolce & Gabbana
Tabitha Simmons is an underdog at these sort of things, as she's not as big of a name as some people (re: below) but she always BRINGS IT for the Met Ball. THIS is when fashun can be fashion and makes me love what I do even more. And I will never get over that headpiece. EVER.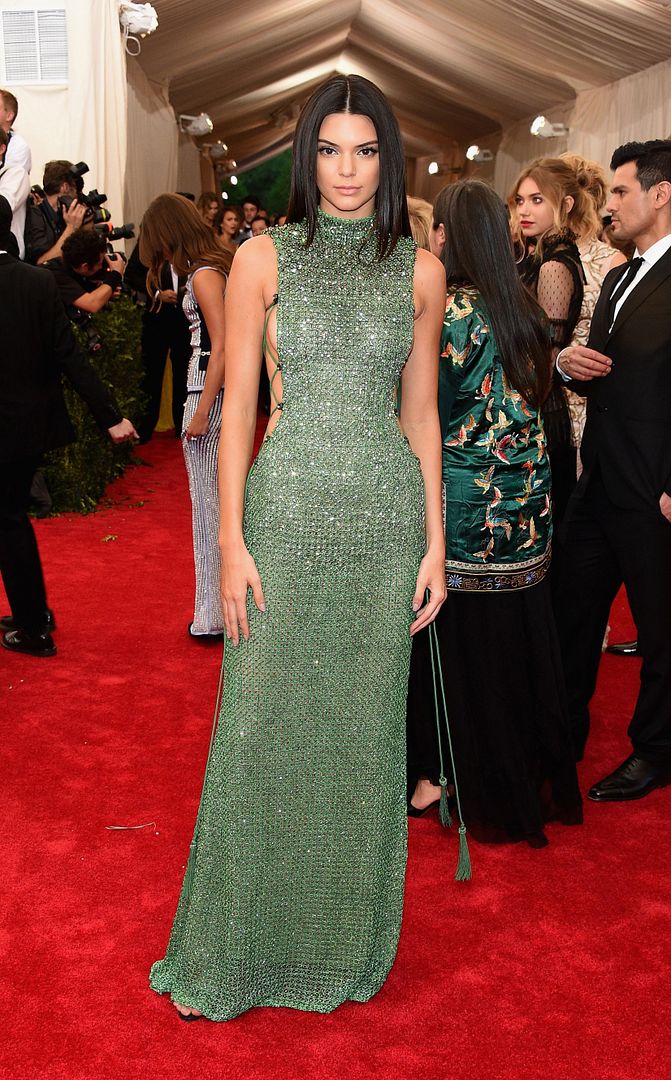 Kendall Jenner in Calvin Klein
Is it just me or did she look like some sort of rare exotic bird last night? (and she's not even wearing feathers!) Calvin Klein does minimal silhouettes very well but when you go for something like that, the fit must be perfect. And it's no surprise to see this gown fits like a glove. The color isn't one we see all too often so I appreciate that. I told you I don't love hip bones but I'm not opposed to a little side boob. Dear Kendall, you are definitely still happening.
Dree Hemingway in Coach
Dree is almost always severely underdressed for the Met Gala, yet she somehow ends up on my best dressed list every time. Probably because everything she wears is exactly what I would want to wear. It's pretty insane to see a leather moto vest and a super ornate ball gown at the same event, but that's the funny part about fashion…you see it all!
Karolina Kurkova in Tommy Hilfiger
Although Karolina's Met Ball look from 2012 is one of my favorite red carpet moments of all time, and it would take a lot to top that…she still looked incredible last night. I'm all for a statement sleeve and I'm thinking we need to see more of them on the red carpet. You know how I feel about red, but this is one of those exceptions where the red dress AND the red shoes totally work (I actually do love those shoes…I know, I can't believe it either).
Diane Kruger in Chanel Couture
Yet another Chanel throwback…but Diane is throwing it back all the way to Spring 2011. This has got the dress-with-pants vibe, although there's no way that's a dress (but maybe according to Dakota Johnson, it could be). The heart clutch is a nice addition too…random, but fun. Diane workin' the red carpet like it's nobody's business, and we expect nothing less.
Zendaya in Fausto Puglisi
I cannot recall a time where I praised something Zendaya wore on the red carpet, which is unfortunate because she's really a cute girl. But THIS…this is the moment I've been waiting for. So over the top, so perfect for the Met Ball, and those accessories are ROCKING MY WORLD.
Sienna Miller in Thakoon
It was refreshing to see red done in a form other than a dress last night. I think we could have done without the tassel overload but it would take a lot for me to dis a Sienna look and I'm not going to start now.
Lily Aldridge in Carolina Herrera
This was also a refreshing sight to see as many went for red or the red / black combo to pay tribute to the theme, but Lily took a different and more neutral approach. It's quite sophisticated compared to what we usually see her in but as always…gorgeous. Unfortunately for her, the fish stole the show!
FKA Twigs in Christopher Kane, pictured with Robert Pattinson
We're now moving to a few looks where you probably think I'm nuts for picking as best dressed, but you have to understand what type of event this is. There's all of these incredible dresses out there, typically reserved for editorial if that, so this is the ONE night of the year where these looks actually make sense outside of a photoshoot. This dress is insane, I realize. The Cut even pointed out there is a penis present. There are literally dangling feet at the bottom. But you know what? If anyone's going to wear this dress and pull it off, it's FKA Twigs.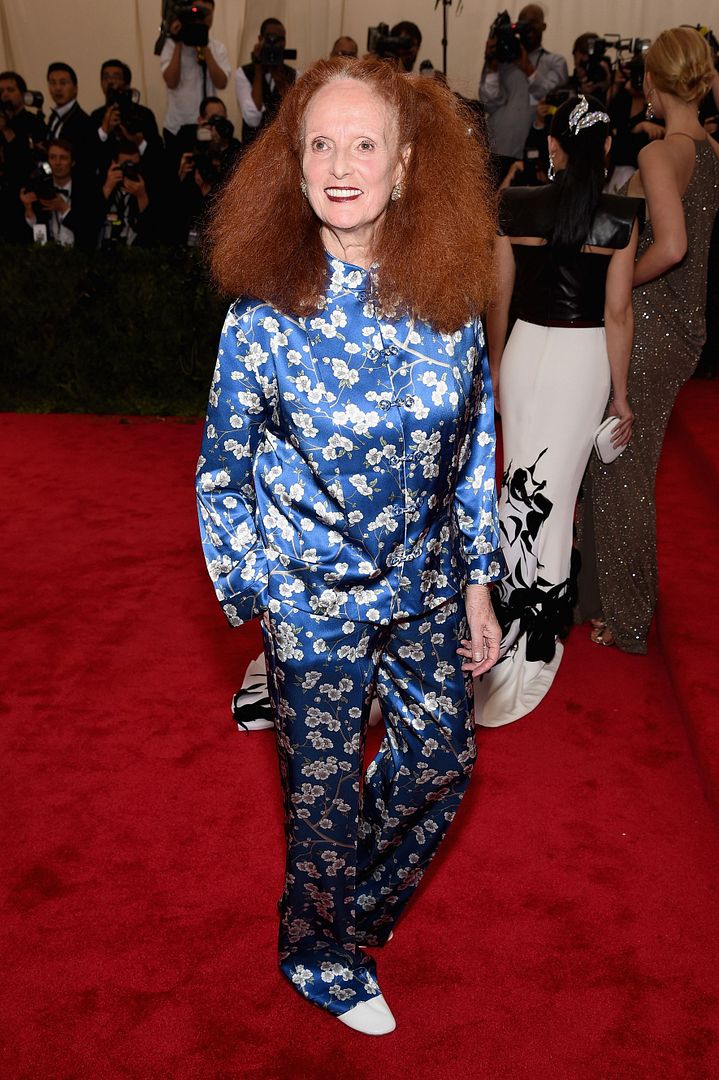 Grace Coddington in Michael Kors
HOW CAN YOU HATE ON GRACE? You pretty much have to love her (or else you'll have to answer to Anna, and nobody wants that). She is literally wearing pajamas on the red carpet (as was Jenna Lyons but those were like the $7k Dolce & Gabbana headphones…not meant to be used for their actual purpose) and she looks pretty f-ing awesome.
Anne Hathaway in Ralph Lauren
Little Red Riding Hood got a luxe upgrade…and she's never looked better. Love a good hood!
Kerry Russell in Altuzarra
I sort of have a thing for feathers of this color. I don't know what it is…I just think they're so fabulous. This isn't the first time I've seen them on the red carpet and I'm sure it won't be the last.  But Joseph Altuzarra did knock it out of the park with this specific use of dark green feathers. You go, Joe!
Solange Knowles in Giles Deacon
Yes it's ridiculous and I understand she's essentially wearing a circle but it is quite amazing. It's one of those dresses you have to pose in certain ways to show that hey, there's a person behind there! Like I'm weirdly a sucker for dark green iridescent feathers, I'm also a fan of anything with a trippy print (especially one that resembles space…don't ask). So yeah I LOVE THIS. Deal with it.
—
And that concludes the 2015 Met Ball. If you haven't yet, be sure to get caught up on parts one and two plus the biggest trends from the night. All good? Now it's your turn. Best dressed? Worst dressed? Feelings? You let it out honey, you put it in the book comments!
Images via The Cut & Vogue
You might want to check out...