We've discussed the not so punk and the almost punk from last night's Met Gala…but what about the punkest of them all? These ladies BROUGHT IT. Not saying they all should have (I'm talking to you, Madonna) but I appreciate the effort.
For the last and final Met Gala post of 2013…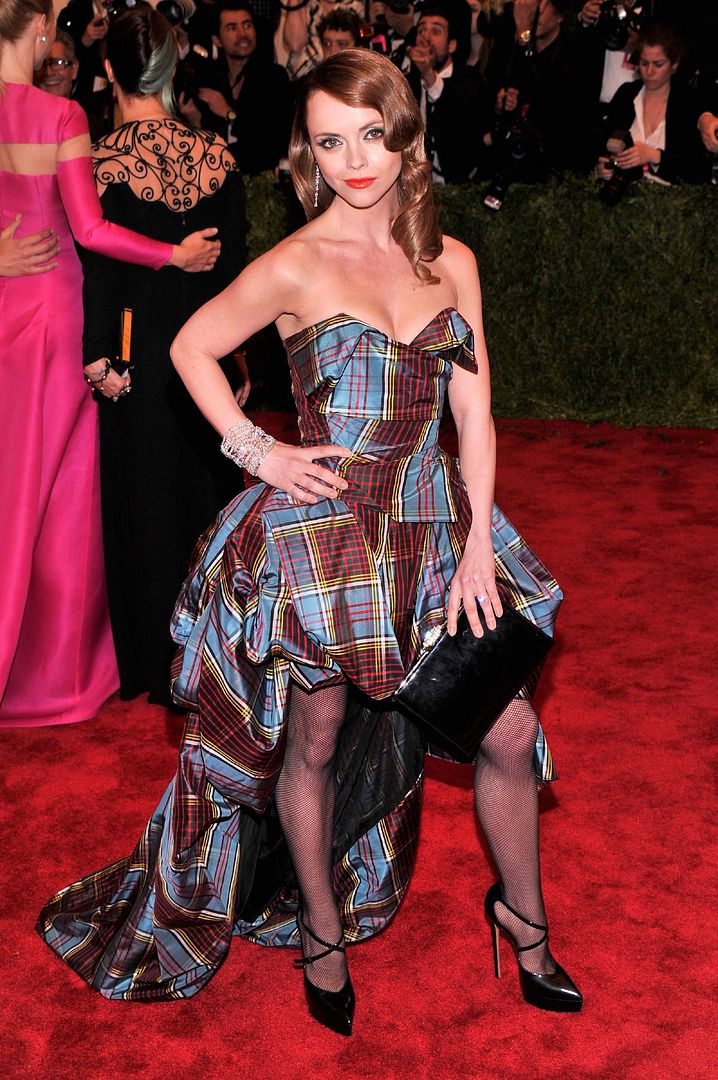 Christina Ricci in Vivienne Westwood
As much as I dislike tights (especially on the red carpet), I love this. The look works on her and it couldn't be more perfect for this event.
Karolina Kurkova in Mary Katrantzou
I dislike tights but I loathe one-shoulder dresses…somehow, Karolina makes it all right. Maybe it's because I still can't get over her Met look from last year, perhaps it's because I have a soft spot for Mary or because I am going to do whatever I can to find out who makes those shoes and how I can get them. Regardless, I'm into this. Like really into it.
Madonna in Givenchy by Riccardo Tisci
I realize it's Madonna and "she can do no wrong" but she did some wrong.
Katy Perry in Dolce & Gabbana
I almost loved this. So close. But I hate the hair and makeup. And that's a deal breaker for me.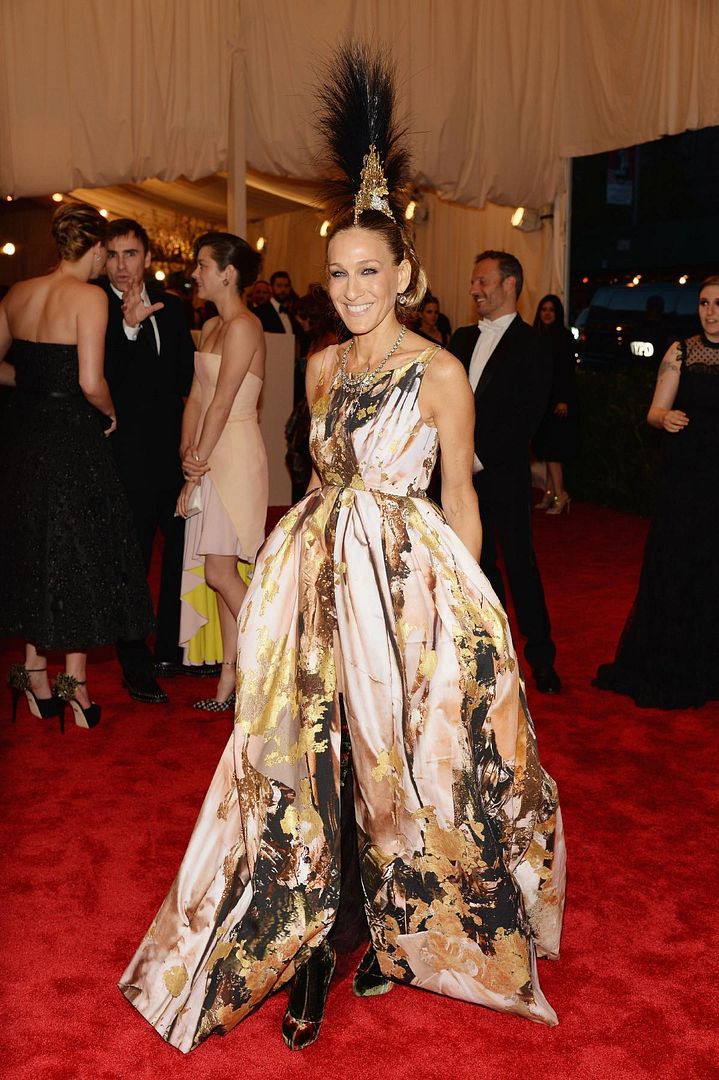 Sarah Jessica Parker in Giles Deacon
Best Dressed Pick
BOW DOWN.
Kate Bosworth in Balmain
Although it looked like she couldn't breathe during the live stream interview (which is understandable when you're in a $26,000 dress) she looks pretty damn amazing. BUT…doesn't she always?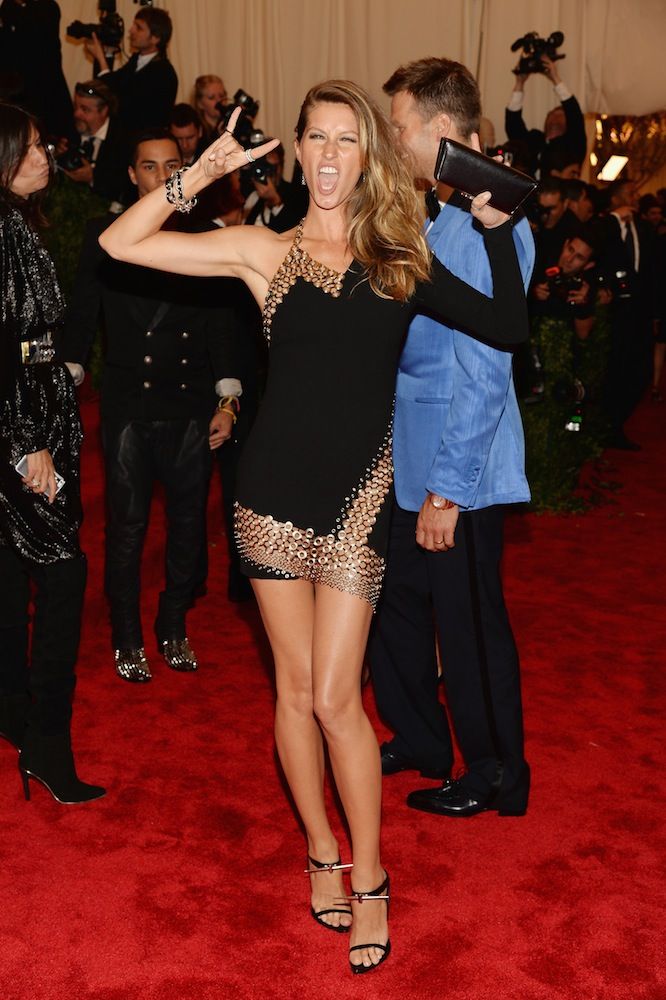 Gisele Bundchen in Anthony Vaccarello
GO ON WITH YOUR BAD SELF.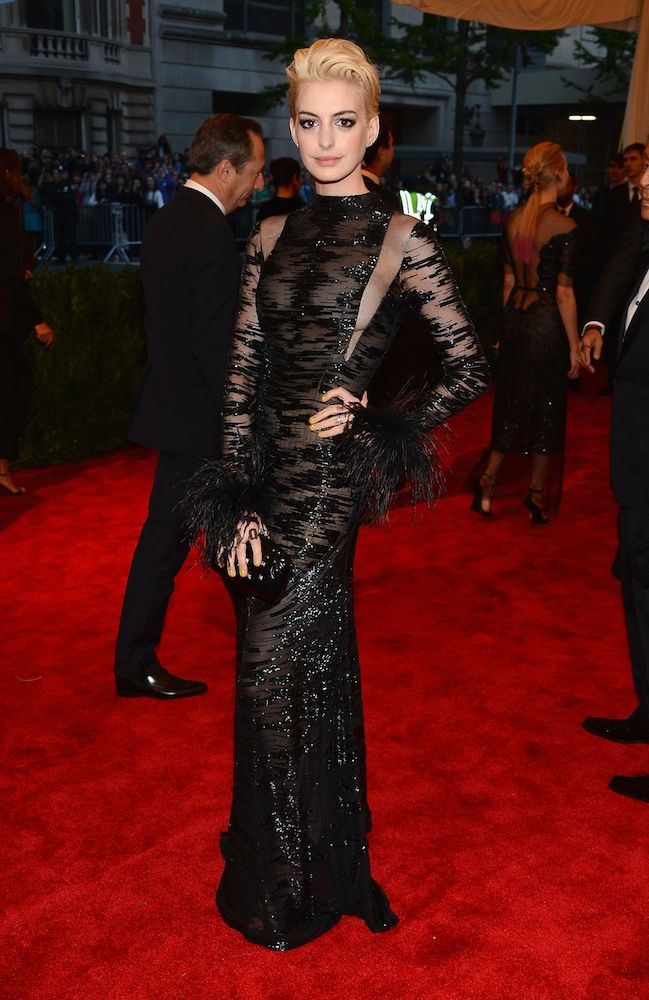 Anne Hathaway in archived Valentino
Best Dressed Pick
This would have had a completely different vibe with her dark hair (even in pixie form). Who knew Valentino had some punk in him? Definitely redeemed herself after that awful last minute Oscars decision.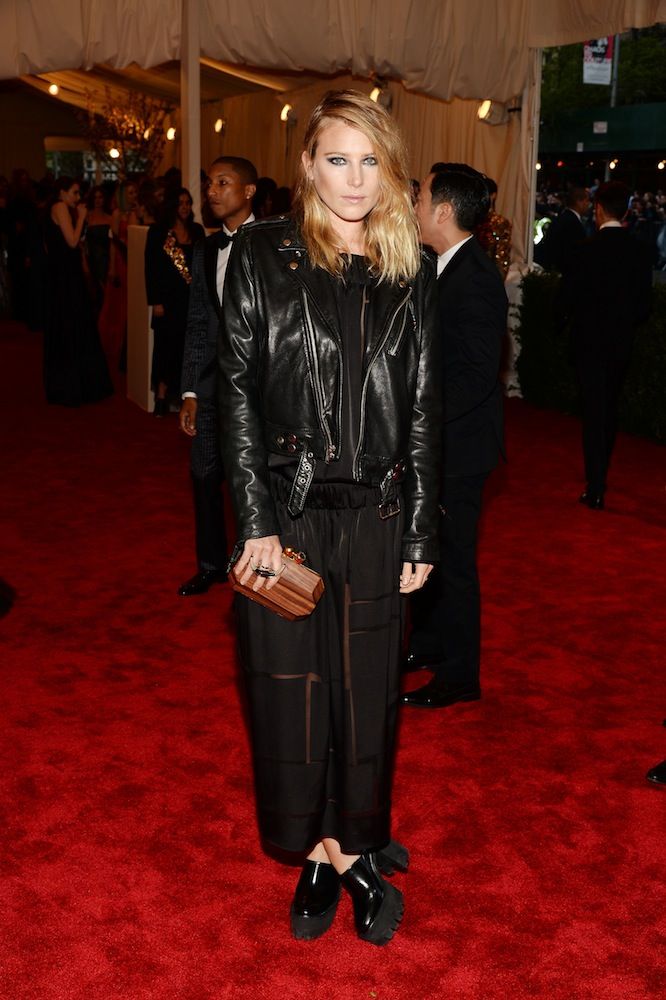 Dree Hemingway in Stella McCartney
I love everything about this look…except for the fact that it's way too casual for the Met Gala. BUT, this is how you do badass without all the spikes and studs. Take note.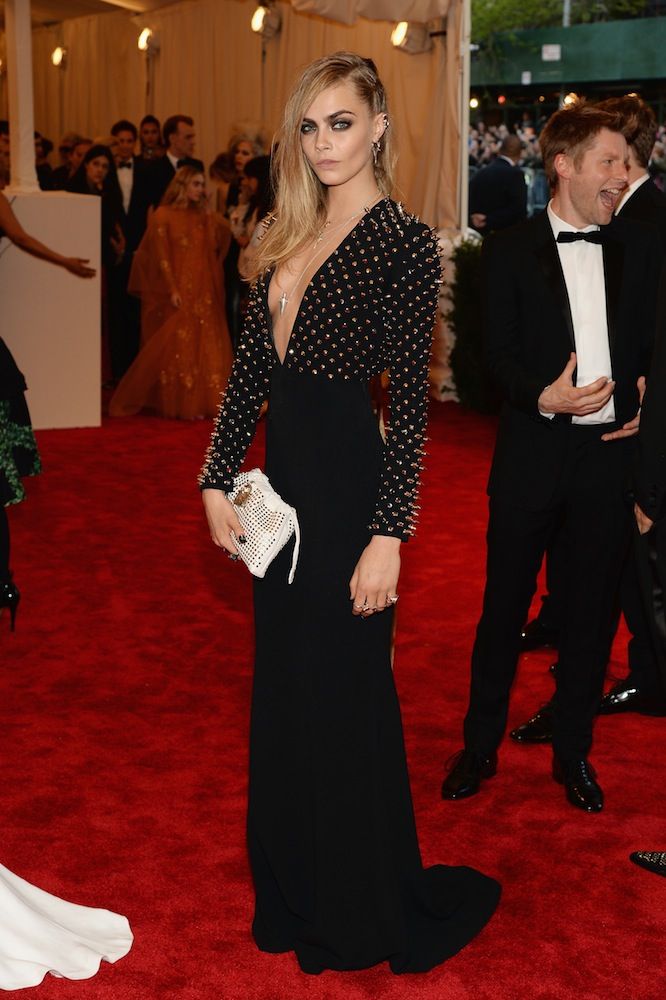 Cara Delevingne in Burberry
Perfect.
Anja Rubik in Anthony Vaccarello
Best Dressed Pick
Do you know how hard it is to rock red leather? And on top of it, match your shoes and lips? I guess that's a perk of being a model…you look good in just about everything. That and you get really fantastic free stuff (Chanel bags, anyone?)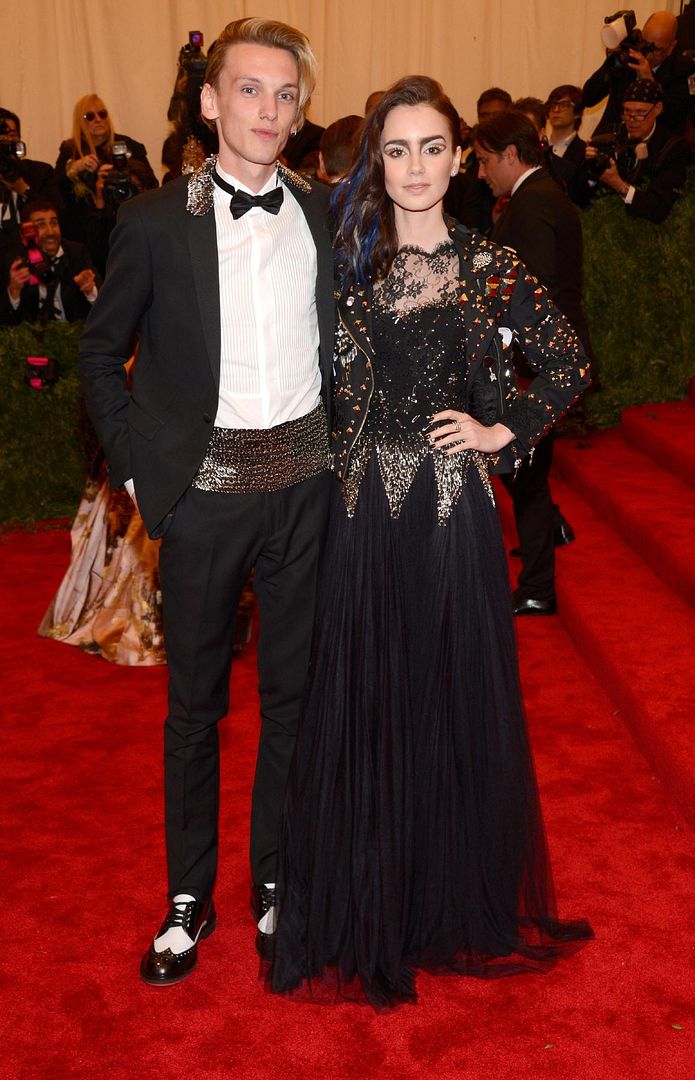 Lily Collins in Moschino
I know it's costumey but I freakin' love this.
Florence Welch in Givenchy
I wonder what she'd look like in a bandage dress.
Miley Cyrus in Marc Jacobs
No attendee was more excited about the punk theme than this girl. Trust me…she's just bein' Miley.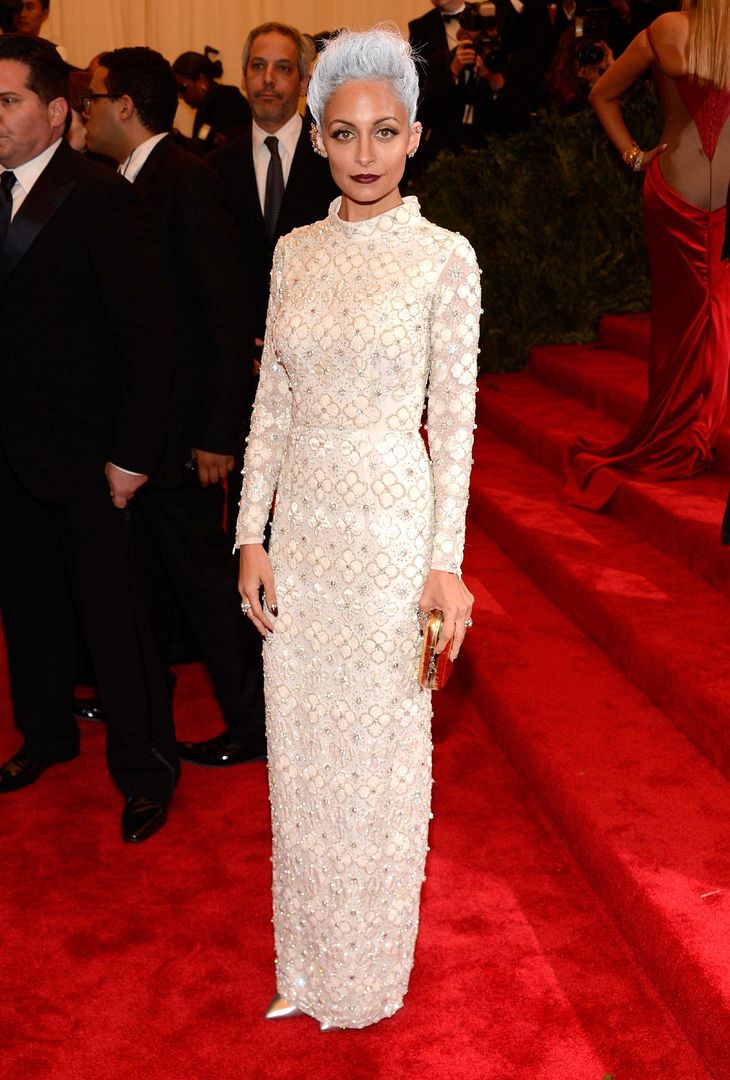 Nicole Richie in Topshop
I don't know how this works but it just does. Could have eased up on the spray tan though.
Rooney Mara in Givenchy by Riccardo Tisci
Best Dressed Pick
Not because I've written 5 posts in less than 24 hours but this is so perfect, I really have no other words. Girl knows how to work her Givenchy.
—
So in case your mind is all over the place (like mine currently is) my best dressed picks this year are: Amber Heard, Anne Hathaway, Sarah Jessica Parker, Anja Rubik and Rooney Mara.
My other favorites (regardless of their level of punk): Karolina Kurkova, Cara Delevingne, Kate Bosworth, Emma Watson, Jessica Alba, Rita Ora, Miranda Kerr, Solange Knowles.
Who were your favorites from last night's Met Gala?
Photos via The Cut & Styleite
You might want to check out...