We've now discussed many of red carpet looks from last night's Met Gala but what about those who really went with the theme this year? Last year, I thought it would be fun to break up the posts by who got super punk, who kinda did and those who couldn't be less punk. So we're doing this same this year but with regards to those who took the Charles James theme quite literally (see below) and those who just didn't give a shit about the theme (coming up in the next post).
Sarah Jessica Parker in Oscar de la Renta
It's a little costumey for me personally but she's known to go all out at these things. She was a co-chair for this year's Met Gala and she's SJP so of course this happened. I don't love it but hey, it works.
Tabitha Simmons in Dolce & Gabbana
That's way more nude tulle than I'd ever like to see in one garment. Between this and Kate Upton it's almost like Domenico and Stefano are just like "fuck it, we're going to jail anyway."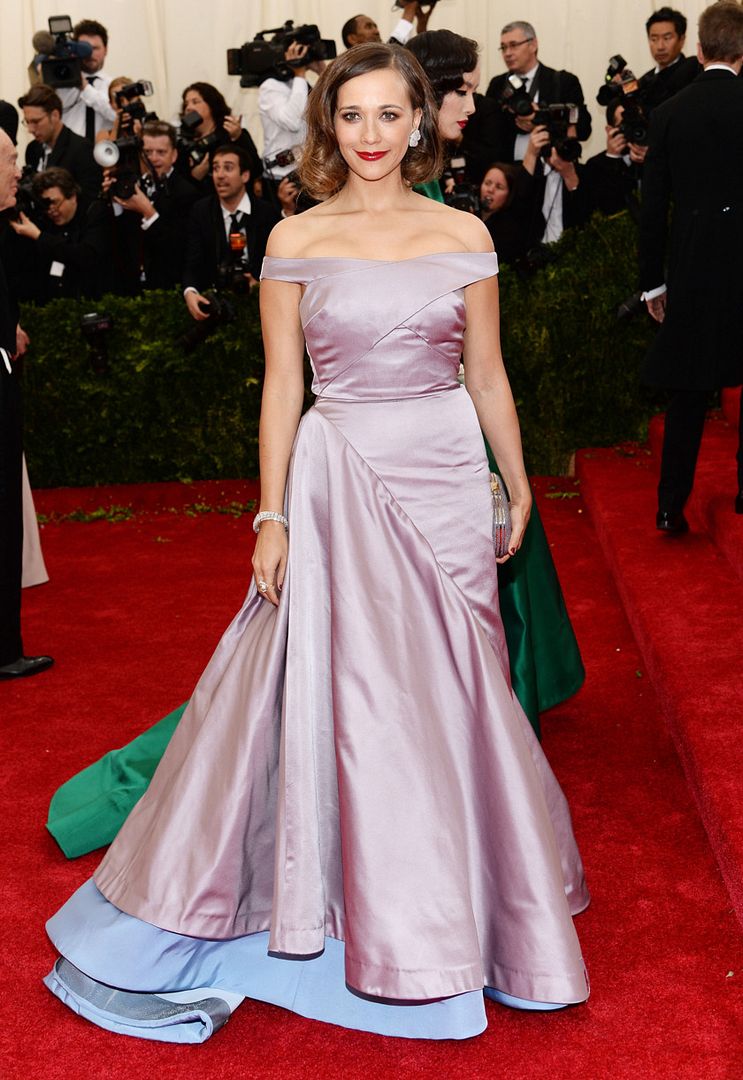 Rashida Jones in Tory Burch
It's my favorite material again! Let's turn this into a compliment sandwich (I have to include at least one for every red carpet event). She's on trend with the off-the-shoulder look. Everything about this is terrible. I really enjoyed her in The Muppets…
Karlie Kloss in J. Mendel
We saw a lot of opera gloves last night but this was one of the few instances where it was done oh-so-right. WERK.
Hayden Panettiere in Dennis Basso
Quick — what's the first thing that comes to mind when you see this dress?
COTTON CANDY.
Arizona Muse in Zac Posen
My oh my…that waist! It's overall a very traditional look (and I'm far from a traditional girl) but it's as close to perfect as one can get.
Felicity Jones in Theory by Olivier Theyskens, pictured with the designer
Moving on…
Karen Elson in Zac Posen
So. Much. Satin. Can't. Look. Away.
Katie Holmes in Marchesa
If she's going for that morning after Belle from Beauty and the Beast look then she's SPOT ON.
Karolina Kurkova in Marchesa
What's great about the Met Gala is that it's the only event where you can get away with dresses meant for editorial, in real life. This is a great example. The dress is truly a work of art and I have to say Karolina wins for best dressed to the theme (different from best dressed, we'll get to that later) for the evening.
Ivanka Trump in Oscar de la Renta
Sorry Oscar but this isn't your best work. Probably one of my least favorite ODLR dresses I've ever seen…and there were better hairstyles at my high school prom.
Dita Von Teese in Zac Posen, pictured with the designer
The fit looks a little loose up top but from the waist down it's amazing. Would have preferred a less matronly clutch but overall, it's pretty good.
Claire Danes in Oscar de la Renta
We need a less fancy theme for next year because I can't take all the satin…IT'S JUST TOO MUCH SATIN FOR ONE NIGHT.
Bee Shaffer in Alexander McQueen
Bee had mentioned in The September Issue that she has no interest in fashion…which is made quite obvious by her Met Ball choices.
Liu Wen in Zac Posen
I'm personally not a huge fan of Zac Posen dresses (they all kind of look the same) but this is really a statement and it's perfect for this year's theme. The neckline seems a little off (but it could just be the angle of this photo) but who cares? How fantastic is that color?!
Sandra Lee in Dara Lamb
How does Sandra Lee keep getting invited to these fashion events? Especially when she shows up LIKE THIS. Girl, you're not Cinderella. I hate to break it to you…
—
I had to end on a high note. Coming soon — those who didn't exactly dress to the theme (not saying it's a bad thing!)
Images via Vogue & The Cut
You might want to check out...