I am SO excited about this interveiw with Adam Lippes, the man behind ADAM. He makes beautiful wearable clothes and I truly love everything he does. I came up with some questions I wanted to know about him and his career and I hope that you enjoy what he has to say…I sure did!
——————————————————————-
Me: At what point in your life did you realize you wanted to be involved in fashion?
Adam: After graduating from Cornell, I actually went to Paris to study art history and architecture at the American University in Paris and it was really there that my love of fashion was ignited and grew.
Me: Did you always know you wanted to do fashion design or were there other aspects of the industry that interested you?
Adam: Obviously I staggered a bit from the career where I am today when it came to my schooling at Cornell (I studied psychology).  I come from a family of lawyers but I think, in some sense, I knew I had this love of fashion, but I just didn't know how much it would become a large part of my life or my career until much later.
Me: I see you worked for Oscar De La Renta. What was your experience like with such a prestigious designer?
Adam: I feel very fortunate to of had the experience that I did working at Oscar de la Renta and I have to give all my fashion knowledge to Oscar.  I grew up there and from, arguably, one of the best designers in the world (I joke that I went to school at Universitá de la Renta).  I feel like my innate sense of style stems from my mother but, specifically, what I do now I credit to Oscar: color, fit, fabric, embroidery…you name it.
Me: What were you feeling when you first showed at New York Fashion Week in 2007?
Adam: Nervous! There are no other words to describe your first runway show…none. It's unreal.
Me: Your most recent show was a less than two weeks ago…have you already begun thinking about your next collection? If so, where are you drawing your inspiration from?
Adam: You always have to be thinking ahead when you're working in this business.  With that being said, I have started thinking about inspiration for next season but, for now, I'm trying not to limit myself.  I'm just trying to take in as much as possible because you never know when something unique can strike you.
Me: How would you describe your overall design style?
Adam: In 2004, we launched this line with a group of t-shirts and the idea was that they would become the basis for our fashion collection.  The collection is based on chic and easy American sportswear and what we are trying to accomplish is to take inspiration from everywhere (travel, the art world, and people on the street) and then mix it all together which is what is so special about American sportswear.
Me: Any words of advice for those aspiring to be in fashion?
Adam: Trust your basic instincts and don't be afraid to take risks…look where it can take you! I graduated with a degree in psychology from Cornell so, if anything, I'm living proof that you don't necessarily have to be professionally trained to find success in this business.
Me: What's the one motto you live by?
Adam: A motto I live by as an American sportswear designer is "Make a twist on the casual." There's nothing I love more than seeing a woman wearing an ADAM design that's wearable, can take her from day to night, and that's always chic but approachable.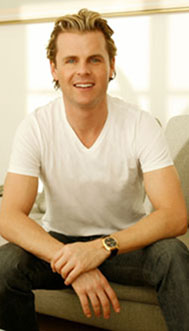 A special shout out to Adam for taking the time to answer my questions. Thank you so much! For more information about Adam and where you can purchase his amazing clothes, check out www.shopadam.com and follow him on Twitter @adamlippes.
You might want to check out...