If you're not in NYC, you may have heard about this little storm called Nemo. Not sure where this name came about but let's just say it was not easy to dress for. I assumed everyone would be dressed down at least a little bit (after all, would YOU want to ruin a $1,500 pair of shoes?) but I was pretty wrong. I didn't think I'd be the only one in jeans and a t-shirt with flat boots, but I was wrong. It's probably the Chicago in me that wants to go utilitarian. But at least I didn't look like the idiot outside Lincoln Center in a super short and tight mini dress, with no tights and platform pumps. Yes, this really happened. But let's get to the real fashion now.
First up was Sally LaPointe, which I decided is my favorite collection I've seen so far. I loved the set up of the venue with the orange lit poles at the start of and all along the runway. The only disappointing thing is that they weren't heated. Because Pier57 is one damn cold venue in February.
The Fall 2013 collection started off with a lot of leather (obviously, I was intrigued), incorporated some croc (which I can always appreciate) and used neutrals like black and white as well as various shades of the red family from bright cherry to deep bordeaux. One of my favorite things about this collection was the surprise element when the models turned around. There were many cut outs and exposed backs, as well as small gold chain and zipper details. I don't get super excited about many collections but this one gave me something to look forward to next Fall.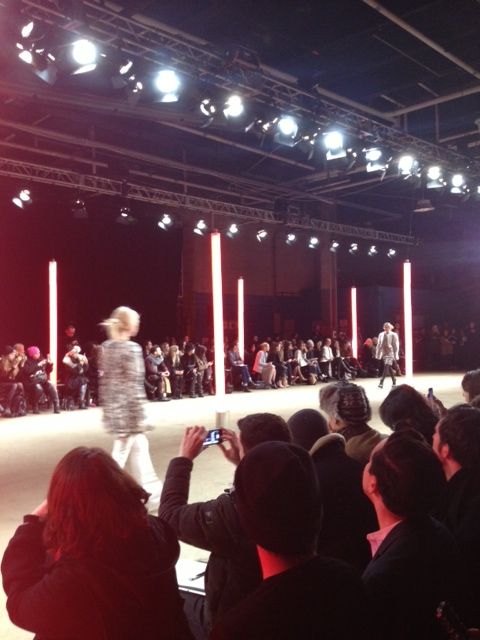 From a huge warehouse runway show to a small presentation at the Standard, next was Katie Gallagher.
The girl is known for her dark, almost goth-like style. Not goth in your typical way-too-much eyeliner and "I color my nails in with a black sharpie" kind of way. Her aesthetic is much more sophisticated than that, which is clear by looking at the materials and attention to detail that she's always focused on. What I found quite interesting about this presentation was the juxtaposition of her dark clothing against the faux sunlight in the venue (seen above).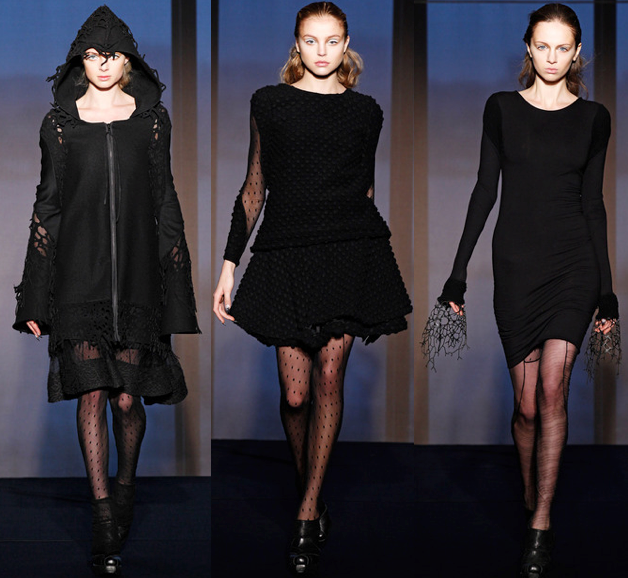 Her Fall 2013 collection is called "The Winter That Froze You Away" which represents her new direction in design which is "creating lines that move into one another and disappear." To do an all black (with a bit of navy) collection like Katie did, you really have to put effort into the details, which is shown in the laser cut leather, sheer panels and a variety of silhouettes. My favorite part of this collection was the laser cut, almost netting-like trim seen on some of the dress and sleeve hems. Not the most practical thing in the world, but whoever said fashion was supposed to be practical?
Moving onto my first mens show this season, Nautica (where this happened).
This collection marks the brand's 30th anniversary so they really went back to their roots for Fall 2013. Because they're "celebrating 30 years on the water," the collection consisted of fisherman cables, novelty yarns and colored shearlings. Although I'm not that into menswear, I appreciate this collection because it's an approachable, realistic way for men to dress. You can look stylish without trying too hard, which is shown by the simple silhouettes, pops of color and just the right amount of accessories. It didn't hurt that the models were really good looking. Like REALLY good looking.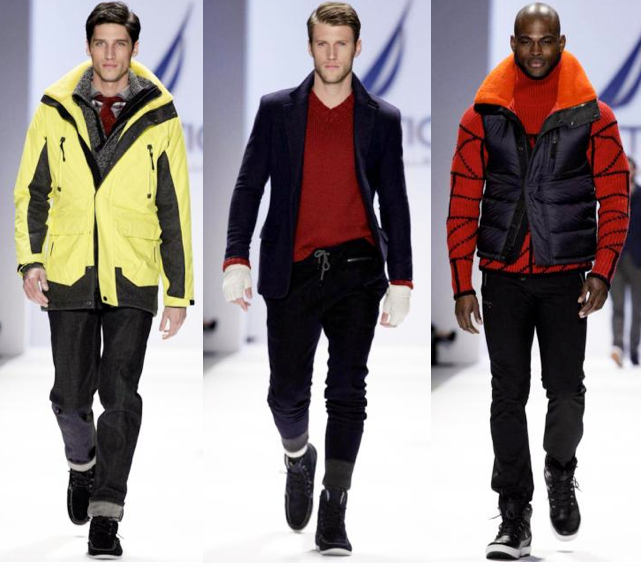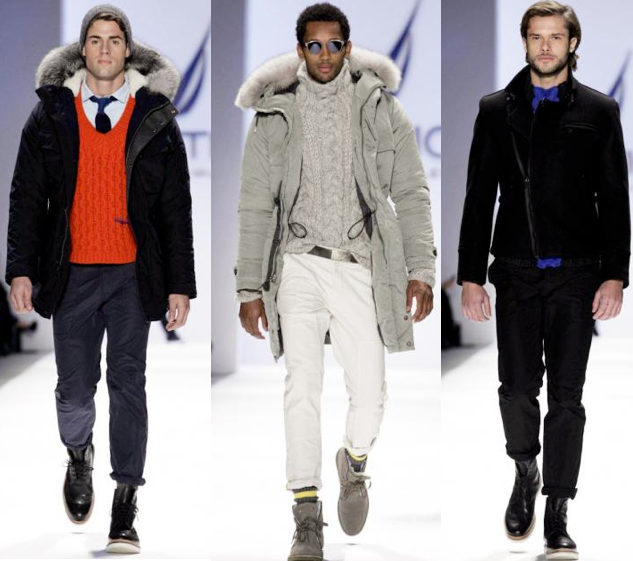 So the rest of the day got interesting. I headed to Milk Studios for Cushnie et Ochs. I was the next person to get on the elevator and they suddenly were at capacity. So that sucked. Bummed I didn't get to see that sweet fur coat in person. I had a few hours for break before Nicole Miller and Charlotte Ronson. Then I found myself at Ma Peche with Jen from Red Soles and Red Wine and Lauren from The Girls of Lincoln Park. So I missed the girl with the colorful ombre locks and those sick purple leather pants. But I did eat some really great food with some awesome company so I really can't complain.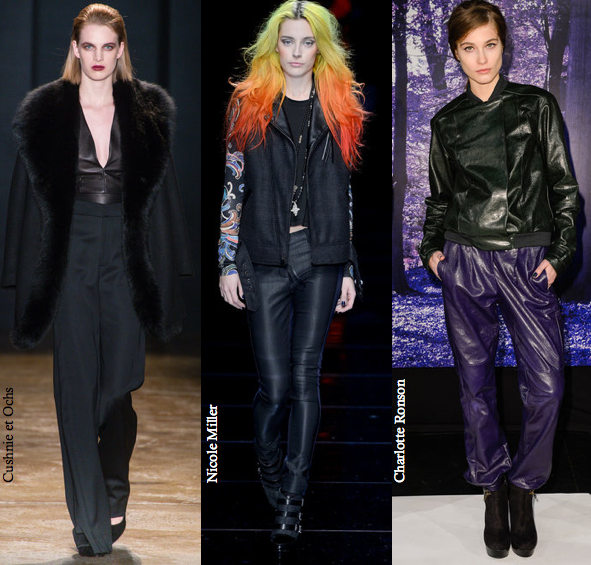 And now, I'm off to day 3.
Photos via Fashion GPS & Style.com
You might want to check out...