Yes, fashion week is still happening. The blisters on my feet are fresh, the bags under my eyes are darker than ever but hey, I'm still moving. Yesterday was fun because in the midst of all this Fall madness, I got to have a little Spring moment…and no, I'm not talking about the SS13 crowd print dress I got at the Proenza store yesterday (I could't help myself).
First show of the day was Diesel Black Gold, which always brings a good crowd (re: Giovanna Battaglia and Anna Dello Russo's Prada shoes seen above).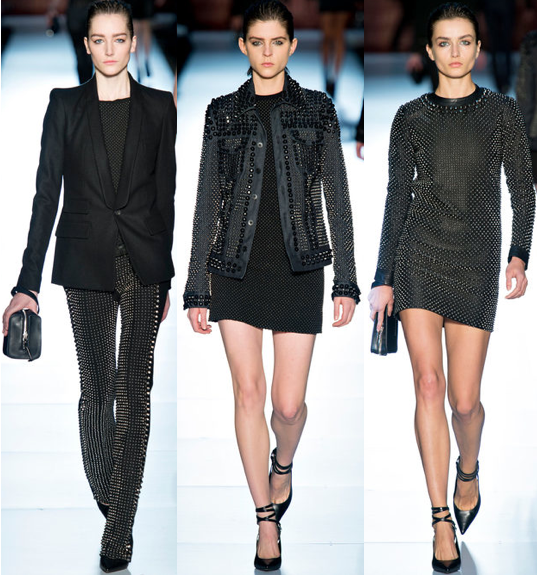 This "American Biker" inspired collection not only had fantastic clothes (studded pants, quilted leather, and one of my personal favorites, zipper detail) but the accessories were really great too. I love those pointed toe multi ankle strap shoes as well as the clutches with bullets dangling from the side. Basically, the Diesel Black Gold girl for Fall says "Don't F With Me" and that is something I am totally on board with.
A short walk from Pier57 to the Standard for Misha Nonoo…which I was immediately intrigued by when I was greeted by this.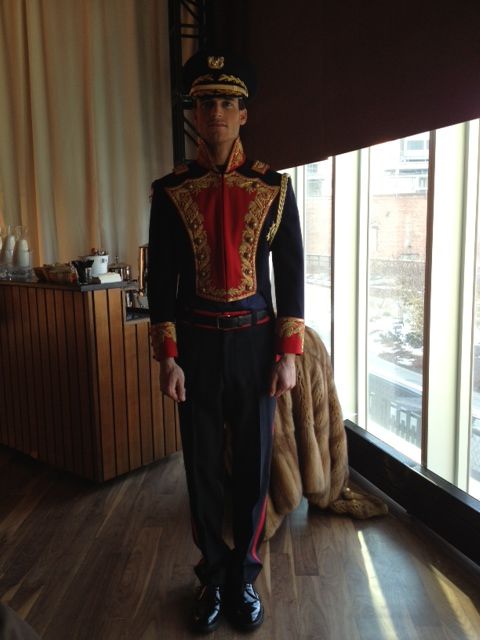 The second thing I noticed was a sea of fur hats, so I knew Russia had to be the inspiration behind this collection. "A weekend invitation to the Russian countryside from a descendant of the Romanov family leads to an unconventional modern adventure for Misha Nonoo's alluring British vanguard" to be exact.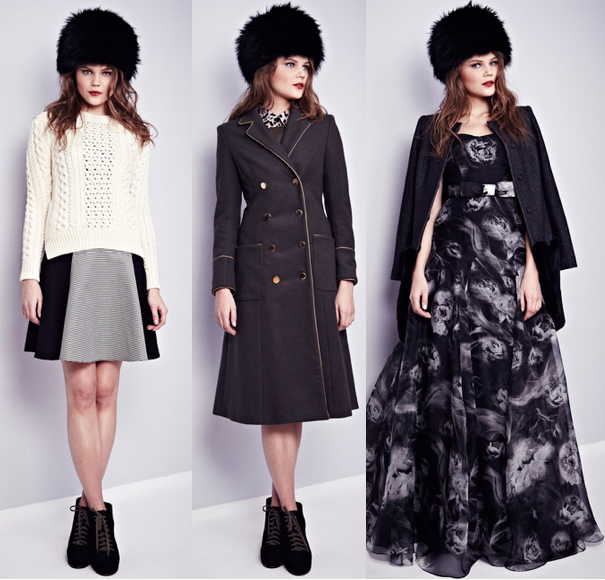 Like I mentioned yesterday, red and black seems to be Fall 2013's biggest trend, and Nonoo is no exception. The collection consisted mostly of tailored coats, chunky knits, feminine skirts and a few formal pieces, making it wearable for various occasions. The black sheer panel organza skirt and the cropped red leather jacket were my favorite pieces, and of course…the hats really stole the show (even though ironically, it was a presentation).
Last stop of the day — the Net-a-Porter office (which is what I imagine heaven looks like).
They were having a spring/summer preview featuring their favorite accessories. They must have great taste because they happen to be some of my favorite accessories as well. Coincidence? I think not.
Some of my top picks: the holographic Proenza Schouler PS11, striped Illesteva sunglasses and glitter-soled Miu Miu heels. Oh and EVERYTHING ELSE.
Today is my last full day in NYC. See you very soon, Chicago!
Runway photos via Style.com
You might want to check out...