After 7 straight days of shows, presentations, meetings and parties (which happen to be all over NYC), I'm more than ready to sit still for a few minutes (preferably without shoes on) and get back to my real life in Chicago. Not like I didn't have fun (because the bags under my eyes prove that I did) but there's only so much a girl can take…but because I'm not fashion WEAK, it's all worth it in the end.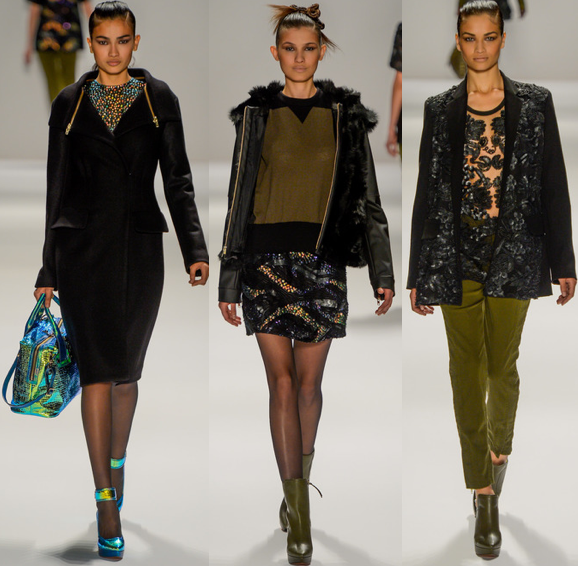 Wednesday was my last day of shows and first up was Nanette Lepore at Lincoln Center…whose official hashtag for FW13 was #NanetteOnMars. I've always had a thing for space (weird, I know) so I knew I'd like this collection no matter what.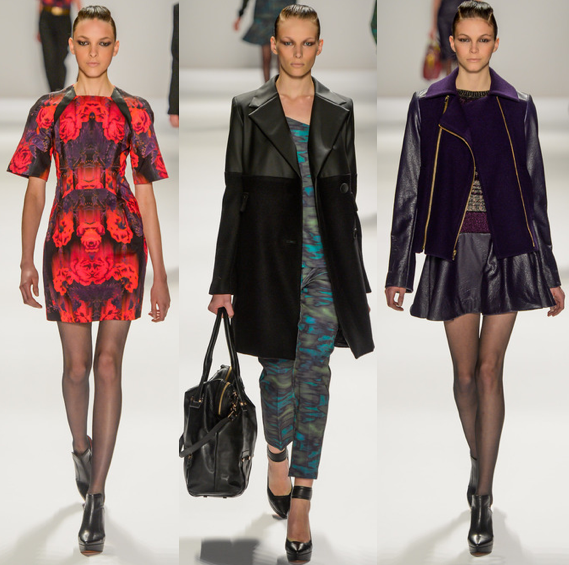 The iridescent accessories really made this collection pop for me and took #NanetteOnMars to another level (or another planet, if you will). I thought olive green was an interesting color choice for a futuristic-inspired collection, which was balanced out by multicolor sequins in unique patterns and deconstructed Earth prints. And as the trend continues into Fall '13, "leather" was seen a ton in this collection (which I especially loved in that plum color). I use "leather" in quotations because the material Nanette used was actually coated wool that resembles leather. Pretty genius, especially if you're trying to save money…or save animals.
After a few meetings and a quick change for the evening (which may have been more casual than my daywear), I headed to my last time at Lincoln Center for the Fall season to see Clover Canyon.
This is a presentation I look forward to each season because they do the most insane prints. This year, the collection is "a homage to Russia's radical, maximal aesthetics." Although the colors and prints are quite over-the-top (and the bedazzled shoes definitely contribute to that), nothing seems too forced; there's something about the Clover Canyon girl that's so effortless (maybe it's the LA in them). Although the brand is known for graphic prints, they do embroidery just as well.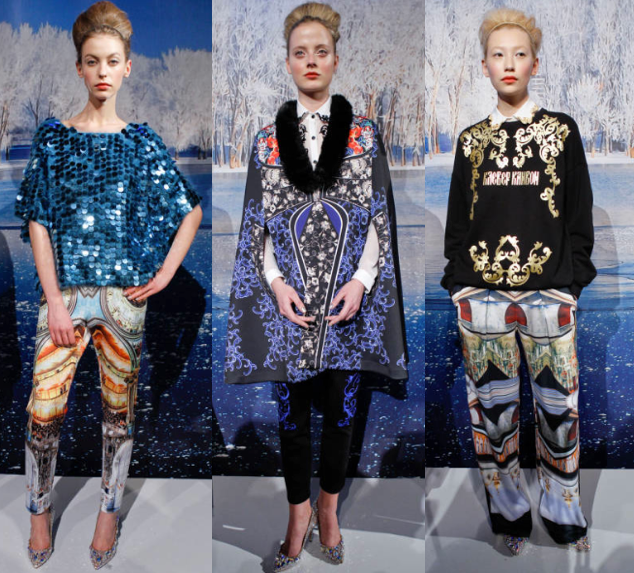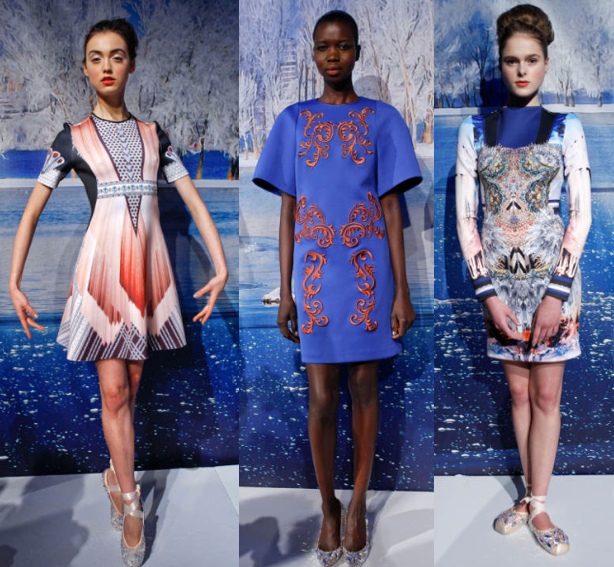 And if you know my style, it's no surprise that one of my favorite looks is the black and gold sweatshirt (seen above). Damn, I'm so predictable sometimes.
Just as I did last season, I ended my fashion week with Elizabeth and James, who debuted their new line of handbags as well as their Fall '13 accessories at Hotel Americano.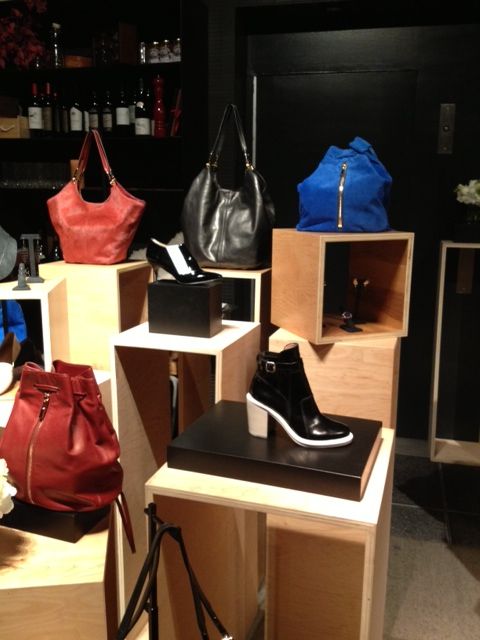 I love attending these presentations because it's so cool to see how humble and so involved Mary Kate and Ashley really are in their line. I've been to presentations of much lesser known brands where it's nearly impossible to get to the designer. At Elizabeth and James, the Olsens are very present and anyone who's attending can speak to them…which I find to be pretty awesome. I also got giddy when I saw their sister, Elizabeth in attendance (I don't geek over many celebs but she's just fantastic). With each season, the clothes seem to become more minimalist and effortless and Fall 2013 is no exception. And just to let you know, I'm claiming the black patent sleeve jacket now. You heard it here first.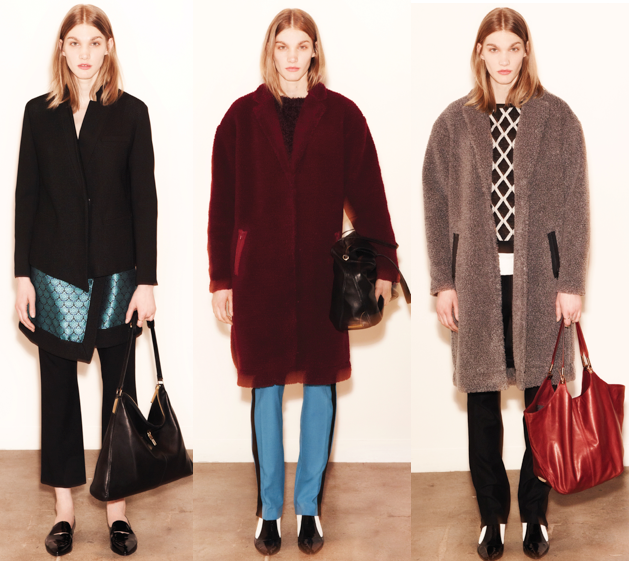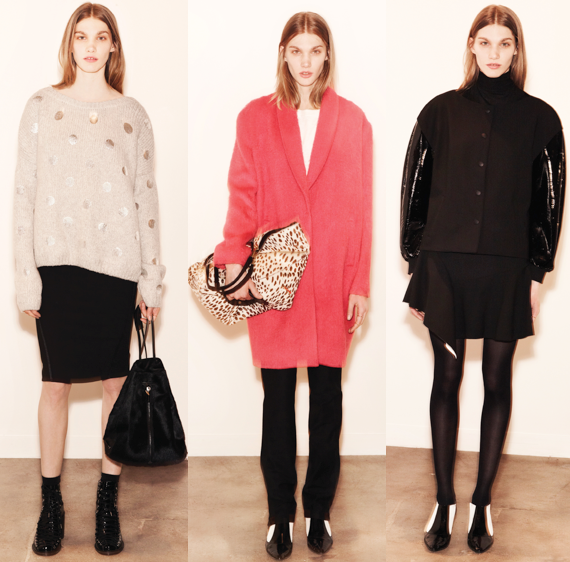 The silhouettes of their accessories are practical yet the prints, colors and textures are what makes them special. You may recognize that black backpack — very similar to The Row but NOT $4,000 (or $34,000 if you had your eye on the croc).
Also in the accessories department: black ankle boots with a white heel and platform, patent loafers with a slightly pointed toe and a great selection of jewelry (gold cuffs, royal blue stone earrings with matching ring, etc).
—
Thanks for following my fashion week posts. Hope you enjoyed!
Photos via Style.com, Elle & courtesy of Elizabeth and James
You might want to check out...