I'm trying something a little different this year for my fashion week posts. In the past, I've done one designer at a time. But because that's extremely overwhelming (for both you and me), so I decided to take a different approach. I'm going day-by-day for the entire week, also sans-camera (I'm really smart and left my memory card at home in Chicago…but thanks to my trusty iPhone/Instagram and Fashion GPS, we're all good). Would love to hear your thoughts. But first, let's get started. Check out that sweet Insta…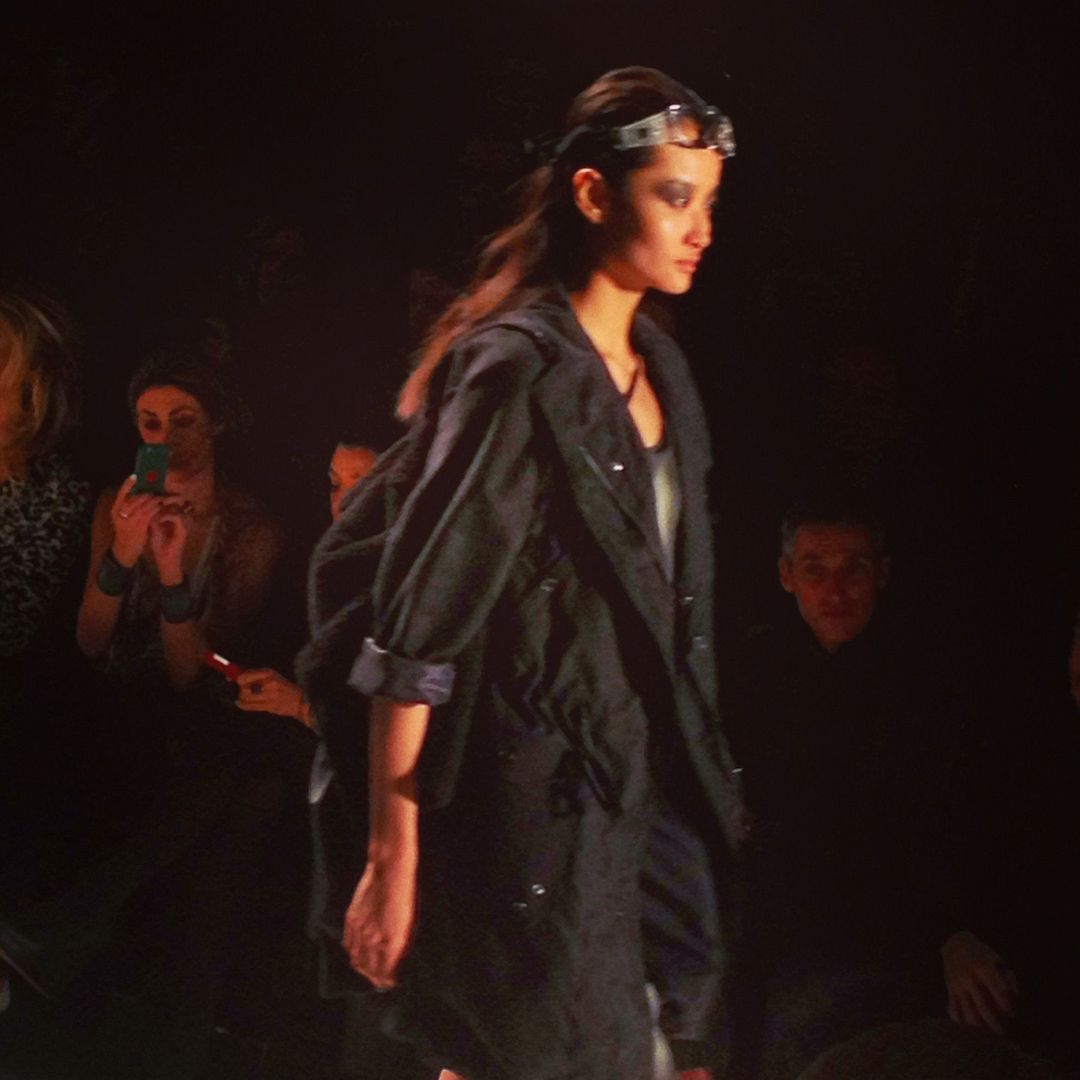 My day began with the very first show of Mercedes-Benz Fashion Week — Nicholas K.
Nicholas K in general is very utilitarian; pieces that are easy to layer and cater to both men and women (even though there's both a mens line and a womens line). Most of his collections are pretty neutral, with this one consisting of bone, black, grey and some teal in the womenswear. The goggles were an interesting touch, but I doubt they'll make it to stores. Although if they did, I would definitely consider buying.
Some key pieces from the boys…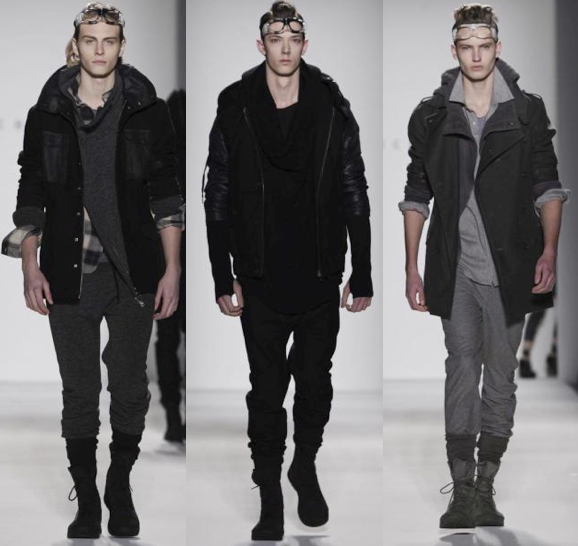 And the girls…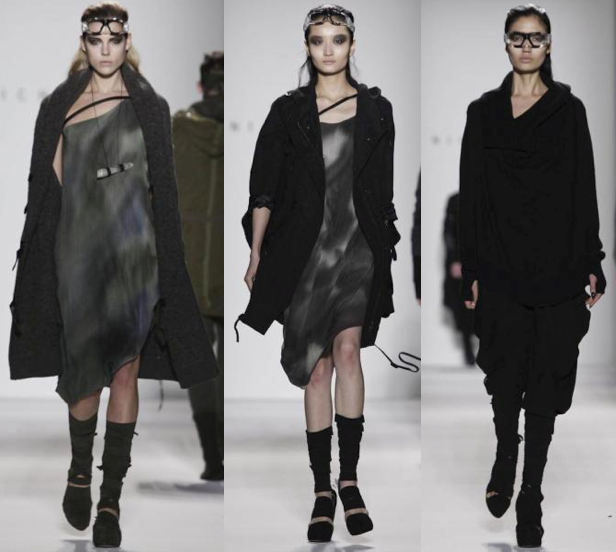 Next up at MBFW — BCBGMAXAZRIA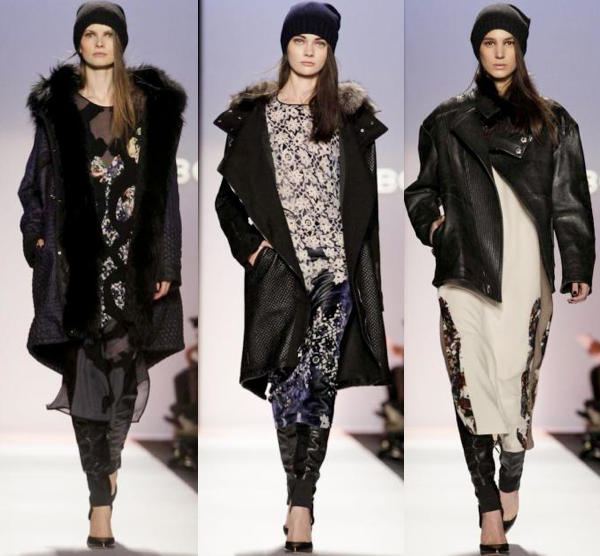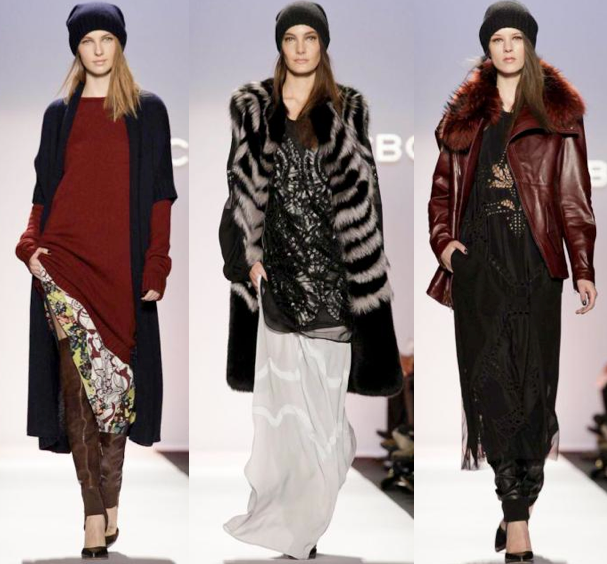 The BCBG girl seems to get cooler and cooler each season. Stylish outerwear is my number one priority living in Chicago, so to see all these great options for Fall 2013 is relieving. Plus, I enjoy a good beanie. One part of Lubov Azria's inspiration for this collection was gypsies (and I'm assuming not the kind that are on TLC, which I hate to admit that I love watching). Overall I give this collection two words…I dig.
After my lunch break (which I surprisingly had more than 5 minutes for) it's time for Kimberly Ovitz.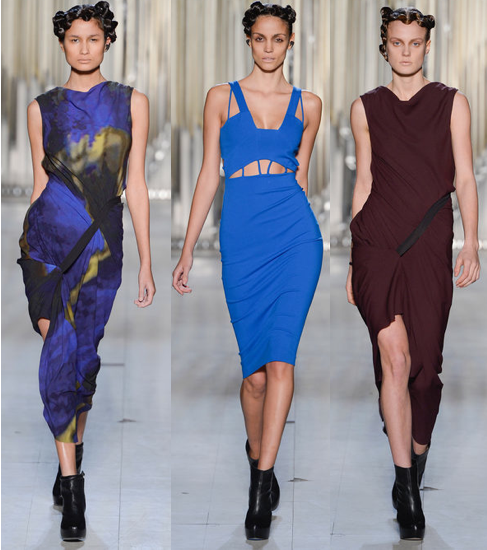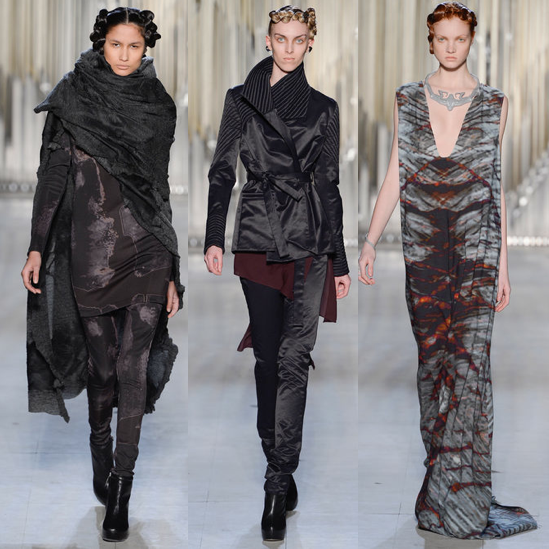 The hair was pretty cray, the music was damn good, and the clothes were interesting. Kimberly does a lot of asymmetrical looks which you either love or hate. This season, she was inspired "the intricacies of the illusional protection system seen in animals and insects." Definitely didn't see that one coming. For example the prints in the collection are "microscopic views of scales, exoskeletons and squid ink." Hey, I do appreciate a unique take on fashion. And this is definitely unique. And ps. Anna was there. And if you want to see a blurry finale shot, here you go.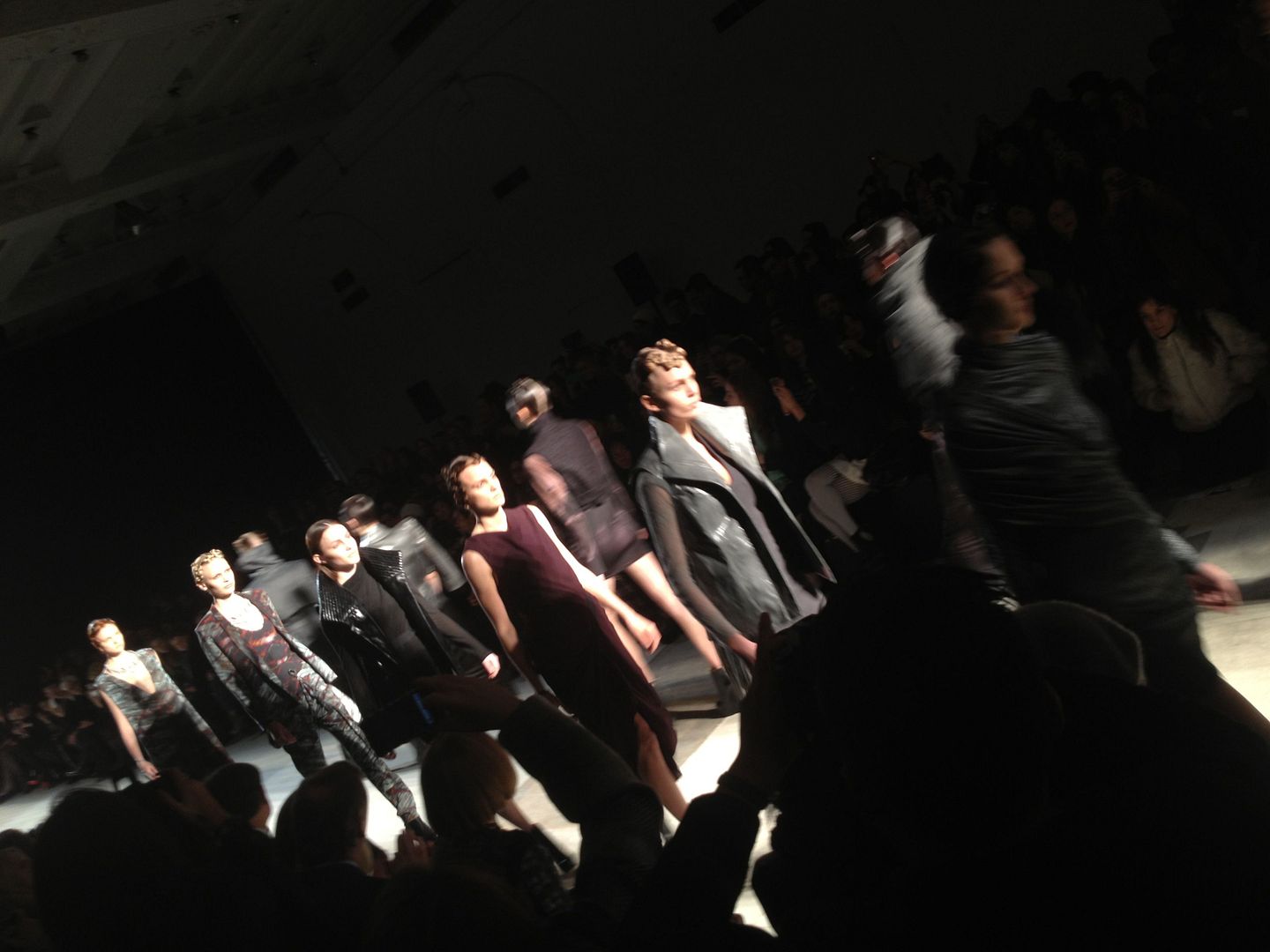 The afternoon brought me to Milk Studios to see Costello Tagliapietra.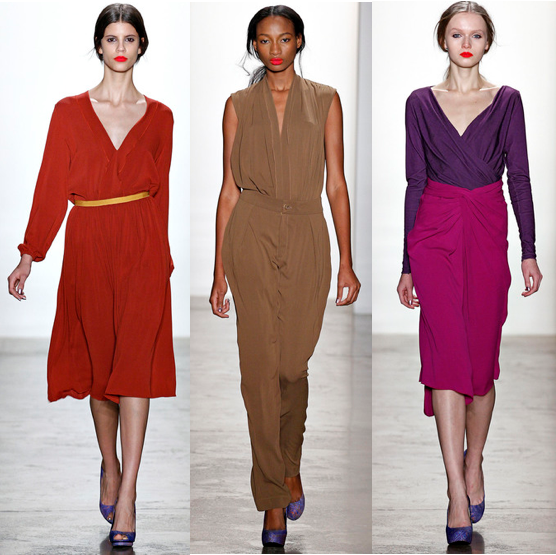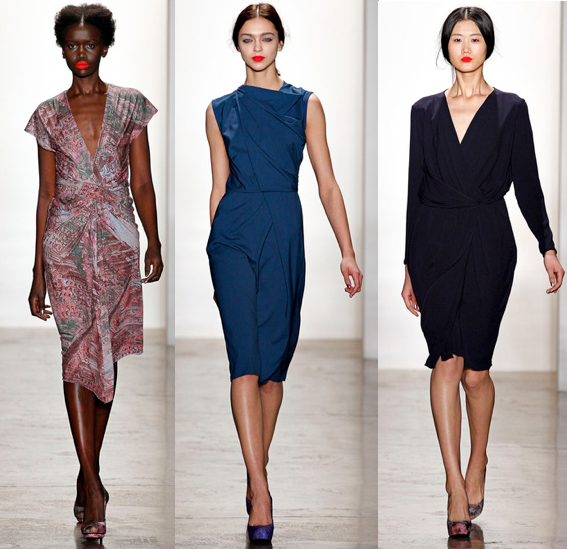 Although a little sophisticated for my taste, there's definitely a girl for Costello Tagliapietra's Fall 2013 collection. I was a quite distracted at the show by a couple of things: Simon Doonan's crazy obnoxious monogram Goyard messenger bag, and that really awesome lip color on the models. How GOOD is that lip color? I just can't stop staring. Still staring…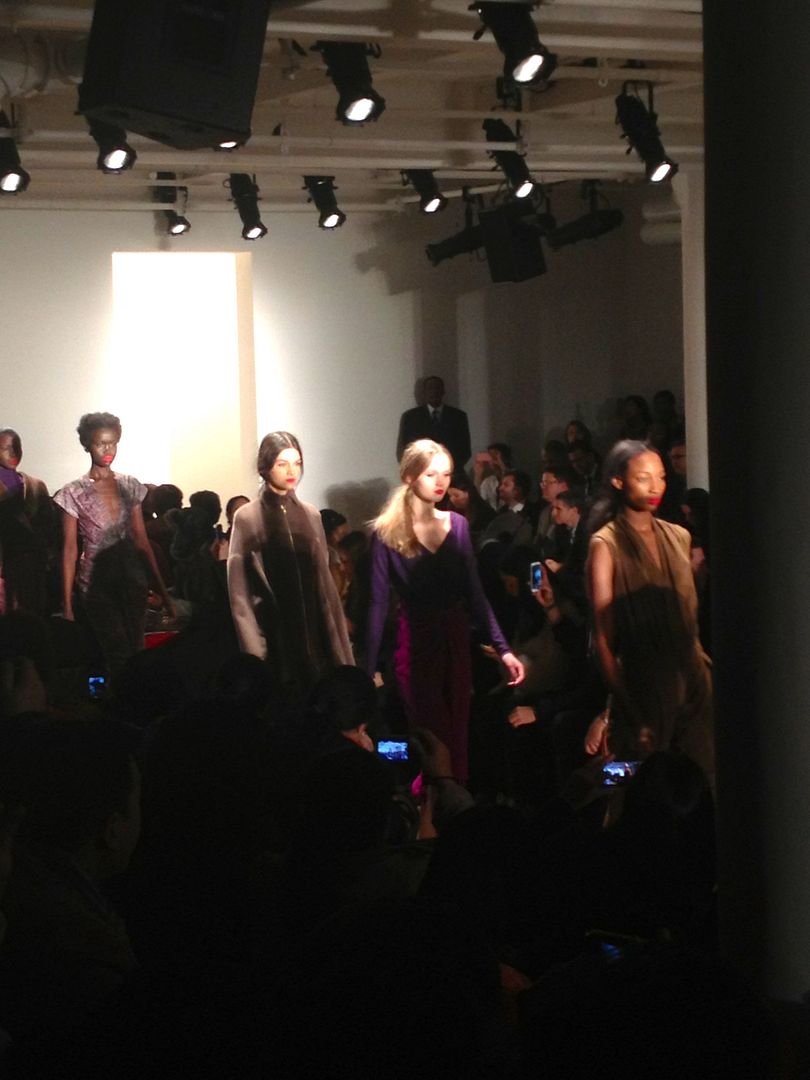 Okay moving on to DANNIJO.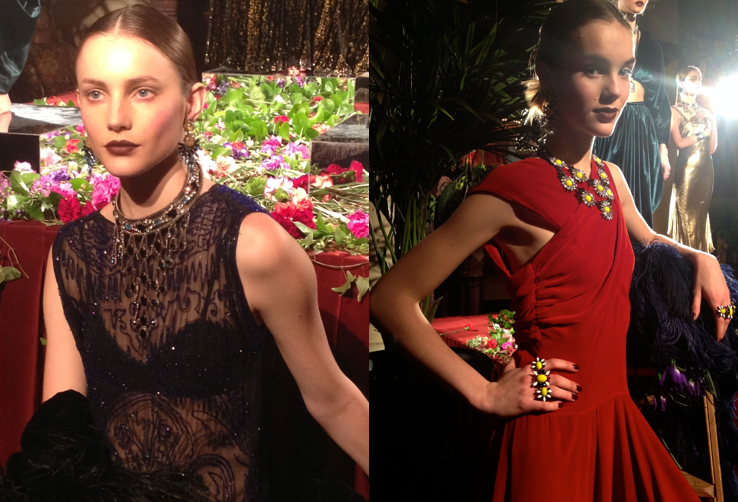 After bribing a cab driver and nearly getting lost because he could not figure out where the Jane is (how does a cab driver not know where the Jane is?), I finally made it to DANNIJO. Damn glad I did, because it took everything in me not to steal all the jewelry off the models. I understand that would be frowned upon so I decided against it. I wish I could tell you my favorite pieces. But that's like asking me to choose a favorite carb. But I ESPECIALLY enjoyed the pieces on the two lovely ladies seen above.
—
There may have been a quick trip to Jeffrey and possibly a small [in size] Celine purchase. But I'll just have to keep you guessing on that one.
Until tomorrow…
You might want to check out...