Being a freelancer / working from home, you'd think I'm just on my computer in my pajamas all day, right? Well, you're not totally wrong BUT it does give me the flexibility to be out and about (which I am quite often). Whether I'm running errands, heading to a meeting, or going out for the night, there's a 90% chance I'll be in sneakers (and as of late, the Nike Air Max 270s).
There's also an 85% chance I'll be in some other Nike gear as I have fully adopted Athleisure. It's not a trend..it's actually my life. If you've been following me since the beginning (or at least for a while now) I'm sure you've seen how much my style has changed. I almost always wore heels, I wouldn't be caught dead in athletic clothes outside the gym…and look at me now!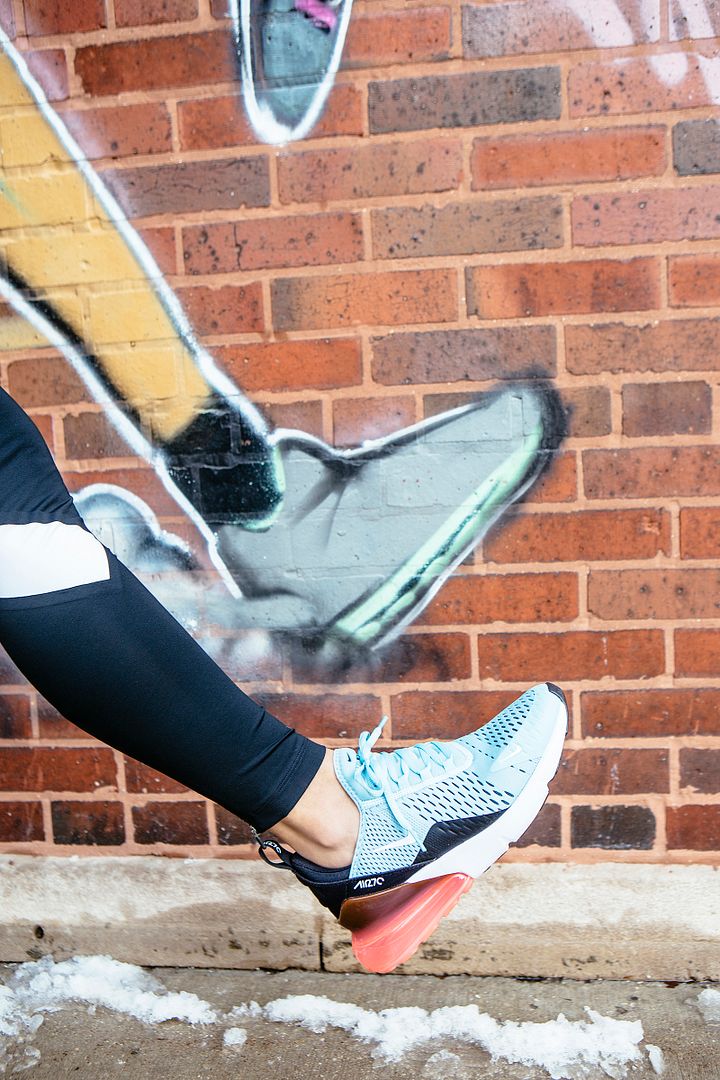 I'm grateful for brands like Nike making athletic clothes actually stylish, so I can be super comfortable, look cute, go to the gym, not go to the gym…wherever life takes me, it's now taking me in my 270s 😊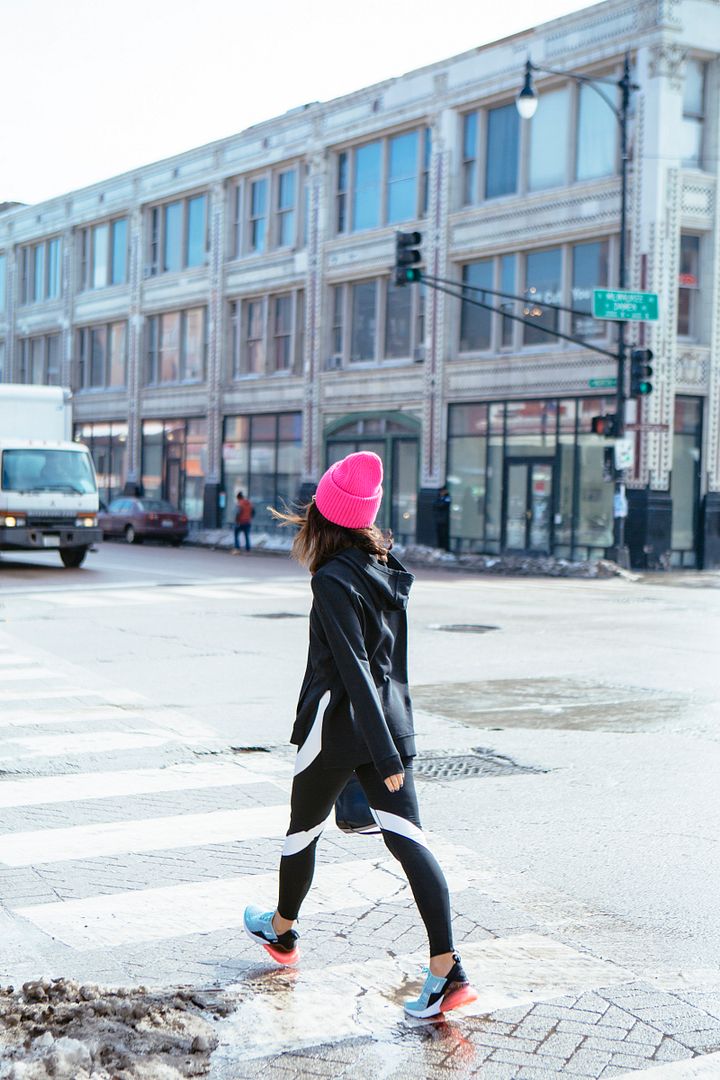 With Air Max Day coming up (3/26!) I wanted to share a sort of day in the life / some of my favorite spots around Chicago wearing my new favorite kicks.
Nike took a little bit of DNA from multiple iconic Air Max silhouettes and remixed them to make the 270 pop in a modern and fun way. Pulling from the Air Max 180 and Air Max 93 specifically, these are the first Air Max's that are strictly lifestyle (meaning not meant to be worked out in, but still designed with performance in mind…I've already walked miles in mine). And with the heel being its highest ever, it wouldn't make much sense to run a marathon in them anyway (but with how comfortable these are, I may just consider it!) It's funny that I absolutely hated that wedge sneaker trend a while back (sorry Isabel Marant), yet I can't get enough of the 270s. Leave it to Nike to make a sneaker with height look badass.
I spend most days in a leggings + sweatshirt + sneakers combo. If I'm not at home during the day, I'm typically running errands, walking my dogs and / or working out. I've learned to really value wellness and self-care as of late (it takes more than just exercising a few days a week!) I enjoy meditating or trying a new "healthy activity." My current fave (as you know from Winter Vibes) is Aire (pun not intended 😄). I WISH being submerged in those pools was something I did on the daily but it's something I love and brings me a whole new level of relaxation. It's important to unwind every once in a while and this is the perfect place to do it.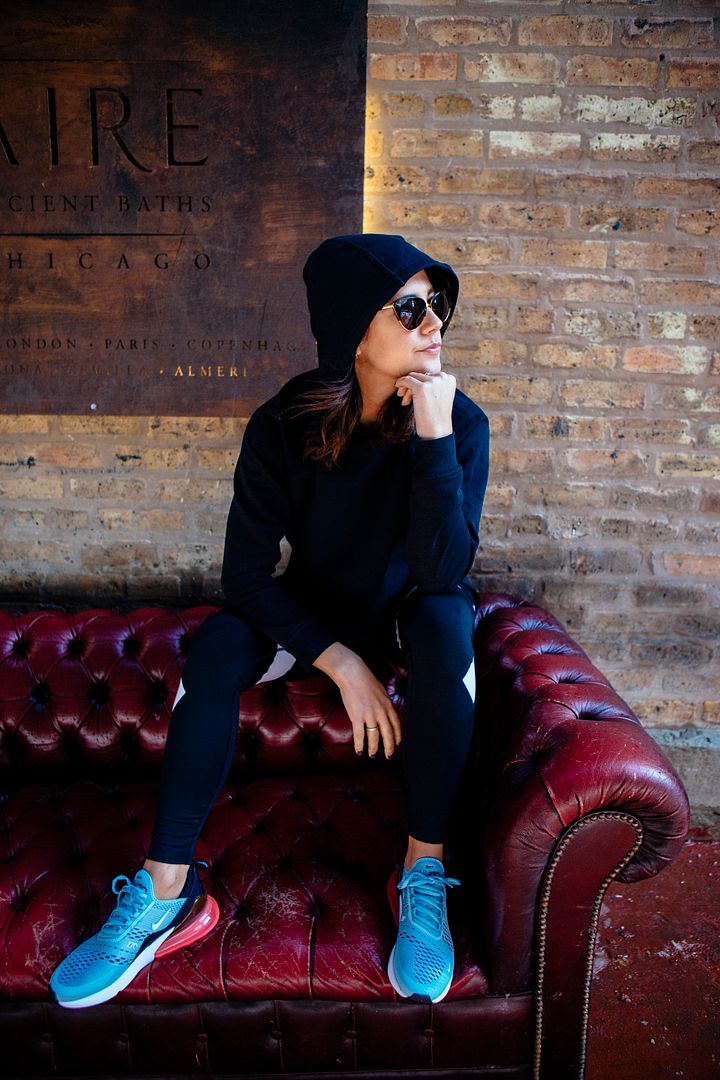 I couldn't help but include a little Jim Bachor in here. He's known for his "pothole art" (who knew a pothole could be so…ramen?) The fact that he has a piece in the Nike store on Michigan Avenue and I just can't help but smile (and take a shoefie) every time I see one of his mosaics…this just had to happen.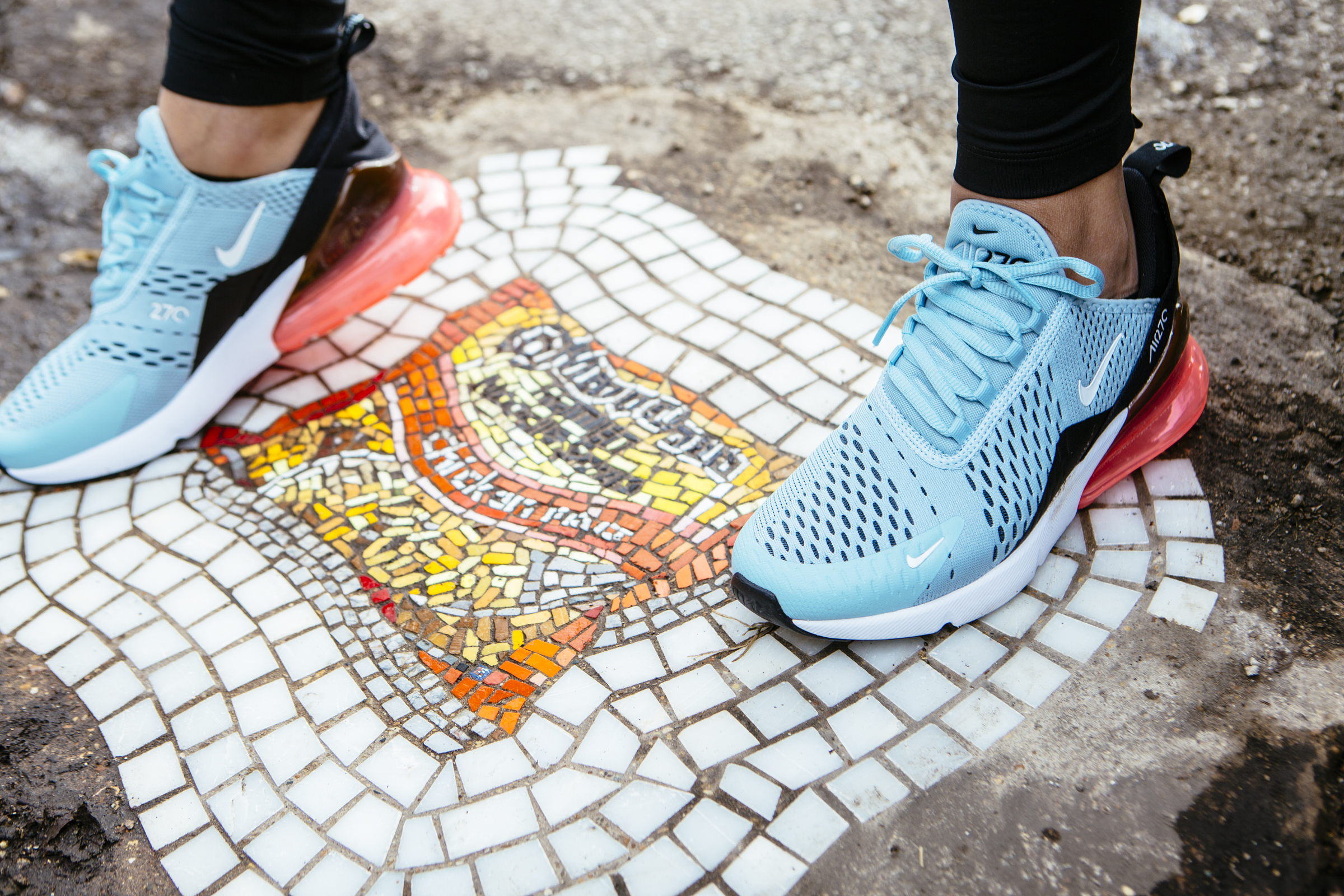 Once I get out of my leggings, I'll likely just switch to jeans (still in a  sweatshirt though…always 😝). I often take meetings at coffee shops and although I'd more likely be at Caffe Streets, I do love Metric roasters on Fulton (same owners, same great coffee!)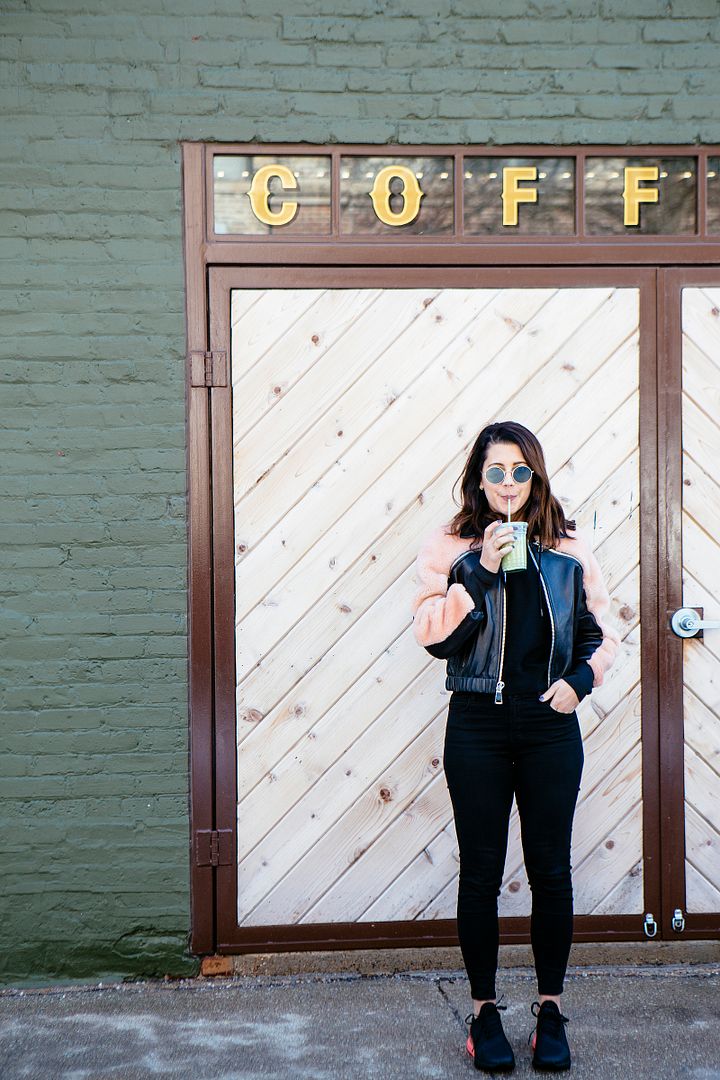 I am a coffee snob and I'm not going to apologize for it. BUT both locations do a mean iced matcha latte with oat milk. I never order milky drinks (whether it's dairy or non-dairy milk — I just prefer coffee and tea straight up) but this is one of my very few exceptions. It's a nice little tasty caffeinated treat!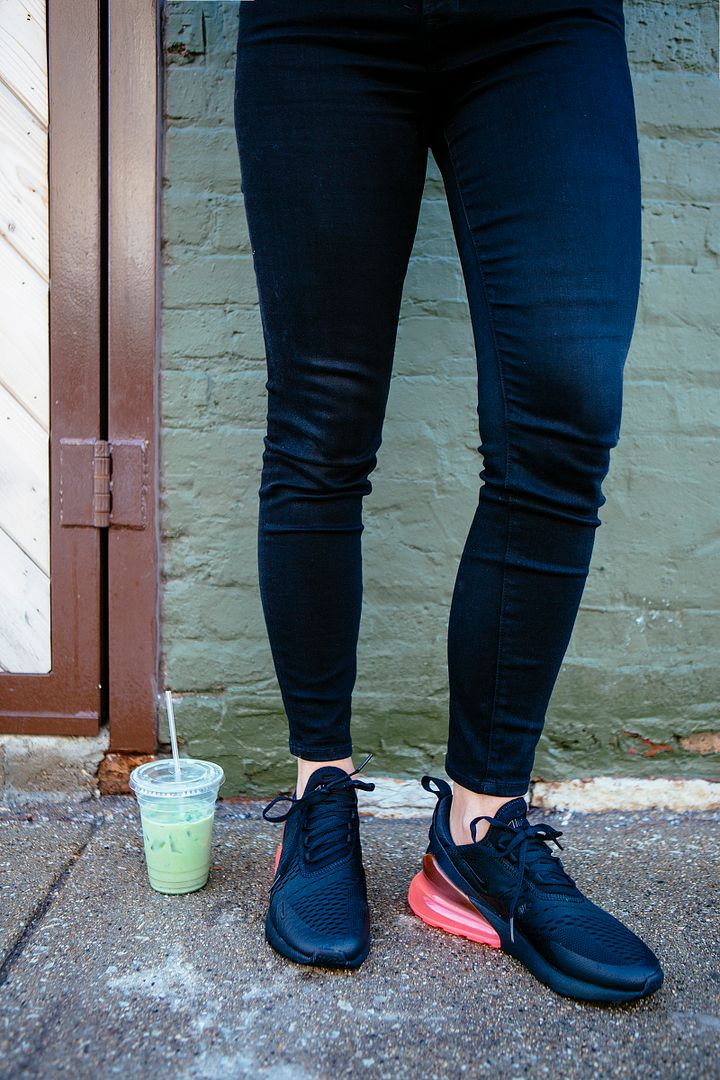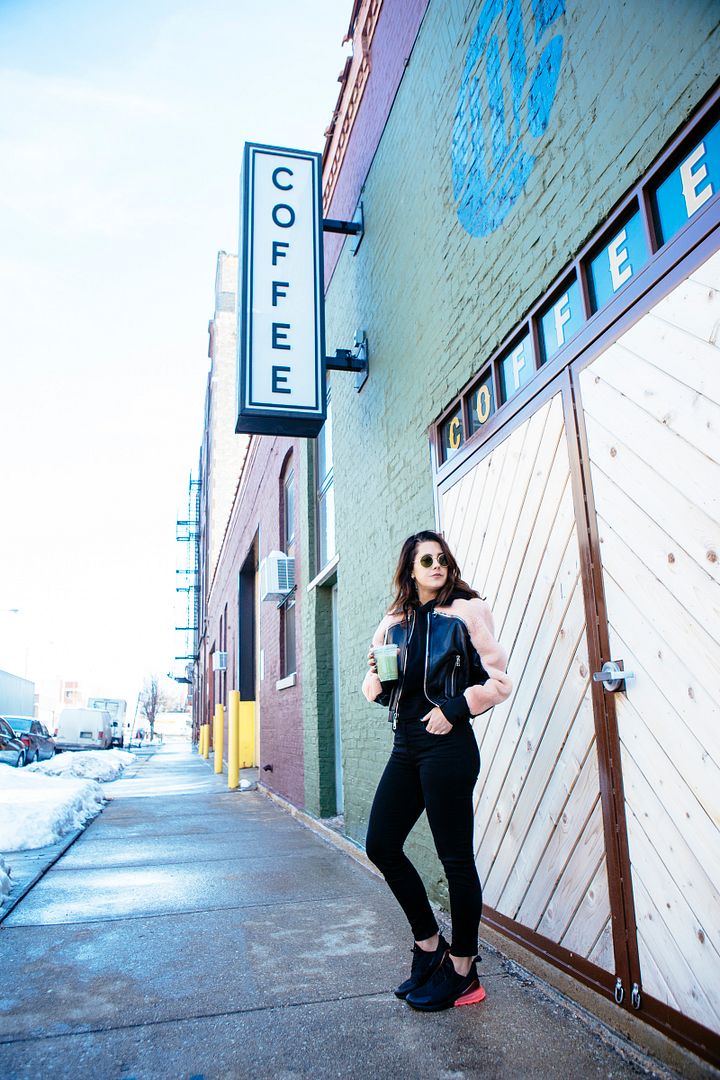 Same outfit. Different outing. I'm not messing around when I say I live in a versatile wardrobe — because I'm taking this exact outfit to get my groove on.
I love seeing live music (Concord, Metro, Lincoln Hall, you name it) and the last few shows I've been to, I've worn this exact outfit (minus the jacket…needed a heavier coat IRL, unfortunately). Let me tell you from experience…the 270s make a great dancing shoe 💃.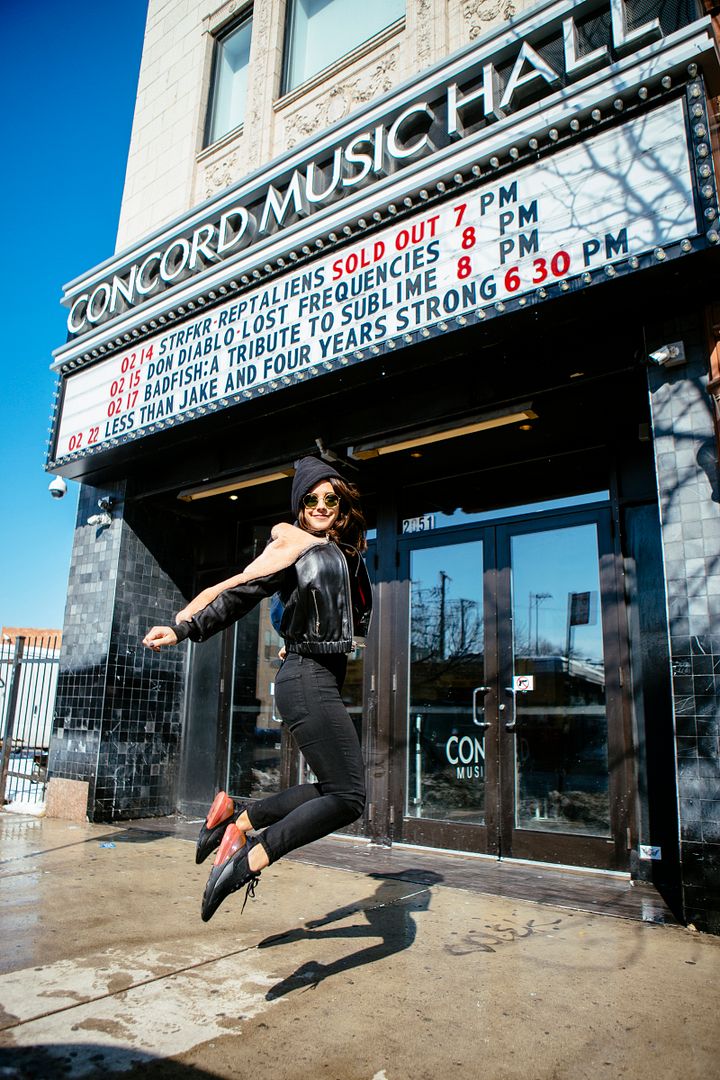 This last look was a little different for me. I'm always in jeans or leggings — a sneaker's best friend. When I wear culottes, however, I usually go for loafers or heels. So I decided that I'm no longer going to wear anything unless I can wear my 270s with it (and I do love these pants) so I made them happen with a leather jacket, bodysuit and of course, some Air Max's.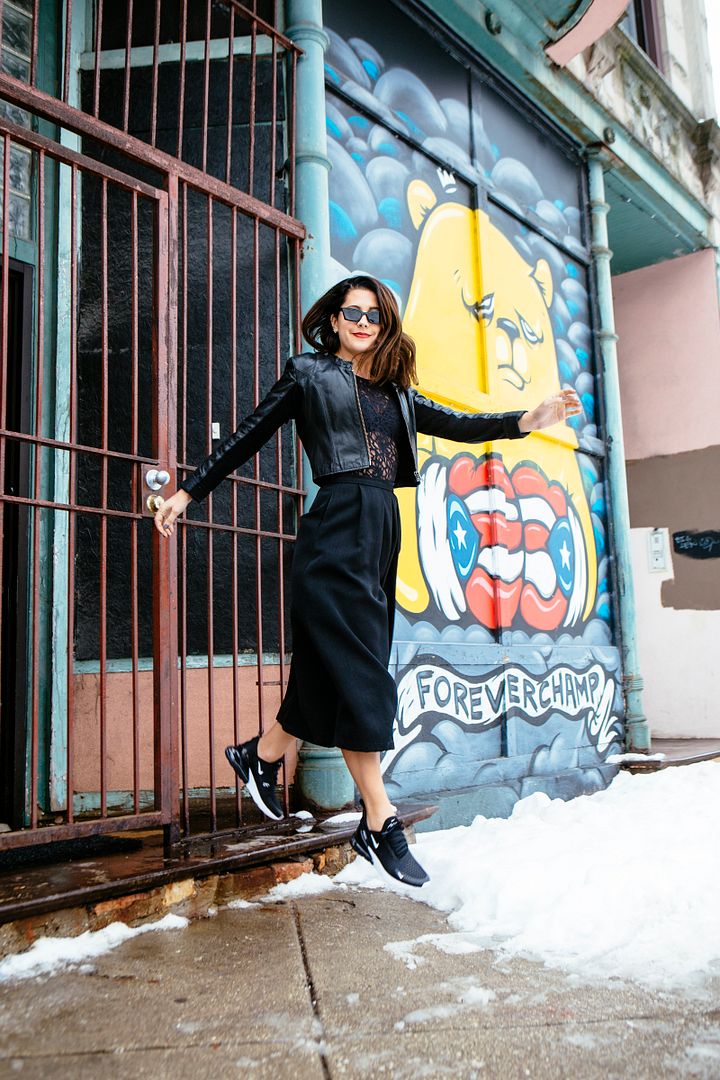 I have to say, I'm pretty happy with the results (if I do say so myself). The JC Rivera definitely doesn't hurt the situation either!
But of course the day isn't over without some EATS.
Lonesome Rose is my new favorite spot (brunch, drinks, dinner, chill, repeat). It's super cute on the inside and the food is awesome. The tacos, the corn, the nachos, the queso, the cocktails (!!) Let's just say I could use a leisurely stroll in my 270s every time I leave there (which I will surely do come summer!)
And there you have it –a few of my favorite things in Chicago wearing one of my favorite brands. You can say it's a good day!
Which color combo is your favorite? I've been wearing the black and pink the most but they're all so damn good. There's a ton more on Nike.com (for both men and women…these really look good on everyone!) so get your self a pair just in time for the global celebration of Air Max Day on March 26!
And heads up…starting Thursday (3/22) Nike Chicago will drop all new Air Max 270 styles, as well as Pogo (a dope new boutique in Lincoln Park, also seen here) and the NordstromxNike boutique. So, next time I see you, I hope to see you in some 270s!
Also let me know if it's insane to own one shoe in four colors because these just might have to happen too (maybe five because these… #sendhelp #sendnike).
In partnership with Nike.
Photos by Heather Talbert.
SaveSaveSaveSaveSaveSaveSaveSaveSaveSaveSaveSaveSaveSave
SaveSave
SaveSave
You might want to check out...