Yesterday was one of those glorious days where my shows didn't start until the afternoon, which means I could sleep in…or I could get work done and go to Bergdorfs. Option 2 happened. Highlights of the day: I wore a sequin sweatsuit, got a sick pair of Charlotte Olympia flats, and hung out with my girl Miss Ladyfinger. Then onto my first show…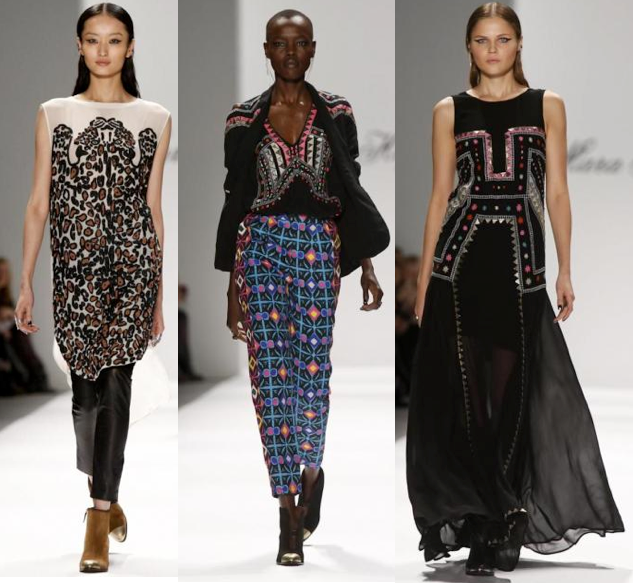 Mara Hoffman titled her Fall 2013 collection, Mystics & Misfits which brings her fans on a "traveling circus of gypsies, tramps and thieves." Basically, the types of characters you would encounter on this "journey" are what inspired this latest collection. So clearly, gypsies are trending for FW13 and Mara is right on board. Her designs are always print-focused, with wearable silhouettes that you can incorporate into your daily wardrobe. I did appreciate her use of leather and black sheer detail. A little edgier than she typically goes. Most of her collections consist of caftan-like dresses that are more appropriate for Resort rather than Fall but in her defense, many designers now are taking the "mixed season" route, incorporating pieces that work for any season. And I dig that.
Seriously, how great is this ear chain/headpiece thing though?
Next was Christian Siriano, where I went backstage for the first time ever at a show (pretty exciting stuff). I met the sweetest model (see below) and just speaking to her made me like the show that much more.
The hair was awesome…I thought about pretending to be a model to see if anyone backstage would braid mine like that, but then I thought with my not-so-statuesque 5'5 figure, I wouldn't be fooling anyone. Now onto the clothes…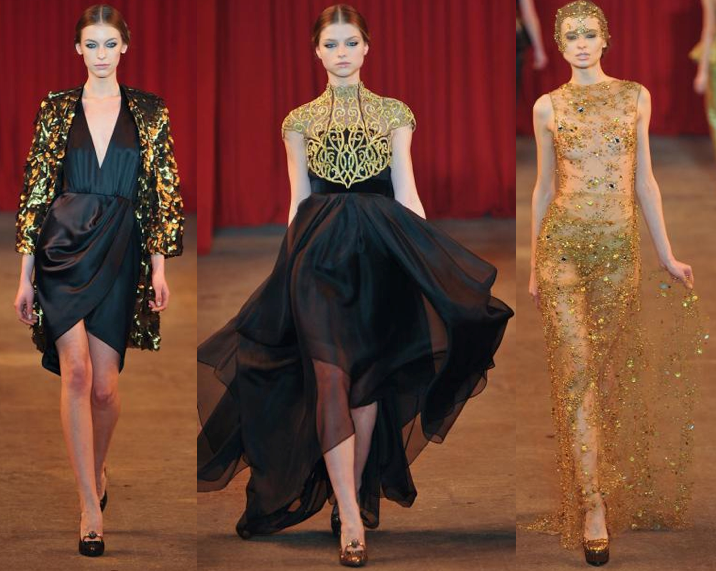 The collection was inspired by the interiors of Saint Petersburg's Mariinsky Theatre, which you can see not only be the beautiful setting (that chandelier was the perfect touch), but by the fur accents, gold beading, and black velvet. One thing that I'd love to see more from Siriano are his runway shoes produced for stores. He's been collaborating with Payless for quite some time, but the actual shoes used for the runway shows aren't sold anywhere. The designs are super unique and I understand they're probably not Payless's customer, but a middle-priced shoe would be perfect. Just saying. Anyway, I definitely see some Oscar-worthy dresses in Siriano's Fall collection, but the question now is…which one? The black and gold number above with the asymmetrical skirt would be a bold choice. But even bolder? The finale dress. Which pretty much looked like gold beads sewed on sheer nude fabric.
And in case you're wondering, here's a short video/Vine of the Siriano finale.
Finally, was Alexandre Herchcovitch at Milk Studios (yet another show with some cool hair).
The brazilian designer was inspired by flowers for his Fall collection (which normally is uninteresting, but I commend that for Fall). However, these weren't just a bunch of floral-print clothes, he really took into consideration the composition of a flower and its structure. What I found most interesting is that some of the looks started "peeling" off, as if petals were falling off of a flower. Alexandre's design aesthetic is very deconstructed so this was a brilliant way to see this type of inspiration through his eyes. Could not explain to you why the models were "blinded" (or had their eyes covered at least) towards the end, but as I like to say….fashion can be fun but it doesn't have to make sense.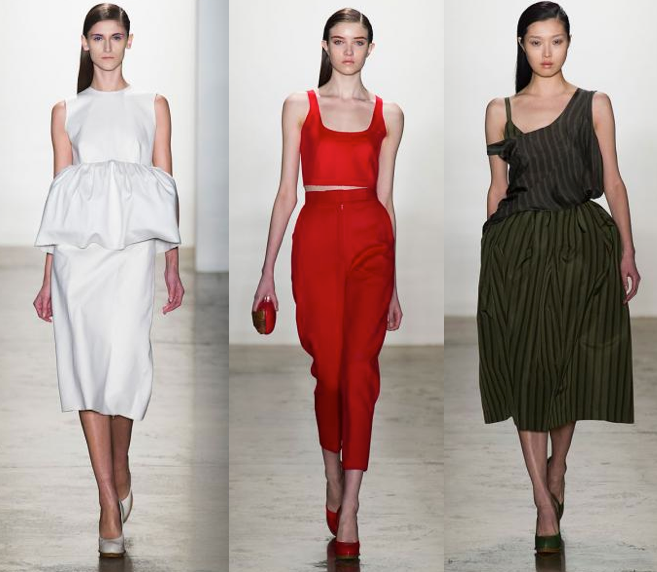 And another finale Vine for your viewing pleasure.
Day 4 today (good thing it's only 2 shows)…bring it.
Photos via Fashion GPS
You might want to check out...