If you have not yet witnessed Lupita's pearls or Lady Gaga's dishwashing gloves, then be sure to get caught up on part one of the Oscars red carpet. All good? Great. Let's move along to part two…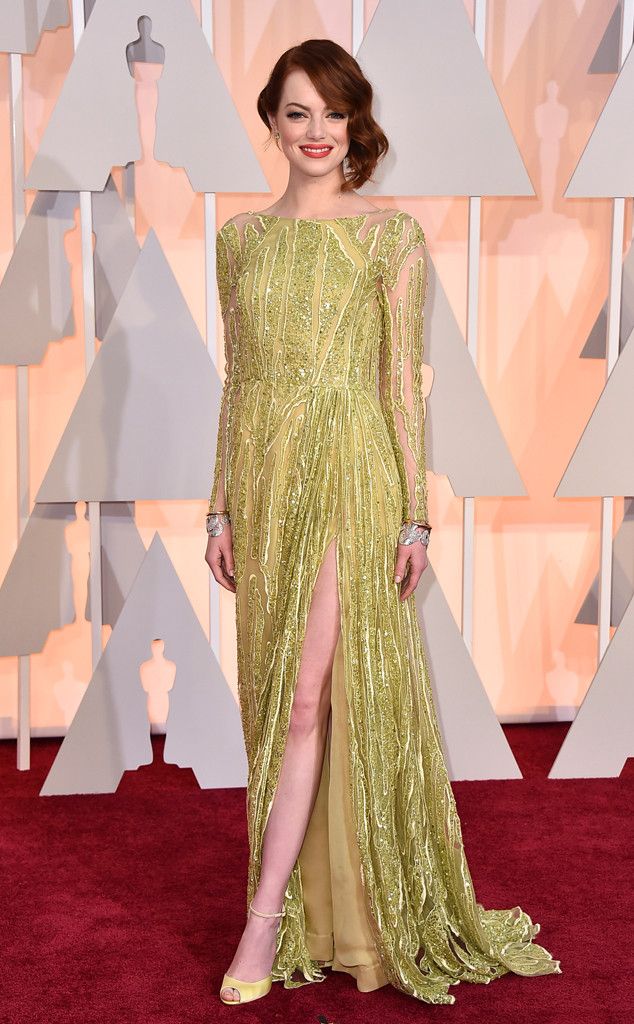 Emma Stone in Elie Saab
I'm about 98.4% on board with this but I can't get myself to deem it a best dressed pick. Her hair and makeup is gorgeous, the dress is incredible (between the fit, showing just the right amount of skin with the slit and the low back, and everything in between), the styling is spot on…but the one thing I'm not sold on? The color. Like Nicole Kidman's dress, it could have looked completely different in person but based on the photo alone, the greenish hue throws me off a bit. If this would pure gold, I would 100% choose this as best dressed, but because it appears not to be…I can't get past that 98.4%.
Chrissy Teigen in Zuhair Murad
That's quite a slit you got there, Chrissy. Like Marchesa 5+ years ago, Zuhair Murad is starting to get overplayed on the red carpet. Remember all those ruffly gowns we used to see? Now you don't see them anymore…nor do you see much Marchesa. Perhaps we'll get sick of all those super embellished dresses and Zuhair will be new Marchesa.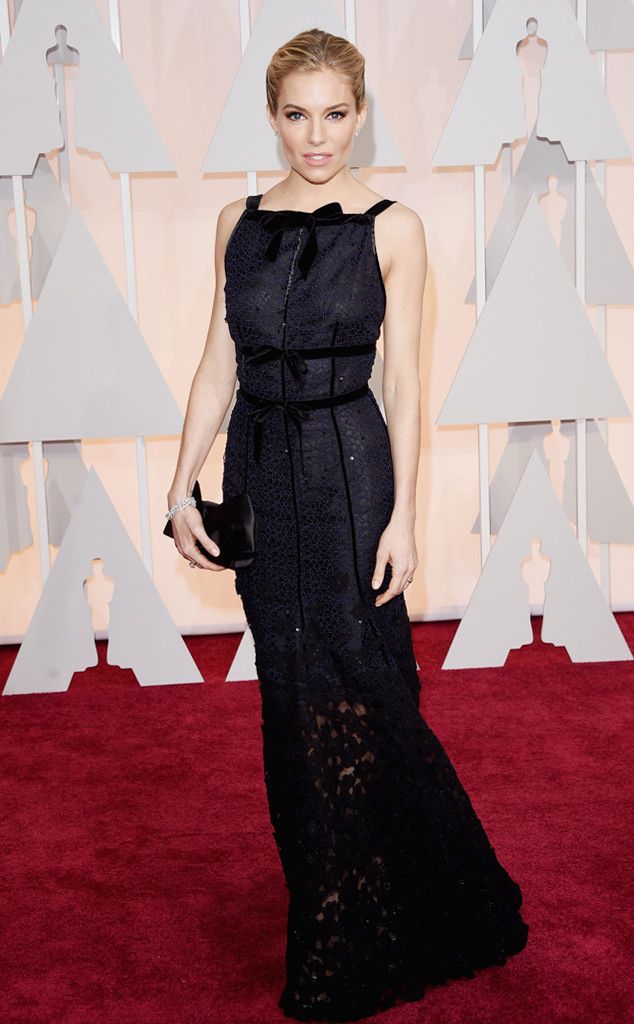 Sienna Miler in Oscar de la Renta
Her makeup is pretty fierce. I will give her that. Wearing this dress is a big deal because it's from Peter Copping's first collection for ODLR that showed at NYFW last week. Like I keep saying, some dresses are amazing for certain occasions, but if you're banking on that wow factor coming from the detail in the dress (and the dress is a dark color where it's hard to see all the wonderful detail), it just doesn't translate. Swing yet a miss for me.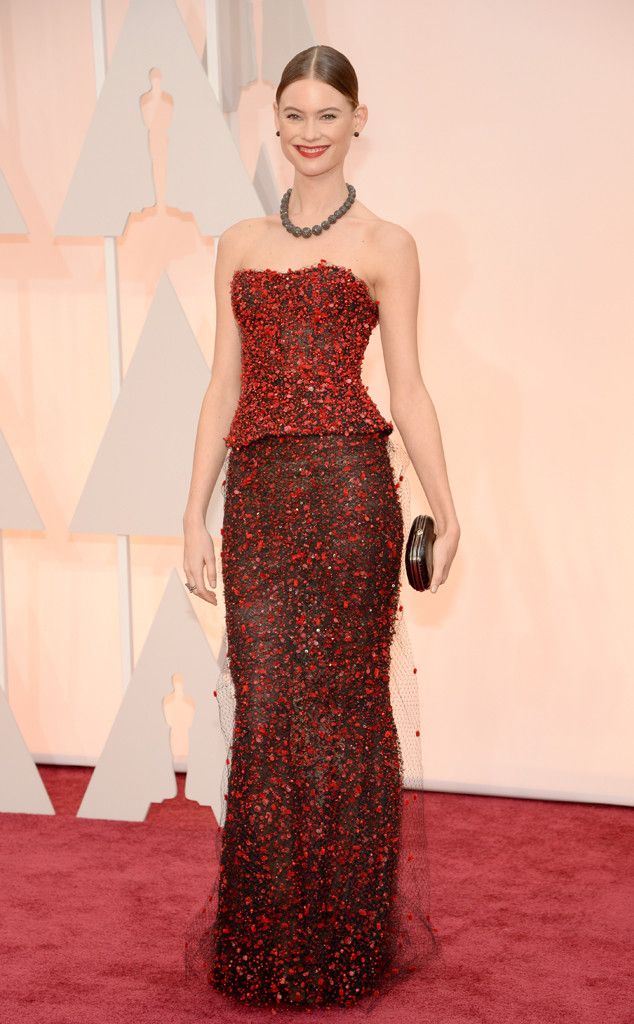 Behati Prinsloo in Armani Prive
I actually thought this was much cooler during the red carpet interview, but it shows a little more see through in photos. It's pretty (very Dolce and Gabbana, no?) but not best dressed worthy. Also, that hair style is not doing anything for her.
Dakota Johnson in Saint Laurent
I could not believe when she said during her interview that this dress was Saint Laurent. I thought hands down Versace, due to the fact that it's on the tacky side…and Versace does tacky quite well. A red dress can be classy and sophisticated (re: Rosamund Pike) or look cheap (and you know which I usually think it is). I'm not necessarily saying this dress appears to be cheap but anything embellished / silver / bedazzled paired with red instantly adds this tacky factor (tack-tor?) and for that reason I'M SO OUT.
Chloe Grace Moretz in Miu Miu
Nothing beats a gown with pockets…although this gown should be beaten because it's hideous (without Chloe in it of course…I love her!)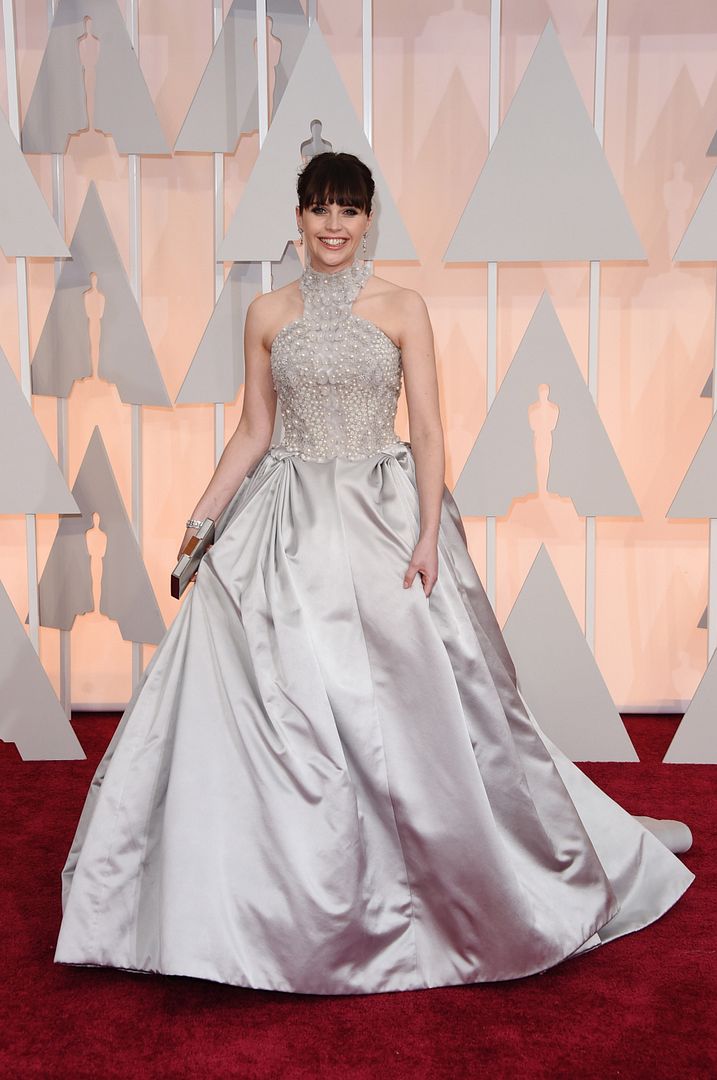 Felicity Jones in Alexander McQueen
From the waist to the neck, this is stunning (notice I can't say from the waist up because I hate those bangs). If someone wore this to the Met Ball last year, it would have probably been on everyone's best dressed list, as it goes with that Charles James theme oh so perfectly. BUT because it's the Oscars and it's got this Cinderella vibe happening from the waist down, I can't endorse this.
Cate Blanchett in John Galliano
When celebrities decide to go with statement jewelry, instead of having the dress do the talking for these types of things, it's a big risk…as people seem to respond more to the dresses rather than the jewelry. This is one of those instances where the risk didn't pay off, especially because I'm pretty sure Sofia Vergara already wore that necklace to the Golden Globes last year.
Jenna Dewan-Tatum in Zuhair Murad
Although I do prefer this dress with the original cape it was shown with, I know if Jenna went for it I would have a "great dress, wrong girl" moment…so I can't hate on her for that. A moment I am currently having, as I seem to have a lot with these things, is a "pretty but not wow-ed" sort of feeling. Also, what's with all the white dresses lately? Is everyone just itching to be a bride again?
Keira Knightley in Valentino Couture
Between this Valentino gown and that unfortunate Chanel butterfly situation she wore to the Golden Globes, Keira seems to be on this nature-kick when it comes to her red carpet choices. I don't hate this, I don't love this, but I do know that headband makes the look a little too…literal? The last few months I've really started loving on hair accessories again, but this is an instance where it's just not necessary.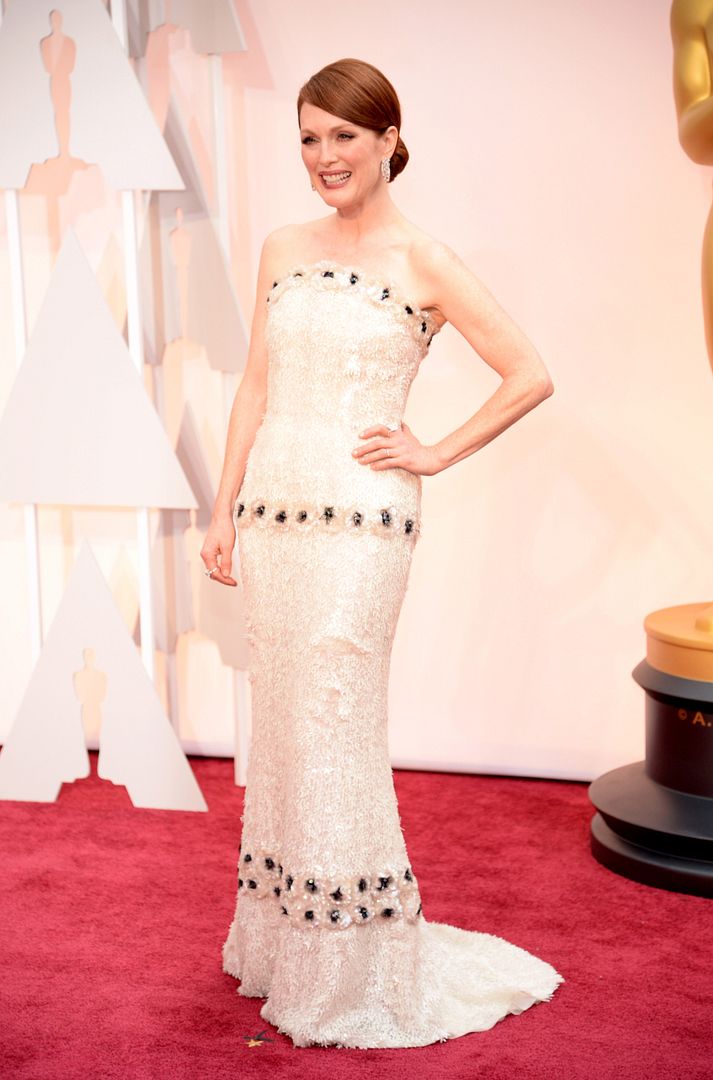 Julianne Moore in custom Chanel
Those six words that will go down in history…Karl Lagerfeld made this for me. This dress looks like it took forever to make, I do appreciate it, she looks beautiful, and that's really it for me.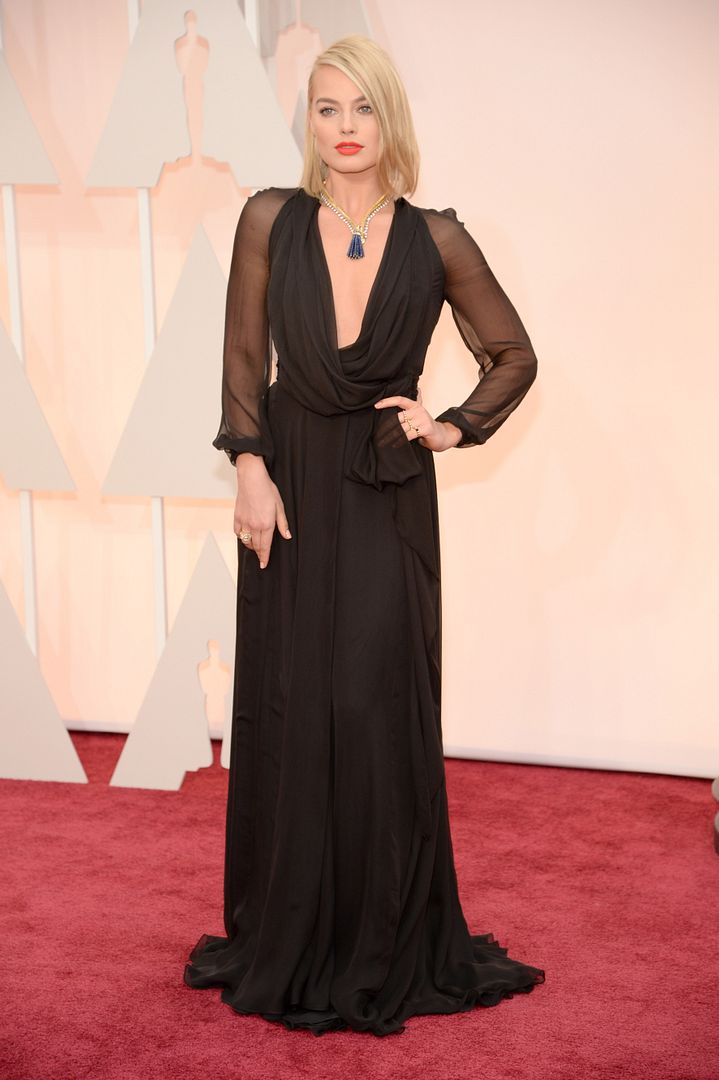 Margot Robbie in Saint Laurent
Best Dressed Pick
Unlike Cate Blanchett, this is where the simple dress / statement necklace combo pays off. The sheer sleeves are just enough detail, the neckline is perfect, that necklace is INSANE. Plus, hair and makeup can either make or break a look and this is where it MAKES it…and makes it damn good.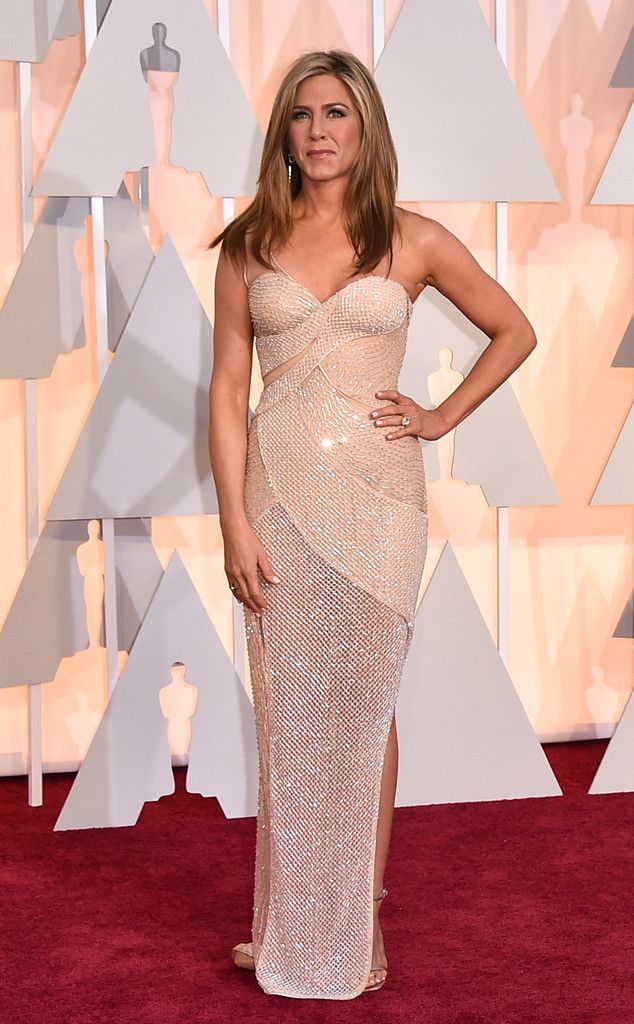 Jennifer Aniston in Versace
Versace just isn't her designer. She looks uncomfortable…probably because breathing in that dress simply isn't an option.
Naomi Watts in Armani Prive
Best Dressed Pick
This looks like silver bricks on a dress, with an exposed sparkly bandeau bra..and I adore every second of it. Perfect hair and makeup doesn't hurt the situation either.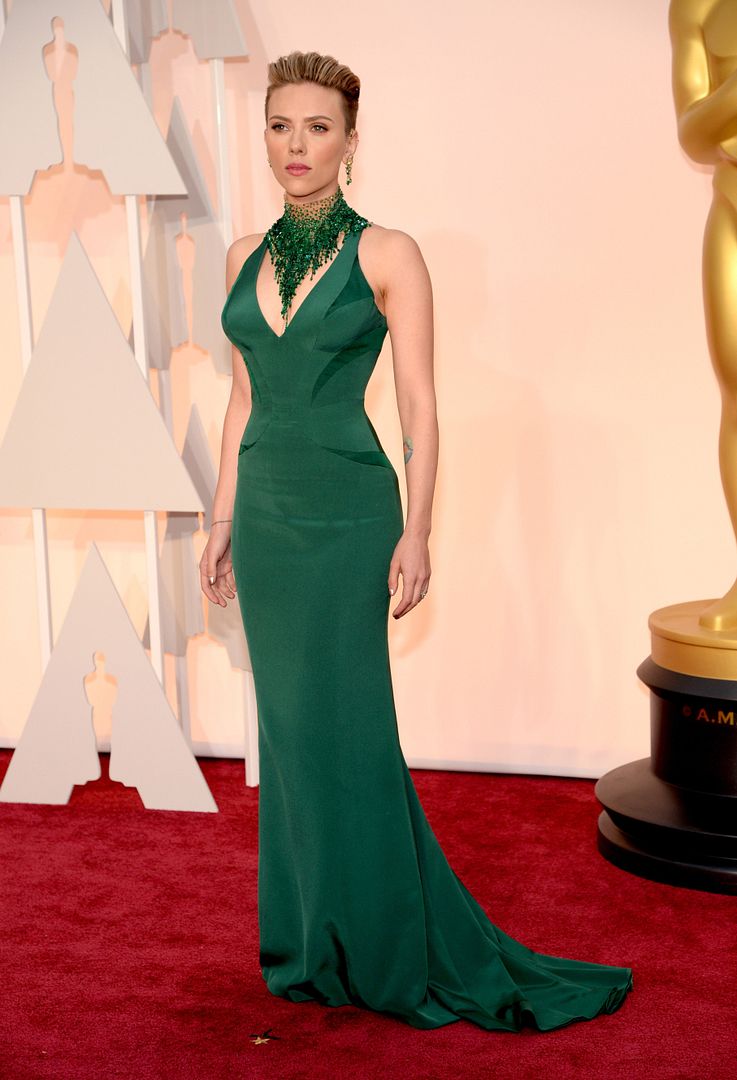 Scarlett Johansson in Versace
It's definitely a statement. The dress on its own is a very simple silhouette but with the impeccable fit and that emerald color we don't see on the red carpet everyday, it already stands out. I appreciate the neckpiece, but with the hair it's all a little too severe for my taste. At least it's not a sparkly strapless colorless dress!
—
Well that concludes red carpet season, friends. Don't forget to share your best and / or worst dressed picks (and everything in between!) in the comments.
Images via E! & The Cut
You might want to check out...