One best dressed pick named in part 1…will I pick another in part 2? Let's find out.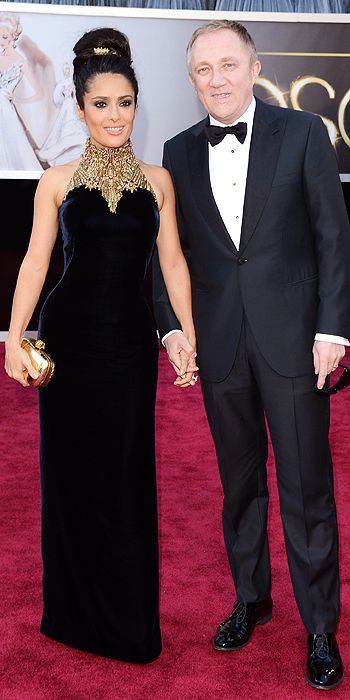 Salma Hayek in Alexander McQueen
When bad hair happens to good dresses. From the neck down, this is perfect. It would have looked incredible with her hair down and completely slicked back…but celebs never listen to me. They apparently just love bad hair.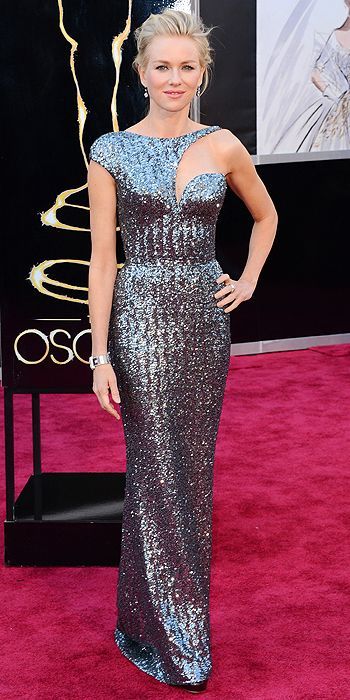 Naomi Watts in custom Giorgio Armani
Best Dressed Pick
A lot of sparkles but a really cool neckline. Oh what the hell…let's include her in best dressed.
Jennifer Lawrence in Dior Spring 2013 couture
This is such a brilliant dress with really disappointing styling. When you wear a white gown, it's easy to go bridal but this can be avoided with more unique and even colorful accessories. A very short magenta, emerald or even turquoise necklace would have been unreal with this dress. I love the idea of this backwards necklace, however it makes no sense with a strapless gown and needs to be paired with a low-back garment. She's been very underwhelming this awards season. But she's not the only one…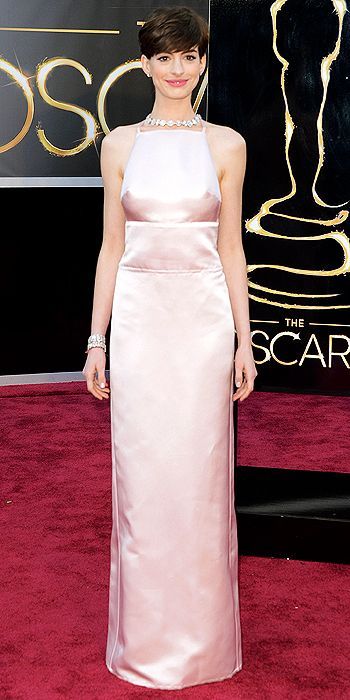 Anne Hathaway in Prada
Of all the dresses you could pick for your biggest night of the year, THIS is what you choose? I love me some Prada but this material is the worst. It puckers, it's unflattering and it just never photographs well. The neckline with the necklace is the only thing that semi-saves this. But then I look at the hair and think of all the suburban moms in their station wagons that would kill for that haircut.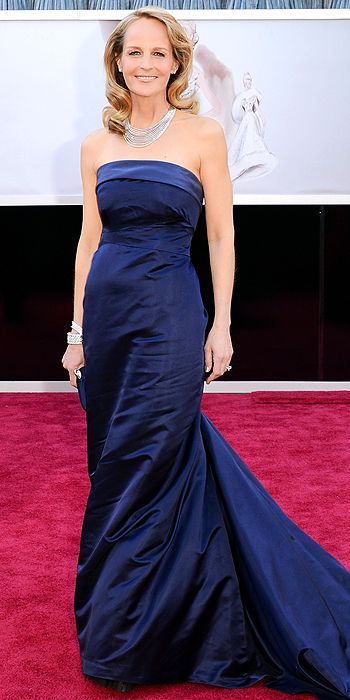 Helen Hunt in H&M
(yes you read that correctly)
The Oscars is your excuse to wear $30,000 gowns and millions of dollars with of jewelry…without having a damn in the world. But you choose H&M, Helen. H&M. The fact that it's custom does not help your case.
Sally Field in Valentino Fall 2012 Couture
Hate the hair (but don't I always?) The dress is perfect.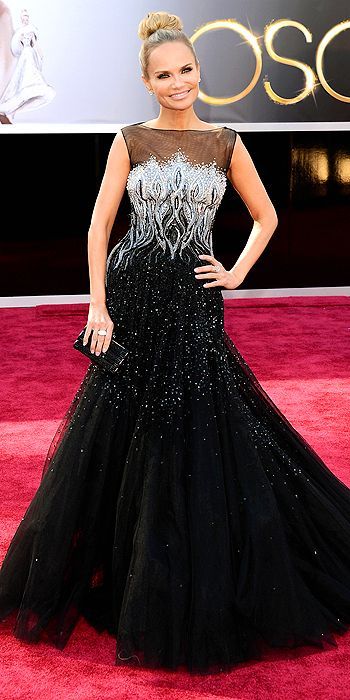 Kristin Chenoweth in Tony Ward Couture
Are you sick of me bashing the hair? Good, because this is yet another case where I despise the hair. But as small as she is and for how much fabric is on that dress, I really don't hate the look. Yes, this is a compliment.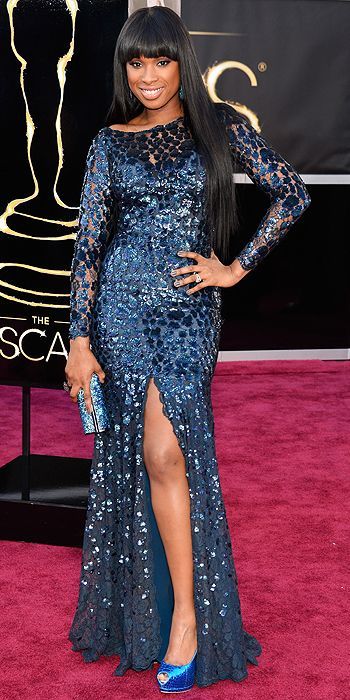 Jennifer Hudson in Roberto Cavalli
When I first saw this dress I really loved it (but of course was bothered by the hair…looks like a wig, sorry) but then I saw the shoes…and it just killed everything for me. And not in a "she killed it!" awesome-kind-of-way but in a "this look has been murdered by those awful royal blue metallic shoes" kind-of-way.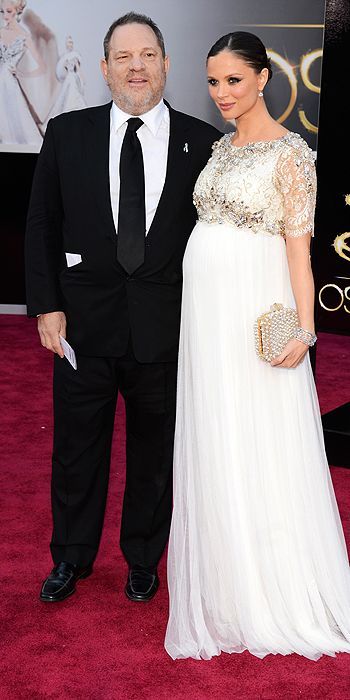 Georgina Chapman in Marchesa
If you are Marchesa then you better look damn good in Marchesa. And she does…even pregnant. So bravo, Georgina!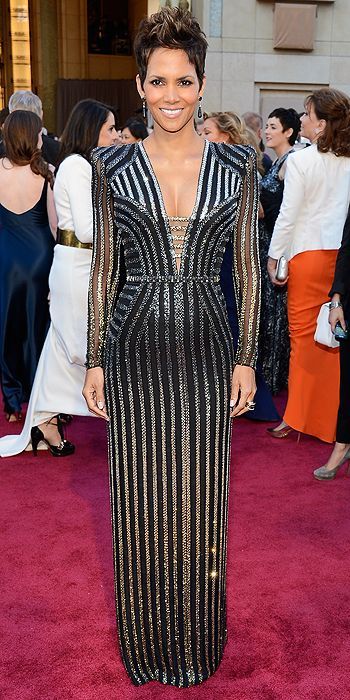 Halle Berry in Versace
If this dress had a polar opposite, it would be what Halle wore to the Golden Globes. And good thing she went this direction, because that dress was awful and this one is gorgeous. A little 80s but not in a bad way. I dig.
Charlize Theron in Dior Couture
Back to the Golden Globes, this is very similar to the Chanel Anne Hathaway wore, which I think would have looked better on Charlize (even with that hair cut). Her makeup is absolutely perfect but the overall look, I'm just not in love.
Amy Adams in Oscar de la Renta
Nothing we haven't seen before.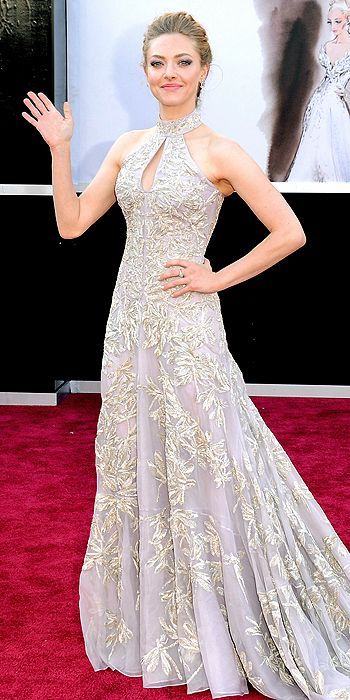 Amanda Seyfried in Alexander McQueen
Best Dressed Pick
When I first saw this, I liked it but didn't love it. Like Jessica Chastain, it looks like something you have to see in person to really appreciate. But the more I stare, it's really growing on me. I love the fit, the hair and makeup is perfect (which seems to rarely happen these days on the red carpet) and the detail in the dress really is gorgeous.
—
So is it just me or was this red carpet pretty disappointing this year? But regardless of that…any favorites? Any notable misses? At least no one pulled an Angie last night. And for that I declare it a successful evening.
Photos via People.com
You might want to check out...