Feeling inspired by the New York Times's Red Carpet Project, I wanted to make my own curated red carpet list with what I think to be the greatest Oscars red carpet looks in the last 15 years. Granted anything pre-2006 was quite difficult to choose (it just wasn't a good time for fashion) but I found a few timeless looks that would make sense to see on the red carpet today. Because I just can't wait to get my judging on this weekend, I'm starting…NOW.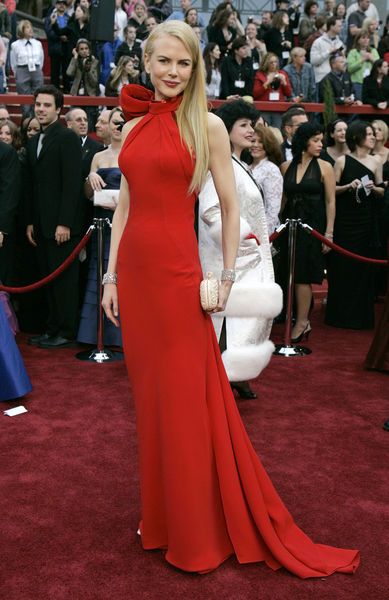 Nicole Kidman in Balenciaga, 2007
This was an iconic red carpet dress that will always be remembered. Some gave Emma Stone shit for wearing a similar look just last year, but I think they both look fantastic. However, Nicole did it first. The dress fits her perfectly and the styling is spot-on. And this was "pre-everyone-is-a-stylist" days.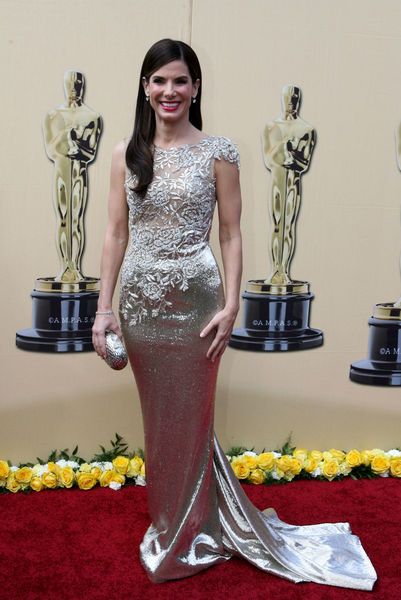 Sandra Bullock in Marchesa, 2010
I believe there was an episode of The Rachel Zoe Project surrounding this dress. I think she wanted it for a client but Sandy got to it first? Well good thing. Because she was nominated, and won, and she looked damn good.
Winona Ryder in Chanel, 1997
She used to be the talk of the red carpet back in the day. Although the styling is terrible here, the dress alone is something I wouldn't be surprised to see today. And isn't Chanel always timeless?
Zoe Saldana in Givenchy, 2010
I know a lot of people hated this dress but i freakin' LOVED IT. It's kind of weird, but so am I, so basically this dress and I were meant to be. Zoe can come along too.
Mila Kunis in Elie Saab, 2011
She did a great job trying to get away from that dark Black Swan look, everyone probably expected her to do. Some criticized the "lace pasties" but I'm into them. It seems like some celebs only care about how they look when they're nominated (see: Mila at the Golden Globes last year...what a downgrade).
Diane Kruger in Elie Saab, 2006
She always kills it. This is just an example that she was a style icon way before last year in Cannes.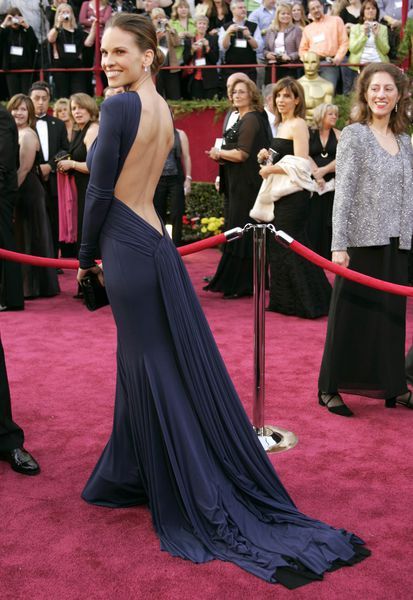 Hilary Swank in Guy Laroche, 2005
I think it's safe to say this look is more iconic than Nicole Kidman's neck-bow Balenciaga. It's extremely dramatic being totally covered up from the front, then turning around and having that almost-too-low backside. It also could not have fit her more perfectly. This year's Oscars red carpet definitely needs some more back surprises.
Gwyneth Paltrow in Tom Ford, 2012
Gwyneth was one of the first, if not THE first, to wear the new Tom Ford womenswear collection on the red carpet. And the fact that she wore all white WITH a cape was brilliant. Statuesque, classy but still fashion-forward…you really can't ever forget this look.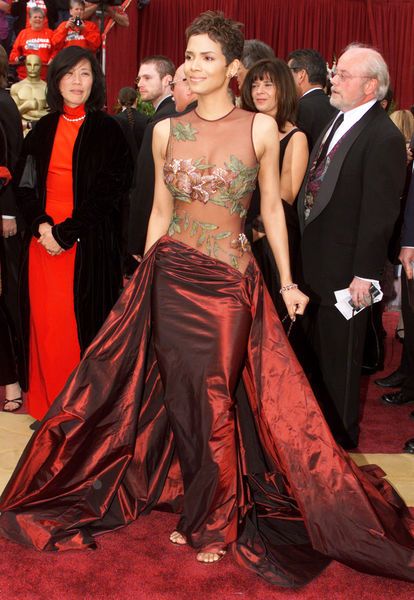 Halle Berry in Elie Saab, 2002
My feelings towards this dress are my feelings towards Beyonce; I'm not as obsessed as everyone else is/was. This was another iconic red carpet look that people still about 11 years later. I can see why. Before this, if people showed skin on the red carpet they usually looked pretty trashy, but this was a milestone moment where it was appropriate to show a little skin without looking like a hooker. Of course, the rules are completely different when it comes to the Grammys.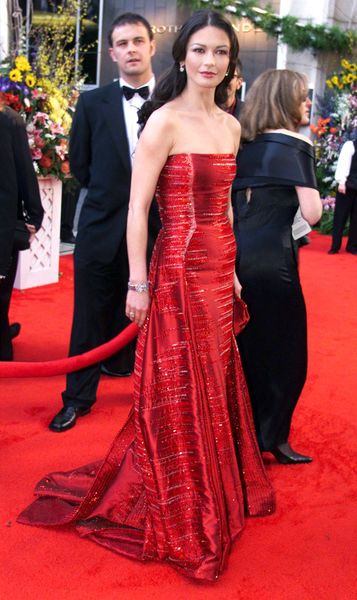 Catherine Zeta Jones in Versace, 1999
Picking a dress I liked from the 90s was nearly impossible, until I came across Catherine Zeta Jones in Versace. Pretty much all the red carpet looks from the 90s belong in the 90s and should never come back, but THIS could appear on a celebrity today and no one would think "1999." THIS is 1999.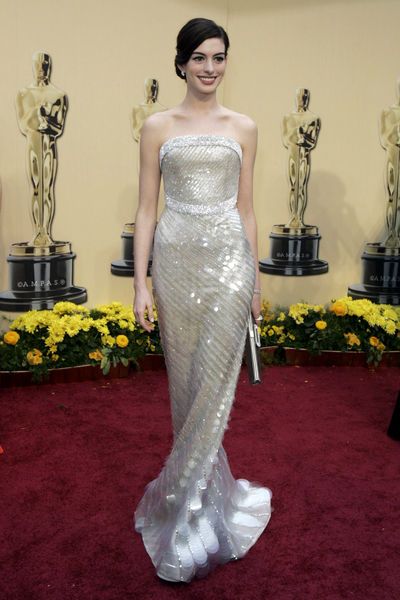 Anne Hathaway in Armani, 2009
I feel like I'm cheating myself because I always say you'll never win me over in a strapless sparkly dress, yet Anne totally proved me wrong. For once, this strapless fits in the bust and isn't too high or low (not something we often see done right on the red carpet). The detail here is exquisite; something to really admire and appreciate, and for that Anne makes the cut.
Cameron Diaz in Oscar de la Renta, 2010
Another instance where I think this had a Rachel Zoe moment, this has to be one of my favorite looks Cameron's ever done for the red carpet. The fact that I'm loving 2 strapless sparkly gowns in a row is INSANE but for similar reasons as Anne's, this dress is equally as fantastic. The fit, the detail, the styling…it's perfect.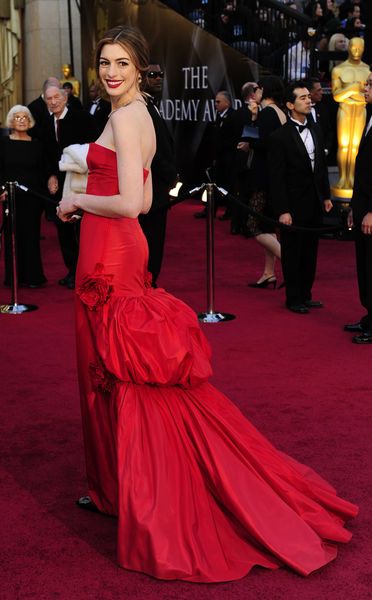 Anne Hathaway in Valentino, 2011
I remember what I found most interesting about this dress is that it was "in between vintage." Meaning, it's Valentino 2002 couture and it's rare to see an older (but not yet vintage) look on the red carpet. It was one I didn't love at first and it totally grew on me. Anne must have some special powers because 2 things I hate on the red carpet: strapless sparkly and red gowns…and she's somehow made my all-time best dressed list with both of those things. HOW DO YOU DO IT ANNE? HOW?!
Cate Blanchett in Givenchy, 2011
This was one of my favorite red carpet moments because all of my non-fashion friends hated it, and I loved it. This goes to show it's not easy to impress the general public and the fashion crowd when it comes to the red carpet. And although I'm very impressed when a celebrity does both, I kind of love it when they only please one…and it's me 🙂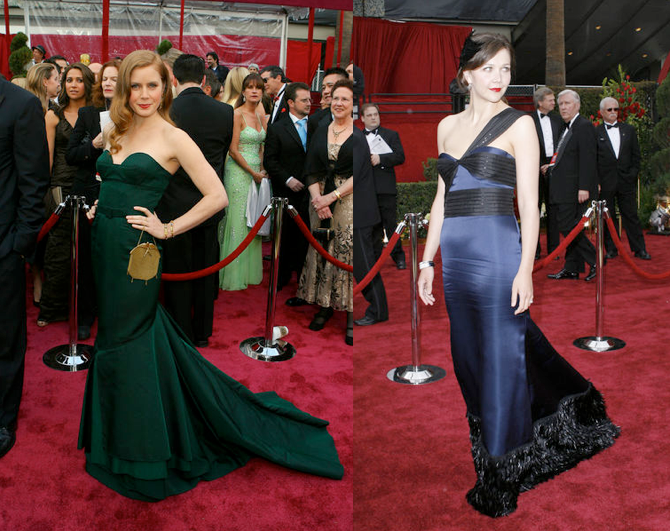 Fashion Milestone: Amy Adams (2008) & Maggie Gyllenhaal (2007) in Proenza Schouler
The fact that two major celebrities wore Proenza on the red carpet before they were super popular makes me see them in a whole new light…and it's a good light. So can we get please some Proenza on the red carpet for 2013??
—
You can also view my picks here.
Who had your favorite Oscars red carpet looks of all time?
Photos via New York Times
You might want to check out...