I have a love / hate relationship with regards to discussing trends. It's sort of part of my job to share them but at the same time, I don't want you to think for a second that you have to wear them. You never want to look overly trendy, but if there's something that happens to be on trend that speaks to you, by all means GO FOR IT. So today, let's find out what's especially on trend now (including one I actually despise), if you're actually going to wear these things and how you're going to wear them. Ready?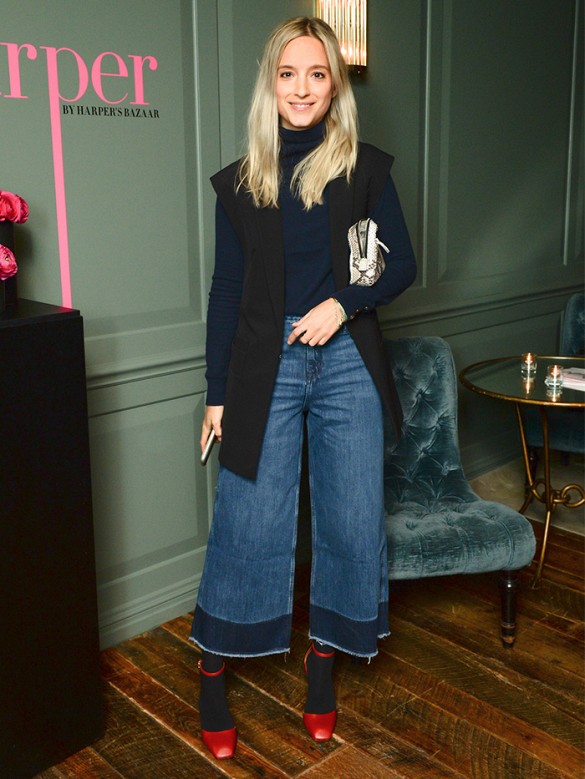 I cannot tell a lie…I originally got the idea from WhoWhatWear. They actually took a poll with their readers to see if they'd actually wear these trends (I promise you'll be surprised with some of the results). I was actually more shocked to see certain trends chosen, as some are crazy popular, others are more one-off things. But what we're going to discuss today are the trends at hand, how the polls roll, what YOU think and of course…what I think.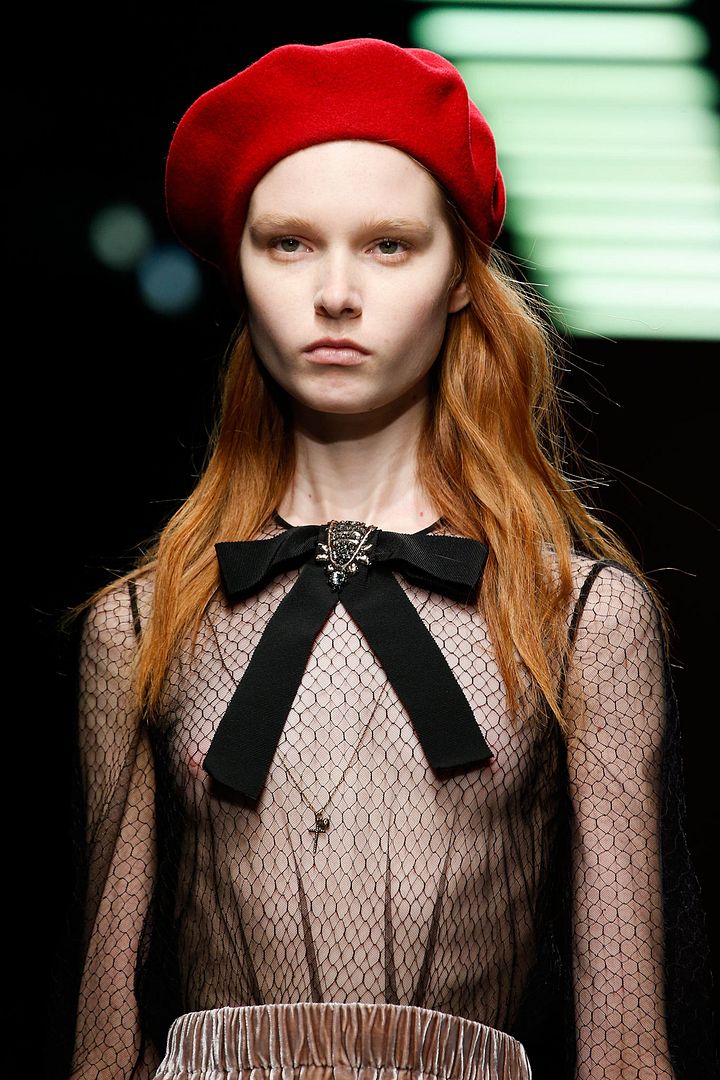 The item: Berets
Why the popularity? Gucci Fall '15 / we're all hoping for a Clueless sequel
Weighing in: The polls said yes. I'm personally not a fan. Not 100% opposed but this seems like something you'd wear now, and regret before Fall even comes around.
The item: Gladiator sandals (which apparently dogs can wear too)
Why the popularity? These have come in and out over time, as things go with many fashion trends. Last time I remember them being back was probably the mid to late 2000s. And if you're a daily CCF reader, you know how I feel about trends that happened roughly between 2000 and 2008…
Weighing in: If you're not a daily CCF reader, most trends that occurred in those years were terrible. But somehow, they're all coming back. Of course when trends resurface after a number of years they're always done in a more current and modern way. But these shoes are just ugly. Even Elena Perminova (who can literally do no wrong) doesn't make me want to wear them. However, I'm in the minority because a majority of the polls (although close) say yes to knee-high gladiator sandals. Remember when I said you can pull off anything you want to? Unless you have Karlie Kloss legs, this is one I just cannot suggest. Not only because they're unflattering but because like most trends, you'll look so 2015 by 2016.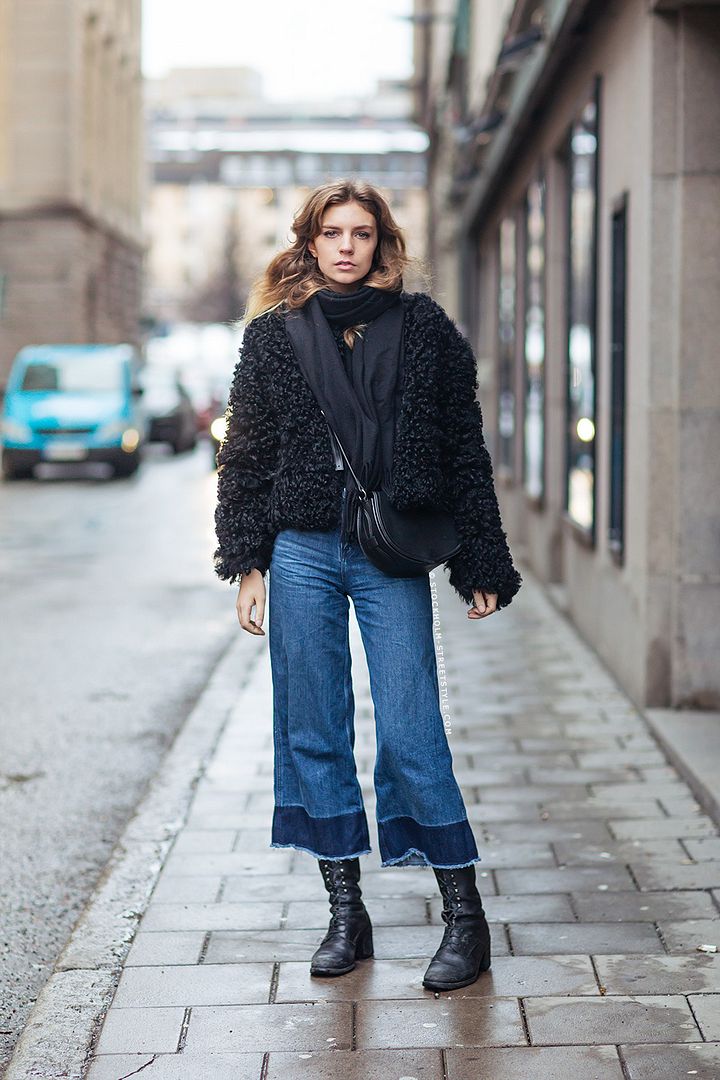 The item: Denim culottes
Why the popularity? We can thank Gucci and Rachel Comey Spring 2015 to name a few…
Weighing in: I'm not all that surprised to see denim culottes happening, as culottes in general have been trending for the last couple of seasons. Culottes are one thing to try and pull off, cropped wide denim is another story. Another surprise where the polls said yes (as this isn't the prettiest trend like rock studs and peplum…but not as fugly as gladiator sandals), so I say yes to this trend in general but no to adding it to my personal wardrobe.
The item: Bold faux fur
Why the popularity? Fur and faux fur have been trending on the runways for quite some time now. I wouldn't even consider it to be a trend anymore, more or less just a practical material to work with for the cold seasons. But leave it to Shrimps to create the best statement faux fur around.
Weighing in: This was the only poll that got 100% yes. I have no idea how many people or who exactly WWW surveyed for this, but the numbers are still interesting to take a look at. Of all the trends included, this is the least "trendy," as statement fur (faux or not) is one that you can't really identify with a certain season / year. It comes in and out but you'll never look back and be embarrassed by your bold faux fur. So like bold faux fur, I'm in!
The item: Sleeveless coat
Why the popularity? Like faux fur, I consider this never in nor out. Essentially, it's just a vest, that's sometimes on the longer side. That orange / yellow Dior sleeveless coat from the Fall '14 runway seemed to be everywhere last year. Perhaps that kicked off this "trend"?
Weighing in: This one got 99% yes (I mean…who's the 1% opposed to a vest? Maybe they had a bad experience with a sweater vest at a young age and for that, I forgive you 1%). This is such an easy thing to wear regardless of what's on trend. Plus it can be worn any time of the year — with a sleeveless dress in summer, with wide leg pants in spring, with a light sweater in fall and a chunkier knit in winter. Sleeveless coats? BRING IT.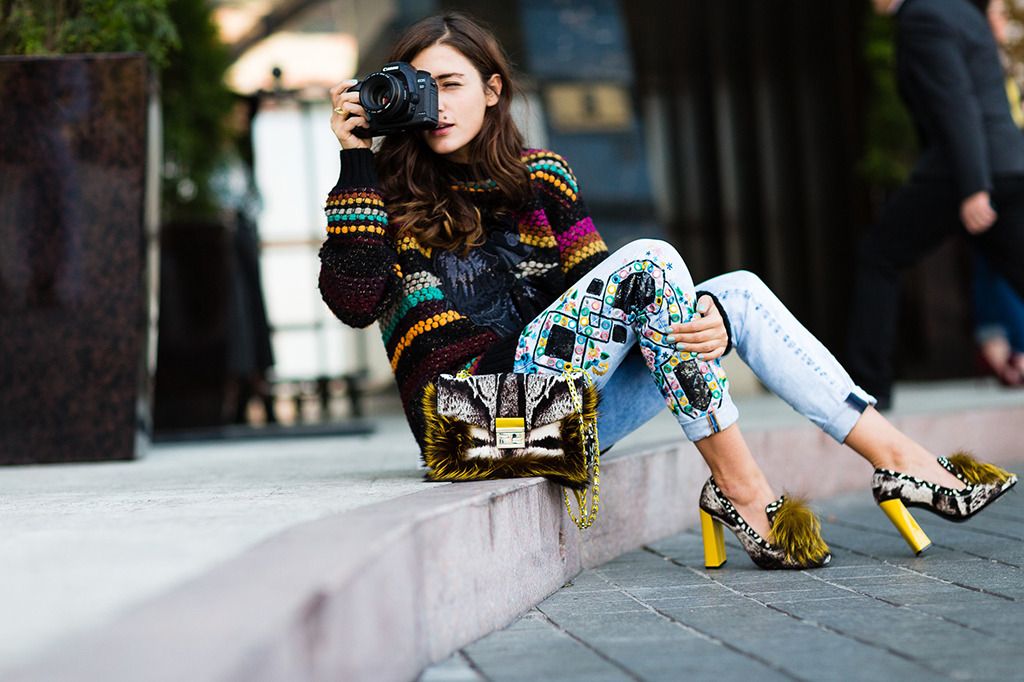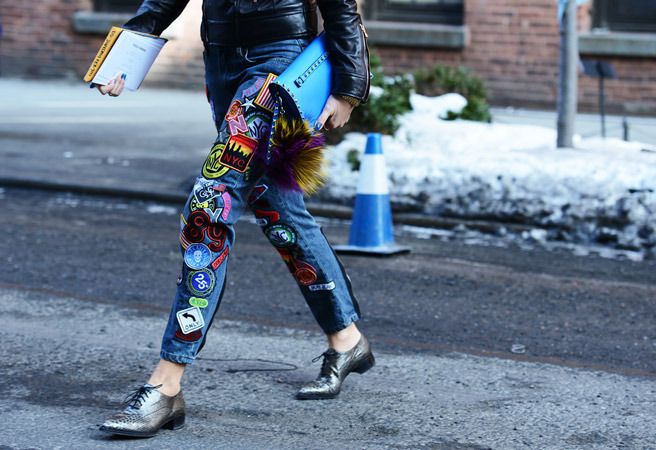 The item: Embroidered denim
Why the popularity? This is not necessarily a trend we saw all over a certain runway, but it's something designers are probably getting crafty with as there's only so much we can do with denim — wash, length, fit (skinny vs. flares), etc.
Weighing in: It was close but the votes say yes. This is one I may or may not decide to include in my wardrobe…it would definitely have to be quite the amazing pair for me to commit. The denim doesn't necessarily have to be embroidered but just have some sort of embellishment or added FLAIR. I wouldn't go too far as my collection of patches I'd make my mom iron on my jeans was quite extensive back in the day. And I have no desire to bring those back, so I might just stick with my Le Garcons for now. If you're into this but aren't sure if you're willing to go crazy in the pants department, there's some cool embroidered denim pieces like shirts and dresses that might just be a little more manageable (you can shop my favorites at the end of this post).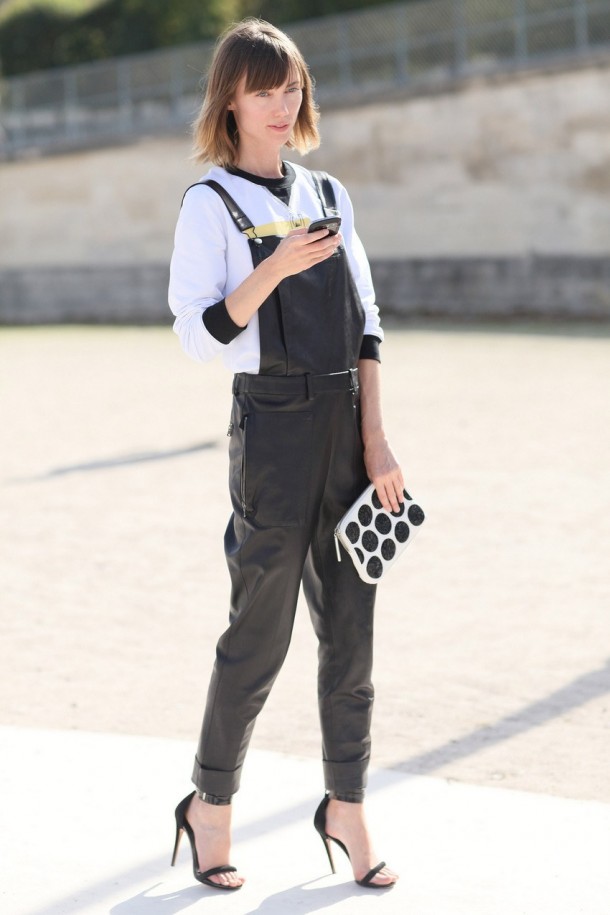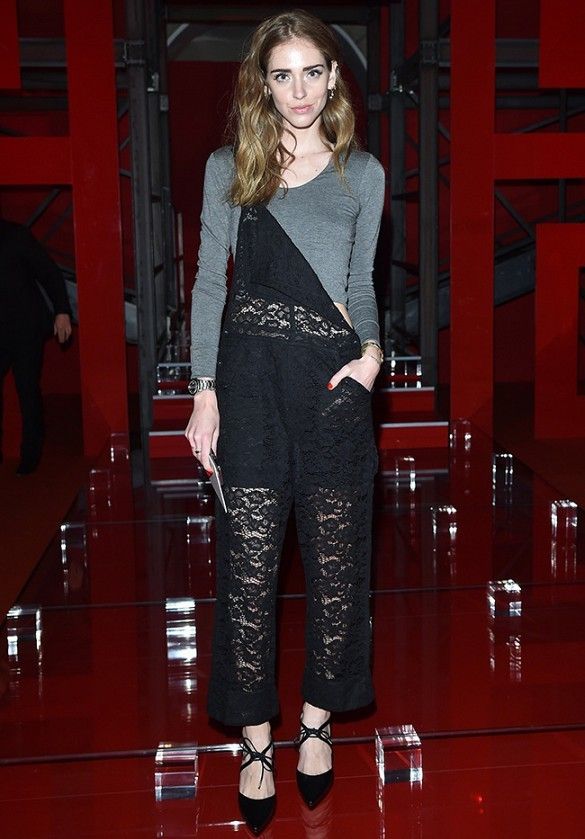 The item: Overalls (lace)
Why the popularity? Last year, it was all about the 90s, which overalls were a huge part of. Now it's a combination of the 70s/mid-2000s that are coming back (quite the random mix if you ask me but hey…IT'S FASHUN). But it looks like the 90s are sticking around, at least for a little while, as overalls are still quite prevalent (especially in summer). The lacey version seem to be their spring / fall cool older sister. They aren't so mainstream just yet, but I can't imagine the Zara and H&M versions being too far away.
Weighing in: First it was denim overalls, then we saw some leather overalls (which I'm so down for) and now it's all about lace overalls. Although the polls said yes, specifically to lace overalls…I still say yes to overalls in general. Just don't wear them with any other trends, as you will then become the dreaded #trendsontrendsontrends. For the lace version, I've really only seen them done by Nina Ricci (and I adore them). Like I said, I'm waiting for the fast fashion versions to happen, as there are very few of us willing to splurge over $2700 on such a thing. However, if you can't wait, try some lace on lace to hold you over in the mean time.
—
There were other trends that got voted on but because I value your time and there's really only so much you want to hear about trends, I'm going to stop it right there. If you really want to know a few others that might surprise you (the CliffsNotes version) then here's what you should know about — The Statement tracksuit (a la Rihanna) was a no-go. Personally, I'm a fan of a good sweatsuit…as long as there's absolutely no Juicy Couture circa 2001 reference. Somehow people voted no on an edgy airport look. I can't see how you'd be opposed to that but if you are, here's some other options. And sideways suspenders got a thumbs up…which I've only seen done once and I like what I see so far.
Like what you saw here today? (even if I didn't?) Well then here you go… (hey, I even found a few pairs of gladiator sandals that don't totally make me cringe!)
Images via Style.com, Pinterest & WhoWhatWear
You might want to check out...