After a very special encounter with "Prada" this week, I thought I'd dedicate an all new #TBT to one of the most iconic brands of all time that's been mentioned in several rap songs, been worn by the devil that is Meryl Streep and has wowed us (or perplexed us) over and over again on the red carpet…let's hear it for PRADA.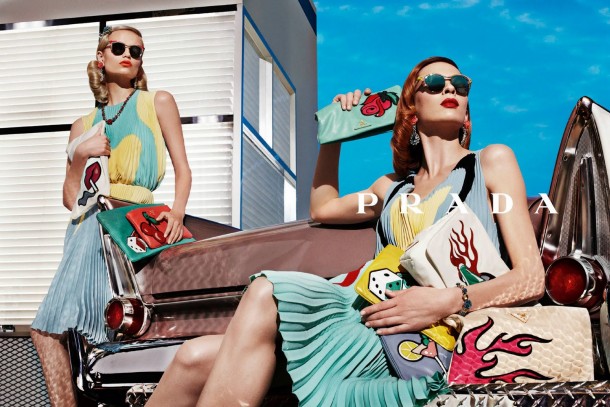 I've always had an extra special relationship with Prada, as it's what I remember being my mom's favorite designer growing up. No one loved those nylon bags more than the lady that gave me life, so in turn, I've also been a Prada fan. I remember getting my first Prada piece in high school…it was a robot keychain of some sort. I thought it was the coolest thing in the world (and I'm still kind of obsessed with those robots today) so let's throw it back this Thursday for some PRADA REALNESS.
Let's kick it off with Fall '96…which happens to show up in almost the exact same form 16 years later (you'll have to get through this blog post to see for yourself).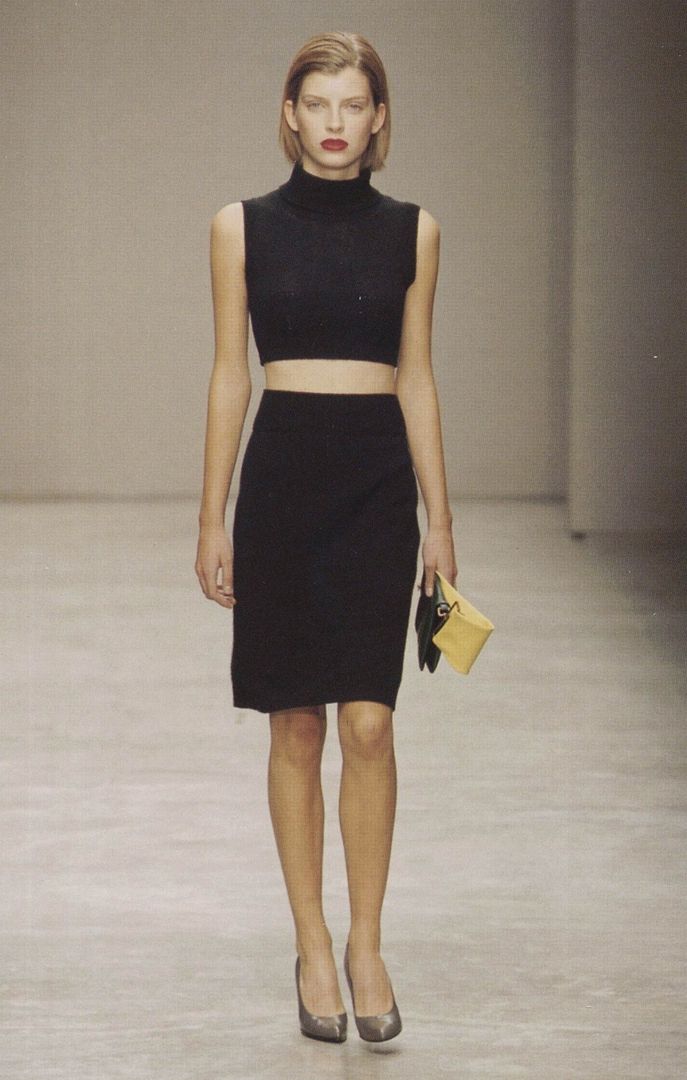 What goes around comes around — can you believe this is from Spring '01? This exact outfit has been trending hard the last year or two…and apparently it's not just because Kim K and Taylor Swift are rocking it.
Remember those robots I mentioned? Fall 2004 was probably the first Prada collection I ever encountered and remembered. Now wondering what ever happened to that keychain of mine…
Fall 2005 now has a whole new meaning to me, after seeing that was the collection chosen for Prada Marfa (that I finally got to experience on Tuesday).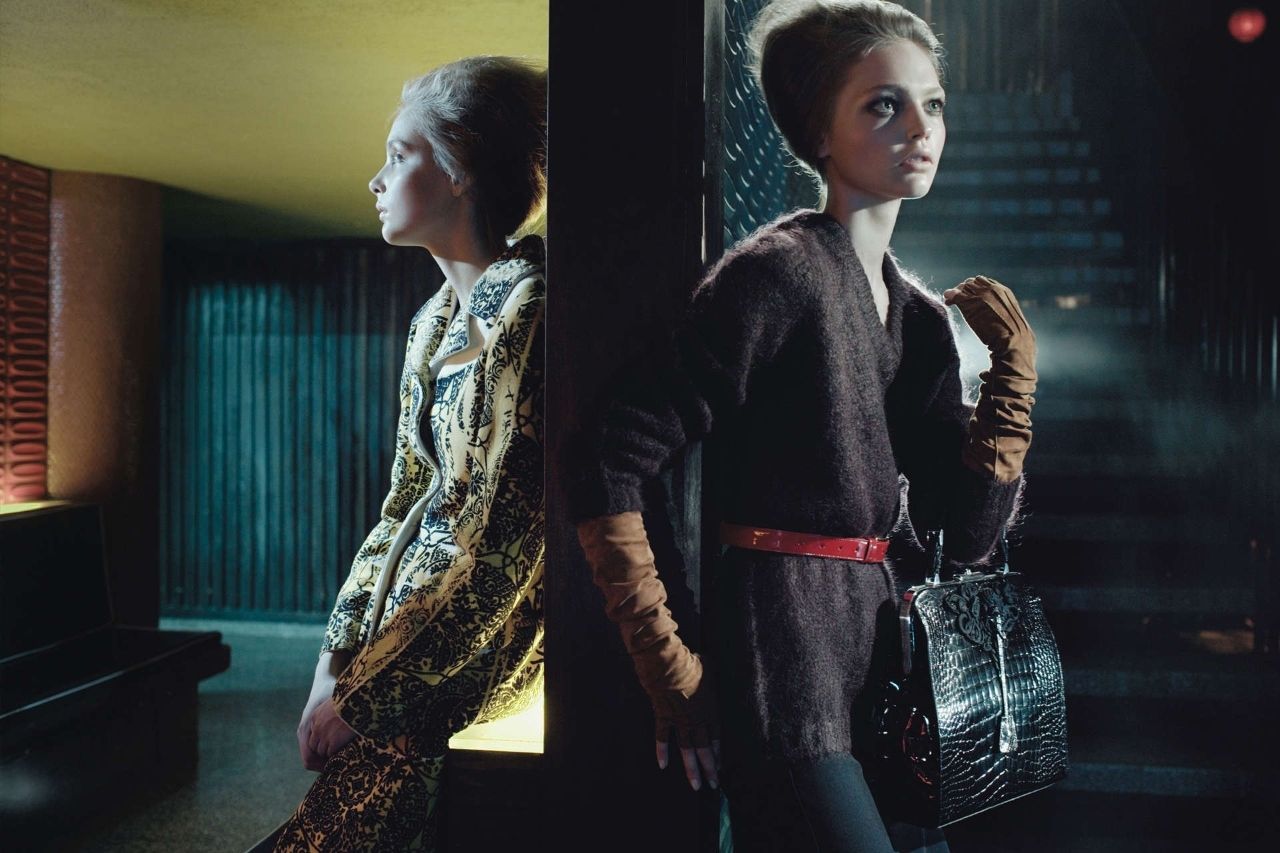 And although not Prada's most exciting collection…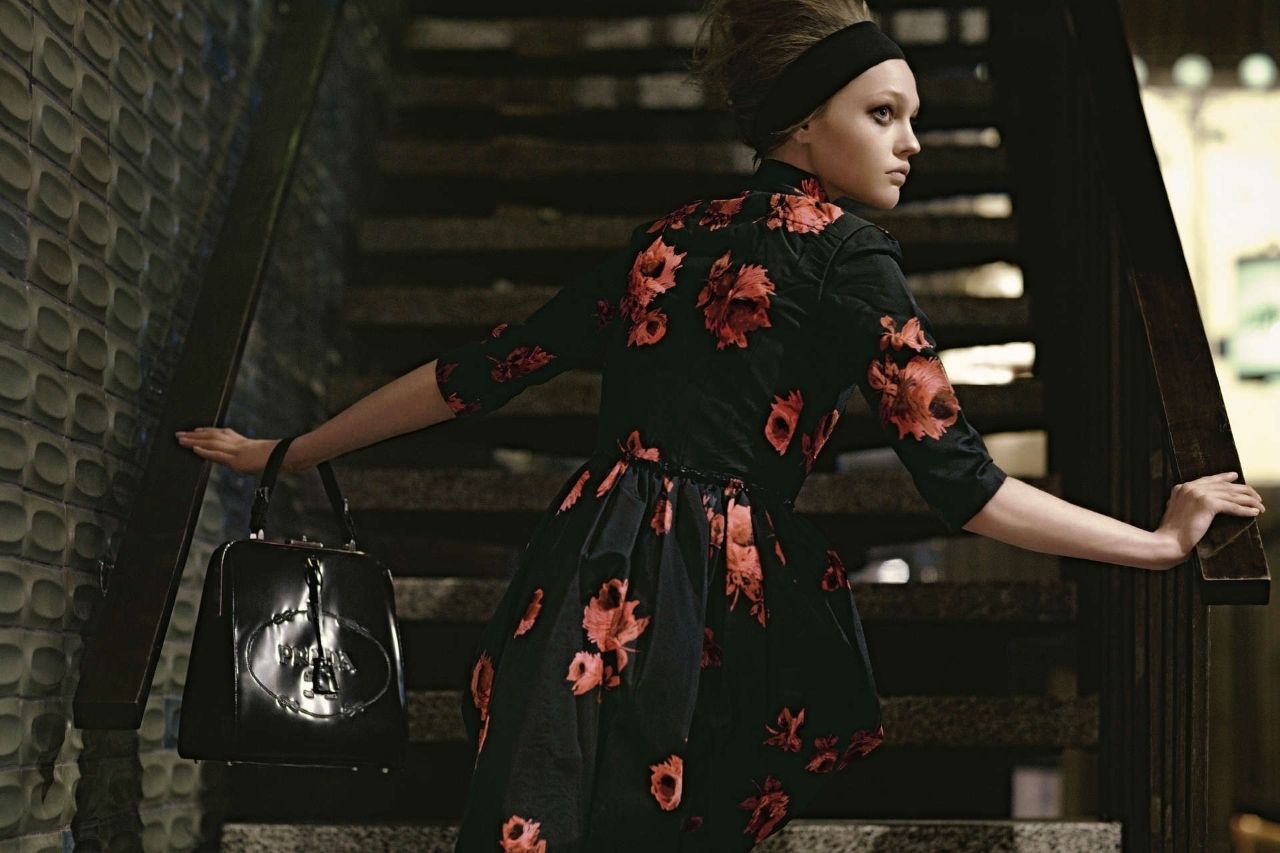 It's crazy to think that it's currently in a faux Prada store in the middle of the desert.
Spring '05…can we bring those hats back, please??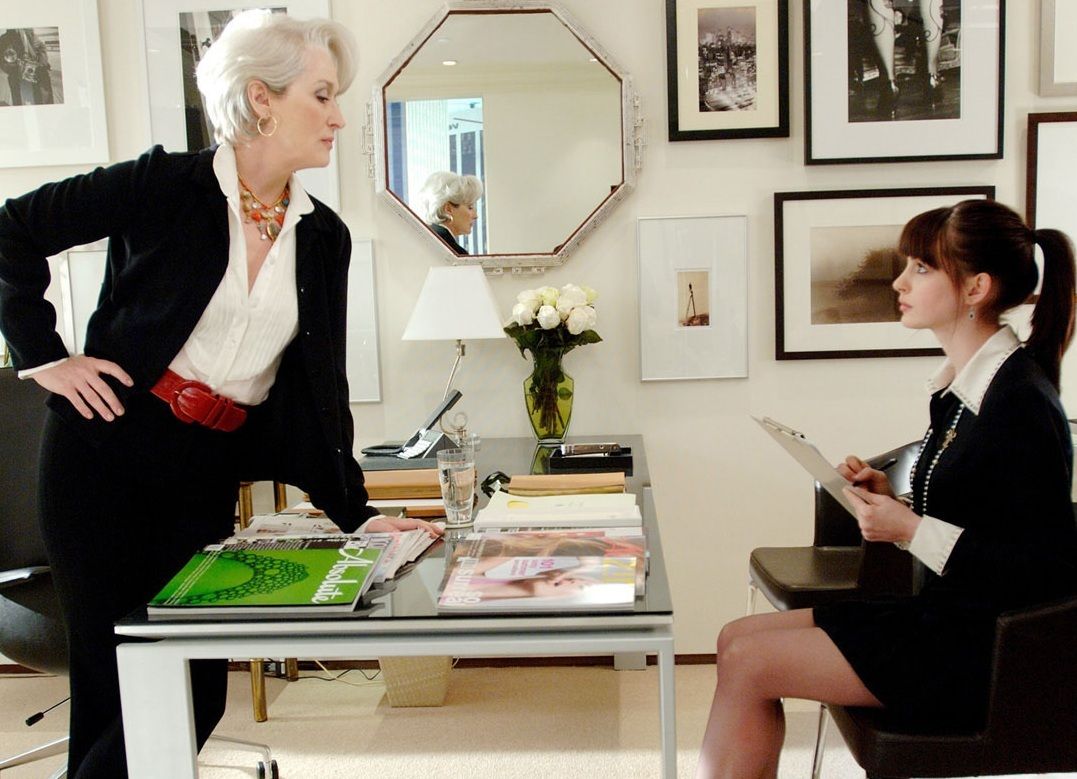 Then in 2006…everything changed.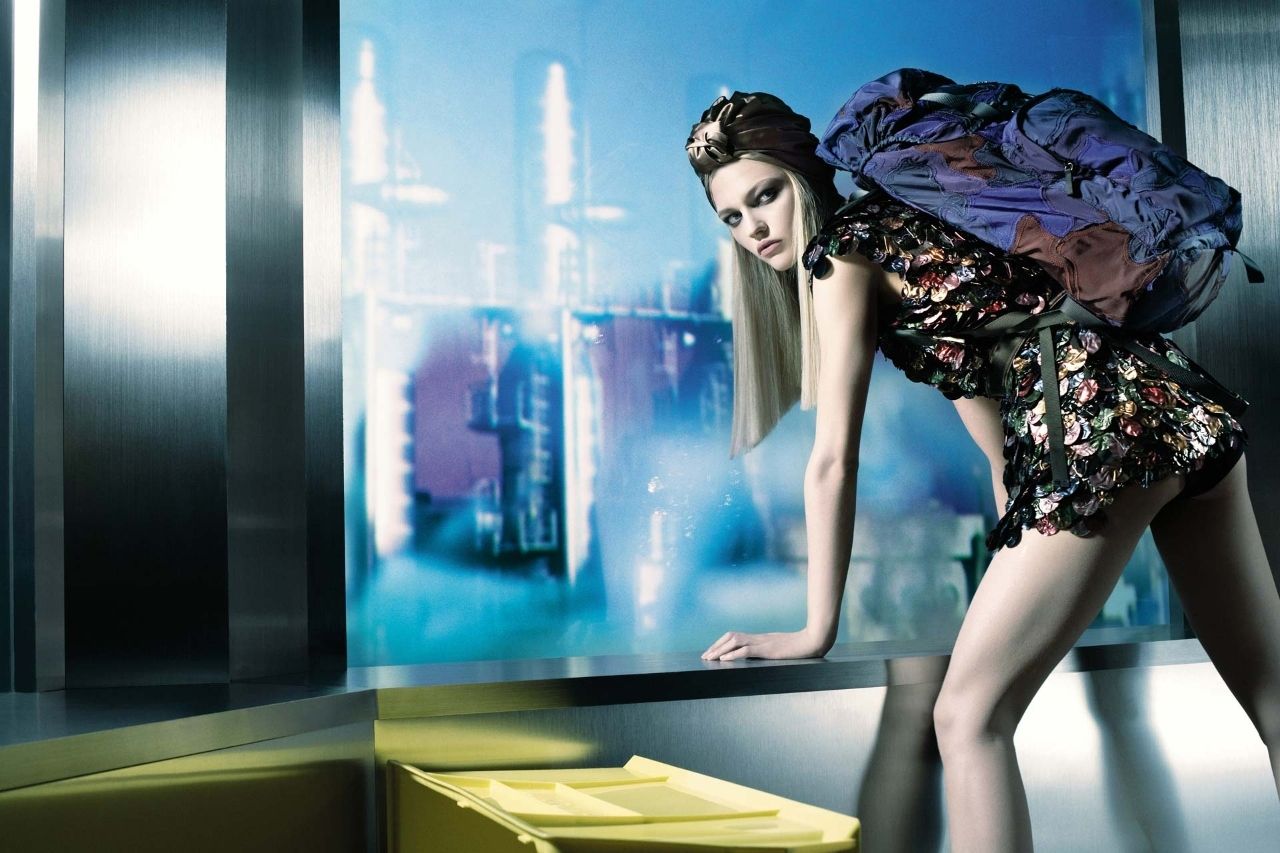 Let's also bring back these turbans from Spring '07…please and thank you.
Although Spring 2009 wasn't my favorite collection, the last 5 looks in crinkled gold were pretty remarkable. But after this season is when my feelings for Prada went from love to in love.
I don't know what it was about Spring 2010 — the glossy lips, the pigtails, the crystal clothing and shoes. It's what made me truly appreciate Prada behind the coveted bags and shoes.
Then Spring '11 happened and my world was ROCKED. Bananas, monkeys…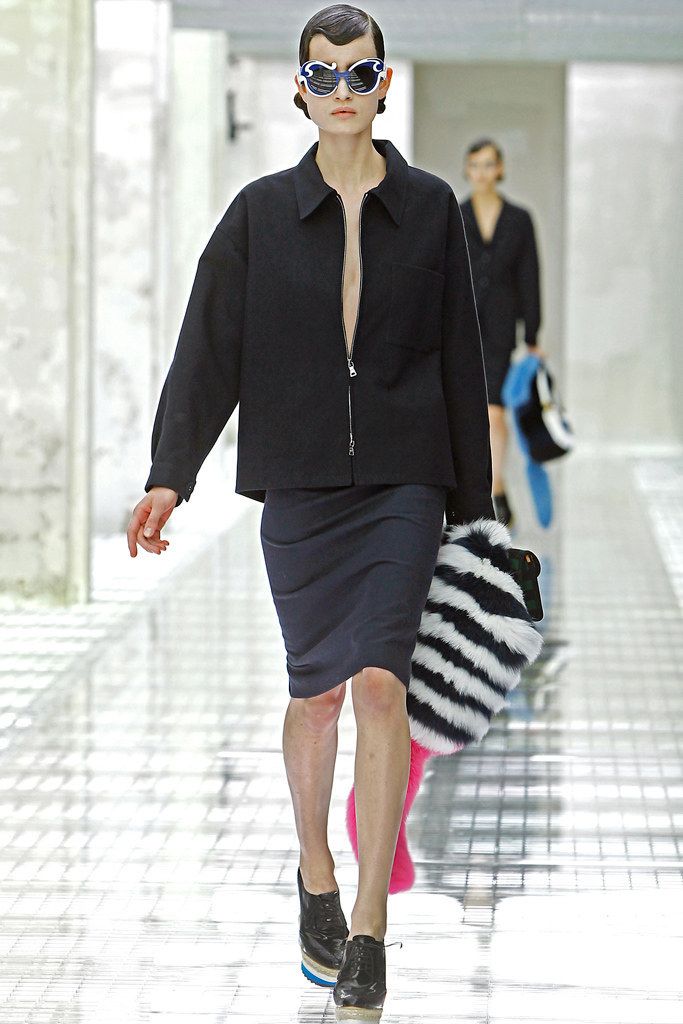 Creepers, swirly sunglasses, fur stoles…HOW CAN YOU NOT LOVE THIS?!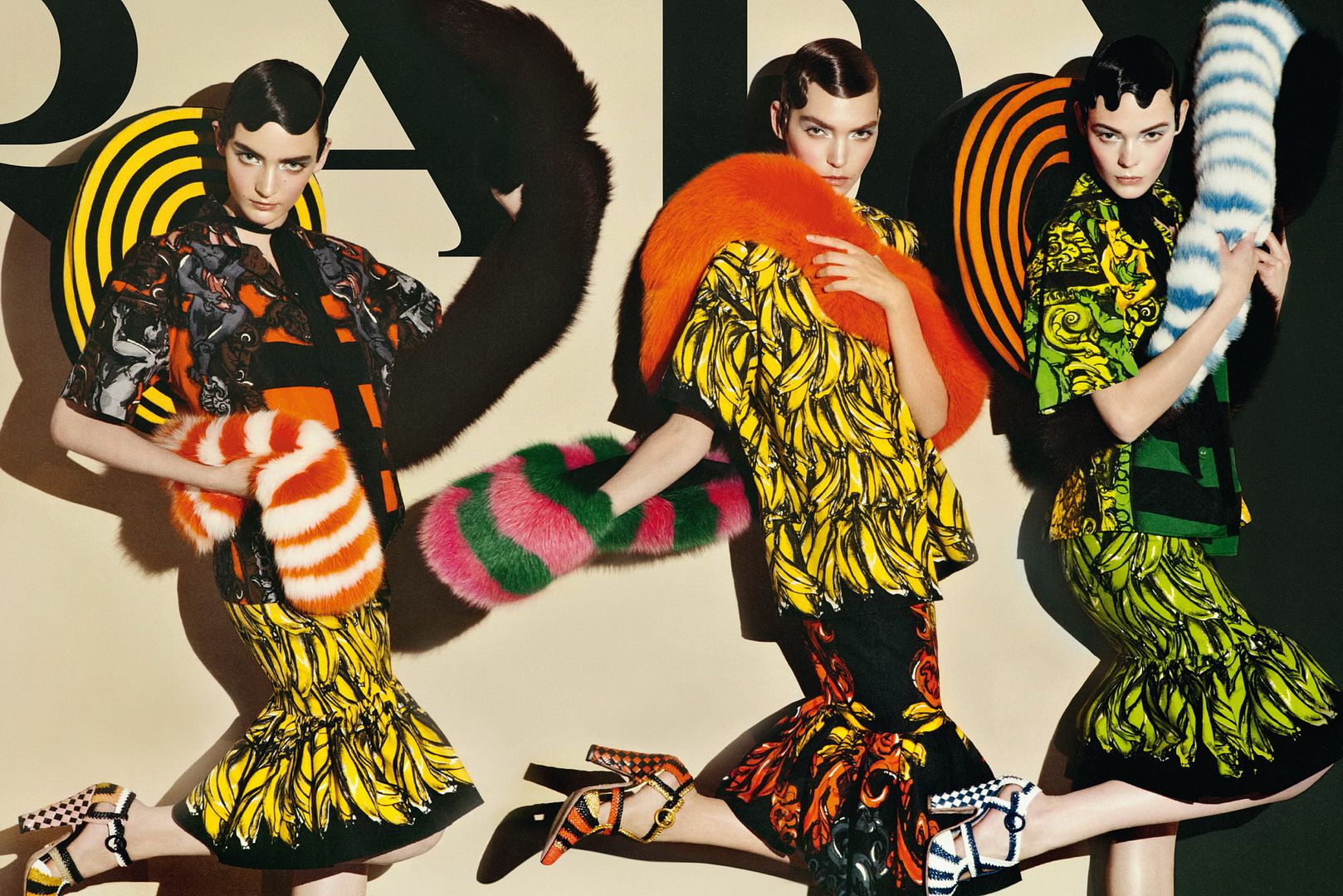 Literally changed the way I think about bananas…forever.
Yes, this was a stand out collection on the runway but it's Hailee Seinfeld that really made a name for herself in this striped SS11 number. I still think about it to this day…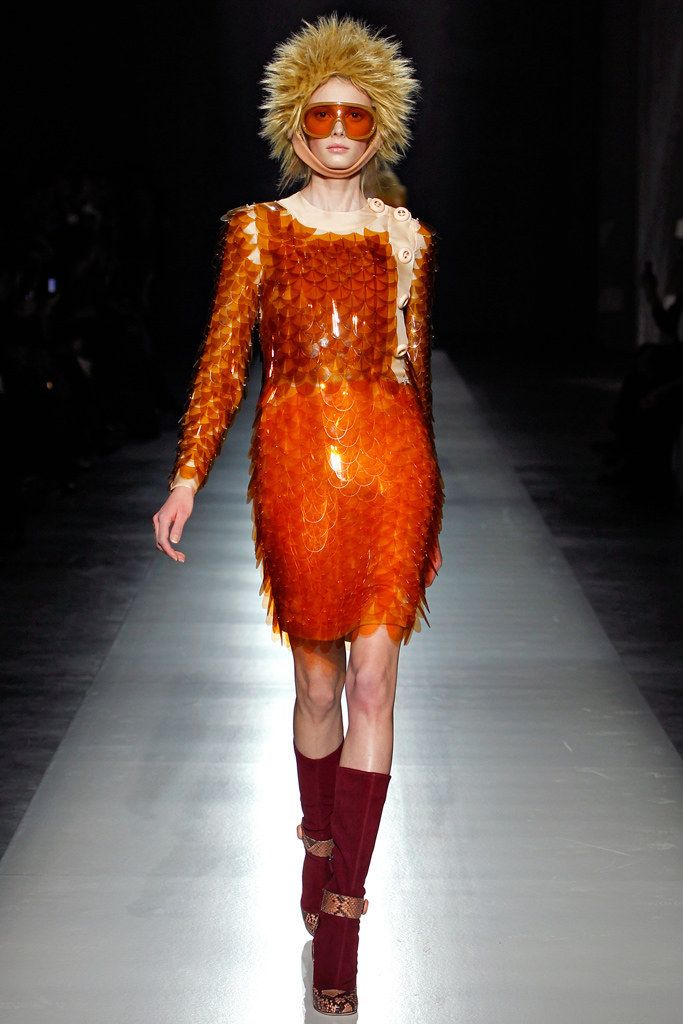 Fall '11 wasn't too shabby either.
Remember this, from The Label Enthusiast?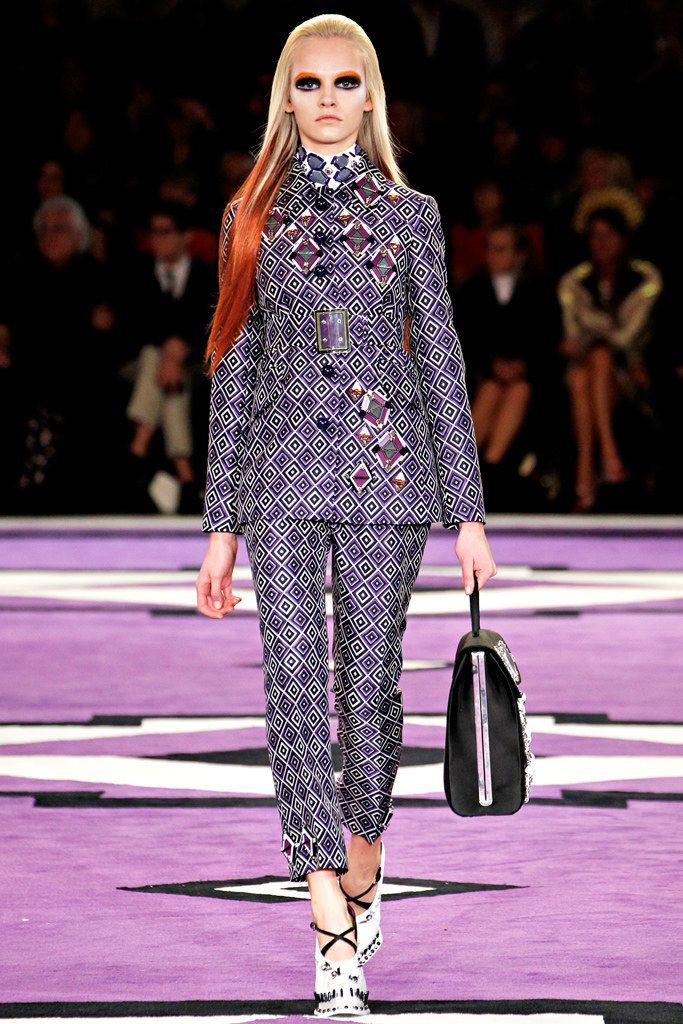 Going back to what I said about 1996…this is what happened for Fall 2012 — what's old is always new again!
2012 was also a great year for Prada on the red carpet. RE: Diane Kruger at the Met Gala (one of my favorite Met looks of all time, actually).
Speaking of the Met, anyone get to see Schiaparelli and Prada: Impossible Conversations that year? Mind. Blowing.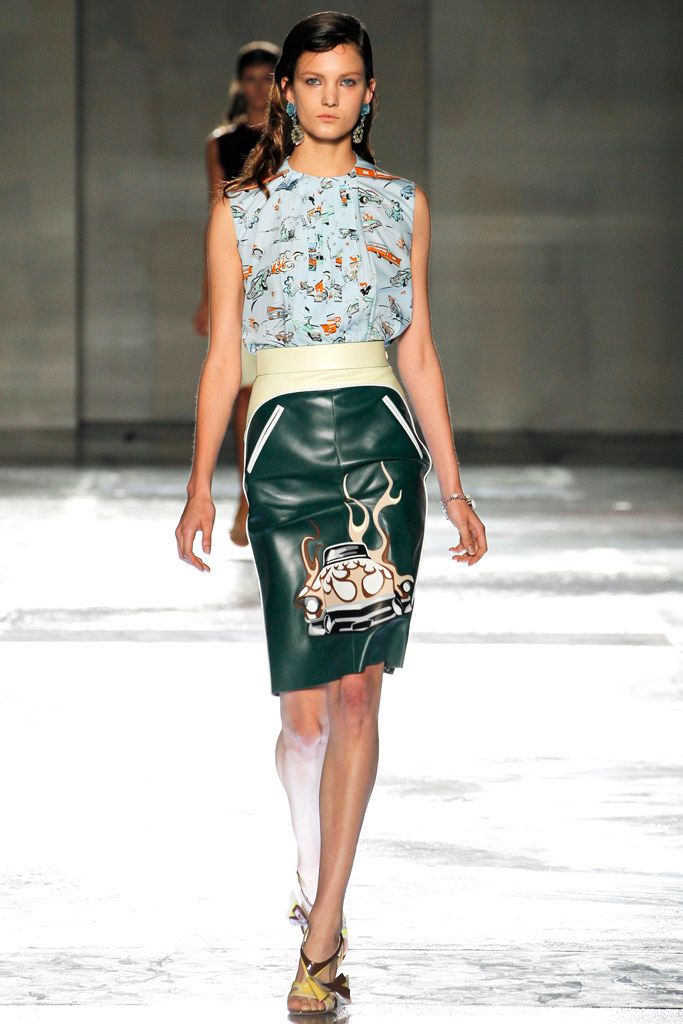 Continuing in '12 (clearly a great year for Prada), this would have to be my second favorite collection (with SS11 as first) with flames, cars and a retro vibe only Miuccia could make so current.
I remember wanting these so bad, but I settled for the mini version (as a souvenir from the Met exhibit).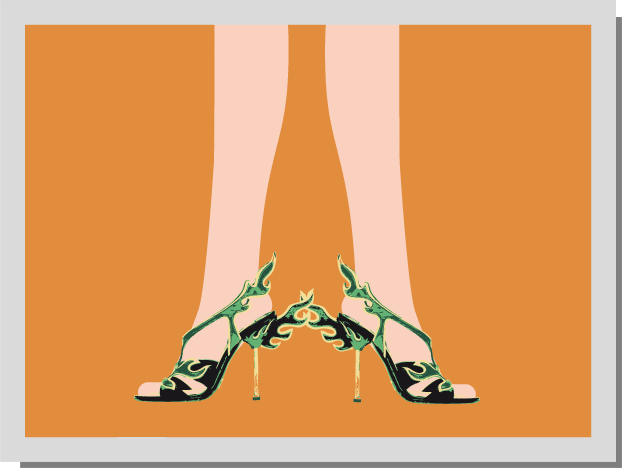 Prada's Parallel Universe full of gifs also launched with that same collection.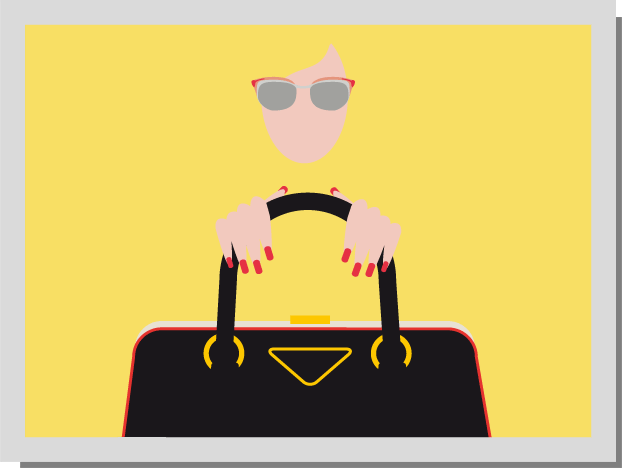 I wish you could frame gifs because I'd want this hanging in my house at all times.
Spring 2013 was a big year for Prada on the streets, as made popular by this very piece of outerwear.
This is only one of many examples.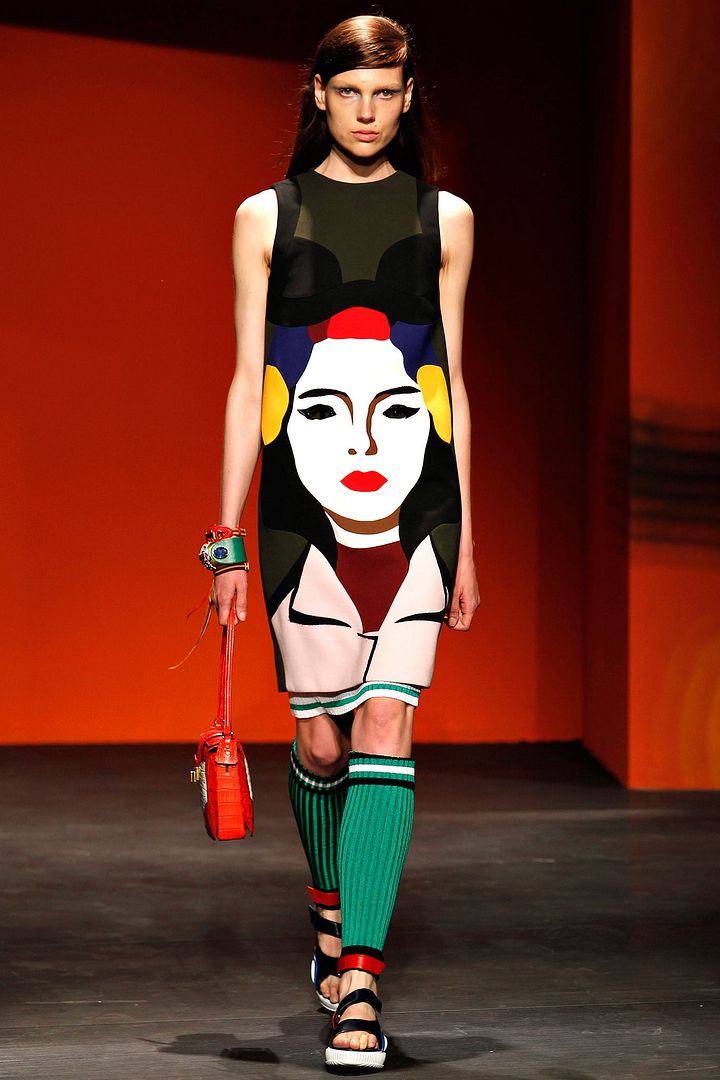 Same goes for Spring 2014…
Those faces were EVERYWHERE (and I wasn't hating it).
How many faces can you spot in the ad campaign?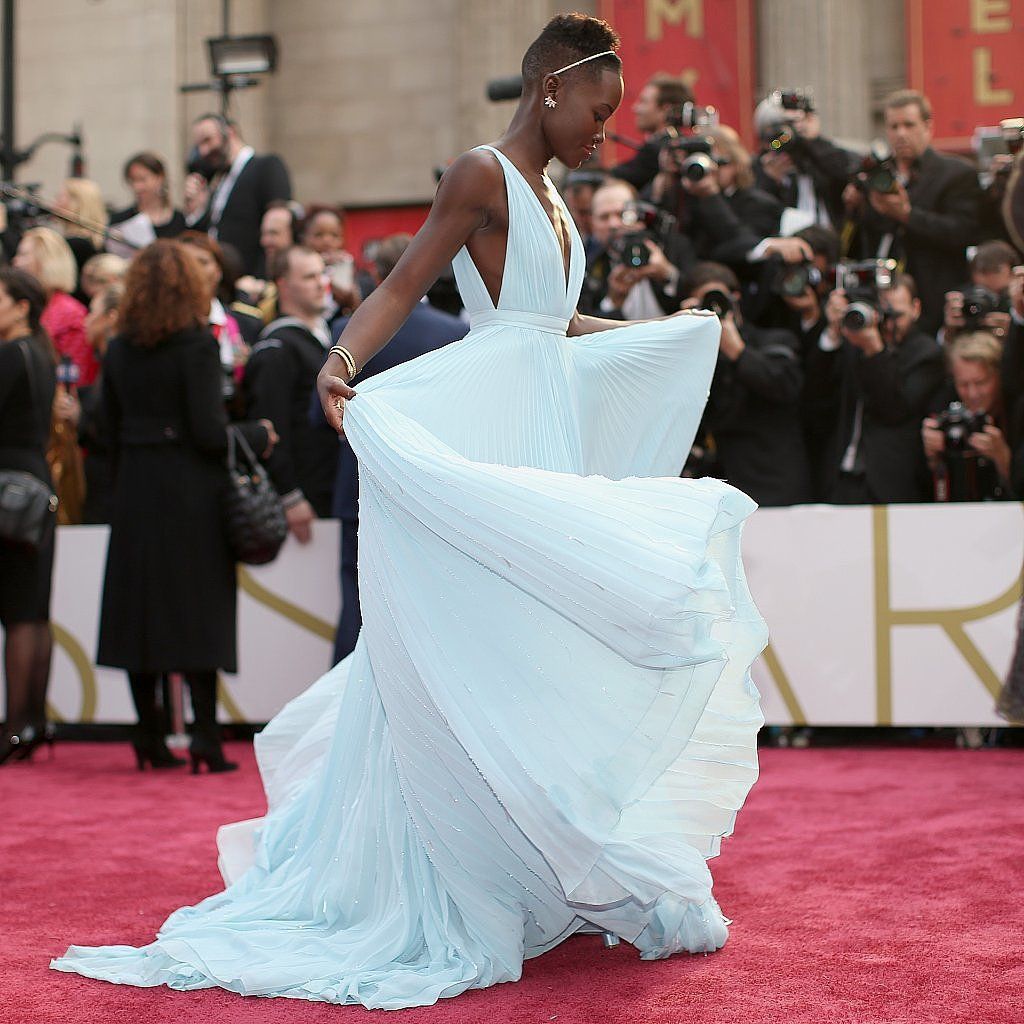 Also in 2014 was the year of Lupita Nyong'o, as seen at the Oscars…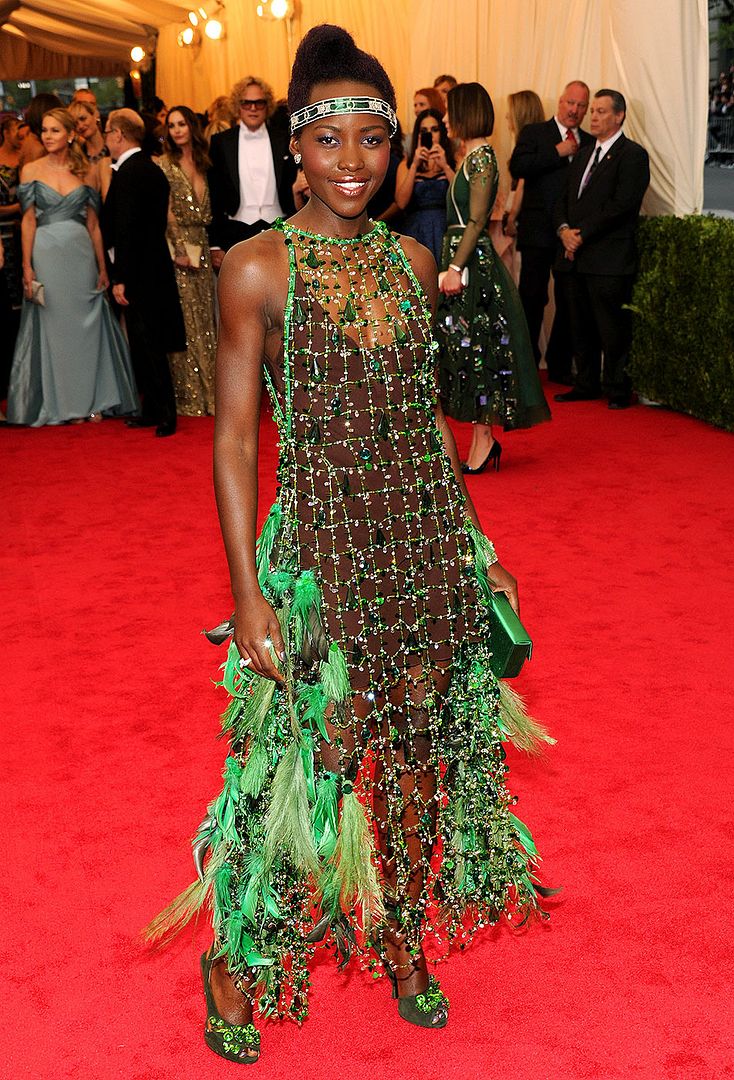 As well as the Met Gala. And although this was quite the controversial look (with regards to being head over heels for it or absolutely hating it), you'll never forget it, right?
And last…how can we forget about Kim Kardashian? Because it's pretty much impossible to write about anything these days without mentioning a Kardashian or Jenner.
—
I'm sure there are many more iconic Prada moments but here's just a few (okay, a lot) of my favorites. Do you have any of your own? Perhaps your first Prada memory? Memorable red carpet moment? Editorial shot?
And just for the hell of it, in case you're now in the mood to shop some Prada…
Images via Prada & Vogue
You might want to check out...