Last night was the annual CFDA Awards. With the Met Ball being like the Oscars of fashion, I'd say this is more like the SAG Awards or the Golden Globes…it's a big deal but nothing beats the Academy, ya know?
Unfortunately, I was not all that impressed with the looks this year. With a crowd of designers, models and muses I expected way more from these people. It is the Council of FASHION Designers of America…so step up the fashion, please.
Zosia Mamet in Cynthia Rowley, with the designer
SHOSHANNA! No seriously though, why does she look so serious? And that skirt doesn't fit at all. Love her on Girls though.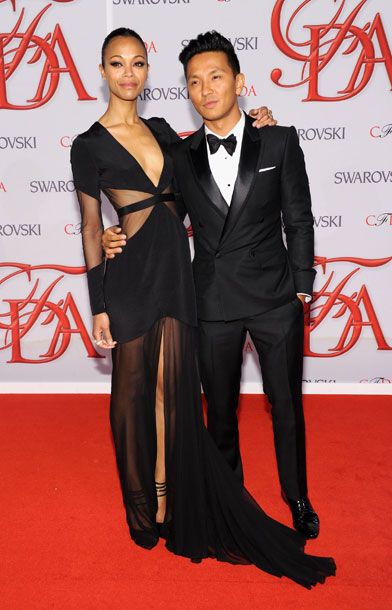 Zoe Saldana in Prabal Gurung, with the designer
When it comes to Zoe I usually have one thing to say and one thing only…WERK.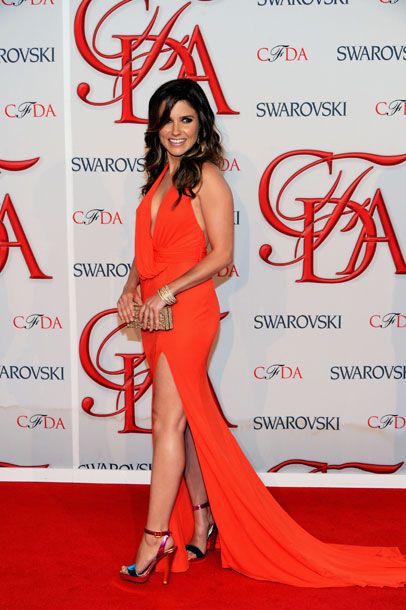 Sophia Bush in David Meister
Is One Tree Hill still relevant? Regardless, the dress is a pretty color and I love the shoes on their own…just not loving it all together. The shoes seem like a desperate attempt to spruce up this dress. And it failed.
Solange Knowles in Marni
Not my favorite look she's ever done but hey…she still looks killer. Those Missoni shoes were a great choice.
Rachel Zoe in her own design
Let's just say I'm not surprised to see Rachel in a dress like this and I'm not shocked this is one of her designs. However, she looks great (love the hair) and I do enjoy that dress.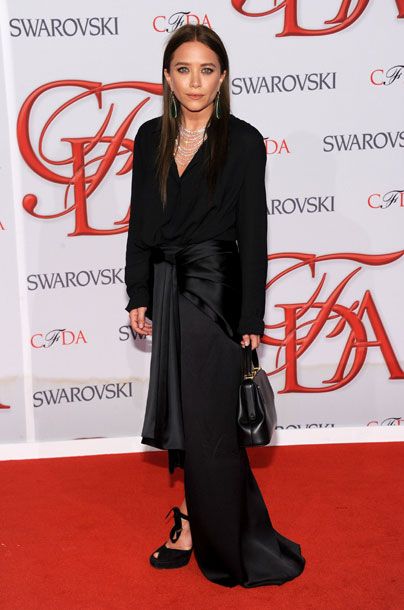 Mary-Kate Olsen in The Row Resort '13
Let's get it out of the way…she's a brunette! Okay now for the dress. It's Mary-Kate and it's The Row. She is the brand (as well as her sister) and it works. That's all there is to it.
Ashley Olsen in The Row Resort '13
See comments above (minus the brunette statement). But at least she did color…
Mandy Moore in Lela Rose
So this is why I always see her at the Lela Rose shows. It's pretty, but that's about it.
Lily Collins in Marchesa
If this had an edgier shoe (possibly in black) I would have been into it, but there's something about the matchy gold pumps that's just so….standard.
Kate Bosworth in Altuzarra
I wanted to like this so much because I'm a huge fan of Joseph Altuzarra and Kate Bosworth really can do no wrong, BUT with the print, the collar, and the gold situation at the hips, I can't get behind that major cut-out…it's just too much! I'm all for cut-out dresses but this one just doesn't make sense to me. If that major exposure either wasn't there or was much smaller it would be my best dressed pick of the night.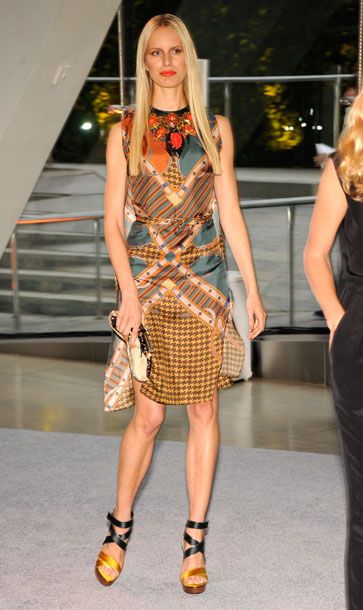 Karolina Kurkova in Tommy Hilfiger
I wish she wore a different dress (or necklace) because the Eddie Borgo one she's wearing is sick, but you can't really appreciate it with the complex pattern behind it. Otherwise, I'm into the look (nothing will beat the Rachel Zoe number from the Met Ball though).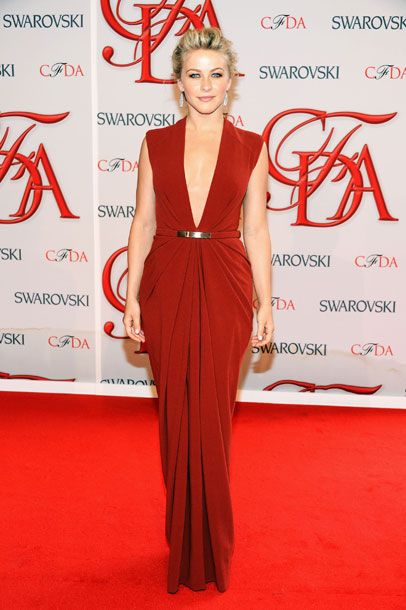 Julianne Hough in Kaufmanfranco
Boring…as always.
—
Be on the look out for part 2 coming soon. In the mean time, if you missed out on who won the CFDA awards this year (the actual reason why this event is put on) here's a list of the winners.
Swarovski Award for Womenswear: Joseph Altuzarra
Swarovski Award for Accessory Design: Tabitha Simmons
Swarovski Award for Menswear: Phillip Lim
Menswear Designer of the Year: Billy Reid
Accessory Designer of the Year: Reed Krakoff
Lifetime Achievement Award: Tommy Hilfiger
Womenswear Design of the Year: The Row
International Award: Rei Kawakubo
Media Award: Scott Schuman & Garace Doré
Founders Award: Andrew Rosen
Fashion Icon Award: Johnny Depp
Photos via The Cut
You might want to check out...