Are you caught up on part 1 of the Golden Globes red carpet fashion? Okay good. Because I'm just getting started. Still have plenty more dresses to judge!
Let's move onto part 2…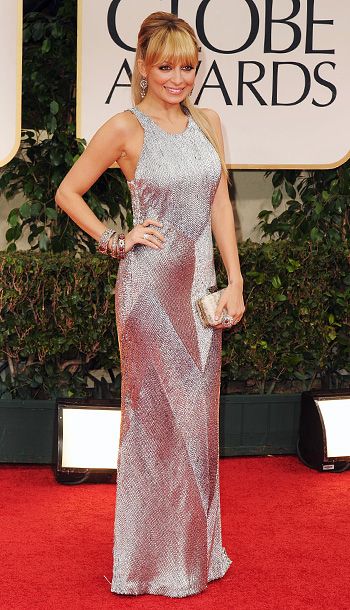 Nicole Richie in Julien Macdonald
It's nice to see Nicole Richie in something not completely oversized on the red carpet and this Julien Macdonald gown is perfect on her. I can't tell if I love the hair or not, but regardless she looks sophisticated and fashion-forward at the same time.
 Nicole Kidman in Versace
Let's make this a compliment sandwich. Starting off with a compliment–her body looks amazing in the dress. Now for the not so great things–there's way too much going on here. Between the beading, the ruching, and that neckline…it's very distracting. Plus I'm not loving the boob area. Now I think I'm supposed to end with a compliment–see compliment #1.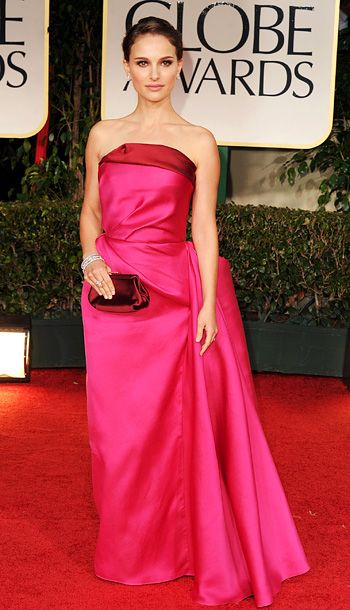 Natalie Portman in Lanvin
What's with these celebs and the matchy accessories for the Globes this year? Shiny pink and shiny red combo (or any shiny material for that matter) is not my favorite. She looks beautiful but I'm not a fan of this dress, especially the silhouette.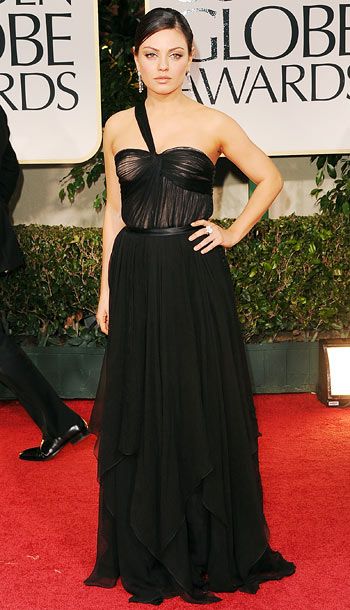 Mila Kunis in Dior
This is what Mila is thinking: "I really had to step it up last year because I was nominated for a million things due to Black Swan and everyone was watching me…now I just really don't give a shit, but I know I have to wear Dior."
 Michelle Williams in Jason Wu
For how conservative this silhouette is, she somehow makes it youthful. Between the velvety lace appearance of the material and the styling with that headband, it actually kind of works.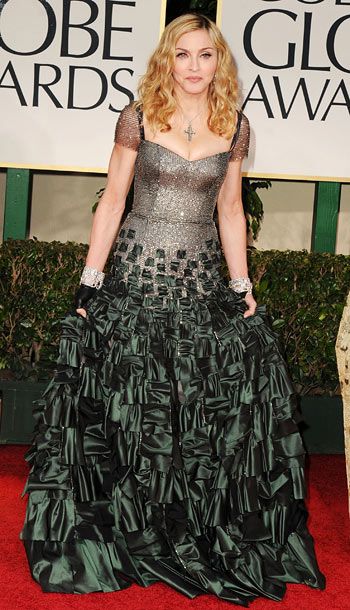 Madonna in Reem Acra
I hate everything about this look. There is no compliment sandwich to be given here. Sorry Madge.
 Lea Michele in Marchesa Spring 2012
I was hoping this dress would get a red carpet moment and I'm so happy it did! It takes a really confident woman to wear this dress and Lea Michele couldn't be more perfect for the part. It's just stunning.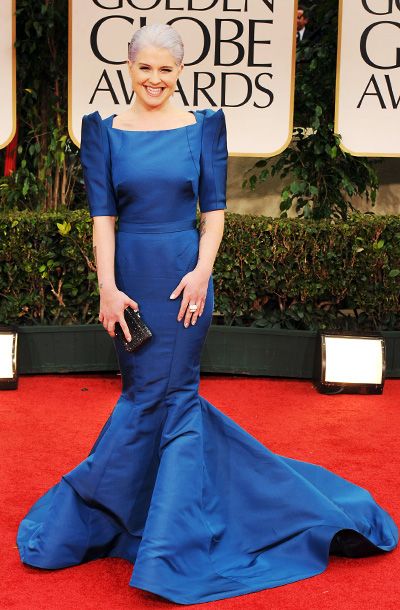 Kelly Osbourne in Zac Posen
This is your silhouette Kelly! (but that's not your hair color)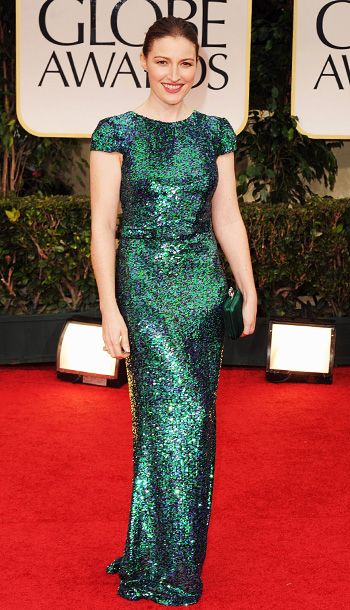 Kelly Macdonald in Lorena Sarbu
I'm a sucker for a green/blue combo done right, and I think with the simplicity of this silhouette  it works here. I could see someone like Zoe Saldana totally WORKING this look but I'll take it on Kelly Macdonald.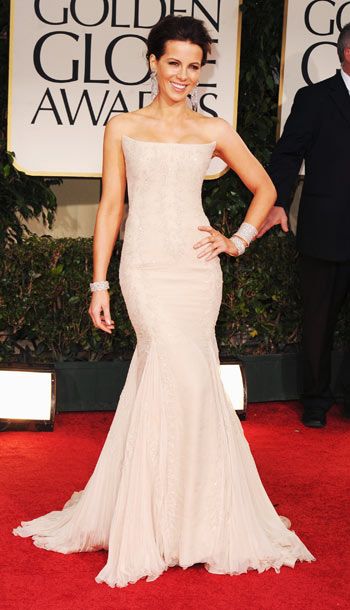 Kate Beckinsale in Roberto Cavalli
One of the ONLY people last night who made this blush tone work. Why? She either recently got back from a tropical vacation, or has been strategically spray tanned twice a week for the last month. This color can only work with a glow and Kate definitely brought that. Plus, this dress fits her beautifully and the styling is perfect. Oh, and she's drop dead gorgeous!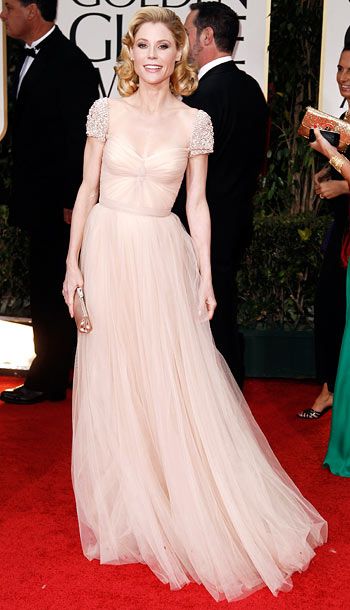 Julie Bowen in Reem Acra
Now this is the perfect example of blush tones GONE WRONG. Julie did not get spray tanned and/or did not go on a tropical vacation like Kate. This could have worked with a tan or in a different color but as is…it's just not flattering.
 Julianna Margulies in Naeem Khan
I appreciated the unexpected pop of green in the earrings combined with the unique purple color of the dress. Well done!
 Jessica Chastain in Givenchy
This is such a great dress and it's unfortunate the fit is completely off here. She has a great body, however this is definitely one size too small. Plus the matchy pearl accessories are NOT okay.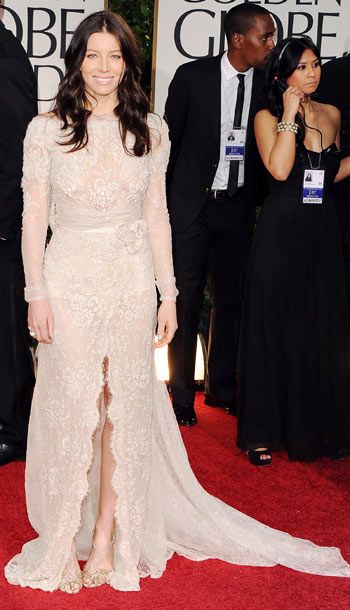 Jessica Biel in Elie Saab Couture
I have a feeling a lot of people hated this and I'm one of the few (or the only one) who liked it. This is a similar dress and I have the same opinion as Leighton Meester's Burberry look from last year's Globes. If the slit wasn't prominent I would say this is a terrible choice for Jessica, but the detailing here is so gorgeous and that slit is subtly sexy. It all works for me, however I would have LOVED to see either a different shoe or a bold lip.
—
Keep letting me know your favorites in the comments section. Part 3 coming soon!
Photos via Entertainment Weekly
You might want to check out...