This is the last Golden Globes red carpet fashion post (so I promise I'll leave you alone…until the next awards show of course). Be sure to check out part 1 and part 2 if you haven't already.
Let's wrap things up now…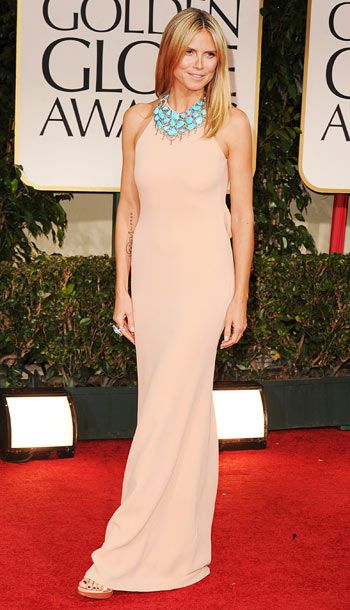 Heidi Klum in Calvin Klein Collection
Although this dress had a gorgeous exposed back, it still needed this necklace to make it work and I'm glad SOMEONE decided to do a statement accessory. I have no problems with this…she looks fantastic!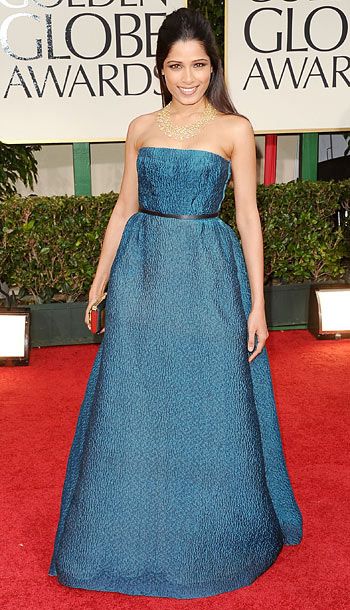 Freida Pinto in Prada
I am just in love with this color. Freida is beyond stunning and both the color and silhouette are amazing on her. Having an interesting texture can really make it or break it on the red carpet and whatever material this is, I want to see more of it. It's the perfect balance of simple but not boring. She was one of my best dressed picks for the night!
 Evan Rachel Wood in Gucci Premiere
I love the idea of this (because I think it was done better by Prabal for Fall '11) but there's just one thing too much going on here. Exactly why these textures and color look better as a strapless.
 Emma Stone in Lanvin
The darker side of Emma Stone–I dig it. I didn't love the belt at first but it's definitely growing on me. She just really can do no wrong in my book.
 Elle Macpherson in Zac Posen
I love this from from the waist up–I could do without the large tulle bottom. I just can't get over her hair though. If my hair was long enough (or I had extensions) it's exactly how I'd want to wear it everyday. It's amazing!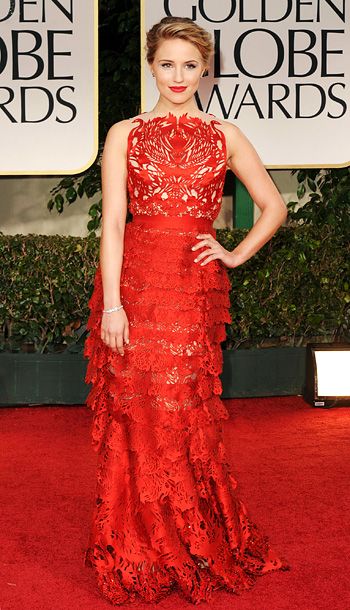 Dianna Agron in Giles
The dress is a cool idea, I just don't think it's on the right girl. You need someone with a little bit of edge for this to work. And Dianna couldn't be more opposite of that.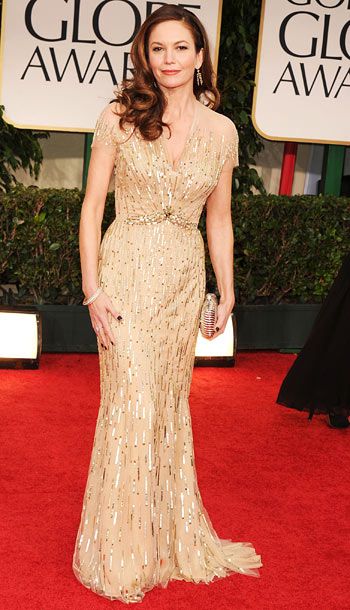 Diane Lane in Reem Acra
Just another sparkly red carpet dress…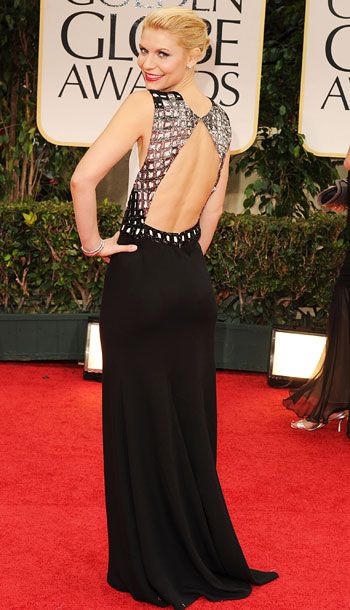 Claire Danes in J. Mendel Pre-Fall 2012
She's definitely never boring on the red carpet; that's for sure. This was one of my favorite dresses of the night. How can you not love that back? But I always hate her makeup. It's never right and if it was, her looks would be that much better on the red carpet.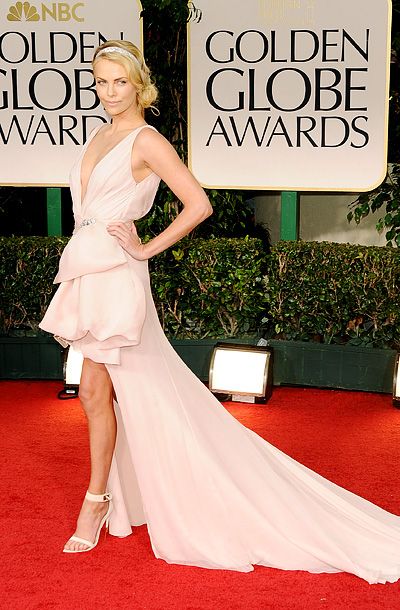 Charlize Theron in Dior Couture
Charlize always has that look on her face where she's just knows she looks good…and that's what you need to OWN it on the red carpet. I don't love those huge ruffles over the slit but from the waist up it's flawless. One of the few red carpet looks where I actually love the headband too.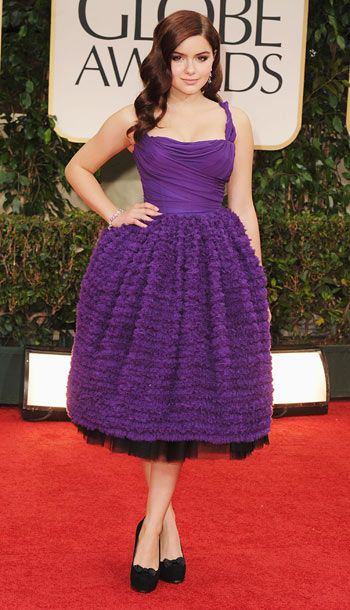 Ariel Winter in Dolce & Gabbana
Great color. Not loving the length with that volume on her.
 Angelina Jolie in Atelier Versace
Shine AND matchy accessories? This couldn't have been more of a disappointment. I was happy there was color, yes. But I still hate the dress. Even worse that she looks like an ice queen in this photo.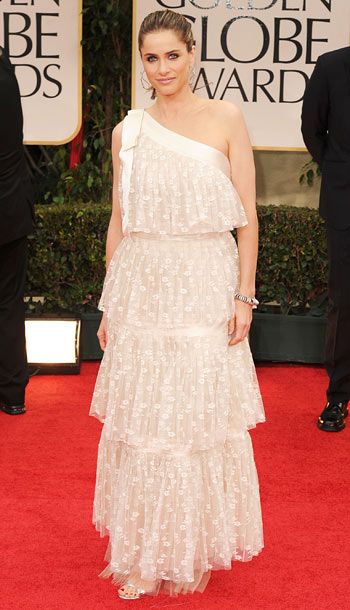 Amanda Peet in Marc Jacobs
Bo Peep wants her dress back.
 Katherine McPhee in Donna Karan
Did you WANT to be invisible on the red carpet, Kathy? If you did then bravo. If not, maybe try choosing a dress and shoes that's NOT the exact color of your skin. Lipstick wouldn't hurt either. But I am excited for Smash.
—
So I'll leave you with my final best dressed comments…
Overall gorgeous–Jessica Alba in Gucci
Best fit–Sofia Vergara in Vera Wang
Greatest statement–Lea Michele in Marchesa
Best use of color–Kelly Macdonald in Lorena Sarbu
Best blush tone–Kate Beckinsale in Roberto Cavalli
Favorite overall look–Freida Pinto in Prada
Favorite dress–Claire Danes in J. Mendel
Thoughts?
Photos via Entertainment Weekly
You might want to check out...