Interrupting New York Fashion Week for a red carpet fashion feature! I apologize for not live tweeting the Grammys last night, but I'm in NYC and staying at my hotel watching TV just wasn't going to happen. BUT I decided to throw in a little red carpet fashion post in the midst of all this fashion week madness. Hope you enjoy!
Although the looks at this particular awards show are always just a tacky mess,  here are those worth discussing…
Malin Ackerman in Cushnie et Ochs
Love the dress. Great paired with a bold lip. But I rarely love black accessories with a white dress. The clutch is fine but the shoes are terribly wrong. Appreciate seeing Cushnie et Ochs on the red carpet though!
Taylor Swift in Zuhair Murad
She does tend to go for dresses in this gold color quite often but I have to say a few words. THANK YOU Taylor for choosing a dress that's actually interesting and THANK YOU for picking something with an interesting neckline and lastly, THANK YOU for doing something other than crimping your hair. That Vogue shoot really did wonders…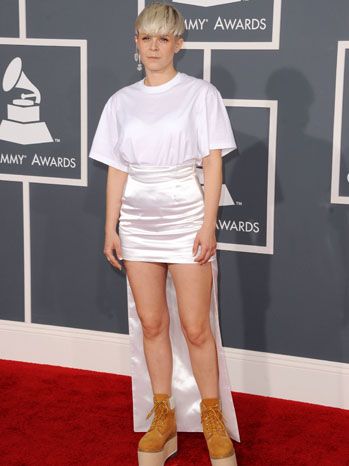 Robyn in Calvin Klein
If Timberland boots and the Spring '11 Prada Creepers had a baby, these shoes would be it. And it's one unfortunate looking child…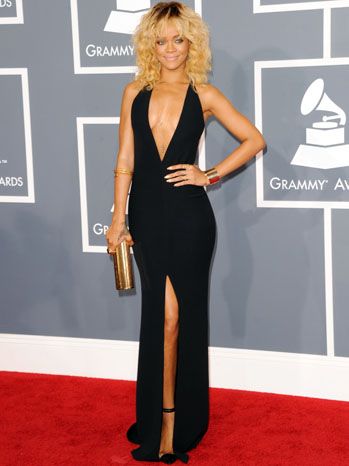 Rihanna in Giorgio Armani
Pretty dress. Fits her beautifully. Quite revealing (do you expect anything less?) Terrible hair.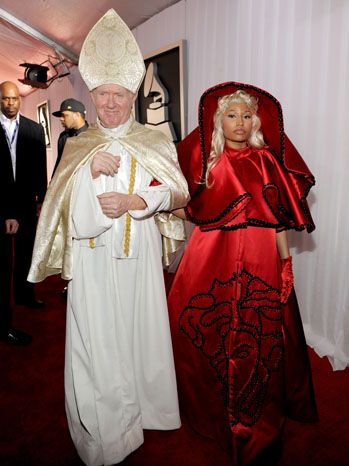 Nicki Minaj in Versace
Before Nicki Minaj was famous, she was probably one of those people dressed in ridiculous costumes trying to be photographed by street style photogs outside the tents at fashion week. This is one of those moments…
Kelly Rowland in Alberta Ferretti
I don't love the dress on it's own but it looks amazing on Kelly. Hair is a little 90s though.
Kelly Osbourne in Tony Ward
Another instance where I don't love the dress but it looks great on her. And like Kelly Rowland, I hate Kelly Osbourne's hair.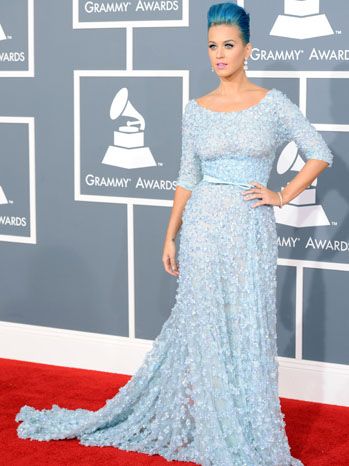 Katy Perry in Elie Saab
Speaking of bad hair…
Of all people to actually wear something conservative (and at the Grammys may I add), I just wasn't expecting this. Remember when matching your bag and your shoes was cool? Katy's making sure that you know hair and dress in the same color palette is the IT thing to do in 2012.
Fergie in Jean Paul Gaultier
And Fergie wants you to know that she's indeed wearing undergarments. Thank you for sharing, Fergie.
Corinne Bailey Rae in Christian Siriano
This is really unfortunate because I love this dress and it looks fantastic on her. But the hair TOTALLY ruins it. Who knew bad hair would ever become a red carpet trend?
Carrie Underwood in Gomez-Garcia
You know when you're little and you just love everything sparkly and you can't get over it? Carrie never got over it.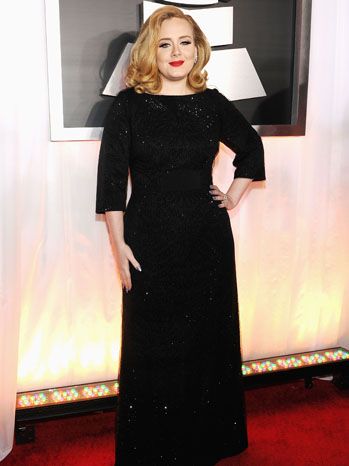 Adele in Giorgio Armani
WERK!
—
Photos via The Hollywood Reporter
You might want to check out...