If you're going to tune in to one awards show all season and watch just one red carpet…THIS is the one. But if you didn't, thankfully you have me.
The Oscars were last night and the red carpet was the best I've seen all season. I'm not saying everyone got it right but I wasn't totally bored…and that says a lot. We saw a lot of strapless and one-shoulder gowns (which to be honest I'm not a huge fan of either, but they weren't all terrible), of course the neutral beaded gowns which are expected at the Oscars, but the biggest trend was white. Not an easy thing to pull off but let's see who got it right and who missed the mark on the red carpet…
Sandra Bullock in Marchesa
I wanted to like this but I just thought the fit at the top was a little too loose. Zoe Saldana pulled off this silhouette at the SAG awards  but it just doesn't scream "Sandy!" to me.  From the waist down it's great, but other than that it's just okay.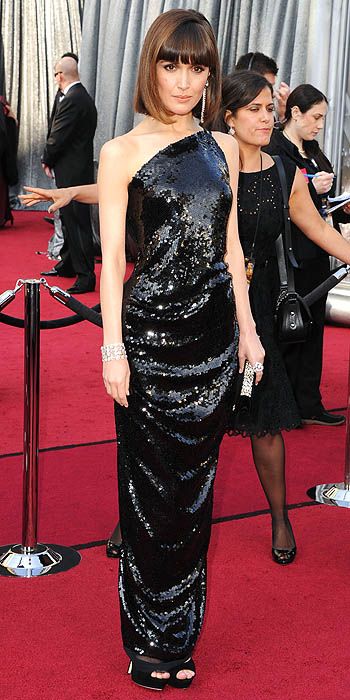 Rose Byrne in Vivienne Westwood
She looks stunning but the dress is very forgettable. However, it is a one shoulder I don't totally hate. #bonus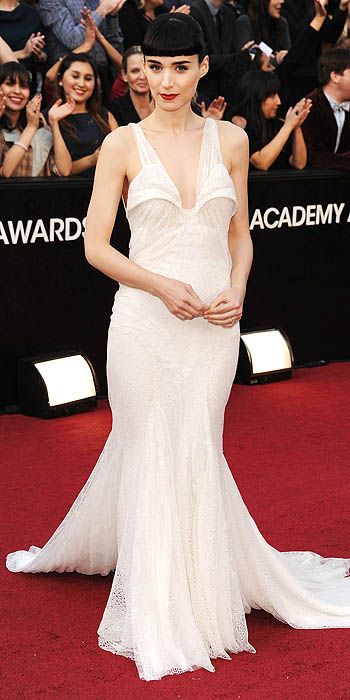 Rooney Mara in Givenchy Couture
Best Dressed Pick 
She should be Givenchy's spokes person because she wears it so well. I loved the the lightness of the dress with her severe hair. Very happy she didn't wear black. Perfection!
Penelope Cruz in Armani Privé
She always looks gorgeous but this dress is a little boring for me. I'm not a typical ball gown person so you have to take that into consideration.  The color was unique for the red carpet this year but the entire look isn't all that exciting.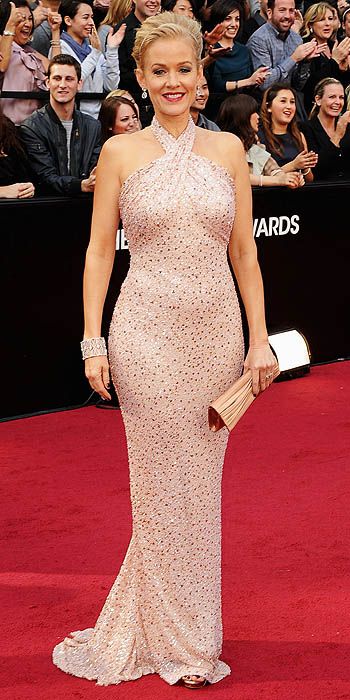 Penelope Ann Miller in custom Badgley Michska
Not a fan of that neckline. Definitely not a fan of that hair. If you're going to do a custom dress, it should at least be an interesting one.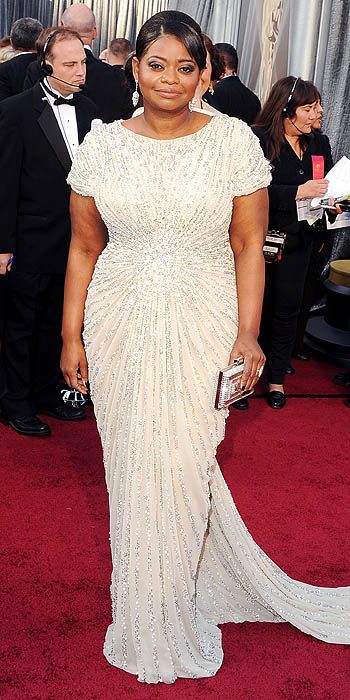 Octavia Spencer in Tadashi Shoji
Curvy girls, take red carpet dressing tips from Octavia because she ALWAYS looks fabulous. She sticks with what she knows (Tadashi) and it works. So happy she won!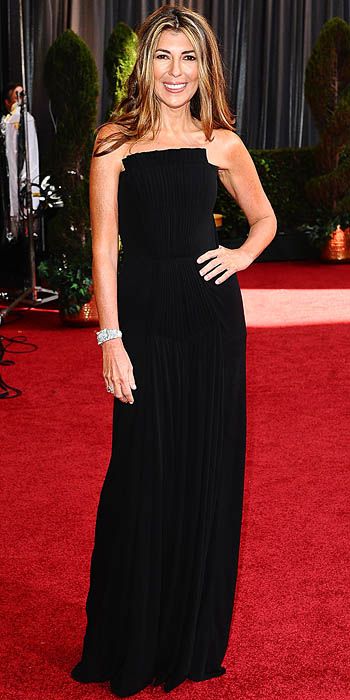 Nina Garcia in Jean Paul Gaultier Couture
She looks gorgeous but for being a couture gown (and it's NINA) I expected a lot more.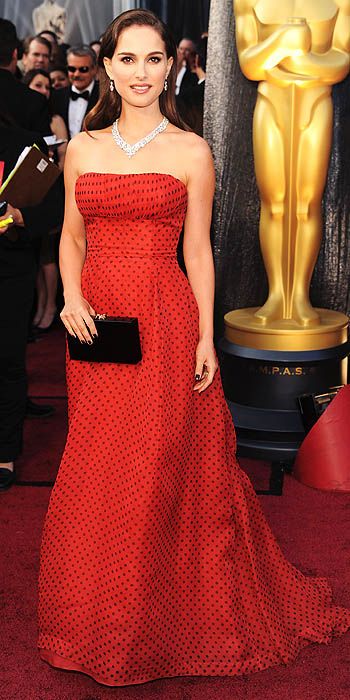 Natalie Portman in Vintage Dior Spring 1954
I like the idea of this and I think it's great she chose a piece that dates back to the 50's but I'm not a fan of the styling. I would have liked  a loose up do with more exciting jewelry but I'm guessing she's taking it easy after all the Black Swan hype from last year…
Milla Jovovich in Elie Saab Fall 2009 Couture
Beautiful dress. Perfect styling. That is all.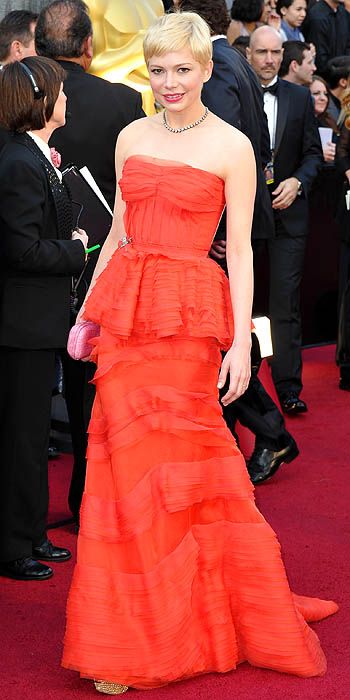 Michelle Williams in Louis Vuitton
We don't see Louis Vuitton all that often on the red carpet so it was great to see for the Oscars. I love the peplum and the overall look of the dress, however I'm not a huge fan of the styling with the pink bag and the glitter shoes. Needed one or the other.
Kristen Wiig in J. Mendel Pre-Fall 2012
Absolutely love her and think she's one of the funniest women out there…but why does she have to wear skin colored dresses on the red carpet?! I don't get it. The dress is amazing but the color is just not complimentary with her skin tone. At least there's no black choker this time…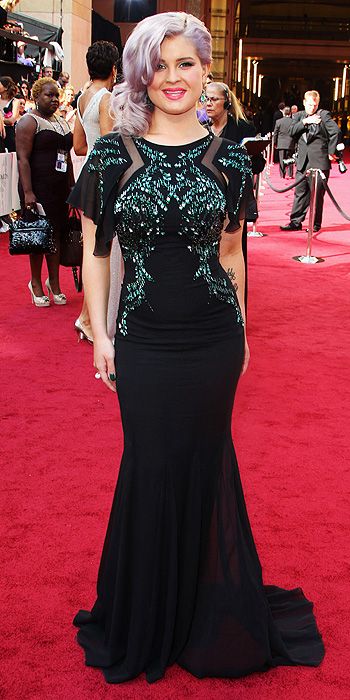 Kelly Osbourne in Badgley Mischka Fall 2012
By far my favorite look Kelly has ever worn on the red carpet! I love the greenish-blue color of the beading and the cut outs make it even more interesting. Still not loving the hair but I'll take what I can get.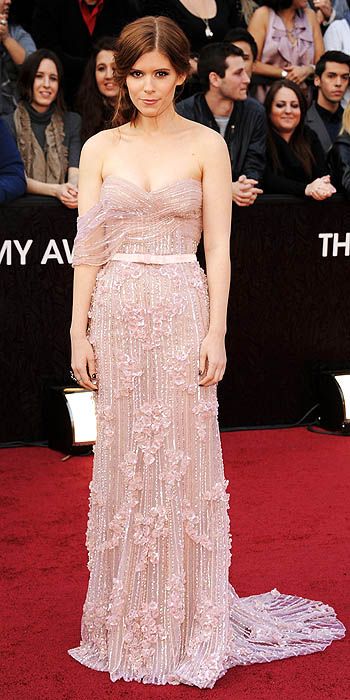 Kate Mara in Jack Guisso Couture 
I really love the dress and although I'm not a fan of strapless or one-shoulder, this needed to pick one. I'd rather see that strap held up or completely taken off. Having it hang is a little awkward. Would have loved to see this with a deep raspberry lip too.
Judy Greer in Monique Lhuillier Spring 2012
Not loving the makeup but the dress is stunning. Best she's looked in a long time.
Jessica Chastain in Alexander McQueen Resort 2012 (modified)
Best Dressed Pick 
Some people thought this looked like upholstery, which I can see, however I think it works. The fit is unbelievable and everything about it intrigues me. The original version only had the detailing in the bodice and although I think that would have also been a great option for Jessica, she still killed on the red carpet.
—
Be looking out for part 2 coming soon!
Photos via People.com
You might want to check out...