1 down 1 to go…
Be sure to check out part 1 of my red carpet fashion from the Oscars last night. And now it's time to wrap things up and judge some more celebs…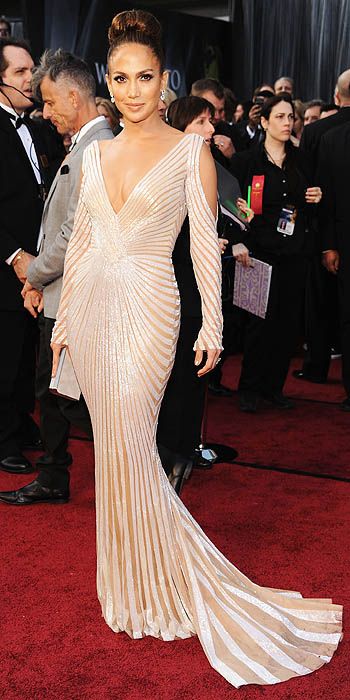 Jennifer Lopez in Zuhair Murad
Hated this hair style on the red carpet (unfortunately it showed up more than once). This dress is beautiful but I would really like to see JLo in something not neutral/gold/silver/sparkly/borderline tacky.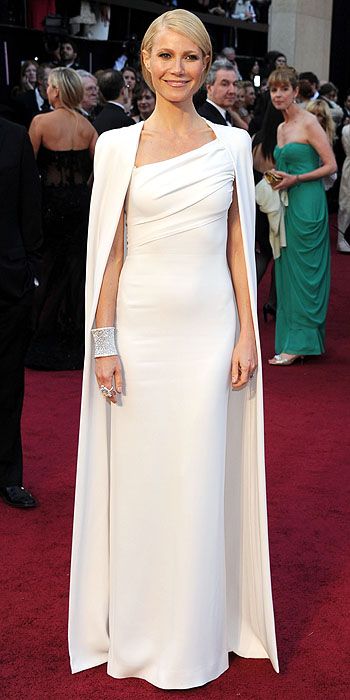 Gwyneth Paltrow in Tom Ford
Best Dressed Pick
Can't breathe…this might even bee TOO perfect. It's minimalism done right. Cape over a gown…who would have thought?! Genius.
Giuliana Rancic in Tony Ward Spring 2012 Couture
Giuliana set the trend in the beginning of the night with her white detailed Basil Soda gown and kept it going in this Tony Ward look. I don't love the nude mesh above the bust but otherwise it's pretty amazing.
Emma Stone in Giambattista Valli Spring 2012 Couture
Best Dressed Pick
Just waiting for the day she gets it wrong on the red carpet. So far…it hasn't happened. Not even come close. It isn't often where you get someone with a killer personality and great fashion sense…Emma really has it all!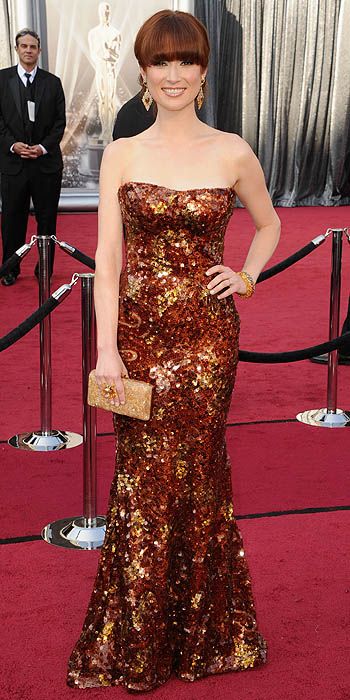 Ellie Kemper in Armani Privé
As you may have noticed, I don't love when a dress matches either the skin or the hair (or God forbid…both). This dress looks incredible on her but the color is just way too close to her hair. If she didn't have the severe bangs it may have been a little better but it's just something I can't get past.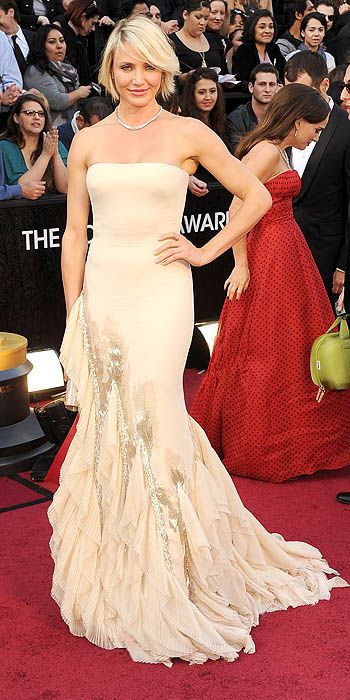 Cameron Diaz in Gucci
You can see her nipples right…it's not just me? Proper undergarments (and a better haircut) would have made this so much better. A bold lip wouldn't kill her either…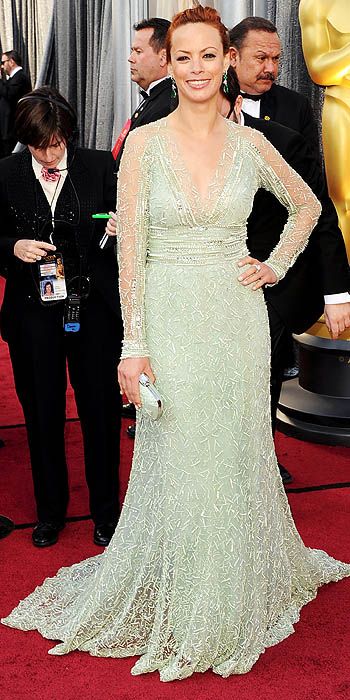 Bérénice Bejoin Elie Saab Spring 2012 Couture (modified)
This dress was originally shown in white and with all the white we saw on the red carpet it's nice to see this mint color (very in for Spring '12 by the way!) Did it blow me away? No. But she still looks gorgeous.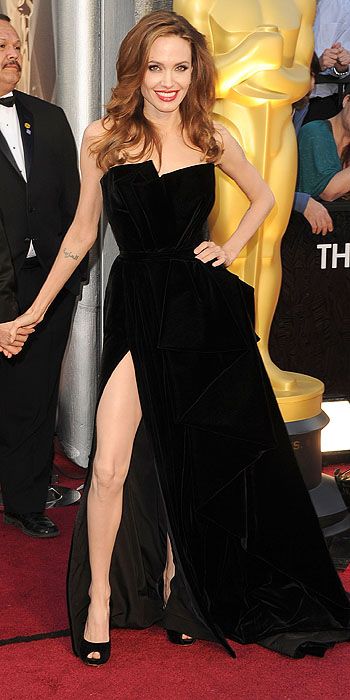 Angelina Jolie in Atelier Versace
Over it.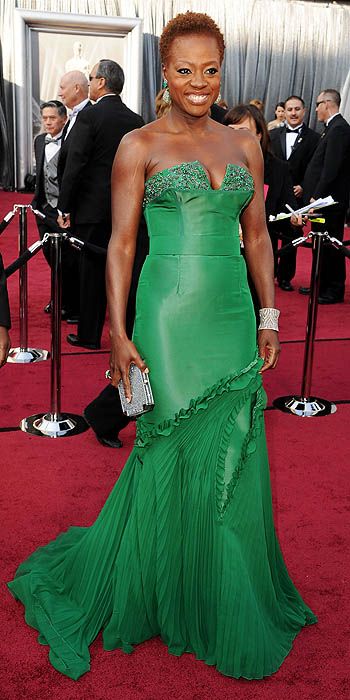 Viola Davis in Vera Wang
Stunning color. Otherwise, not loving this.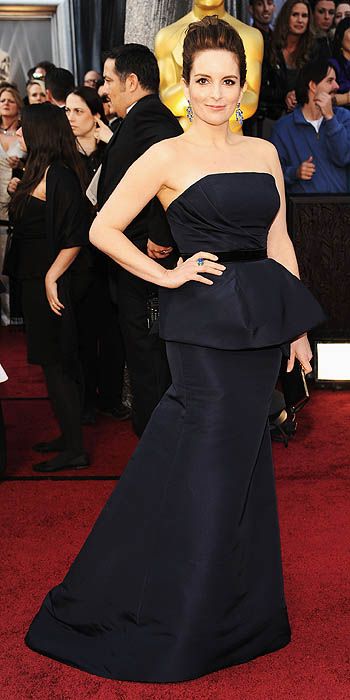 Tina Fey in custom Carolina Herrera
I thought it was interesting Carolina only wanted to dress one celebrity for the Oscars this year…and she chose Tina Fey. Personally thought this was a random choice but I'm glad it all worked out. This is the best Tina Fey has ever looked on the red carpet and I'm so happy she finally got it right!
Stacy Keibler in Marchesa Fall 2012
Great gold color. Love it from the waist up. So-so from the waist down.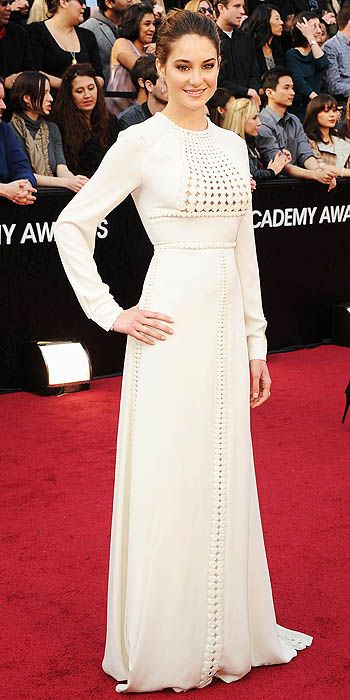 Shailene Woodley in Valentino Spring 2012 Couture
Always a shame when the cute young girls wear such matronly dresses. With all the attention she's gotten this year, she's in desperate need of a [new] stylist.
Sarah Hyland in Alberta Ferretti
Another one who usually dresses a little old for her age, I don't love this dress but I think it's the best Sarah's looked on the red carpet this awards season. The color looks better in this photo than it did on TV and I can appreciate the detail much more. But a new stylist wouldn't hurt her either…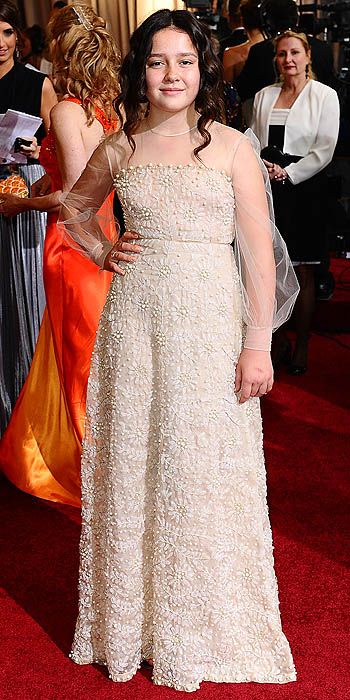 Armara Miller in Valentino Couture
Perfect example of why 11 year olds shouldn't wear couture.
—
Who were your best dressed picks from the Oscars? Let me know in the comments section below!
Photos via People.com
You might want to check out...