Did you watch the SAG awards last night? If not, you didn't miss anything…and plus you have me to give you all the red carpet dish. So I just saved you 4 hours…you're welcome.
I really wish someone would work a print on the red carpet because everyone either does a solid color and it's kinda boring or a pale skin tone color that's super boring. However, I didn't hate everyone's look so let's start judging…
 Emilia Clarke in Chanel
I don't watch whatever she's in…but all I know is that she looks great in Chanel!
 Mayim Bialik in David Peck
It's black, it doesn't fit great and the frog cuff is an odd choice. But can you believe this is Blossom? I kind of just wish she wore this.
 Zoe Saldana in Givenchy Spring 2012 Couture
ChiCityFashion Best Dressed Pick
This literally walked the runway last week and Zoe totally ROCKED IT. For a white dress, there are a lot of elements going on and this is not a look many people can pull off. But let's be honest, Zoe can wear just about anything. Flawless.
 Tina Fey in Versace
I love her and as I always say, she rarely gets it right on the red carpet. Now, Versace is known for very sexy silhouettes and although this specific dress isn't all that sexy, Versace is just not what she should be going for.
 Sofia Vergara in Marchesa
Definitely not a shocking silhouette for her, this color is amazing and she obviously looks gorgeous. What really stands out to me here though are the unexpected accessories. The purple jewelry and that clutch really look amazing with the magenta color of the dress.
 Shailene Woodley in L'Wren Scott
In my opinion, no one under the age of 30 should be wearing L'Wren Scott…and this is a prime example why. This cut is too old for her, the colors are not very complimentary with her skin and the overall styling is sub-par. She's a cute girl…she can do better!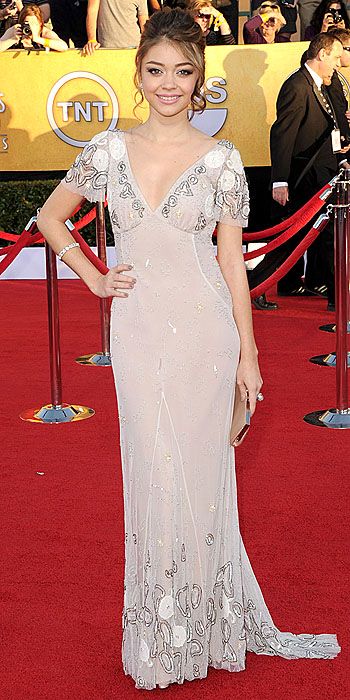 Sarah Hyland in Temperley
For a colorless dress, this at least has some interesting details, but the overall look (especially because of the hair) is just too prommy for me. She's about "prom age" though, right? So maybe that's the goal.
 Rose Byrne in Elie Saab
ChiCityFashion Best Dressed Pick
I promise I'm not normally a fan of white beaded things, but in the cases of Rose Byrne and Zoe Saldana at the SAG awards…I absolutely love it. Thank you Rose for wearing a jumpsuit and doing something INTERESTING. Makes my red carpet watching worth while. I love the contrast of her severe bob with the feminine jumpsuit. It's just gorgeous.
 Naya Rivera in Naeem Kahn
A little boobalicious for my taste, but I really can't complain. This is the best she's looked on the red carpet so far. She's such a pretty girl but always dresses too matronly (or just strangely) for her age so I'm VERY glad she went with this dress for the SAGs.
 Michelle Williams in Valentino
Michelle, it's 2012…meaning you no longer have to match your bag to your shoes…or match anything to your dress. You [AKA your stylist] should be more creative than that.
 Lea Michele in Versace
Not as matchy as Michelle, but still pretty matchy…meaning I'm not a fan. It's a fine dress and she looks pretty but that slit is making me extremely uncomfortable. Let's leave SOMETHING to the imagination please.
 Kyra Sedgwick in Pucci
My feelings towards Pucci are the opposite of L'Wren Scott…you should probably be under 30 to wear these looks. But WOW Kyra completely changed my mind. How old is she? Wearing a fitted dress? With side cut-outs? And makes it WORK? I mean WERK. All I have to say is…good for her.
 Kristen Wiig in Balenciaga
I do appreciate some Balenciaga on the red carpet, because it's not something we see often at mainstream events like this. And although colorless (yes, another) this could have totally worked with better styling. That CHOKER?! Seriously?! How can you think that's a good idea? Colorful earrings and a great cuff would have done her wonders. Whoever her stylist is should really take notes (after Kristen fires her of course).
—
That's all for now. Keep a look out for part 2 coming soon!
Photos via People.com
You might want to check out...