I always look forward to awards season, but I was reminded last night how boring the SAGs are. Thankfully, a few celebs brought some real fashion to the red carpet (otherwise it was mostly strapless and sparkles…my favorite). But overall I'm thinking just about everyone needs a new stylist…or a stylist in general…or better taste.
So let's get to it.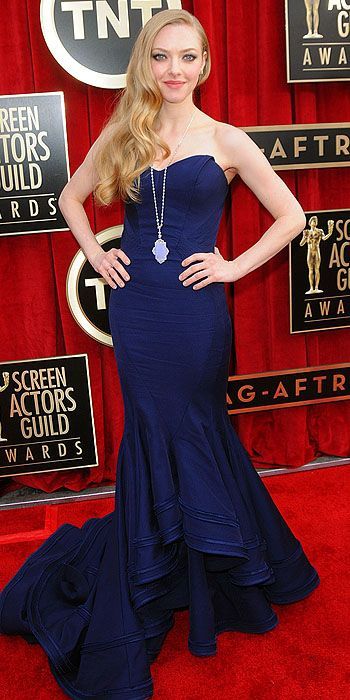 Amanda Seyfried in Zac Posen Pre-Fall 2013
For a fitted strapless dress, I actually love this (I know, I'm surprised too) but the necklace kills the entire look. Would have been great to see some interesting styling with an emerald necklace  or even some magenta earrings. A long necklace was just not the way to go.
Anne Hathaway in Giambattista Valli Spring 2013 Couture
Best Dressed Pick
Loved this dress on the runway and I love it now. She's always been great on the red carpet but that hair cut gives her a whole new level of edge…and I can't get enough of it.
Ellie Kemper in Reem Acra Resort 2013
Red hair. Seafoam green. It's like the grown up version of Little Mermaid. And regardless of your feelings towards that movie, it's not a compliment.
Ariel Winter in Alex Perry
I can't believe I'm saying this but the dress would have looked better as a STRAPLESS. I said better, not good…
Claire Danes in Givenchy Pre-Fall 2013
This dress needed to be worn by someone a little more "fashiony." For example, Zoe Saldana would kill it in this. Claire…not so much. And also, I can't stress enough her terrible make up…at EVERY DAMN AWARDS SHOW. WHY?!
Elisabeth Moss in Dolce & Gabbana
I'm not even going to bother.
Jayma Mays in Georges Hobeika
Not a bad dress. Boring styling, though.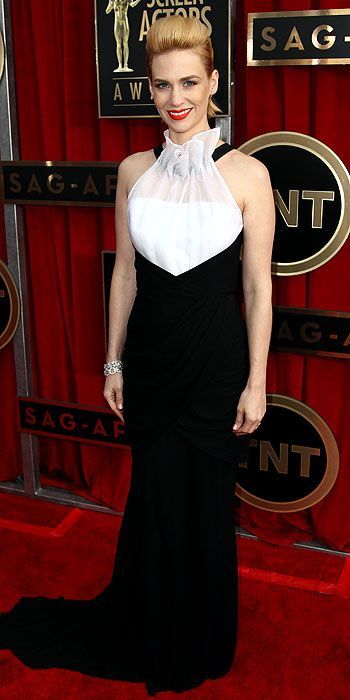 January Jones in Prabal Gurung Pre-Fall 2013 (modified)
Best Dressed Pick
This is going to be a controversial one. I did tweet yesterday asking if this was January Jones or David Bowie (without my glasses, I really cannot tell the difference). Although the hair is a little avant-garde for the red carpet, I appreciate the risk and I think she pulled it off. I think it would have been on another level (in a good way) if she went with the original version but regardless, I love it. Good for you JJ.
Helen Hunt in Romona Keveza
That's just way too much sparkle for my liking.
Giuliana Rancic in Max Azria Atelier
She's been wearing a lot of complex dresses lately so I like how Giuliana kept it pretty simple here. Is it my favorite dress in the world? No. But I do think she should rock cobalt more often.
Freida Pinto in Roland Mouret
From the waist down I loved this (especially the shoes…which I can't seem to find a picture of). But the neckline and hair feel a little matronly to me.
Katrina Bowden in Badgley Mischka Spring 2013 (modified)
Stunning. Love the detail here, especially at the waist. She must be one of the few with a good stylist because this would have been a whole different story if she wore the original version.
Tina Fey in Oscar de la Renta Spring 2013
Not into the hair. Very into the belt. But that's about it.
Sofia Vergara in Donna Karan Atelier
SHE DIDN'T WEAR A MERMAID DRESS….PRAISE THE RED CARPET GODS! I still hate it though. Too bridal.
Rose Byrne in Valentino Resort 2013
Not a fan of this dress but she somehow she pulls it off. Now, how does that happen?
Nina Dobrev in Elie Saab Spring 2013
Hate the hair. Like this dress. Love the color.
Part 2 coming soon…stay tuned!
Photos via People.com
You might want to check out...