I never really understood that mentality of "not wearing anything twice." If you're going to buy something, you should probably wear it more than once, don't you think? (with the exception of a wedding dress or bridesmaid dress…let's hope the first time is a charm and you know that those dresses the bride says "you can totally wear this again" you'll be tossing the second that reception is over). So I thought I'd really make a point to show you that regardless of a statement-making piece or a wardrobe staple, it's totally okay to be a repeat offender.
Instead of having someone call me out on repeating items and looks, why not do it myself?

This is a perfect example of similar looks, with similar (or the same) pieces but with totally different vibes. The main theme here is my personal epitome of an investment piece — The Row leather leggings. I wear these during the day for meetings, to dinner, events…you name it. You've probably seen me in these pants several times. And I'm cool with that. Apparently I also enjoy wearing them with Valentino heels, oversized green garments and Illesteva sunglasses. But as I like to say, as long as you feel good in your outfit then nothing else matters. And nothing makes me feel better than wearing pants with a good stretch and something loose on top…because going to dinner happens to be my only hobby.
Shifting gears to more of a Spring/Summer look, I'm not exaggerating when I tell you that if my outfit calls for heels and it is warm out, you will find me in these rockstud sandals. They flatter the leg (which is always a plus), they could double as a weapon (another plus) and they happen to be super comfortable (but by the looks of them you probably don't believe me). And clearly I must enjoy wearing Valentino rock studs while placing myself in front of street art. So that's a fun fact I just learned about myself right now.
Another multiple repeat offender example — double the Proenza clutch, double the Wang heels and double the Oliver Peoples sunglasses. But when you think about it, they're black heels (although not so standard), a black clutch and aviators…they all go with everything so of course I'm going to wear the shit out of them. Seen here on Refinery29, WWW: My Kind of Matching and WWW: Pink Purple Proenza.
Who knew you could get so much use out of a sequin sweatsuit? Each piece makes a statement on its own but when you wear them together it's a true HOLY SEQUINS moment (by the way I've worn the entire sequin sweatsuit more than once…which is always an interesting experiment walking down the street). Seen here at Sequins at Breakfast, WWW: Sequin Sweatshirt and WWW: Put a Bird on It.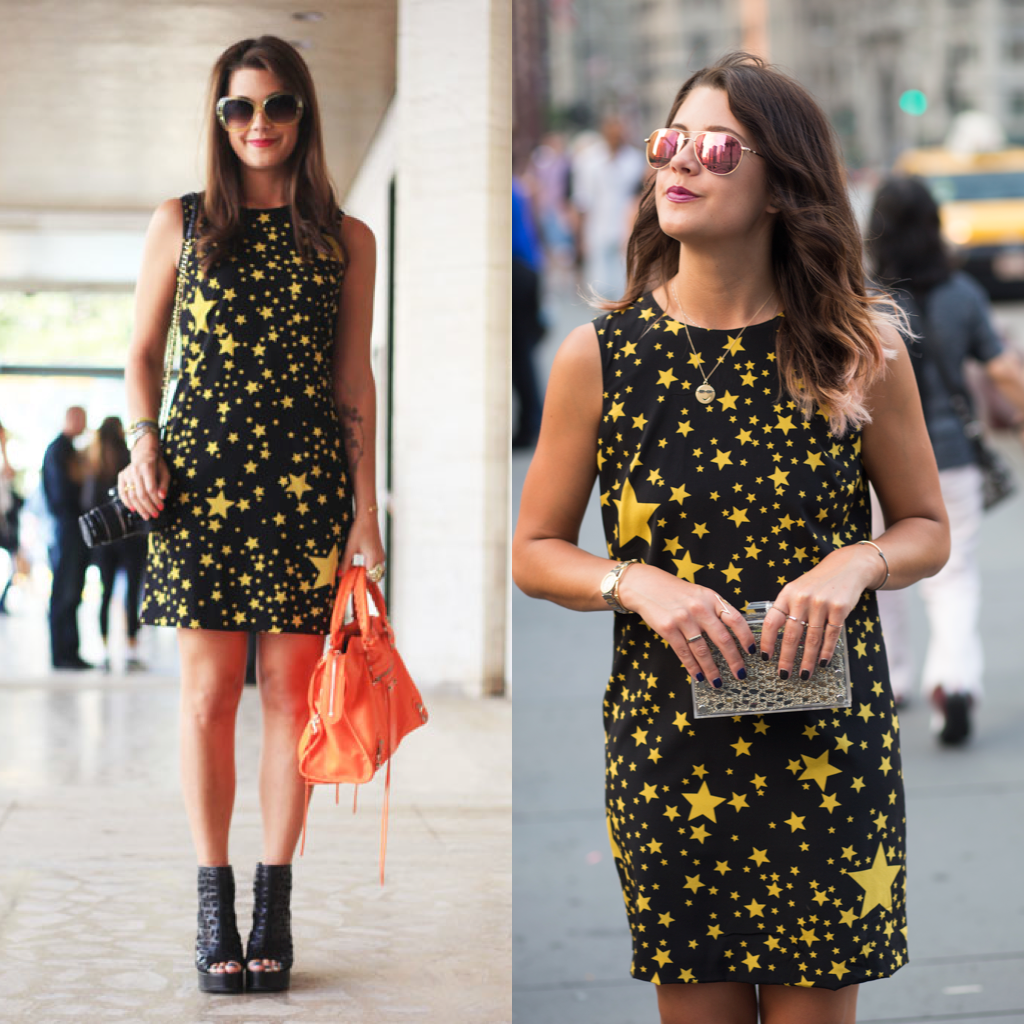 My favorite part about this dress is that it can be worn for so many different occasions. I wore it more than 3 years ago to fashion week (pictured above), with those leather pants I just talked about to a dinner (what I like to call a successful #dresswithpants moment), with heels for a cocktail party and with flats in a recent What Why Where post.
I do black shoes way too often so it's nice to have a neutral option that isn't nude or grey. I got these rose gold Schutz heels at the Von Z opening this summer and they've been my non-black go-to shoes ever since. And I can promise you this…these babies have been worn a hell of a lot more than these two photos (let's just say I'm glad there's no pictures of the bottoms).
Hello again Schutz. Fancy seeing you here. You've gotten enough attention though, let's focus on something else. How about a leather t-shirt? Yeah, pretty much my dream piece happening right here. I live for leather, I wear A LOT of t-shirts, so when you put them together you have my new wardrobe staple (and yes, I have worn it with leather pants…sorry if that offends you, but it was pretty awesome). Seen here with photos from Refinery29 and WWW.
Shifting gears to last Winter, I did something a little different in the coat department. The previous Winter, I went the total opposite and did a multi-color coat all season so I wanted to tone it down for once. This coat really encompasses some of my favorite elements — black & navy, leather and of course a loose silhouette. Seeing a pattern here? Making a few appearances on WWW as well as at fashion week, there's no doubt in my mind this coat will be back on its rotation once the temperatures drop.
This was one piece I was surprised I wore so much. I got these Altuzarra pants super on sale in New York over a year ago. It was one of those moments where they only had one left, they were my size and 70% off…fashion fate. I love them but they're very loud and something people will definitely notice if you wear more than once. But I clearly didn't care and decided to wear them on several occasions (fashion week, WWW and a media breakfast to be specific). Come this Spring, you'll be seeing them again. Don't you worry.
Same instance as above, who knew I'd get so much use out of a sequin t-shirt that says SOME THINGS ARE NOT IMPORTANT? Um because it's a sequin t-shirt and has a really good message. That's why.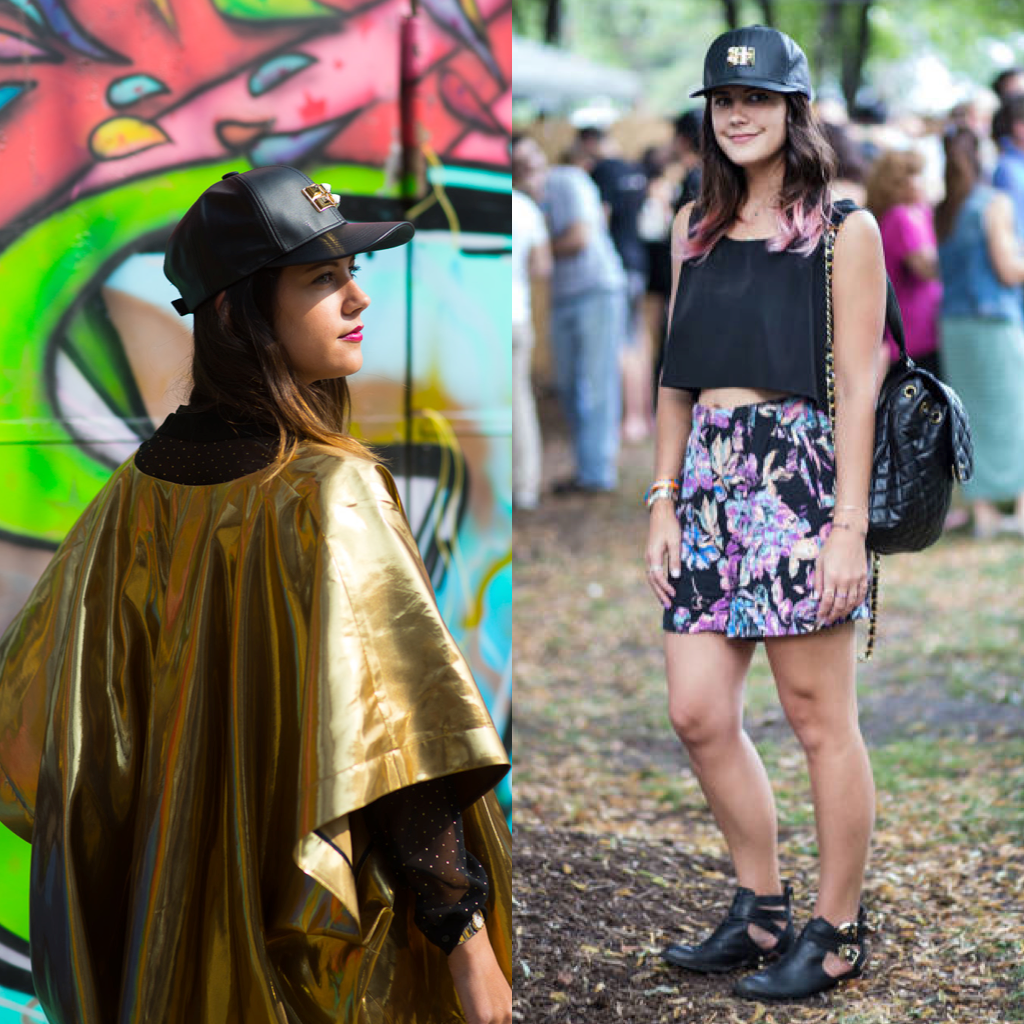 When I started to get way too much use out of my regular leather baseball hat, I needed to give it a little break and find a replacement…which ended up being this OATW [not Hermes] hat. When I wear it, I think of it as a piece of jewelry…it never hurts to add a little hardware to your look. Whether it's just to add even more gold to my outfit or to cover up my I-haven't-washed-my-hair-in-I-won't-tell-you-how-many-days head at a music festival, this hat is here to stay.
There was something about that 3.1 Phillip Lim collection that I was so intrigued by, I wore that "break up" clutch EVERYWHERE. I love the idea of see-through bags but one with such a specific design was even more awesome. These are only two of the many times I've worn this clutch (at fashion week and for WWW). This is another one of those instances where it's such a statement but the only way to get your statement out there is to tell it over and over again, right? And that's just how I roll.
—
Have any of your own repeat offender moments? Feel free to share in the comments below!
You might want to check out...