Two best dressed picks announced in part 1 of my SAG Awards red carpet coverage…do you agree? Actually hold that thought, and let's move on to part 2 first.
Nicole Kidman in Vivienne Westwood
This dress is gorgeous and looks perfect on Nicole. I appreciated the green earrings, instead of the typical diamonds everyone wears (I really don't care that you're wearing millions of dollars worth of borrowed Neil Lane jewels…you're tacky). Back to Nicole…no complaints here.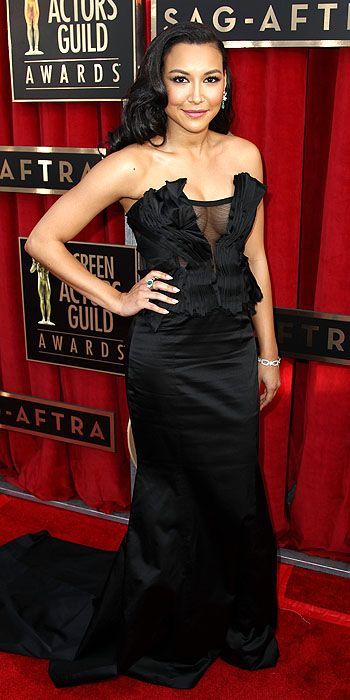 Naya Rivera in Donna Karan Atelier
NAYA WANTS YOU TO KNOW SHE HAS CLEAVAGE! Job well done, Naya (on showing us your boobs, not on a great red carpet look).
Naomi Watts in Marchesa
Was expecting a lot more from her. Hair and makeup is stunning but that dress we've seen a million times.
Morena Baccari in Basil Soda
I really just hate that dress. The print on the bottom looks like the hallway carpets in a chain hotel.
Michelle Dockery in vintage Chado Ralph Rucci
Vintage on the red carpet is never easy because there's usually only one and the fit has to be just perfect. She looks great and I actually love the side boob. There is a way to make side boob classy and this is it.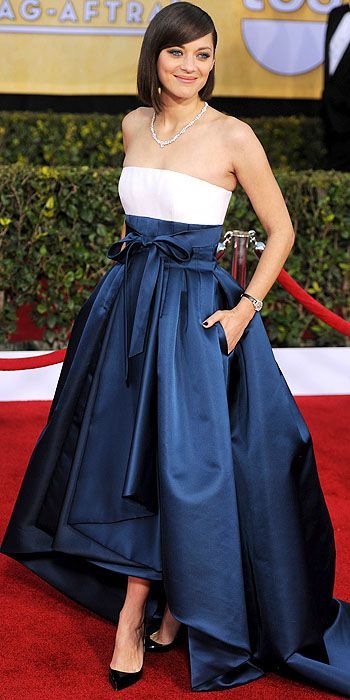 Marion Cotillard in Christian Dior Pre-Fall 2013 (modified)
Best Dressed Pick
Parisian realness right here. KILLED IT!
Lea Michele in Valentino Resort 2013
I used to love her when she first started doing awards shows, then she got too cocky and I was over her. Now I'm just kind of in between. She's not cool enough to rock the blonde tips, BUT I do love that dress and she looks damn good in it. And if you have $7,000 to spend and a red carpet event to attend, you can buy this dress right now on Moda Operandi.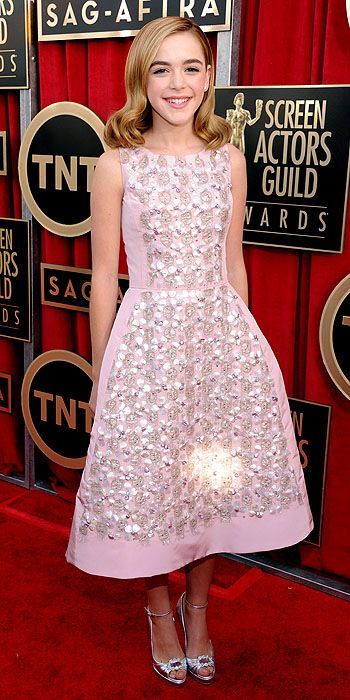 Kiernan Shipka in Oscar de la Renta
Best Dressed Pick
Child celebrities who dress their age is a rarity on the red carpet, but this girl knows how to do it right. That dress fits her perfectly, she looks happy and comfortable in it and the styling is spot on. A well deserved best dressed pick for sure.
Kerry Washington in Rodarte
I wanted to love this because we don't see Rodarte on the red carpet all that often. If the skirt portion was plain white from the waist-down, it would have been a best dressed pick. But that detail is competing with the bodice and my eyes just get confused.
Kelly Osbourne in Jenny Packham
I never really love what Kelly wears on the red carpet but this dress is pretty badass. I actually love the red lip with her purple hair. It just works!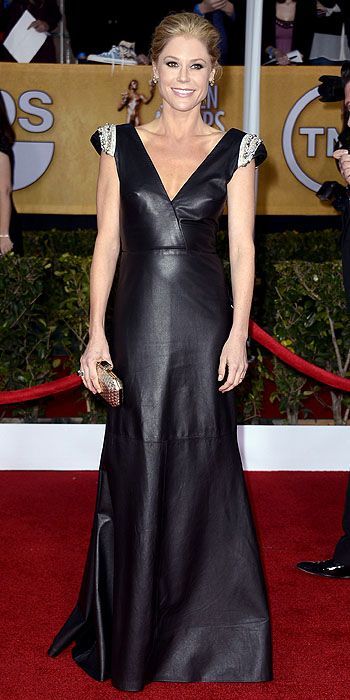 Julie Bowen in Johanna Johnson
The fact that this dress is leather makes me love it that much more. The fact that Julie already did jeweled shoulders at last year's SAG awards is a little disappointing. But overall, I dig this.
Julianne Moore in Chanel Fall 2011 Couture
I'm not sure if it's legal to hate Chanel couture…but I really don't like this. The ill-fitting boob area probably doesn't help the situation either.
Jessica Chastain in Alexander McQueen
If you're going to wear McQueen, WEAR MCQUEEN. It's like when people buy the plain black patent low heel Christian Louboutins…what's the point? Regardless, this is too small in the mid-section. Puckering is never a good sign.
Jennifer Lawrence in Christian Dior Spring 2013 Couture
Why does she keep picking the most boring pieces from the Dior couture collections? I loved what she wore at all the premieres and parties last year, but the last two major awards shows have been pretty disappointing. This girl better BRING IT for the Oscars. Do you hear me, Jennifer? BRING IT.
Who had your favorite looks of the night? Least favorites? Dish.
Photos via People.com
You might want to check out...