What do you guys think of the SAG Awards red carpet so far? Now don't think we're finished just yet…we've only gotten though part one. Ready for part two?
Kiernan Shipka in Erdem
Best Dressed Pick
If you read my comments about Christina Hendricks, you're going to think I'm being unfair naming this best dressed…but hear me out. A brocade dress is not easy to pull off — they can easily look very mature and down right ugly. In Christina's case, there was a lot more fabric (plus the overdone styling didn't help). With Kiernan, it's a simple silhouette, it fits her perfectly and the minimal styling is exactly what this dress needs. I would never look at this dress on the rack (or at the atelier) and think YES, BEST DRESSED! But this is where good styling comes in (as well as great hair and a strong brow game).
Uzo Aduba in Zac Posen
I can't argue with that silhouette…seriously looks great on her. But WHY opt for shiny green? WHY?! It's like Emerald City is throwing a gala and Uzo is the guest of honor (and Dorothy is super jealous).
Sofia Vergara in Vera Wang
I already discussed my [not so positive] feelings towards a red dress and a matching clutch. Same applies for hot pink. One day I'm hoping she'll surprise us in some Rodarte or Altuzarra…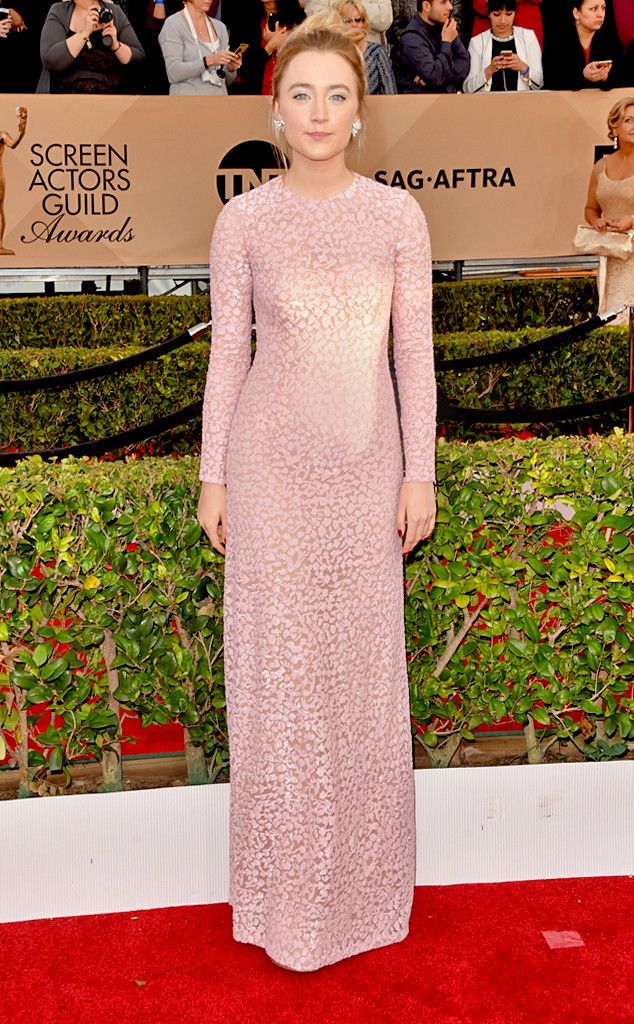 Saoirse Ronan in Michael Kors
It doesn't WOW me…but it doesn't disgust me either (so that's a win, right?)
Marisa Tomei in Zuhair Murad
Not doing anything for me (and not doing anything for you either, Marisa).
Julia Louis-Dreyfus in Monique Lhuillier
I appreciate the effort going for tea-length rather than a gown…but this most definitely is not her best. The necklace is straight up odd, the shoes are so wrong and overall it doesn't feel very her.
January Jones in Schiaparelli
Like Brie Larson, it's exciting to see a dress that just showed at couture week in Paris already making an appearance on the red carpet (even more so when it's the final look). But unlike Brie Larson (where I had a strong opinion) I'm pretty torn here. When it see this photo it looks like too much fabric and is super unflattering. I saw her only briefly while watching the red carpet last night so I can barely judge from that. Now when I see more of a straight on photo, it's much more flattering (it's also pretty fantastic from the back). But because I really don't like the hair and makeup, I can't 100% get behind this (maybe 72% at best).
And is this not almost identical to Diane Kruger's custom Giambattista Valli from Cannes in 2012?
Kristen Wiig in Roland Mouret
You know I love pants or a jumpsuit on the red carpet so I'm already leaning towards a YES. Plus, this particular jumpsuit is unique and interesting (and that's coming from me who really doesn't like anything with one shoulder). I don't find the jewelry and shoes to be the smartest pairing — I would have loved to see simple ear crawlers as well as pointed toe pumps. But hey, it's the only jumpsuit I saw last night so I'll take it!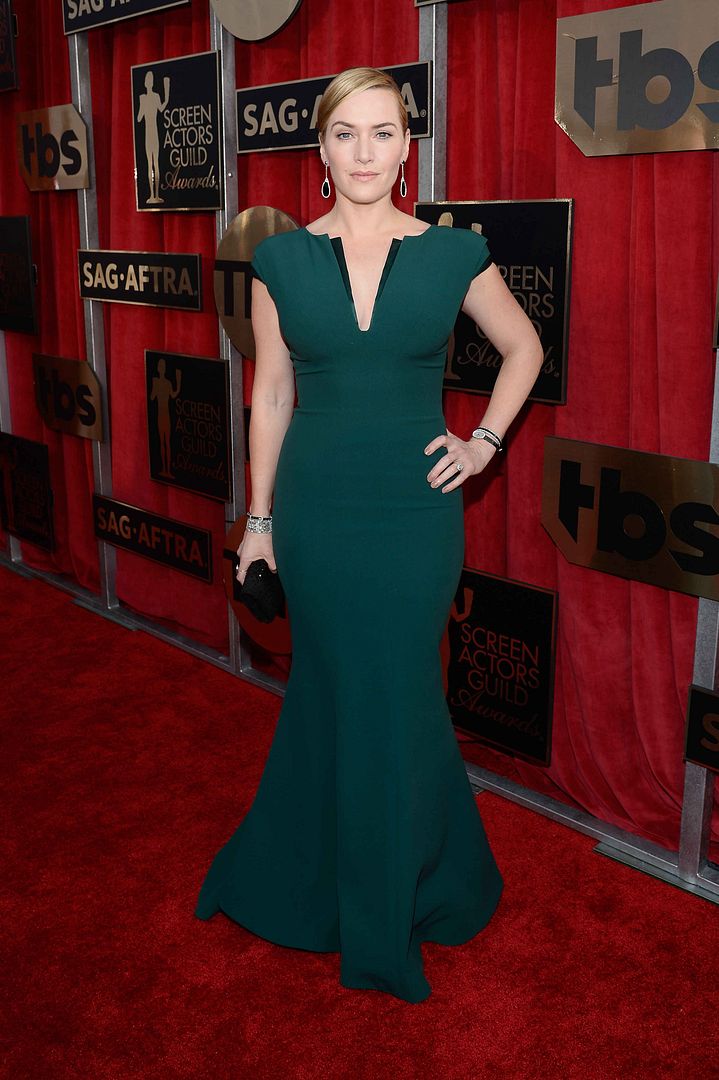 Kate Winslet in Armani
If I didn't see her red carpet interview, I'd say you know the silhouette that works for you and you wear it every awards season…it looks good but I'm bored but because I saw her red carpet interview I think, thank you for actually feeling honored to wear a designer (and not the other way around…which is now the norm with these events and the entitled celebrities that attend them) and I want to have an emoji only conversation with you…what's your number? 
Rachel McAdams in Elie Saab
When you want to wear a naked dress but don't want to go all the way…
Sarah Paulson in Armani Prive
It's pretty weird but so am I…so I guess I'm into it. Love the severe hair too. And is that VELVET? If so, score! Side note, good thing she ditched the fringe capelet because this would have been an entirely different conversation.
Tina Fey in Prabal Gurung
My thoughts on this are exactly the same as my thoughts on Anna Ferris — love the silhouette on her, hate the color. Am I the only person who feels so strongly towards red??
Sola Bamis in Lola Wusu
That color looks ridiculously amazing on her…but between the ill-fitting mid-section as well as the asymmetry near the armpits (which doesn't look like it's on purpose), and of course that blinding bow…I can see Heidi just saying "Auf Wiedersehen!" now.
Rooney Mara in Valentino
Best Dressed Pick
We're never going to see Rooney in a printed Mary Katrantzou dress or a mermaid Zac Posen gown (and I'm grateful for that). She does minimal high fashion and she does it well. My only complaint about this is that there's actually some great detail here that does not come off on camera (which happens often with black dresses on the red carpet) so that alone is quite unfortunate. But at least the side boob was really good.
So I've been doing extensive research on this dress, as Valentino's Instagram claims this is from SS16 couture and I can't even find a dress that comes close (maybe this one modified…maybe). It could be custom, but don't you think they would have mentioned that? I also think it looks almost exactly like Kirsten Dunst's Golden Globes dress (which is from Fall '15 couture). She was on my best dressed list at the Globes so it's no surprise I'm into it once again. It's like they scrunched the sleeves, moved up the deep V and eliminated one of the waist ropes for Rooney. Just check out the detail shot and let me know what you think.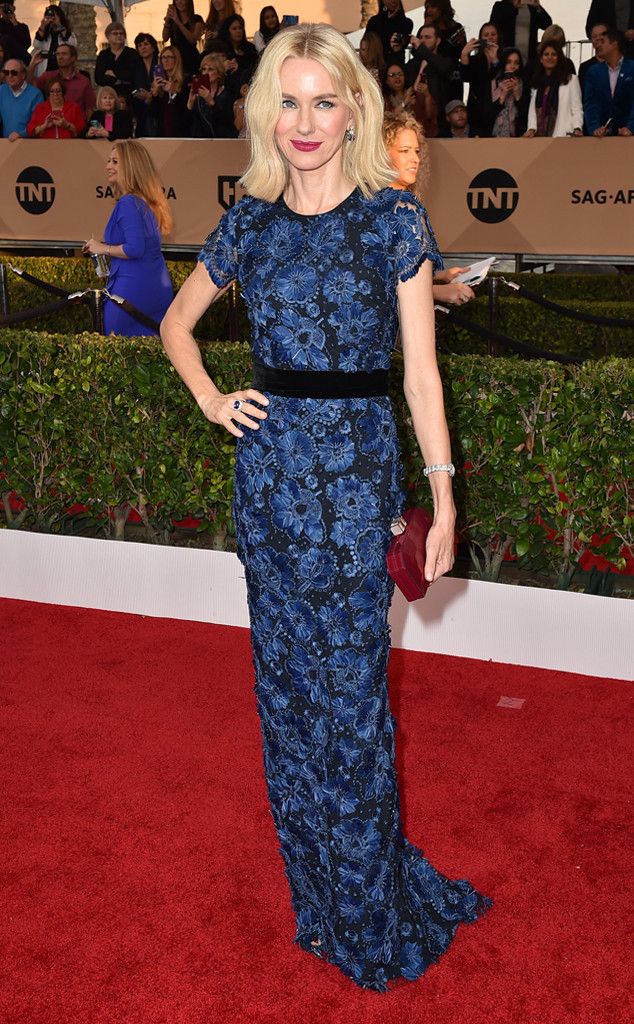 Naomi Watts in Burberry
Lovely yet matronly.
Laverne Cox in Prabal Gurung
There are elements here I love, but also quite a few I'm not all that into. Let's start with the positives — this color looks incredible on her, the cut is extremely flattering and it's Prabal Gurung (I adore him). But I can't believe I have to say this again (because we keep seeing this over and over on the red carpet this year) but WHAT'S WITH THE CUT-OUTS? Those were so 2014. We have to move on. And just because there's a slit, doesn't mean you have to go all Angelina Jolie.
Kate Mara in Valentino
I despise the hair so much I can't even focus on on the dress (which I don't even care for anyway).
Christina Ricci in Christopher Kane
It's a cool dress and I so appreciate Christopher Kane on the red carpet (as we really only see him at the Met Gala, if that) but the hair and makeup totally ruin it for me. The yellow blonde hue and her skin tone go together like Uni and American cheese (so not at all). And HOLY EYELINER. Let's take it down a notch.
—
Alright, now it's your turn. Favorites? Least favorites? Comments? Questions? Concerns?
Images via E! 
You might want to check out...