We only had one best dressed pick in part one…any chance we can find another in part two? Let's find out!
Millie Bobby Brown in Armani
It's no Golden Globes but I'll take it.
Salma Hayek in Gucci
I typically like to only name best dressed (and not worst dressed) for these types of things but when it's this bad? I can't help myself. Hands down worst dressed of the night (sorry Alessandro…)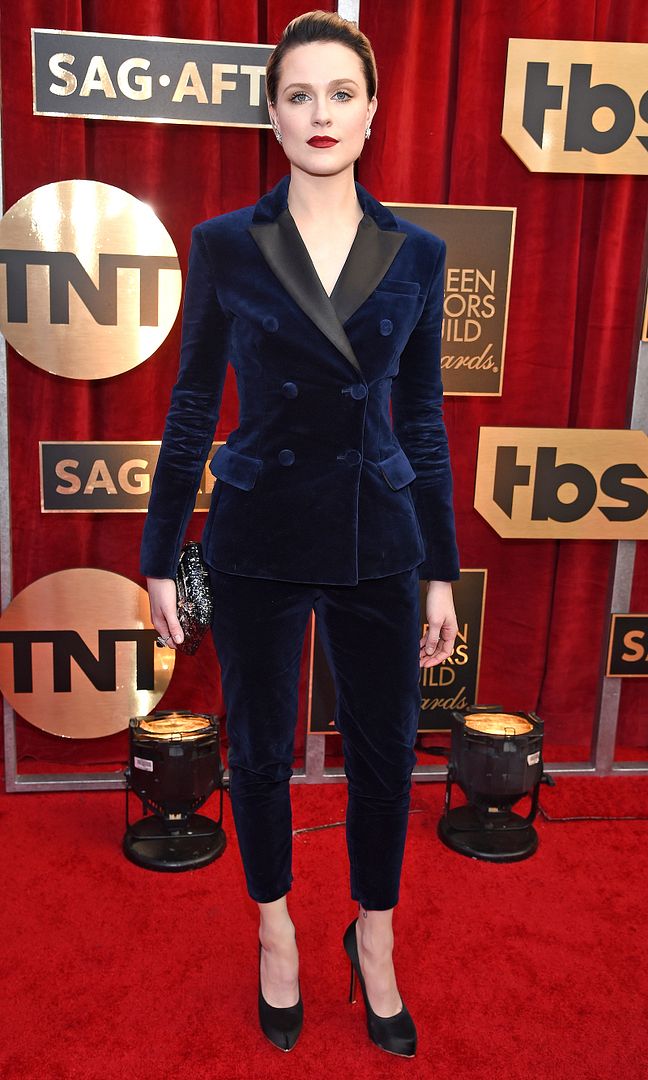 Evan Rachel Wood in Altuzarra
Although I love a good suit on the red carpet, I wasn't feeling her last attempt at the Golden Globes (the hair didn't help), but this…THIS is where it's at. I am a sucker for a velvet suit in particular (I'd wear this one in a heartbeat). I just wish this was with a single sole pump or a strappy heel (it appears to be a platform pump, which I'm not down with)…otherwise it's pretty amazing. The deep red lip is also spot on ?.
Tracee Ellis Ross in Ulyana Sergeenko
Girl loves her statement jewelry!
Kirsten Dunst in Dior
Best Dressed Pick
Those bejeweled Christian Dior straps can easily go tacky…but Kirsten looks far from in this gown. Hair, makeup, styling…everything is working here. She knows how to own a look, that's for sure!
Nicole Kidman in Gucci
Just what a bright green sequin gown needs — an enormous parrot on each shoulder (this is an example of where you shouldn't put a bird on it).
Winona Ryder in custom Ryan Roche
I think someone needs to let her know it's not 1998…
Taylor Schilling in Adeam
What happened to her? She was killing it on the red carpet when OITNB first came out…and after season two it's just been downhill (this may just be rock bottom…)
Sophia Bush in Marchesa
I don't love the dress on its own but I'm weirdly digging the matching eyeshadow. I never thought I'd find myself praising pink eyeshadow post 2002…(anyone else obsess over MAC Pink Freeze back in the day??)
Natalie Portman in Dior
There's nothing I love more than a good sack dress — you can just let loose, eat what you want, and no Spanx are required. But with those banquet hall napkin sleeves…I just can't get behind this one.
Naomie Harris in Lanvin
Pants on the good old RC is 100% my jam…but this jumpsuit is pulling me in every direction — stripes, chains, flowers…something I like to call hate but appreciate.
Sofia Vergara in Zuhair Murad
You can see it in her face…all she wants to do is wear a mermaid dress.
Taraji P Henson in Reem Acra
This is almost everything. The color is incredible, the beading is stunning, it's sheer in all the right places…but WHY are there two random little black bows? WHY?! It's like these two oddly placed tiny Chippendale bowties and that's ALL I can see.
Viola Davis in Vivienne Westwood
That material is my worst [fashion] nightmare. Shine? Puckering? ?
Kerry Washington in Cavalli Couture
I think she's back!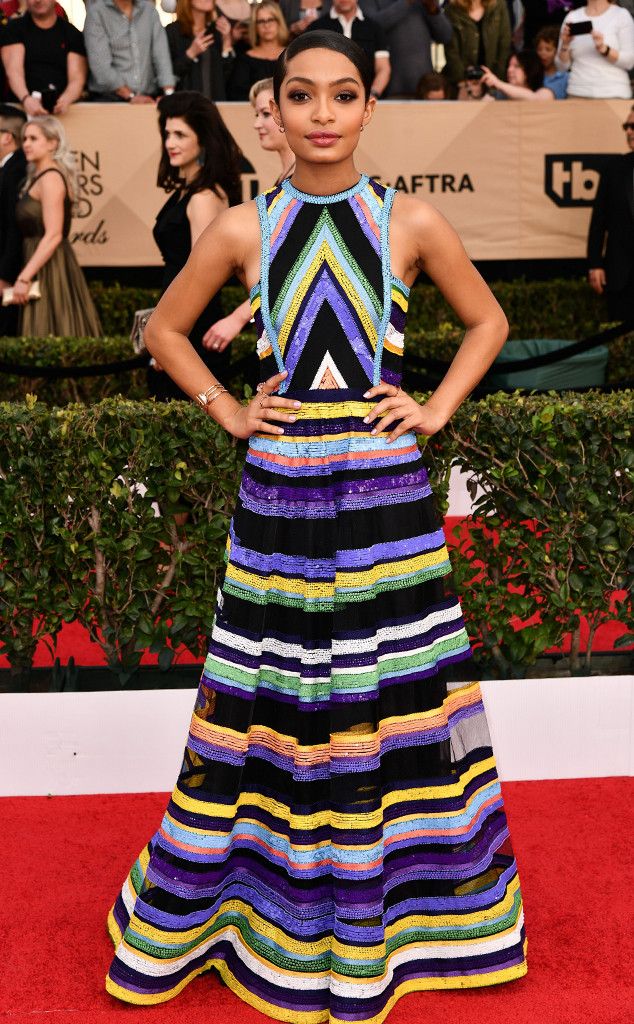 Yara Shahidi in Naeem Khan
Best Dressed Pick
Not many people can pull off a bold striped multicolor gown like this but considering Yara may or may not be my new style icon, she NAILED IT.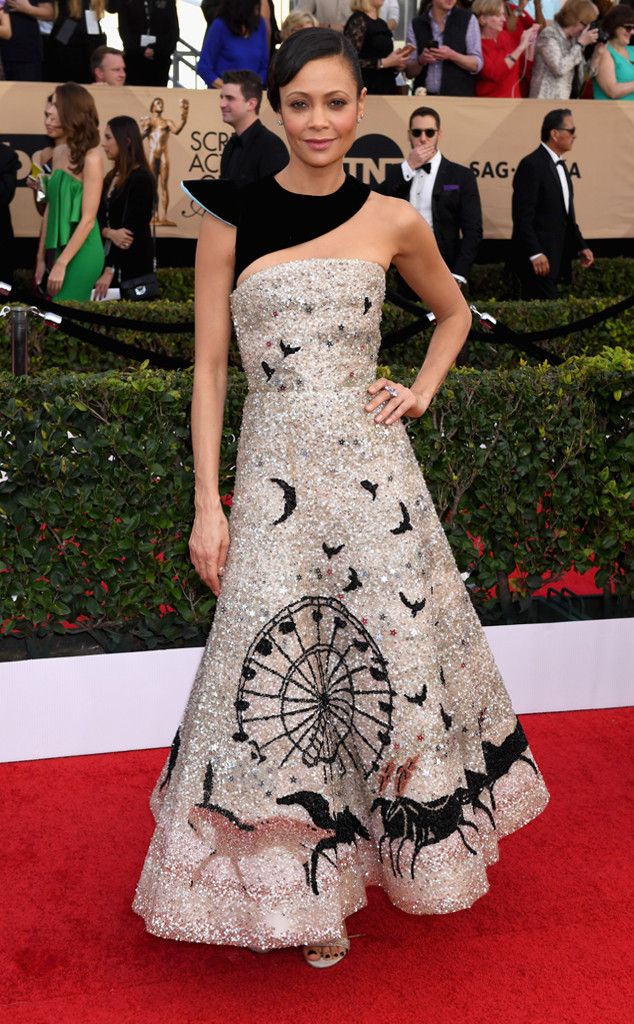 Thandie Newton in Schiaparelli
If this was just a strapless gown, I'd be all about it (shocking, I know…strapless) but that shoulder situation is beyond distracting. Even though this is a much more literal Westworld reference than Angela Sarafyan's Zac Posen number, I'm still totally down…but this as is? It's like the red carpet meets wild west meets Zenon: Girl of the 21st Century.
Sophie Turner in Louis Vuitton
How is this Louis Vuitton??
Michelle Williams in Louis Vuitton
Now that's Louis Vuitton! But why does she insist on these unnecessary neck accessories? First that bow at the Globes and now this sequin skinny scarf? I don't get it. This dress is a statement on its own…definitely does not need more sparkle!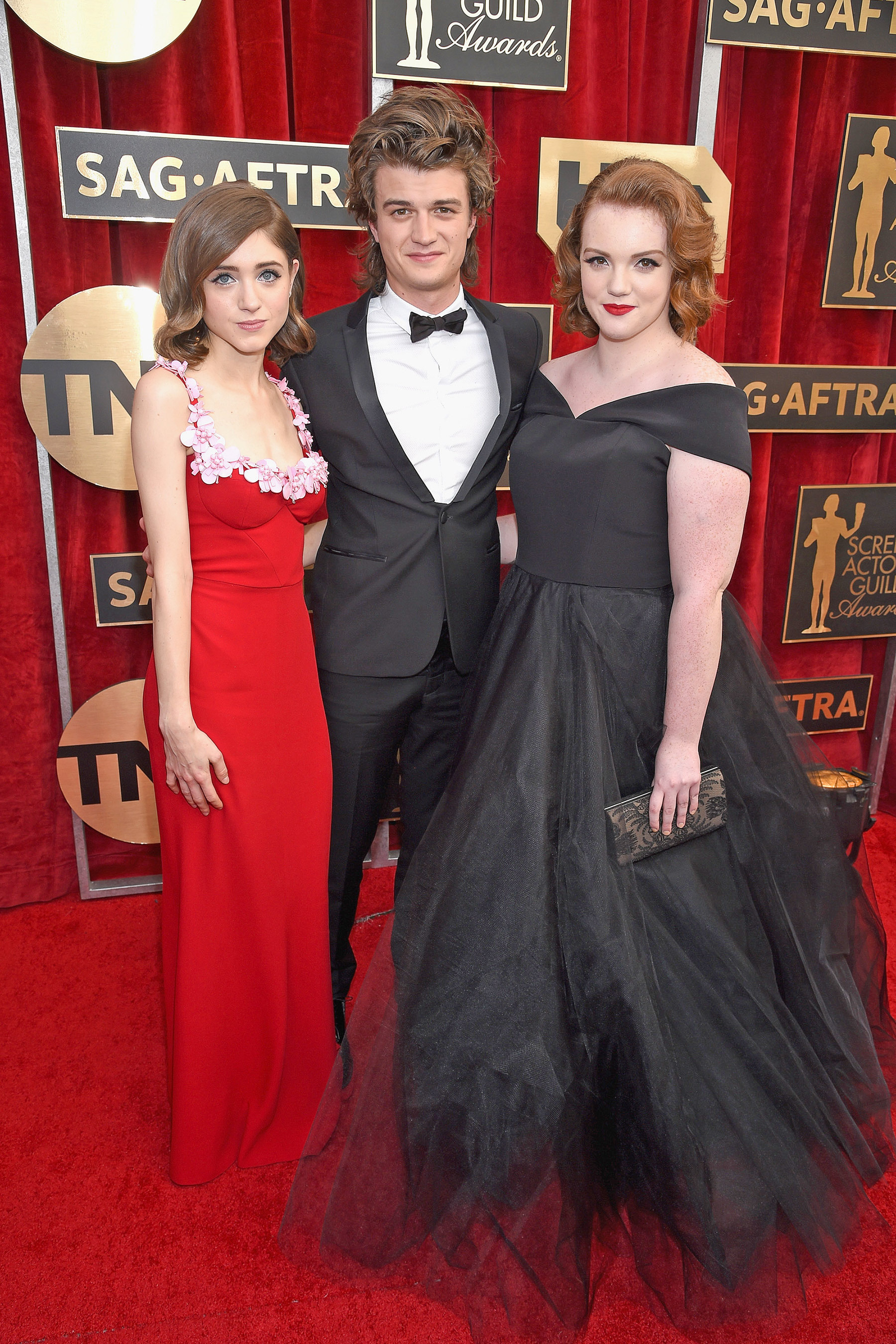 Natalia Dyer in Miu Miu, Joe Keery and Shannon Purser in Christian Siriano
Stranger Things Prom 2017 (you go, Steve!)
—
Who were your favorites on the SAG Awards red carpet? Don't be shy, now…
Images via E! & Vogue
You might want to check out...