Between #manimonday and whatever I'm doing with my hair these days, I like to be loyal to the people and places that make these things happen. Not saying I'd never try a new salon or spa but when I enjoy the services I receive, I keep going back. And because I feel like I've finally figured out my go-to salons and spas in the city (it doesn't happen overnight, trust me) I thought I'd share the love. After all, the more you know…
(right, NBC?)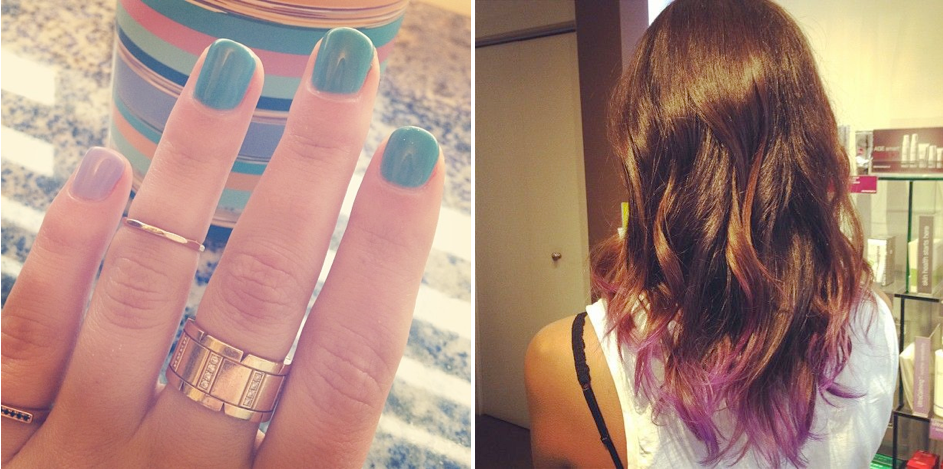 So if you're looking for a new place to get a massage, a manicure or any beauty service you can imagine (well maybe not any service), this should be able to help. Also, please don't judge my exposed bra strap in the image above. I understand it is no longer 2001.
HAIR: Salon 1800
SERVICES: Hair Cut, Blow Dry, Color
What's with us girls and being so damn particular with our hair? If anyone cuts off more than 1/4 of an inch or gets a little creative with the round brush, we freak out. But we continue to go back to the same person because they've been cutting our hair for years. Sound familiar? I was like this too and once I found Sarah at Salon 1800 a little less than a year ago, I realized that I was done being nervous to get my hair done…because I found someone who just gets it. That's really the only way to describe Sarah — she just gets it. Now I haven't been to any other stylist at Salon 1800 (because Sarah is my world so I don't really need to) so when you book your appointment, you know who to ask for. What I love about Sarah is that she's all about hair health and education. My hair has never looked or felt healthier since I started seeing her AND I've been coloring my hair in the mean time (which I didn't really before). Just about every one of my friends and even their friends get their hair cut and colored by her now (although I must credit my girl Jennifer who found Sarah in the first place…nice find).
BODY: Bliss Spa
SERVICES: Blissage 75, Fat Girl Slim Treatment
You know I'm all about supporting local so I am definitely cheating with this one but I can tell you that it's totally worth it. Nothing makes me happier than walking into that blue and white space on the 8th floor of the W Lakeshore. Nothing. Because I know I'm about to get a fantastic service and leave feeling relaxed (and sometimes even slimmer). I've gotten many regular massages in my life but the standard ones are usually anywhere from 50-60 minutes. At Bliss, the standard massage is 75 minutes. So you're already winning there (because let's be honest, massages are like vacations…it really sucks when they're over). I've gotten a massage from a few different people at Bliss and everyone is equally as good. If I'm feeling a little bloated or I just finished a juice cleanse I'll do the Fat Girl Slim Treatment. Basically, they put all these "magical products" on you and you're supposed to feel slimmer afterwards. I usually don't believe in that stuff but when I get home from this and can actually button my pants with ease, Bliss is clearly doing something right. Although, I have to warn you…there are some tasty brownies they keep in the waiting room, so me consuming 3-5 of these before (and after) each service kind of defeats the purpose of the whole thing. But I'm okay with that.
FACE: Mario Tricoci
SERVICES: Reveal Peel
This is only a service I discovered recently and I'm sure glad I did. I've never gotten any type of peel before this one so I was a little nervous to try it. I just assumed your face turns bright red and all of your skin comes off immediately…which ended up being completely false. Instead of going in for just one peel, the Reveal Peel is customized program of peels (I ended up getting 3 over the course of a month). It's supposed to leave you with all these benefits, including younger looking skin (which I wouldn't be able to tell the difference considering I'm only 25). BUT my skin has been more luminous (not to sound like a commercial but it's true), much more even (see ya acne scars!) and smoother than a baby's the royal baby's bottom. I don't wear a ton of makeup to begin with but before I started the peels, I wore some kind of makeup everyday (usually tinted moisturizer and some concealer) and now I've probably worn makeup two or three times since just the first peel…and those times were only because I needed some SPF (which my tinted moisturizer has). Now that's hashtag impressive.
NAILS: Blueberry Moon
SERVICES: Manicure, Pedicure
You know I love my #ManiMonday (I think I've been going strong on Instagram for close to 2 years now) and that would not be made possible without Cristina at Blueberry Moon. I've never really enjoyed manicures in the past because I hate the awkward (or no) conversation. At least with a pedicure, you can read a magazine, pretend like you're responding to emails but really just checking out what everyone's doing on Instagram, etc. Manicures…not so much. So when I found Cristina (who happens to share the same birthday as me — fun fact) my life was complete. She's not only super fun to talk to but she gives the best manicure and pedicure I've ever had. They're actually perfect. Plus, she's totally down for doing different colored nails (and not just down for it, she loves it). So you don't have to be afraid to take a risk with your next mani. You, me and Cristina will appreciate it.
—
What are your go-to salons and spas in the city? Also, has anyone tried PrettyQuick to book a service? Still need to check that out myself.
You might want to check out...