After being at the top of my "restaurants to try in Chicago" list or over 2 years now (this list is constantly growing by the way), I finally got to dine at Schwa. You have no idea how excited I get to cross a restaurant off this list (well technically just remove it from the notes section of my iPhone) but this one was especially thrilling.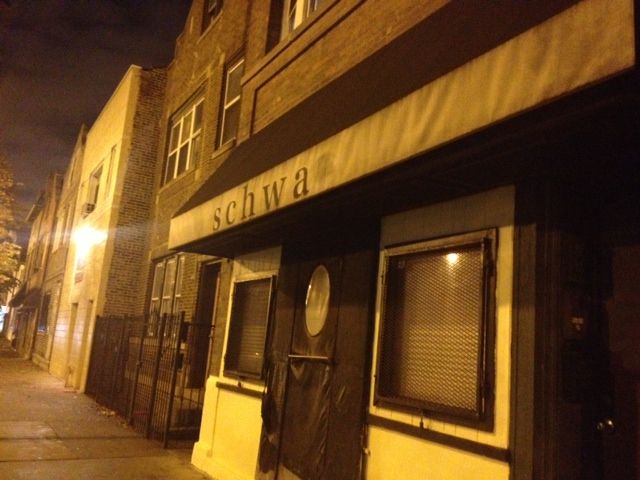 Just as the Met didn't allow photos at the McQueen exhibit, Schwa has a no cell phone policy…which I obviously didn't listen to. If I waited for 2 years to dine here, you best believe I'm going to snap a few iPhone pics.
THE RESTAURANT:
The restaurant seats just 26 people and they will only take your reservation if they feel like giving it to you. So that already made me want to dine there even more. There's a choice of a 3 or 9 course tasting menu (I obviously chose 9) and it's BYOB. So if you really wanted to you could pay for this extravagant meal and bring a 6 pack of PBR, which I don't recommend but you get the picture. What I love most about Schwa is the overall idea of it. You get this 5 star innovative meal, in the most casual dining atmosphere, served by exceptional chefs. There's nothing that makes me happier at a restaurant than when there's no host and no servers…the chefs really do everything. That's what makes the experience that much more intimate. Plus, these chefs are pretty badass so I liked this concept even more.
THE CHEF:
There are a lot of badass chefs out there but Schwa's Michael Carlson is man. Born and raised in the Chicago 'burbs, he dropped out of culinary school to work at Spiaggia and opened Schwa in 2005. He even turned down the position of sous chef under Grant Achatz when he opened Alinea. That's like turning down the position of creative director at Chanel (this will make even more sense if you keep reading).
THE FOOD: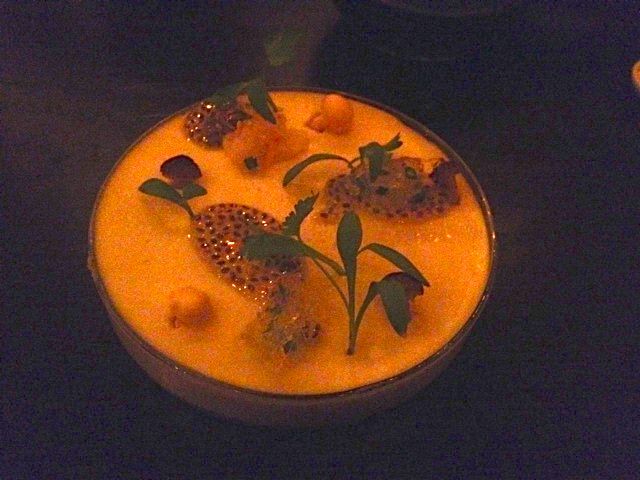 Deconstructed Tom Kha Kai soup. Who needs broth when you can have custard?
Salmon in a pink lemonade sauce. Yes, you read that correctly.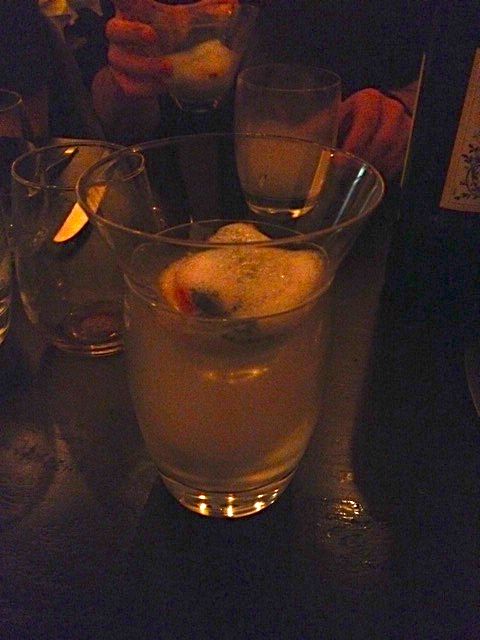 Lobster with smoke. You actually lift the top glass where this campfire-like smoke comes out the bottom before you dig into the lobster. It's well worth the 5-second wait.
There are many restaurants who serve upscale tasting menus, but very few (or none that I know of) can be found in such a casual atmosphere. Have you ever had pink lemonade or even Dr. Pepper in your food? Because I have. And it's awesome.
THE DESIGNER:
The first designer that came to mind when I wanted to do a Food Pairings post for Schwa was Jeremy Scott. Mostly because Jeremy does whatever the hell he wants when it comes to fashion and he really doesn't care what anyone thinks. He designs for the people who appreciate his whimsy and that's all that matters to him. Once I did a little more research on the designer though, I decided Michael Carlson/Schwa and Mr. Scott have much more in common than I would have thought. First, I discovered that Jeremy Scott is a Midwest boy (from Kansas City, Missouri) just like Michael Carlson. Another fun fact? It was noted in publication Le Monde that Karl Lagerfeld said Jeremy Scott was the only designer who could ever succeed him at Chanel. And just as Michael Carlson wants to give people a fine dining meal in a casual atmosphere, Jeremy Scott gives you crazy fashion in relaxed silhouettes for Jeremy Scott x Adidas.
People might think it's crazy to pair salmon and pink lemonade and it's just as crazy to make leg warmers with Bart Simpson all over them. Two bad ass guys who show their creativity through innovative food or over-the-top fashion, Jeremy Scott and Schwa could not be a better pairing.
Runway photos via Style.com
You might want to check out...