If you can't tell already from reading my blog, I am obsessed with accessories. Don't get me wrong…I love clothes, but I also love styling my outfits. There's something about "decorating" an outfit with some fabulous accessories that makes me really happy and it's a great opportunity to be creative everyday. Now that Spring is here, we can put away our clunky boots and our chunky sweaters and make way for some fun and fabulous accessories.
I've picked out some practical accessories and chosen a variety of each to fit any style or budget. Enjoy!
The Full Coverage Sandal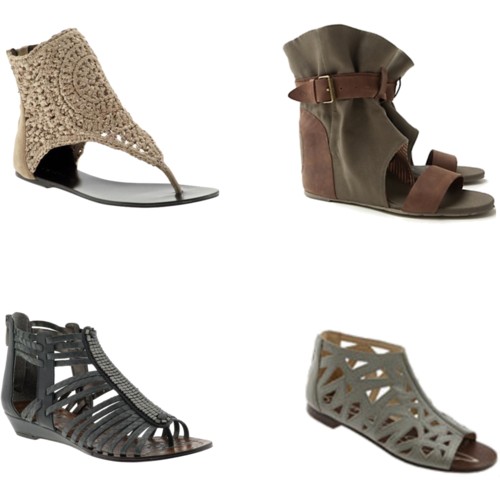 Top Row (left to right): Elizabeth & James Gypsy ($225 at piperlime.gap.com), 80%20 Open Toe Ankle Strap Booties ($145 at intermixonline.com)
Bottom Row (left to right): Sam Edelman Dawson ($130 at piperlime.gap.com), Boutique 9 'Post' Caged Sandal ($120 at nordstrom.com)
This is the perfect sandal for Spring because they have some coverage to keep your feet warmer on those chilly days but they're also super stylish and very practical. I recommend getting a pair of these in a neutral color to wear with anything. I love my Joie sandals and because they're a neutral color, I literally wear them with anything. Pair your full coverage sandals with some cuffed denim shorts and a cute tank or your favorite skinny jeans and a vintage T…the possibilities are endless!
A Bright Clutch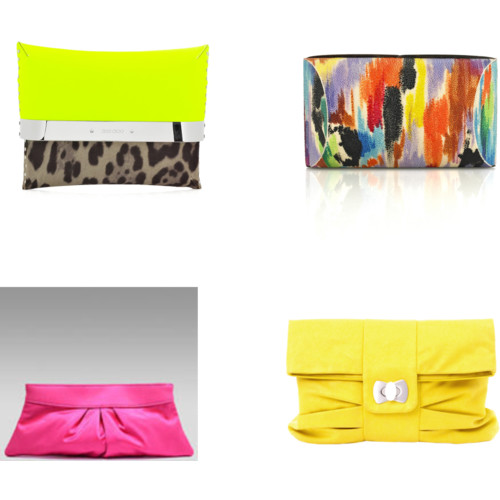 Top Row (left to right): Jimmy Choo Daphne Ponyskin Leather Clutch ($1,495 at net-a-porter.com), Celestina Hand Painted Stingray Clutch ($990 at net-a-porter.com)
Bottom Row (left to right): Lauren Merkin Eve Satin Clutch ($165 at neimanmarcus.com), Oasis Oversized Ruched Clutch ($59 at asos.com)
As great as neutrals are because they go with everything, I absolutely love a bright accessory. An average outfit can be taken to the next level with a bright clutch. Looking for something to spruce up your little black dress? A bright clutch will do just the trick. I also like to pair a bright clutch with skinny jeans, a neutral tank, a fabulous blazer and some killer heels. Just make sure you do not have too many bright accessories because you want the focus to be on the clutch. Also, if you're going with a bright clutch, please don't match your shoes…it's simply too much!
Statement Earrings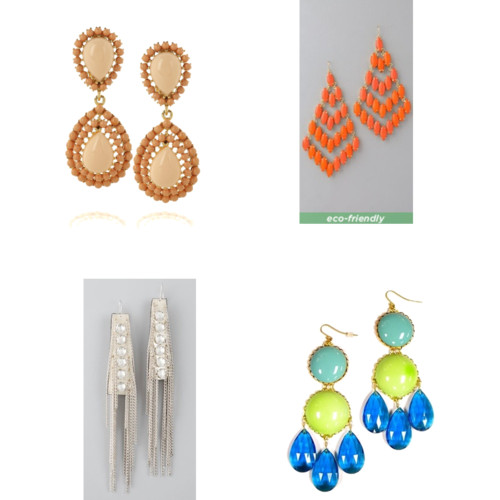 Top Row (left to right): Kenneth Jay Lane 22-Karat Gold-Plated Drop Earrings ($210 at net-a-porter.com), Alex + Ani Park Avenue Cocktail Earrings ($130 at shopbop.com)
Bottom Row (left to right): Fiona Paxton Monaco Earrings ($125 at shopbop.com), David Aubrey Green & Turquoise Earrings ($68 at shopkitson.com)
If you read my blog regularly, you may have realized by now that I love to make a fashion statement. A great pair of earrings is a perfect way to do just that. Like a bright clutch, it's a great way to spruce up a plain outfit. Just make sure you're not pairing your statement earrings with a statement necklace…that could be a little much. Statement earrings with a statement clutch? Perfectly acceptable. There's enough room between the earrings and where you hold your clutch where it doesn't look like too much is going on but you still look absolutely fabulous!
——————————————–
So, what are you favorite accessories? Any specific Spring trends you're into? What are you favorite accessories from my picks? I always appreciate your feedback!
You might want to check out...